Ndumiso Mdletshe, who is popularly known as Ndu Browns, is one-half member of the South African Afro-pop music duo, Blaq Diamond. He is a singer-songwriter and producer and has contributed his expertise in the writing and production of many of the group's hit singles such as 'Ibhanoyi', 'Umuthi', and 'SummerYoMuthi'. Along with Sphelele Dunywa, the other half of the Blaq Diamond duo, Ndu is the co-founder of Umuthi Records which is in partnership with Ambitiouz Entertainment.
All wasn't bloomy at the beginning for the multi-award-winning artist as he scaled many hurdles, including rejections and financial difficulties before establishing himself as a force to reckon with in the South African music industry.
Ndumiso Mdletshe Profile Summary
Full Name: Ndumiso Mdletshe
Nickname: Ndu Browns
Date of Birth: September 8th, 1994
Age: 29 years old
Place of Birth: Ladysmith, Kwa-Zulu Natal, South Africa
Nationality: South African
Education: N/A
Occupation: Singer, Songwriter, and Producer
Marital Status: Single
Ndumiso Mdletshe Was Born 29 Years Ago
The renowned Blaq Diamond member was born in Ladysmith, Kwa-Zulu Natal, South Africa on September 8th, 1994. As regards his family background, Ndu Brown is the type that prefers to keep his personal details to himself. This has made it hard for anyone to know the details about his parents, siblings (if any), and the educational institutions he attended. Despite being in the spotlight for many years, all that is known about Ndu's background details is his birth date.
Growing Up in Ladysmith Shaped The Singer's Musical Career
Ndu was born and raised in Ladysmith, a small town in Kwa-Zulu Natal province that is surrounded by the Drakensberg mountains in the Uthukela district. The rich culture and the enabling environment of the town inculcated some principles in Ndumiso Mdletshe. This made him stick to his root and sing most of his songs in his native language. His love for Ladysmith makes him often mention its name in most of his songs. The multifaceted artist kicked off his singing and songwriting career at the age of eight. The love and support from his family, friends, and community pushed him in the right direction as he pursued music as a career from an early age.
How Blaq Diamond Was Formed
The sensational South African Afro-pop music duo, Blaq Diamond, is made up of Ndumiso Mdletshe and Sphelele Dunywa. They attended the same high school. The two became friends during a rap challenge on a school bus while on a road trip in 2010. Having realized their compatibility and similarity in so many things, including a passion for music, they devoted time to whetting their musical skills. Soon after, they began to perform mini-shows together and eventually became one of the best music groups in their school and community. Coincidentally, the music duo was born in the same year.
Following their graduation from high school, Ndumiso Mdletshe and Dunywa decided to pursue music as a career. As a result, they relocated to Johannesburg, where they didn't know anyone, in search of greener pastures. Their quest for greatness wasn't that rosy. They passed through several challenges, including working odd jobs to earn money to follow up their dreams. When it seemed all hope was lost for the two, suddenly, there was light at the end of the tunnel when Ambitiouz Entertainment signed the music artists in the year 2017.
Afterward, they stayed true to their culture, releasing pure African sounds accompanied by messages of hope and love. Consequently, the originality and positivity of their songs carved a niche for the singers in the South African music industry.
A Look at Ndumiso Mdletshe's Career Milestones With Blaq Diamond
Shortly after signing on the dotted line with Ambitiouz Entertainment record label, Blaq Diamond released their first single, 'Sthandwa' in 2017. The single received critical reception and increased their fan base. They followed it up by dropping their first studio album titled 'Inqola' in the last quarter of 2017. The album, which has 14 songs, was a mega-hit as it topped charts on all genres the same day it was released. Some of its smash singles include 'Kulelekunye', 'Uthando', 'Isoka', and 'Wrong One'.
Prior to the release of their second studio album, the music duo dropped the lead single off the album titled 'Memeza' featuring Sjava on May 2nd, 2019. It peaked at No. 9 on Radio Airplay Charts. Its second single 'Ibhanoyi', released on August 2nd, 2019, was a super hit as well. It clinched the top spot on iTunes charts. Their sophomore album's third single 'Love letter' was released on January 23rd, 2020 and it peaked at No. 3 on iTunes charts, as well as No. 11 on Radio Airplay Charts.
The music artists finally released the much anticipated second studio album 'Umuthi' on January 31st, 2020. The album featured several music stars such as Thee Legacy, Sjava, Igcokama Elisha, and CiCi. It was an instant hit, having debuted at No. 1 on iTunes Albums Charts. Besides producing their hit songs, Blaq Diamond also has been featured in several 2020 chart-topping singles such as 'Uhulumeni' and 'Price to Pay' by DJ Miss Pru. Their latest release is 'Messiah' featuring Dumi Mkokstad. It was dropped on June 4th, 2021. So far, the song has accumulated over 3 million YouTube views.
In June 2020, Ndumiso Mdletshe and his Blaq Diamond other half partnered with Ambitiouz Entertainment to co-found a record label named Umuthi Records.
The Songwriter is a Recipient of Many Awards
Apparently, Blaq Diamond's exploits in the South African music industry and the whole world at large cannot be overlooked. The group's first studio album 'Inqola' received two SAMA (South African Music Awards) nominations and this showed a sign of great things to come their way. Following the success of their first album, the Afro-pop duo took their sophomore album, 'Umuthi' to a whole new level and the result was massive. The album's second single 'Ibhanoyi' clinched the 2020 SAMA Awards' Record of the Year. Also, 'Umuthi' along with some of its smash singles garnered 4 platinum plaques in March 2021 for achieving multi-platinum.
The album further achieved 6x platinum while 'Ibhanoyi', 'Love Letter', and 'SummerYoMuthi' achieved 4x platinum, 3x platinum, and 2x platinum respectively. In 2021, Ndumiso Mdletshe and Sphelele Dunywa won the 27th SAMA Awards' Artist of the Year with several pending nominations, including one MTV Africa Music Award in the Best Group category. Furthermore, their single, 'SummerYoMuthi' received eight 2021 All Africa Music Awards (AFRIMA) nominations in several categories.
They include Artiste of the Year in Africa; Best Male Artiste in Southern Africa; Breakout Artiste of the Year; Best Male Artiste in African Inspirational Music; Best African Duo, Group or Band; Best Artiste, Duo or Group in African Pop; Producer of the Year in Africa; and Song of the Year in Africa. The two are strong contenders to win all by November 19-21, 2021.
Highlights of The Awards Won By Blaq Diamond 
2020 SAMA Awards' Record of the Year
SAMA Award for Artist of the Year, 2021
Is Ndumiso Mdletshe The Blaq Diamond Member Thickleeyonce Declared Her Love For?
On June 25th, 2020, the South African plus-size model and blogger, Lesego Legobane, who is professionally known as Thickleeyonce, disclosed her affection for Blaq Diamond via her Twitter handle with the tweet "Why do I have a crush on Blaq Diamond….. send help." Initially, she thought that Blaq Diamond was a guy and that the other member was just a close friend. Following her realization of who they are, she stated that it was the one on locks, which is Ndumiso Mdletshe, that she was crushing on.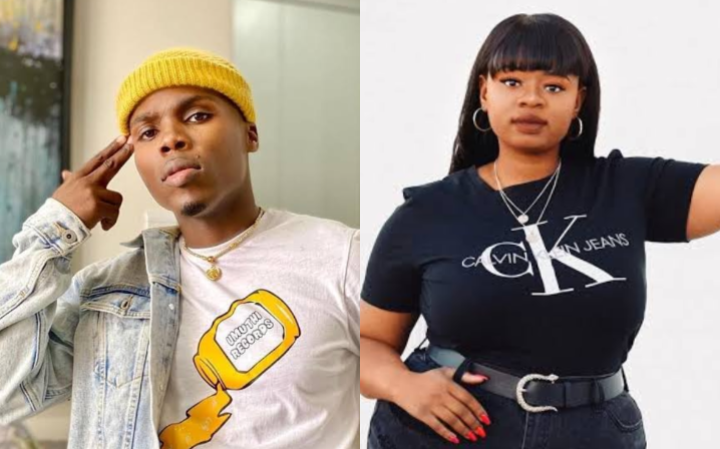 Moments later, her followers tagged Ndu on the tweet and he responded immediately with a tweet that read "….. and I like em thick." Surprisingly, their friendship didn't lead to any serious relationship as Ndumiso Mdletshe revealed later that he is still single and searching.
Who is Ndumiso Mdletshe Dating?
A few months after Ndu's acquaintance with Thickleeyonce, the sensational artist notified his Instagram followers through Instagram Live that he is still in the market for a serious relationship. He then moved on to ask beauteous single ladies residing in Pretoria and Johannesburg to DM their WhatsApp numbers to him for a hook-up. The outcome of the announcement is yet to be seen to date.
Meanwhile, in another post, the adept producer revealed that he has been crushing on the comely Durban-born actress and musician, Asavela Mngqithi (alias Isibaya's Ntwenhle) for quite a long time. He then asked his fans whether it would be a bad idea to make her Mrs. Browns. On the other hand, after the signing of the pretty artist, Sbahle Mpisane by Umuthi Records in 2020, the way Ndu and the singer were over each other on their respective social media handles sparked a dating rumor.
As a result, some of Ndu's fans, who couldn't hold it in, started asking him whether he was off the market because of Sbahle. Ndumiso Mdletshe, however, later announced that he and Sbahle Mpisane are just friends and colleagues. He further stated that he is very much single and searching. As it stands, the multi-award-winning artist seems to be single and probably searching for the love of his life.