Mxolisi Zuma (born 1980) is a 43-year-old South African businessman who is best known as the son of Jacob Zuma, the former president of South Africa.
Despite being the son of a former president, Mxolisi has managed to stay under the radar despite his family's prominence in South Africa's political system. Although there is little information about him in the media space, a greater part of his personal and career life has been revealed here.
Summary of Mxolisi Zuma's Biography
Full name: Mxolisi Zuma
Nickname: Saady Zuma
Gender: Male
Date of birth: 1980
Place of Birth: Mozambique
Mxolisi Zuma's Age: 43 years old
Ethnicity: African (Zulu)
Nationality: South African
Sexual Orientation: Straight
Marital Status: Married
Mxolisi Zuma's Wives: Phindile Luthuli and Ziyanda Dlamini 
Mxolisi Zuma's Parents: Kate Mantsho and Jacob Zuma
Siblings: Duduzane Zuma, Duduzile Zuma, Phumzile Zuma, Nhlakanipho Vusi Zum
Occupation: Businessman
Famous for: Son of Jacob Zuma, the former president of South Africa
Mxolisi Zuma Was Not Born in South Africa

Although we know he was born in 1980, Details about the schools he attended and the day and month he was born are not available. However, we know for certain that Mxolisi never set his foot on the soil of South Africa until 1993 when his family finally returned to their homeland. Like most South Africans at the time, the Zuma family had relocated to Mozambique to seek refuge from the intense apartheid government of their country.

Together with four of his siblings, the young man grew up in Mozambique where they learned Portuguese. His family later relocated to Zimbabwe after spending ten years in Mozambique. Later in 1993, when he was thirteen years old, they finally went back to their fatherland. Sadly, his mother died when he was only twenty years old.
His Family is a Large One With About 23 Children
His father Jacob Zuma is a polygamous man, he married several wives who bore many children. Zuma has been married to six women and has twenty-three children. Of the many children, five, including Mxolisi are the children of Kate Mantsho. The businessman is the oldest child of all his mother's children and the second child of his father's.

The large polygamous family is made up of many individuals with different personalities, and they have been quite dramatic. Somehow, controversy has always found its way to some of the family members, their father especially. More details about his family will be revealed later.
Mxolisi's Career and the Bribery Accusation Against Him

There is no available information about the schools and tertiary institution(s) the son of the former South African president may have attended, aside from the fact that he had his early education in Mozambique. Also, there are no specific details of the businesses or investments that he has. However, he is said to have at least six investment and broker companies.

Looks like the politician's son cannot completely avoid the media, no matter how hard he tries. In August of 2017, the media went wild with a bribery scandal against Mxolisi. According to the news, he had tried to negotiate a bribe of R54 million with Altech UEC, a subsidiary of Altron, a technology company. He had allegedly tried to use his father's influence as a former president to shift a TV set-top boxes contract by the South African government in favor of the company.
No Solid Evidence was Found Against Mxolisi
However, no evidence of money transfer was found, and the executive for marketing and communication of the company, Zipporah Maubane denied that such conversation ever took place. Upon investigating, some emails proved that the conversation happened. In the emails found, Mxolisi was referred to as SZ. The former Altech MD, Danie du Toit wrote an email to Laurence Savage, the former chief operating officer on the 16th of March 2015, inquiring if they should still sign up SZ. considering how close to success they had come without his help. He mentioned that the foreseen success, though a rumor, was a strong and believable one.

Also, two executives in the company confirmed that they were told that the former president's son will use his father's influence to swing the deal in their favor. According to Sunday Times, one of the men revealed that the bribe was going to be entered in the company's book as 'Commission' or 'Consultancy fee'. In the end, no payment was made and the company did not get the contract either. More so, the individuals who had the conversation about bribing Mxolisi were no longer members of the company. Zipporah also stated that the company obeys and carries out all its operations in accordance with the laws and regulations of the country.
Mxolisi Zuma is Polygamous Like His Father
When it comes to his personal life, the businessman seems to be following his father's polygamous footsteps. In 2008, he got married to his first wife, Phindile Luthuli, in Durban. Later in 2017, he married a Swazi princess. His marriage to his second wife was more lavish and drew more media attention than the first.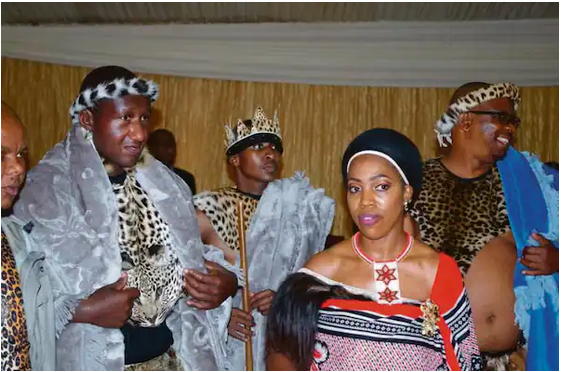 Nine years after his modest marriage to Phindile, Mxolisi Zuma decided to marry Ziyanda Dlamini, the daughter of King Mswati in a grand style. The elaborate wedding ceremony took place at Ludzidzini royal residence in Lobamba, south of Mbabane, Swaziland. At the end of their wedding, his family gave 250,000 emalangeni to the princess, as a token of appreciation. He also gave her an additional 50,000 emalangeni in cash. There is no news about whether or not he has any child from either of his wives, and there is no further detail about his personal life.
More Facts About the Zuma Family
His father, Jacob Gedleyihlekisa Zuma was born on the 12th of April 1942 in Nkandla, now called KwaZulu Natal (formerly Zululand).
Jacob was president of South Africa from 9th May 2009 to 14th February 2018. He is a very controversial politician and was ordered to resign from office following a vote of no-confidence by the ANC against him.
Kate Mantsho, Mxolisi's mother, allegedly killed herself in 2000. She was reported to have taken an overdose of malaria medication and sleeping pills.
His four direct siblings are; Duduzane Zuma (brother), Duduzile Zuma (sister), Phumzile Zuma (sister), Nhlakanipho Vusi Zuma. Duduzane and Duduzile are twins.
Nhlakanipho, his youngest direct sibling died in 2018 after developing complications due to the systemic lupus erythematosus that he suffered from.
Mxolisi has five step-mothers whose names are Gertrude Sizakele Khumalo, Nkosazana Dlamini, Nompumelelo Ntuli, Thobeka Stacie Mabhija, and Gloria Bongekile Ngema.
He has eighteen step-siblings, including; Mziwoxolo Edward Zuma (step-brother), Msholozi Zuma (step-sister), Gugulethu Zuma-Ncube (step-sister), Nokuthula Nomaqhawe Zuma (step-sister), Thuthukile Xolile Nomonde Zuma (step-sister), etc.