Kobus Wiese (born May 16, 1964) is a 59-year-old South African retired rugby player known for playing for South Africa's national rugby union team. He is married to a woman named Belinda Wiese with whom he has two children.
Kobus Wiese is considered one of the greatest South African rugby players. He made a name for himself through the oval ball game and gave the South African audience something to be proud of during his active days. He holds the record as one of those who made enormous impacts on the national team, especially in 1995 when Springboks won the World Cup. He was among those who reshaped the Rugby game in the country and was a respected Lock player on all the teams he represented. 
Summary of Kobus Wiese's Biography 
Full name: Jakobus Johannes Wiese
Nickname: Kobus Wiese
Gender: Male
Date of birth: May 16, 1964
Kobus Wiese's Age: 59 years old
Nationality: South Africa
Sexual Orientation: Straight
Marital Status: Married
Kobus Wiese's Wife: Belinda Wiese
Kobus Wiese's Height in Inches: 6 feet 6 inches
Kobus Wiese's Height in Centimetres: 1.99 meters
Kobus Wiese's Weight: 125 kilograms (19 st 10 lb)
Famous for: Playing for South Africa national rugby union team
Twitter: Kobus Wiese
Kobus Wiese is a Retired South African Rugby Player 
Kobus Wiese, originally born Jakobus Johannes Wiese, is a former South African rugby union player born in Paarl, in Western Cape, South Africa. He was born on May 16, 1964. The names of his parents and information about his family background are not available for public consumption currently. Also, it's unclear if he is an only child. Wiese had his primary and high school education in the country.
He attended the prestigious Goudstad Onderwys college in Paarl, where he trained as a teacher and obtained a teaching diploma. It's not known if he was active in rugby or other sports during his school days. He began his Rugby career with the Padua, Italian-based club Petrarca Rugby before launching his South African provincial career with Boland Cavaliers in 1985.
He Had a Fantastic Rugby Career Until His Retirement in 1998
Wiese's career with Boland saw him make 12 appearances in provincial games. Between 1986 –1987, he made 18 appearances with Western Transvaal, amassing 4 points for himself. Kobus had the most productive playing career with the Johannesburg-based rugby union Transvaal (now known as Golden Lions). He earned 105 points from the 128 appearances he made for the team.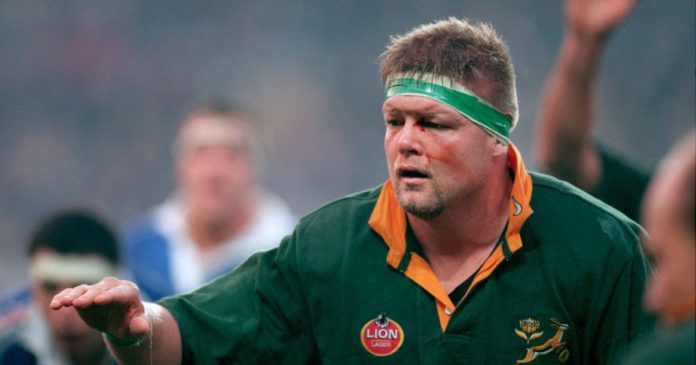 He made his first appearance at lock for the national rugby team in 1993. Kobus was also part of the national team that won the 1995 Rugby World Cup. The retired rugby player made his last appearance for Springbok on December 15, 1996, in a game against Wales at Cardiff Arms Park in Cardiff, bringing his total appearance to 18.
The Paarl-born athlete had a fantastic journey with the national team. He toured internationally with the team to several countries, including England, Wales, Australia, Italy, New Zealand, Ireland, Scotland, and many more. Kobus Wiese remains of the country's most respected and successful rugby players ever.
Kobus is Happily Married to Belinda Wiese
Belinda Wiese is the name of Kobus's wife. She is the only woman who has been in the former rugby player's life. Belinda is Kobus' biggest supporter and most reliable support system. The two have been living peacefully for many years, and we believe that she played a vital role in her husband's successful career. Unfortunately, Belinda does not love the spotlight, unlike most wives to prominent rugby players in the country.
Apart from her name, further information about her background, occupation, and family life is not documented online. Similarly, information about her marriage to Kobus is difficult to come by. There is no available information about how and where they met, when they got married and how long their union has lasted so far. Belinda is an ideal woman and a great wife – that's all that matters.
Information about Kobus Wiese's Children is Currently Under the Radar
Kobus and Belinda are reportedly parents to two children, but information about them, including their names, ages, current whereabouts, and educational backgrounds, are not documented anywhere online. Neither the former Rugby player nor his wife has spoken publicly about their kids and family life. The couple is very protective of their personal lives and family.
It's not clear if Kobus' children are athletically inclined or not. If there is one thing Wiese is proud of, it is his family and what they share together. Sometime in April 2021, Belinda proved to be an ideal woman by staying by her husband's side after he was rushed to the hospital following a heart attack. God gave Kobus another chance to live at Paarl Mediclinic and Panorama Hospital in Western Cape, where doctors performed surgery and inserted a stent in his heart.
It Appears Kobus Wiese is not Related to Cobus Wiese
Cobus Wiese bearing the surname "Wiese" with Kobus Wiese appears to be a mere coincidence. None of the athletes have also confirmed or addressed the age-long speculation that they are related in any way. Like Kobus, Cobus is also a South African rugby union player. However, the former is 33 years older than the latter.
Cobus currently plays for the Greater Manchester, England-based rugby team, Sale Sharks as a flanker or a lock. Originally born Jacobus Hermanus Wiese, Cobus hails from a town in Northern Cape Province called Upington. He made five appearances for the South African national under-18 rugby union team between 2014 and 2015.
The 6 feet 5½ inches athlete also plays as a lock or flanker and has been active since 2013, when he began his youth career. However, it is important to note that Cobus has a younger brother who also plays rugby. His name is Jasper van der Westhuizen Wiese. He currently represents Leicester Tigers in England's Premiership Rugby and has made more than five appearances for the Springboks.
What Has Kobus Been Up To Since He Retired?
The former Gauteng Lions rugby player hasn't been idle since leaving the rugby scene. He is a Rugby Commentator for Supersport and the founder and owner of Wiesenhof Coffees.
— Kobus Wiese (@4KobusWiese) February 15, 2022
He established Wiesenhof coffees in 1998, having been in the business with his wife since 1994. He started by operating from a small premise on the East Rand. The brand has several offices in the country, including the one at 110 5th Street, Spaarwater, Heidelberg.