Jojo Robinson (real name: Jo-Anne Claudia) is a South African reality TV star, artist, and wildlife photographer who rose to immense popularity through season 2 of Real Housewives of Durban (RHOD), the South African reality television series.
The reality TV star is happily married to South African kickboxer Calven Robinson. Though Jojo doesn't look it, she is actually in her early 30s. Her exact year, month, and day of birth are not public knowledge because she hasn't opened up about this aspect of her life.
Summary of Jojo Robinson's Biography

Full name: Jo-Anne
Nickname: Jojo
Gender: Female

Nationality: South Africa
Sexual Orientation: Straight
Religion: Christianity
Marital Status: Married
Jojo Robinson's Husband: Calven Robinson
Jojo Robinson's Child: Rocco Robinson
Jojo Robinson's Net Worth: R995 million (joint with husband)
Famous for: Appearing on season 2 of Real Housewives of Durban
Jojo Robinson's Instagram: mrs.jojo.robinson
What is Jojo Robinson from Real Housewives of Durban's Age Now?
The age of Jojo Robinson from Real Housewives of Durban is not publicly known. The reality star has kept her fans in the dark about her age, family members, and even background. This explains why none of her family members are known to the public, including her parents and siblings.
It is also difficult to tell exactly where she was born in South Africa, her ethnicity, and her educational attainments. Jojo may be quite vocal on the screen, but she is always careful not to dish out too much information about her personal life, family, and background in real life.
However, she is said to be in her early 30s when she broke into mainstream success through her appearance on the Showmax reality TV show Real Housewives of Durban. Most people believe she doesn't look like people in her age bracket. Jojo actually looks younger – thanks to her amazing body and fashion sense.
The reality TV star recently went under the knife to remove fat from certain areas of her body and reshape it. Jojo documented the experience on social media and admitted that it was painful. #RHOD #JojoRobinson pic.twitter.com/tMqEexCtPE

— TransAfricaRadio (@TransAfrica872) August 1, 2022
Who is Jojo Robinson's Husband?
The name of Jojo Robinson's husband is Calven Robinson. He is a successful businessman and former kickboxing champion, and martial artist. He hails from Durban and is considered one of the richest and most influential men in his region.
Jojo and Calven got connected on the social media platform Facebook. The two went on to date for about two years before they eventually took their relationship to another level by exchanging their marital vows in the year 2014.  
The former MMA fighter and the reality TV star had their fairytale wedding in the KwaZulu Natal midlands in the presence of their families, friends, and loved ones. The two have spent over 7 years and counting together as husband and wife.
They share a son named Rocco Robinson, who was born in the year 2016. There is no available information about Rocco's life except the fact that he is being raised by his parents and can have every good thing life can offer – thanks to his enviable family background.
Jojo Robinson's Husband, Calven Robinson, Had His Last Fight in 2012
As it is with Jojo, a lot is still not publicly known about Calven's background, educational qualifications, early life, and career history. However, we can establish that he had his last fight on the 13th of April 2012 in the Extreme Fighting Championship Worldwide (EFCA).
The 6 feet 1-inch martial art expert's professional MMA record indicates he lost two of his MMA fights and won one. He got his MMA victory in the Fight Force Cage Fighting against Clinton Young in the month of May 2010.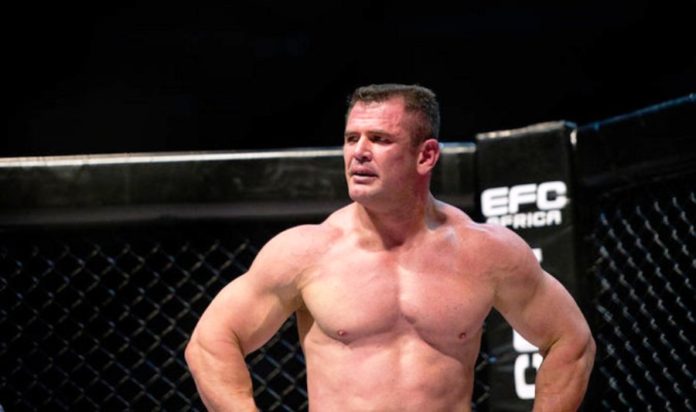 The Butcher, as he is fondly called, delved into business after his retirement in 2012, and he's been doing well for himself. Calven is wealthy, however, information about how much he makes monthly and yearly is difficult to come by. His net worth is currently under review, but one thing we cannot take away is the fact that he and his wife live a life of luxury.
Jojo's life took a turn for good when she officially became Mrs. Jojo, having survived all manner of abuse from her previous marriage. There has been no known scandal or controversy about the artist and her husband since they tied the knot. 
Jojo is one woman who believes people can still find true love after divorce or abuse. This is one of the major reasons she decided to join the reality TV series, The Real Housewives of Durban.
Jojo Robinson's Net Worth
Jojo Robinson's personal net worth is not public knowledge. However, she and her husband jointly worth a whopping R995 million, according to reports. While Calven made the bulk of his wealth from his fighting career, his current business endeavors also contributed to his family's huge wealth.
Jojo makes her money from selling her paintings and other artworks. Being a talented artist, it's no surprise that she makes fortunes from selling her works to people who value them. The reality TV star is also a photographer with an interest in wildlife.
She recently mentioned her intention to start up a programme on TV and how the RHOD has helped in fast-tracking her dream. Jojo is also a brand ambassador of the following brands – Carlton Hair South Africa and Lush Boutique South Africa.
Her Instagram feed clearly reflects her status and luxury generally. She is mostly seen in luxury cars, expensive apparel, and exquisite places. Her husband bought her a McLaren worth R6 million in September 2022, just months after he gifted her a Porsche 911 in May 2022.
Does Jojo Robinson Have an Ex-husband? 
Yes. Jojo's marriage to Calven is her second marriage. She was previously married to a South African whose identity and occupation are not known to the public. Mrs. Robinson left the marriage because her ex-husband abused her emotionally, physically, and financially.
According to her, she was the breadwinner of her family then, as they had nothing. However, her ex-husband kept treating her badly, even abusing her physically, until she walked out of the marriage.
It seems the two of them did not give birth to kids during the time they were married. Jojo mentioned that she joined the RHOD because she wanted women to know that they can still walk away from abusive relationships and find true love in the end.
The fans of the RHOD loved Jojo for several reasons. Mrs. Robinson is assertive, down-to-earth, competitive, and open-minded. Her love for tattoos also earned her massive followers on the show, especially those who love tattoos.