Inno Morolong is a 31-year-old South African businesswoman, socialite, club host, and reality TV star born on September 22, 1992. She had plastic surgery to get rid of her extra belly fat.
Morolong is one of the most contentious socialites in South Africa. She has engaged in numerous public arguments with a variety of people, including Gigi LaMayne, whom she has accused of stealing her partner. She is one of the most in-demand event hosts in the entertainment business despite her impulsiveness.
Summary of Inno Morolong's Biography

Full name: Innocentia Morolong
Nickname: Queen of Turnup
Gender: Female
Date of birth: September 22, 1992
Inno Morolong's Age: 31 years old
Ethnicity: Black
Nationality: South African
Zodiac Sign: Virgo
Sexual Orientation: Straight
Religion: Christianity
Marital Status: Single
Inno Morolong's Children: 1
Siblings: 2
Inno Morolong's Net worth: R750,000
Famous for: Being a celebrity event host
Inno Morolong's Instagram: innomorolong
Twitter: @innomorolong
Facebook: Inno Morolong
What Is Inno Morolong's Age Now?
Inno Morolong is 31 years old. She was born on September 22, 1992, in Welkom, Free State province, where her parents raised her alongside her brother and sister. Sadly, the names and identities of her parents and siblings are not public knowledge.
Inno attended Teto High School, Welkom. She holds a Bachelor of Arts from the Free State Central University of Technology. She comes from a family that puts education first. Her brother is said to be a lawyer.
Inno Morolong has Proven her Talent in Many Fields
Inno began her career as a video vixen and top personnel at a modelling agency. Though not much is known about her early days, she seems to have loved the entertainment industry so much that she decided to up her game. She also had a platform where she matchmade young ladies with men.
Inno's career eventually got the needed boost after she switched to club hosting. She's fully booked almost every week for all sorts of parties and club events, including pool parties. Being an amazing celebrity, a lot of people usually turn up at most events she is anchoring. She won the Africa Social Entertainment Awards for Best Club Host some time ago.
In addition to her career in show-biz, the Welkom-born star is also a businesswoman. She owns a sunglass line called Shades by Inno. She launched the business in 2020 and her products are used by a good number of South African celebrities.
Inno is also making good use of her fame across social media platforms. She is followed by thousands of people on her Instagram, Twitter, and Facebook accounts and she advertises for brands on her pages and gets money in return.
The club host is also a philanthropist. She runs a Non-Governmental Organization (NGO) called Thusang Setjhaba which focuses on uplifting communities and helping people, including school children, in every possible way.
Inno Morolong Before and After Surgery?
Inno Morolong has always been open and honest about her body and how she would love to alter some parts of it in order to achieve the perfect body she has always wanted. In February 2022, she publicized that she had gone under the knife to remove excess fat from her stomach.
The reality TV star got a stomach tuck, breast lift, fat transfer, and 360-degree liposuction. The celebrity club host maintained that she had no problem with thick women but needed to transform her body to match people's expectations due to the nature of her job.
Morolong admitted that she hardly attended pool parties and even struggled with cloth choices almost all the time before the procedure. She reportedly spent R200,000 for the surgery.
It is said that she isn't done yet as she has plans of going for another surgery sometime in the future.
Does Inno Morolong Have a Boyfriend or Husband?
Inno Morolong is not currently married. However, she has given birth to a daughter named Lesedi. She hasn't publicly disclosed the identity of her baby daddy and their daughter's actual age is not public knowledge. 
Inno previously dated South African popular music producer and singer, Oluwafemi Samuel, professionally known as Femi Large. He is also the CEO of Zagaza Records South Africa. Not much is known about their time together and how long it lasted. Meanwhile, in November 2021, Morolong publicly called out South African rapper Gigi Lamayne for snatching Femi Large from her.
Morolong also dated a Zimbabwean prophet named Tapiwa Munyuki. The two went public with their relationship in 2022. In September of the said year, she raised eyebrows when she accused Munyuki of not contributing anything to their relationship.
She also claimed that he lived off her from the moment he moved in with her, alleging that he couldn't afford a roll-on. She further claimed that she broke up with him because he requested for threesome and that she couldn't fulfill the request because none of her friends showed interest in him.
Morolong made shocking allegations in another tweet that she later deleted. Therein, she disclosed that Munyuki told her that he was a fake prophet and sleeps with sugar mommies for money.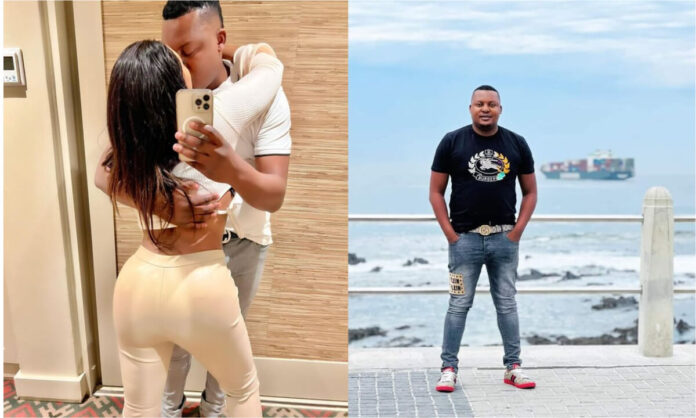 Not long after she made the allegations, she deleted them and started praising Munyuki on her IG stories, calling him the love of her life. Currently, it is difficult to tell if she is in a relationship or not.
Inno Morolong's Net Worth
Inno Morolong's net worth is estimated at R750,000. She made her money from numerous income streams as you would see below.
As mentioned earlier, Inno is one of the most sought-after club hosts in South Africa. She doesn't beg for gigs as she is always booked from time to time. Unfortunately, the exact amount she charges for a show is yet to be publicized.
Monetization of her Social Media Pages
She also makes money from her social media pages for creating content for her followers. Thousands of people follow her pages and also watch her videos.
Inno Moroong was part of the cast of the Netflix reality TV show Diamonds and Dolls, which sheds light on the lives of influencers. She was paid a substantial amount for her role in the project.
The club host makes additional money through her sunglass line, Shades by Inno.
Morong advertises for brands on her social media accounts. She gets paid for promoting the products of these brands.