Dumisani Mbebe (born September 20, 1974) is a 49 years old talented South African actor and entrepreneur who rose to prominence in the year 2008 when he starred as Dumisani Shabani in the SABC1 soap opera, Generations.
The actor, who has starred in an impressive number of local productions, including Uzalo, Isidingo, Rhythm City, and Isono, is married to fellow thespian Mbali Maphumalo. Here's more about him.
Summary of Dumisani Mbebe's Biography

Full name: Dumasani-Sizwe Mbebe
Gender: Female
Date of Birth: September 20, 1974
Dumisani Mbebe Age: 49 years old
Nationality: South Africa
Sexual Orientation: Straight
Religion: Christianity
Marital Status: Married
Dumisani Mbebe's Wife: Thandiwe Mbali Maphumulo
Dumisani Mbebe's Net worth: $900,000
Famous for: Playing Dumisani Shabani on Generations
Dumisani Mbebe's Instagram: dumdiesel
Twitter: @dsmmbebe
Facebook: Dumisani Mbebe
Dumisani Mbebe is a Native of Transkei, Nqamakwe 
South African actor Dumisani Mbebe was born in Transkei, Nqamakwe, Eastern Cape province. He was born on September 20, 1974, making him 49 years old. The actor has also not shared information about the kind of family he was raised in, who his parents are, what his childhood looked like, and whether he has siblings or not.
Mbebe, over the years, has kept his fans in the dark about his life before he found fame as an entertainer. He is one of South Africa's most educated actors. He attended Lukhanyiso Junior Secondary School, a state-combined school located at Nqamakwe.
He also studied at Ngconolo Secondary School in Eastern Cape. He went on to further his education at the renowned Vista University in Port Elizabeth, where he majored in English and Psychology. He graduated in 1996 with a Bachelor's degree.
Dumisani also holds a Performers Diploma in Theatre. He obtained the certificate shortly after his first degree. In 2000, the actor relocated to pursue a Master's program at the Royal Scottish Academy of Music and Drama. Upon completing his studies, he obtained a Master's degree in Drama in Acting.
Although it is pretty difficult to tell Mbebe's exact age, it appears he is in his late 40s. And having come this far in the industry and boosting such an impressive career profile, it is fair to say that he has done well for himself.
Besides starring in several high-grossing local projects, working with notable names in the industry, and more, the actor has generally surpassed many expectations. Though he hasn't reached the highest rung of the ladder, Mbebe is considered one of the industry's most successful and accomplished thespians.
Dumisani Mbebe's Wife is Actress Mbali Maphumalo
Mr. Mbebe is a married man and the husband of veteran actress, singer, and dancer, Thandiwe Mbali Maphumalo. Born on 24th November 1980 in Umlazi, South Africa, she launched her career in the year 1977.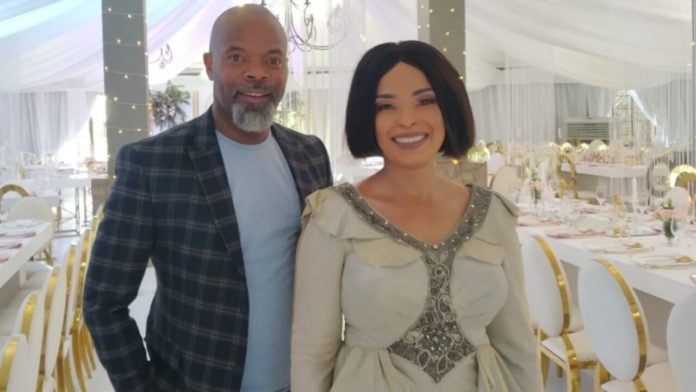 Mbali has starred in several South African television series, including but not limited to Muvhango, 4Play: Sex Tips for Girls, The Wild, Abangani, Isibaya, eKasi: Our Stories, and Erased. She also featured in the films State Enemy No.1 and Safe Bet.
Thandiwe starred alongside her husband in Uzalo as the fictional character Wenzile Nhlapo. Dumisani's wife was diagnosed with breast cancer at the age of 21 in the year 2001, after which she underwent mastectomy surgery. However, the disease returned in 2006.
Mbali and her husband got married in the year 2016 in South Africa. However, their friendship began in 2009, which means they dated for 7 years before walking down the aisle. Unfortunately, neither actor nor his wife has shared their love journey, including how, when, and where they met.
The couple has not given birth to their own kids as well. However, Dumisani is very close to his nephew and niece. He sometimes shares adorable pictures of them together on social media.
Are Dumisani Mbebe and Mbali Still Married?
Yes. Dumisani and Maphumalo are still together since 2016, when they exchanged marital vows. Although there are unverified reports of the two ending their marital relationship, their love for each other has continued to wax stronger.
Mbebe has been severally accused of chasing young girls on social media by asking them out in their DMs, an allegation he is yet to either address, affirm, or deny. Nevertheless, the actor or his wife hasn't mentioned or released a statement about their divorce as husband and wife.
Although they are hardly seen together in pictures, Mbebe loves his wife dearly. In 2019, he shared cute pictures of him and Mbali together in both 2009 and 2019 to celebrate their friendship.
The Actor is Mostly Known for His Villian Roles on TV
Dumisani began his career in the TV industry, however, the particular year he made his first professional on-screen appearance is not public knowledge. The actor is easily recognized for playing Dumisani Shabani in the soapie Generations.
He joined Generations in 2008 and was sacked from the show in 2011 after several warnings against bad behaviors on set. He is alleged to have missed filming on several occasions and sometimes arrived at the filming set drunk.
Nevertheless, the Transkei native is an amazing actor who has worked with prominent producers and actors in the industry. The actor is known for playing villain characters in TV series. His character in Generetaion was evil, ruthless, and sly.
Mbebe's love for western films inspired him to pursue a career in acting. Since he debuted, he has continued to grow his craft and inspire a lot of young people with a passion for acting.
List of Dumisani Mbebe's Movies and TV Shows
Divers Down – Season 1 & 2 as Bollard
ER – Season 12 as Officer Sadig
Generations – Season 1 as Dumisani Shabani
Good Men – Season 1 as Solezwe
Grassroots – Season 1 as Gcin'umzi Nala
Housekeepers – Season 2 as Detective Miya
Hush Money – Season 1 as Judge Kadefuna Dukashe
iNkaba – Season 1 as Kwezi Mthetho
Interrogation Room – Season 1 & 2 as Detective Sami Ntshona
Isidingo – Season 1 as Mayekiso
Isono – Season 1 as Siviwe Mabongo
Loxion Lyric – Season 1 as Uncle Clayton
Mzali Wami – Season 1 & 2 as Terror
Rhythm City – Season 1 as Doc
Savage Beauty – Season 1 as Don Bhengu
Shooting Stars – Season 1,2, & 3 as Sechaba Makayi
Soul City – Season 11 & 12 as Malusi
The Estate – Season 3 as Melisizwe Nobengela
Vutha – Season 1 as Mzwakhe Masilela
Talking about his height, the actor is tall. However, the exact figures of his body measurements are not public knowledge. Mbebe is active on major social media platforms, including Twitter and Instagram.
He is followed by over 39,000 people on Instagram, while his Twitter account has 306 followers. His Facebook page has less than 800 followers.