Peter Matsimbe is the alleged baby daddy of South African host, commentator, and presenter Ayanda Thabethe. Matsimbe and the beautiful commentator have been under public scrutiny since the public became convinced that they have been secretly dating and now share an offspring.
Until the shocking revelation of his relationship with Thabethe, Peter Matsimbe was not known within the public space. However, he is now a subject of public interest and has gained many followers whose primary interest is to keep a tab on his everyday life and relationship with Ayanda.
Is Ayanda Thabethe's Baby Daddy a Married Man?
Peter Matsimbe's baby daddy is said to be a married man and a father to two sons his wife had for him. The name of his wife is given as Shannen Thring, but there is no available information about her personal life and career.
Thabethe initially managed to keep the identity of her baby a secret. Throughout [her pregnancy and up to the time she had her baby shower, she purposefully kept the name of her baby daddy to herself while being loud about her bundle of joy and how he had already made her life complete.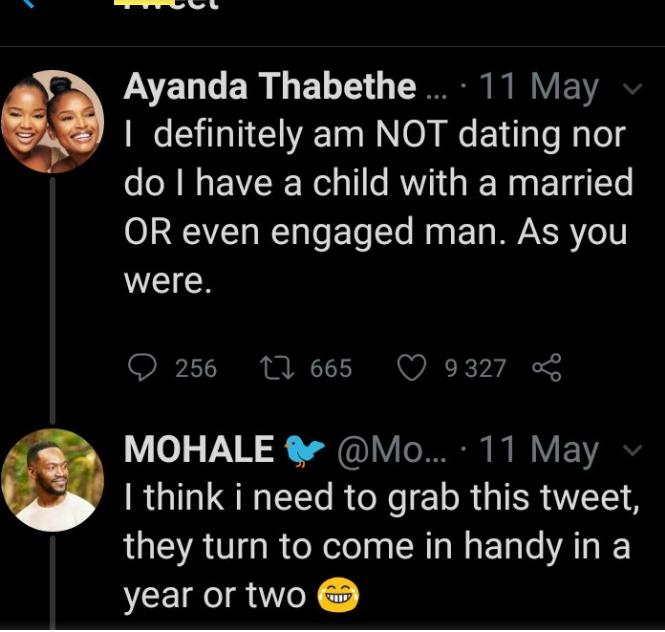 After delivery in April 2022, and she couldn't reveal the name of the man who made her a mother, the public became worried and, at the same curious to find the man themselves. Rumour broke out in late May 2022 that her baby daddy was a married man.
The beautiful host, in response, denied having anything to do with a married man or even giving birth to a baby for a married man. She explicitly announced that she would never do such a thing and also threatened to take action against social media accounts that pedaled the rumor.
On June 8, 2022, celebrity controversial entertainment blogger Musa Khawula caused a stir online when he posted a video of Ayanda and Peter partying in Dubai on his birthday.
Ayanda Thabethe with her dangerous married boyfriend Peter Matsimbe celebrating his birthday in Dubai. pic.twitter.com/AtS3pol2aM

— Musa Khawula (@MusaKhawula) June 8, 2022
The two were seen on a yacht with some of their friends, and Ayanda also shared a picture of a cake with the inscription: "Happy Birthday Pieter." The pictures were met with much criticism from online users, especially the female folks who criticized the host for treating her fellow woman (Peter's wife) badly.
Two days after Peter's birthday celebration in Dubai, Thabethe released a statement through her lawyers, admitting that she is in a relationship with Matsimbe but that he is not married. She insisted that Peter is not in any marriage that is recognized by the law and that he is not married even though he wears a wedding ring on his finger on Ayanda's Instagram stories.
The unverified rumor, according to them, stains the host's reputation and the brand she had worked hard to build.
Peter And Thabethe Secretly Dated Before Their Relationship Became Public Knowledge
Peter Matsimbe and his baby mama were secretly dating before the public knew about their affair. Unfortunately, their relationship timeline is under the radar as the exact month and year they started dating are unknown to the public.
It is difficult to tell how long they have dated as well. However, some unverified sources claim the two are currently cohabiting in an apartment in Durban. It is unknown if they have plans to settle down in the future or raise their kid together.
Meanwhile, Peter is yet to comment or address several reports about his relationship with the South African host. He seems not bothered about people's opinions about them.
The South African Host Gave Birth To His Son In March
The Quick Face co-founder gave birth to her baby boy on March 16, 2022, through a C-section in a South African hospital. Her sister Lungi Thabethe was by her side all through the process.