The Blaq Diamond comprises of two young men named Sphelele "Danya Devs" Dunywa and Ndumiso "Ndu Browns" Mdletshe. While the former is rumored to be dating Kamo Mphela, a South African dancer and singer, the latter is believed to be single.
The fast-rising South African music duo Blaq Diamond first came to the spotlight with the release of their debut album 'Inqola' in 2017. They soon became the darling of South Africans with their modern and vigorous Maskandi and umBhaqanga combination of Afro-pop music. Following the success of 'Inqola,' which shot them to the limelight and equally garnered them a huge fan following, the Blaq Diamond members became the talk of the town, and as a result, their fans have been curious to know who they are dating.
They have been linked to many ladies in the past years who were rumored to be their girlfriends. With the duo leading a private life, it's no surprise that they have been the target of several romance rumors throughout their career. With that being said, here's a sneak peek into Blaq Diamond's supposed girlfriends and hookups.
An Insight into Blaq Diamond Members' Dating Life
There are some discrepancies in the Blaq Diamond members' dating history as the music stars have successfully managed to keep their private lives out of the snoopy eyes of the media. The thought of who their romantic partners are has constantly kept their devoted fans in suspense. Recently, after the enormous success of their award-winning sophomore album 'Umuthi' in 2020, which tremendously increased their fan base, the Blaq Diamond members have been the subject of multiple dating rumors. Hence, their fans are inquisitive to learn if they are really dating anyone.
Ndumiso Mdletshe's Relationship Status
Ndumiso Mdletshe, popularly known as Ndu Browns, seems to be the most admired by female fans among the Blaq Diamond members. This is attributed to his physique and dreadlocks, as most of them see him as a cute guy. Ndu has not hidden what his attributes of an ideal woman are, as he revealed his love for thick ladies while replying to one of his female fans Thickleeyonce, a plus-size supermodel and social media sensation who made known to her followers about her love for Ndu on June 25th, 2020.
However, it seemed his friendship with Thickleeyonce was just casual as he notified his Instagram followers a few months later in a live chat that he is still single and searching and in dire need of a serious relationship. Also, during the Instagram live session, the one half of Blaq Diamond told all the cute single ladies residing anywhere around Johannesburg and Pretoria to send a direct message of their WhatsApp number to him via Instagram for a linkup. Immediately after dropping the news, his female followers flooded his live chat with their WhatsApp numbers. However, we are yet to see the outcome of it, whether he has found the one or not.
Meanwhile, in another post, which he uploaded in late 2020, the multi-talented singer, producer, and songwriter asked his fans if he was permitted to have a crush. Ndu later disclosed that he has been crushing on the pretty Durban-born actress and musician, Asavela Mngqithi (alias Isibaya's Ntwenhle) and didn't think it would be a bad idea to make her Mrs. Browns. The actress is yet to comment on Ndu's revelation.
His Alleged Hookups
Rumors of the Blaq Diamond members' alleged romantic affairs are always circulating in the media and there is no sign of it abating soon. If it's not Ndu Browns' alleged affair today, it would be Dunywa's tomorrow. With the help of Ambitiouz Entertainment, the music duo launched their record label named Umuthi Records in 2020. That same year, their record label signed Sbahle Mpisane as their first artist.
Due to the cordial relationship between the trio and how they are always over each other on their social media handles, the news of Ndu and Sbahle's alleged romance started making rounds on the internet. Some ladies even went to the extent of asking him on social media whether he was off the market because of her. Because of that, the award-winning singer announced that he is very much available and that he and Sbahle are just friends and colleagues.
Is Blaq Diamond's Sphelele Dunywa Dating Anyone? 
The other half of Blaq Diamond, Sphelele Dunywa, famously known as Danya Devs, didn't escape the rumor mills either, even though he has managed to keep his love life under the radar. He has kept his fans in suspense for so long regarding who he is dating. After singing "I'm dating a dark-skinned virgin girl" in one of the songs he was featured in and later wrote on his social media handle that he loves it when his girlfriend is dancing, the rumor that he is dating Kamo Mphela began circulating.
Kamo is a South African dancer and singer, born in November 1999 in Durban. She rose to stardom after featuring in the smash single 'Sukendleleni' by Jobe London and other hit songs, including 'Sbwl' by Busiswa and 'Amanikiniki' by MFR Souls. Following Danya's revelations, one of his fans asked him whether he was dating the comely dancer. He didn't give her a straight answer but laughed it off. This further fueled the speculation that the Blaq Diamond member is dating Kamo Mphela. Surprisingly, neither of them has confirmed nor refuted the claim, implying that it might be true.
How Did Blaq Diamond React To Thickleeyonce's Crush?
Thickleeyonce, whose birth name is Lesego Legobane, is a renowned South African plus-size model, photographer, influencer, and blogger. She additionally serves as the co-founder of Lee bex. On June 25th, 2020, she erupted the social media with her tweets as she couldn't hide her crushing feelings on Blaq Diamond. Firstly, Thickleeyonce thought that Blaq Diamond consists of one person and that the other group member was just a close friend when she took her shot in her first tweet that reads, "Why do I have a crush on Blaq Diamond….send help."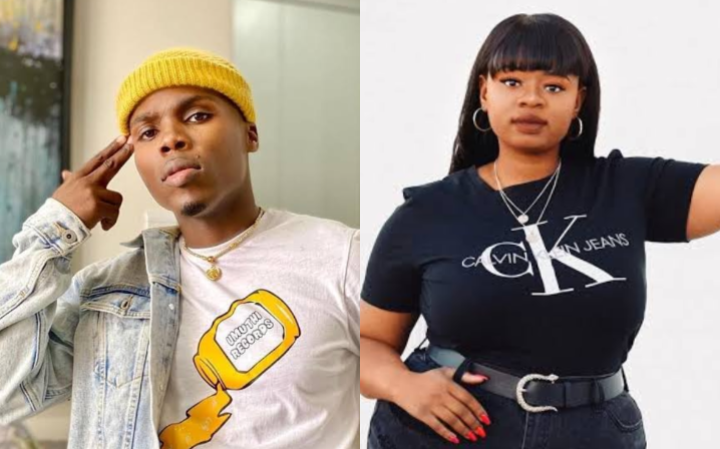 After realizing who they were, she clarified that it was the one with locks, which is Ndu Browns, that she's crushing on. Shortly after making the revelation, her crush (Ndu) was tagged on her tweet by her followers, and he responded immediately by tweeting, "…..and I like em thick." Following Ndumiso's reply, other ladies began making advances at him, and this prompted Thickleeyonce to beg them to allow her to flourish before Ndu would think otherwise about her. To the amazement of many, their acquaintance didn't lead to a lasting love affair, as the singer later revealed that he's still single and available for a serious relationship.
An Overview of Blaq Diamond and Its Members
The Blaq Diamond consists of two Ladysmith KwaZulu-Natal natives, Ndumiso Mdletshe and Sphelele Dunywa, who were both born in 1994. They got acquainted while on a school trip during a rap challenge on a school bus in 2010. Noticing that they had many things in common, the duo began to spend time together, whetting their skills to reach greater heights, which has yielded an extraordinary result today. Their journey to greatness wasn't all that rosy as they encountered numerous obstacles along the way, including a relocation to Johannesburg, where they didn't know anyone, and doing menial jobs to earn an income to pursue their musical goals.
The message of love, hope, and positivity of their songs, coupled with its originality and pure African sounds, helped them carve a niche in the music industry in the Afro-pop genre. Soon after, their persistence paved the way for them, and they were signed by Ambitiouz Entertainment, releasing their first studio album, which was an instant hit in 2017. Blaq Diamond's sophomore album 'Umuthi' (2020), which contained several hit singles like 'Ibhanoyi,' 'Love Letter,' and 'Umuthi,' was a commercial success as it was certified 6x platinum by RiSA (Recording Industry of South Africa).
On the other hand, 'Ibhanoyi,' was certified quadruple platinum. More so, their first studio album received a positive reception and earned two SAMA (South African Music Awards) nominations. Their second album, 'Umuthi,' which was released in 2020, won the SAMA Record of the Year Award with numerous other nominations.