Former president Jacob Zuma has married six times in his entire life. The women who are officially recognized as his spouses are Gertrude Sizakele Khumalo, Kate Mantsho, Nkosazana Dlamini, Nompumelelo Ntuli, Thobeka Mabhija, and Gloria Bongekile Ngema. 
​
​Besides his involvement with these women, he has had several intimate relationships with other women, with whom he fathered not less than seven children. Zuma is considered a contemporary polygamist, and not just that the former president has always maintained that he is super proud of every single child from his loins and their mothers.
How Many Wives Does Zuma Have?
Former president Jacob Zuma has been married to six women in his entire life. However, his marital relationship with one of his spouses turned sour in the past years, leading to the Nkandla-born politician and his now-ex-wife calling it quits.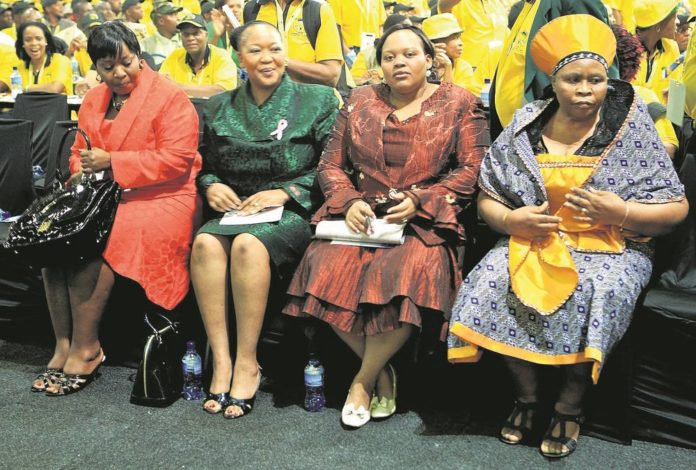 Jacob Zuma and three of his wives are currently estranged. There is no authoritative statement on what led to his separation from two of his spouses. One of the trio is said to have attempted to poison his tea, an allegation the ex-first lady denied.
However, it is important that the former president and these three women are only estranged and not divorced. Zuma lost one of his wives in the year 2000. He has been together with Gertrude Sizakele Khumalo since 1973, and things have been peaceful between them all these years.
What are Jacob Zuma's Wives' Names?
Former president Jacob Zuma is currently on his sixth marriage. He has had multiple loves in his life. Here are the names of his spouses.
1. Gertrude Sizakele Khumalo (1973-present)
Gertrude Sizakele Khumalo is the first wife of former president Jacob Zuma. She was born on the 2nd of March 1940, which makes her two years older than Zuma. She and Zuma met in 1959, and four years later, Jacob was sentenced to 10 years imprisonment on Robben Island.
Upon his return from prison in 1973, Zuma and MaKhumalo sealed their love by getting married. However, their marital relationship did not produce any offspring. Gertrude, also known as Sizakele MaKhumalo Zuma, has remained the family's matriarch at Nxamalala. Over the years, she has always lived a productive rural life. She is typically a low-maintenance wife, a keen farmer, and a member of the Salvation Army.
Makhumalo, unlike some of Zuma's wives, has never had anything to do with the glamour of public life. She runs a spaza shop and a co-operative for women of KwaNxamalala village. Zuma's first wife is known to be deeply devoted and committed to the growth and development of her family and village at large.
She has never made headlines for any wrong reason, including being involved in any sort of scandal or having marital issues with her husband. There is no information about her educational background and how she related with her co-wives. Sizakele served as South Africa's First Lady from 2009 to 2014, after which she was replaced Nompumelelo Ntuli Zuma, as wanted by the former president.
Gertrude, regardless, was still considered the first lady along with Zuma's other wives until 2018 when he completed his term. The matriarch of the Zuma clan is the founder of the Sizakhele MaKhumalo Zuma Foundation.
2. Kate Mantsho (1976-2000)
Kate Mantsho was the second woman Jacob Zuma got married to. The two met in Mozambique while Zuma was in exile. They tied the knot in 1976, three years after he wedded his first wife.
Their marriage was blessed with five children, namely Mxolisi Saady Zuma (born 1980), twins Duduzile and Duduzane Zuma (born 1984), Phumzile Zuma (born 1989), and Nhlakanipho Vusi Zuma (born 1993, died 1 July 2018).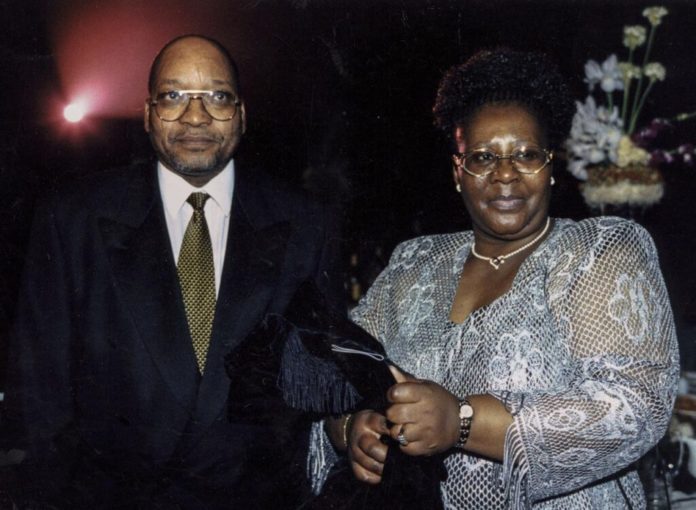 Kate had relocated to Mozambique from South Africa in 1974, where she earned a diploma in a diploma in languages. She was fluent in almost all of South Africa's official languages and ki-Swahili, German, Portuguese, and French. She also worked as the deputy station manager of Mozambique's airline Linhas Aéreas De Mozambique (LAM).
She used her position to help smuggle ANC cadres out of South Africa then. Kate, unfortunately, took her own life on December 8, 2000, leaving behind a devastating note for her husband, whom she forbade from attending her funeral. Zuma's deceased wife was born on the 2nd of September 1956 in Alexandra, Gauteng, South Africa.
She died at the age of 44 and was laid to rest in Heroes' Acre at Westpark Cemetery in Johannesburg. Kate is said to have taken an overdose of anti-malaria drugs. However, no one knows why Kate committed suicide and forbade her husband from attending her burial. Before her death, her marriage with her husband was reportedly strained. There is no further information about her educational qualifications and professional career before her death.
3. Nkosazana Dlamini (1982-1998)
Nkosazana Dlamini, born Nkosazana Clarice Dlamini, was the second wife of Jacob Zuma. She was born on 27th January 1949, in Natal, South Africa. She and Zuma met in Swaziland in 1975 while Zuma was in exile there. At that time, Dlamini was a student activist.
While Zuma was still married to Makhumalo, who he left behind in South Africa for exile, the former president fell in love and eventually married Nkosazana in 1982. Their marriage ended in June 1998 after Dlamini had given birth to four girls.
The names of Nkosazana's kids with Zuma are Msholozi Zuma (born 1982), Gugulethu Zuma (born 1985), Nokuthula Nomaqhawe Zuma, also known as Thuli (born 1987), and Thuthukile Zuma (born 1989). Dlamini is the most prominent and lettered among women Jacob Zuma has ever married. She has held several enviable positions in the South African government and beyond; in fact, she is educationally accomplished.
Nkosazana holds a certificate from Amanzimtoti Training College, from where she graduated in 1971. She earned a Bachelor's degree in Science (BSc) in Zoology and Botany from the University of Zululand. She began her medical studies at the University of Natal and completed her studies at the University of Bristol in the UK in 1978.
She also holds a diploma in tropical child health from Liverpool University's School of Tropical Medicine. Zuma's second wife serves as South Africa's Minister of Cooperative Governance and Traditional Affairs currently. She has also served as a Minister during the regimes of Nelson Mandela, President Kgalema Motlanthe, Thabo Mbeki, and even Cyril Ramaphosa.
4. Nompumelelo Ntuli (2008-present)
The first polygamist president of South Africa, Zuma, and his fourth wife, Nompumelelo, formally tied the knot on 5th January 2008. Their marriage was blessed with three children named Thandisiwe Zuma (born 2002), Sinqobile Zuma (born 2006), and Manqoba Kholwani Zuma (born 2010).
Ntuli and her kids were reportedly in a rented mansion on Morningside's "Millionaire's Mile" in Durban through the unregistered Nxamalala Trust by the Jacob Zuma "blesser" Erwin Ulbricht initially.
Her expenses were all taken care of by benefactors and fair-weather friends, according to the report. Zuma's 4th wife has, on several occasions, made headlines for various scandals. Sometime before 2010, she was accused of having an affair with her bodyguard, Phinda Thomo. The allegation didn't go down well with the Zuma family despite Ntuli giving birth she insisted belonged to Jacob Zuma after her affair with Thomo.
The first lady is said to have atoned for her indiscretion with the bodyguard with the payment of a goat. In 2012, MaNtuli was still part of the family, having atoned for her indiscretion with the bodyguard with the payment of a goat, which made her retain her place in the first family.
Phinda has since passed on; he reportedly committed suicide in the bath of a home in Soweto in 2009. Ntuli was once taken to the CCMA by her domestic worker for allegedly flouting labour laws and general abuse. The police began an investigation against Ntuli in 2014 after she allegedly attempted to take Zuma's life through poisoned tea.
Ntuli denied the allegation, and the National Prosecuting Authority (NPA) refused to prosecute the first lady due to insufficient evidence. Zuma and his 4th wife are reportedly estranged at the moment. Ntuli was born in the year 1975 in South Africa. There is no information about her educational background or family background.
5. Thobeka Stacie Mabhija ​(2010-present)
First Lady Thobeka Madiba got married to Zuma on January 4, 2010, at the height of his popularity. She had three kids with Zuma and was known as his most vocal and supportive wife on Instagram, where she is always active.
She was never shy about declaring her love for the Nkandla-born politician. However, things turned sour between them, leading to Thobeka suing at the maintenance court in Durban in 2020 for not paying R14,000 a month for maintenance for their teenage daughter.
However, Zuma's lawyer Eric Mabuza, argued that Madiba has not worked ever since she gave birth to the girl, unlike Zuma's older wives, who had careers and could support themselves. It was also said that it was Zuma who has been taking care of the girl for over 13 or 14 years.
Their court case was not an open one, as it was reported that a court officer responsible for maintenance issues would set up a meeting of both parties to allow them to sort out their differences and hopefully reach a solution.
Apart from that incident, Zuma's wife is said to have been barred from showing up at Nxamalala after Zuma accused her of removing his sim cards without his permission. Thobeka and her husband are reportedly estranged as well.
Mabhija, also known as Thobeka Madiba, was born in 1973. Thobeka has kept her fans in the dark about her academic qualifications and certain aspects of her life.
6. Gloria Bongekile Ngema (2012-present)
Jacob Zuma married his sixth wife, Gloria Bongekile Ngema, in 2012. She was a long-standing fiancée of the ANC activist before their relationship was formalized after having a son together in 2009. His name is Sinqumo Zuma.
Gloria, in 2017, was implicated in the Gupta scandal after it emerged through a leaked email that the controversial wealthy family partly paid for her R5.4-million Waterkloof Ridge mansion in Pretoria. The payments were reportedly made through accounts that held kickbacks from Transnet tenders. Zuma's sixth wife also worked for the Gupta's JIC Mining Services in  2010.
She was born on January 1, 1965, in Umlazi, Durban, South Africa. Gloria was born to a full-time house and plumber called Prisca and Abedbego Ngema. She has three sisters and two brothers. She is currently a businesswoman and the founder of the anti-diabetes foundation Gloria Bongi Ngema Foundation.
Zuma's sixth wife holds a business administration degree from the Mangosuthu University of Technology. She has equally worked with several financial institutions, including Standard Chartered Bank, Investment bank, Merchant bank, and many others.
Meet the Newest of Jacob Zuma's Spouse
South African activist and anti-apartheid icon Jacob Zuma took his last known wife (Gloria) in 2012, and it has been over nine years. However, he has added several women to the list of the women he has had romantic affairs with.
Zuma did not formally tie the knot with some of them despite fathering kids with them. He is known to have reportedly engaged some of them. There has, however, never been a wedding between him and any of them since his last marriage to Thobeka.
The names of the women he is currently engaged to are:
Nonkanyiso Conco
Princess Sebentile Dlamini, a niece of Swazi King Mswati III. Zuma and Sebentile got engaged in 2022, after which he paid the traditional lobola with 50 cattle. Zuma was deputy president of the Republic of South Africa then. As of 2022, they are still engaged.
Nonkululeko (sometimes also spelled Nonkwaleko) Mhlongo
Zuma is yet to make any of the three women listed above his wife as tradition demands. Of the three, he fathered three kids with two – two girls and a boy.
Zuma Wives Salary: How Much Were Zuma's Wives Allowance?
Jacob Zuma's wives' salaries aren't one of those topics that make headlines all the time; even when he was still in power, the exact amount the presidential amount was paid as salaries was not public knowledge.
In the past years, particularly from when Zuma left the office as the fourth president of South Africa in 2018, the government or concerned authoritative are yet to bring to public notice how much the state paid Zuma's wives as salaries and other perks they benefitted from the state.
However, in 2019, reports show R70 227 of taxpayers' money went towards the presidential spouses. In the 2018/2019 financial year, the former first ladies were said to have spent R4 million of state funds over 12 months. In the 2019 financial year, Jacob Zuma's wives spent a whopping R2.4m from the public coffers.
Unfortunately, there is no detailed account of how the money was shared amongst them and which one of them received the highest amount. Presently, no one knows how much the Zuma and his spouses receive from the state as benefits.
The Names of Women Zuma Has Had Children With That He is Not Legally Married To
South Africa's first polygamist president has had many children from romance with some women over the years. Despite acknowledging his paternity, Zuma's reasons for not making any of them his wife is still shrouded in mystery.
1. Minah Shongwe
Minah Shongwe gave Jacob Zuma his oldest child, Mziwoxolo Edward Zuma (born 1977). Shongwe was not raised under the spotlight, nor was she a public figure before her passing. However, she was best known as the sister of the South African renowned attorney, Jeremiah Shongwe, who asked to be recused from Zuma's rape trial because of the relationship.
Minah and the Nkandla-born politician reportedly had an affair during the apartheid era, which resulted in the birth of Edward. Despite having a son with Shongwe, Zuma chooses to pay her lobola.
Edward's mother lived a quiet life throughout her lifetime. There is no account of her birth, parents, educational background, and occupation before her death. Minah died in March 2018 in Swaziland.
She was buried in the country, and his son was also in attendance despite being earlier banished from the region for criticizing the country for lack of democratic reforms. He was only granted a few hours for his mother's funeral.
2. Nonkululeko Mhlongo
As of 2011, Nonkululeko was said to be one of Zuma's long-standing fiances, and they were rumored to be preparing to get married that period. Unfortunately, the two are yet to take their relationship to the next level. Zuma and Mhlongo share two daughters. They were born in 1998 and 2000, respectively.
The couple met after Zuma's return from exile in 1990. Mhlongo is said to have always been regarded as part of Zuma's family because of her closeness to them and that she often sits with Zuma's other spouses at ceremonies.
There is no available information about Nonkululeko's background, education, and current whereabouts. However, she was thrust into the spotlight in March 2017 after a covert recording was leaked in which she allegedly outlined a plan for defrauding the KwaZulu-Natal government.
3. Sonono Khoza
Zuma and Sonono's relationship earned the former president fierce backlash from several individuals and political parties, including the country's number 1 opposition party Democratic Alliance (DA), the African Christian Democratic Party (ACDP), and even Zuma's party, the ANC.
Zuma had a daughter named Thandekile Matina with Sonono, who was young enough to be his daughter in October 2009. Zuma's baby mama is the daughter of South African soccer administrator Irvin Khoza. When news broke out that he fathered a child with her, the former president confirmed that he had paid inhlawulo and acknowledged paternity.
The former ANC top leader was criticized for his action, which these parties maintained, undetermined government's HIV/AIDS program, which promotes fidelity in marriage and safe sex. Jacob Zuma later apologized amid heavy backlash for causing his family, party, and the country pains.
There is no available account of Sonono's birth details and other aspects of her private life. However, she is the founder and director of the Diepkloof, Soweto-based foundation,  Zodwa Khoza Foundation.
4. Nonkanyiso Conco
Conco, born October 16, 1993, in Durban, KwaZulu-Natal province, was one of the youngest women to be romantically involved with Jacob Zuma. The two were previously engaged; however, they are said to be estranged and no longer engaged presently.
Conco has a son for Zuma. Their relationship was met with mixed reactions and heavy criticism due to their age differences. Zuma is old enough to be Nonkanyiso's father as he is 51 years older than her.
Conco is a businesswoman, reality TV star, philanthropist, and radio. She is the owner of LaConco Naturals, a beauty, body, and personal care brand. She also runs a mentorship program called Enlighten the Nation.
Zuma's former fiance, who previously worked as a photographer and reporter before fame, starred in the reality show, the Real Wives of Durban, where she confirmed her split from the former president. Nonkanyiso has reportedly been close to Zuma since her late teens.
5. Two Other South African Women
Reports have it that the South African top politician fathered three children with an undisclosed woman from Johannesburg and another woman from Richard's Bay, who he had one child with.
What is Zuma's Divorced Wife Up To Currently?
Nkosazana Dlamini-Zuma and Zuma divorced in 1998, after sixteen years together. Zuma's ex-wife is currently serving under the Cyril Ramaphosa-led administration as Minister of Cooperative Governance and Traditional Affairs and Minister in the Presidency.
Dlamini has been in government for many years and has worked in various government sectors, including the health, home affairs, presidency, and foreign affairs departments. Zuma's ex-wife was also the first woman to chair the African Union Commission following her election on 15 July 2012.
A Recap Of the names of Zuma's 23 Children, their birth years, and mothers
Edward Zuma (born 1977 by Minah Shongwe)
Mxolisi Saady Zuma (born 1980 by Kate Mantsho)
Duduzile and Duduzane Zuma (born 1984 by Kate Mantsho)
Phumzile Zuma (born 1989 by Kate Mantsho)
Nhlakanipho Vusi Zuma (born 1993 by Kate Mantsho, died 1 July 2018)
Msholozi Zuma (born 1982 by Nkosazana Dlamini-Zuma)
Gugulethu Zuma (born 1985 by Nkosazana Dlamini-Zuma)
Nokuthula Nomaqhawe Zuma, also known as Thuli (born 1987 by Nkosazana Dlamini-Zuma)
Thuthukile Zuma (born 1989 by Nkosazana Dlamini-Zuma)
Thandisiwe Zuma (born 2002 by Nompumelelo Ntuli)
Sinqobile Zuma (born 2006 by Nompumelelo Ntuli)
Manqoba Kholwani Zuma (born 2010 by Nompumelelo Ntuli)
Sinqumo Zuma (son, born in 2009 by Gloria Bongi Ngema)
Thandekile Matina Zuma (daughter, born in 2009 by Sonono Khoza)
Sakh'muzi Zuma (born 12 April 2018 by Nonkanyiso Conco)
Three children by Thobeka Stacie Mabhija
Two daughters by Nonkululeko Mhlongo were born in 1998 and 2000
Three children to a woman from Johannesburg
One child to a woman from Richard's Bay.