Thabo Mbeki is a former president of South Africa. His dalliance with South African politics started in the dark days of apartheid rule in the country when he joined the African National Congress (ANC) at a young age. Following the end of the apartheid rule in 1994 and the subsequent election of the first black president of South Africa in the person of Nelson Mandela, the name Thabo Mbeki also became prominent as he was Mandela's running mate. This meant he was equally elected as the deputy president, making him the first black man to take up that office in South Africa.
Mbeki also served as the second president of South Africa after Nelson Mandela left office in 1999 but his tenure was interrupted few months to the end, making him leave office before time, even though this did not bring an end to his political career. The question now is where is Thabo Mbeki and what is he up to? All that and more is what this post seeks to answer.
Profile Summary Of Thabo Mbeki
Name: Thabo Mvuyelwa Mbeki
Age: 81 years old
Date of Birth: June 18, 1942
Place of Birth: Mbewuleni, Eastern Cape Province, South Africa
Nationality: South African
Occupation: Politician, Anti-Apartheid Activist
Political Party: African National Congress (ANC)
Major Political Achievements: Deputy President, President
Profession: Economist
Parents: Govan Mbeki and Epainette Mbeki
Relationship Status: Married
Spouse: Zanele Mbeki
Thabo Mbeki Joined The ANC At The Age Of 14
One may (or may not) be surprised that Thabo Mbeki was interested in the politics of black freedom as a teenager. Well, the reason is not far-fetched. Young Mbeki's interest to see that the South African apartheid rule comes to an end can be traced to his parents – Givan Mbeki and Epainette Mbeki – who were both teachers and anti-apartheid activists. His father was a bold and resilient member of the African National Congress (ANC) and the South African Communist Party (SACP).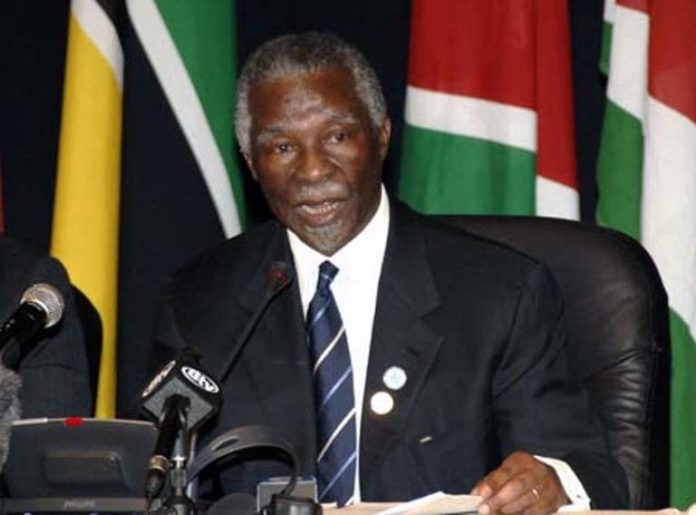 Growing up, he had his primary education at Idutywa and Butterworth and went on to start his high school education at Lovedale, Alice, but the already political Thabo Mbeki was expelled from school in 1959 after a student protest which he was very much a part of. With no school to attend, his parents had no option but to homeschool him, thus, the soon-to-be South African president had to continue school from home.
However, that same year, young Thabo Mbeki was able to successfully sit for his matriculation exams at St. John's High School, Umtata, and the following year he completed his studies in Johannesburg and went on to study Economics at the University of London, England.
Thabo Mbeki's father had instructed his family members to join the African National Congress (ANC) in the fight for the social and economic freedom of the black majority in South Africa. Of all of his four children, Thabo took this instruction a little more seriously and joined the party at the age of 14. Since then, he has remained with the party.
His other siblings may not have achieved as many political and career milestones as the former South African president but they are equally known. One of the most renowned of his siblings is Moeletsi Mbeki, an economist. Others are Linda Mbeki and Jama Mbeki.
In 1962, Thabo Mbeki Went On Exile
Thabo Mbeki's expulsion from high school did not in any way deter him from being active in the fight for the total elimination of racial segregation in South Africa with the ANC and his loyalty to the cause saw him rise to become the secretary of the African Students' Association in 1961. However, with the ANC banned at the time, the leaders of the party felt the need for Mbeki to go underground and so he went on exile.
In 1962, disguised as footballers, he and a group of comrades traveled in a minibus to Botswana, South Africa's neighboring country and from there they fled to Tanzania. During his time in exile, Mbeki was privileged to travel to several countries and also work with people who later became big names in South Africa African politics and that of other countries in Africa.
One of such people is the late renowned Zambian leader, Kenneth Kaunda who later became a post-independent president of Zambia. Mbeki linked up with Kaunda and Oliver Tambo in London. While studying Economics at Sussex University, Mbeki also worked part-time for both Tambo and Yusuf Dadoo.
During His Time on Exile, His Father Govan Mbeki Was Arrested
Thabo Mbeki continued to make his time on exile worth it and in just three months of joining the university in 1963, he was elected as a member of the Student Union committee and by April that year, he became one of the 28 people who appended their signatures in support of a document called 'Spies for Peace'. This document contained classified information about the plans of the Britains to save themselves and take over the world in the event of a nuclear attack – which they believed was imminent.
Still in 1963, while Mbeki was in exile, ANC's high command was caught in Lilliesleaf Farm in Rivonia and to the dismay of Mbeki, his father, Govan Mbeki was one of them. In a bid to detain and hold the prisoners in forced isolation, the 1993 Number 37 General Laws Amendment Act, was fastened.
The arrest and solitary confinement of his father did not in any way deter him from continuing his fight for justice and freedom, rather it spurred him on to do more. This time he started mobilizing international support for the fight against apartheid rule. Mbeki who has openly expressed his dissatisfaction with the South African government's new rule against political activities and compared it to Nazi Germany led a motion in the student union to condemn the move and to call on the international community to boycott made in South African goods.
His father was charged with planning an armed uprising against the state and was slammed with the death penalty alongside those with him. In April 1964, Mbeki stood before the United Nations Special Committee against apartheid to appeal for the life of his father, but he was thought to be political.
Seeing that it was obvious his father and others involved in the case were going to be sentenced to death after they were found guilty of high treason, Mbeki organized a march from Brighton to London, after which a demonstration was held at the South African House in Trafalgar Square. The next day after the London march, Mbeki was seen on London TV leading the march. It all paid off as the death penalty was dropped for imprisonment. And after being locked up for 24 years in prison, Thabo Mbeki's father, Govan Mbeki, was released on the 5th of November 1987.
While On Exile He Remained Loyal To The Soviet Union
In London, Thabo Mbeki was studying and after the successful completion of his bachelor's degree, it was his desire to join uMkhonto we Sizwe – the armed wing of the African National Congress (ANC) – but Oliver Tambo disagreed as he felt that it was better for Thabo to go for a master's degree instead.
During his stay in England, Mbeki remained showed total loyalty to the Soviet Union as it was one of the major sponsors and supporters of the ANC, supporting their underground movement financially, educationally, and with military training.
In October 1966, he moved from England to London to devote himself to the ANC full time. This time, he pleaded with Oliver Tambo to allow any student who supports the ANC irrespective of their race to join the Youth and Students Section (YSS). His request was granted, making the YSS the first arm of ANC to become non-racial and the YSS went on to become an active part of the Anti-Vietnam war campaign.
He Stayed In Moscow For A Military Training
Following the completion of his master's degree in 1968, he was given permission to move to Moscow for military training, and in February 1969, he arrived the country to study at Lenin Institute. Being someone who excelled in everything he does, the military school was no exception and in no time, he began addressing the institute during the weekly assembly.
Being in Moscow did not stop Thabo Mbeki from getting involved in the activities of ANC as he continued to prepare speeches, documents, and articles for the party and its subsidiaries. By June 1969, he was selected to serve as the secretary of high-level SACP delegation to the International Conference of Communist and Workers Parties in Moscow.
Mbeki celebrated his 28th birthday alongside Chris Hani at the South African Communist Party which he was secretly taken away to attend at the Communist Party of the Soviet Union (CPSU) guest house in Volynskoye. The involvement of Mbeki and other Africans with the SACP was of great importance as its leadership was majorly non-African. His military training and stay in Moscow were cut short when he was called back to London to prepare for a new role in Lusaka.
After Nine Years Of Being Away From Africa, Mbeki Finally Landed In Lusaka In 1971
After almost a decade of fleeing from Africa to exile in Europe, Mbeki landed in Lusaka in 1971 with his boss, Oliver Tambo. The aim of bringing Mbeki to Lusaka was to serve in the position of the Assistant Secretary of the ANC's Revolutionary Council. The goal of this council was to bridge the gap between South Africans at home and those who have been in exile.
While in Lusaka, Mbeki lived in a classified location around Makeni, South-West. From the Revolutionary Council, he was moved to the propaganda section of ANC but was still attending RC meetings. Together with Tambo, he met with Mangosuthu Buthelezi at the Heathrow Airport to discuss the mass resistance of racial segregation in South Africa. He also gets the credit for facilitating the relationship between ANC and Mangosuthu Buthelezi. Three years after his arrival to Lusaka, he was moved to Botswana to assist in the development of an internal underground.
He Went To Swaziland To Evaluate The Possibility Of Setting Up an ANC Frontline In The Country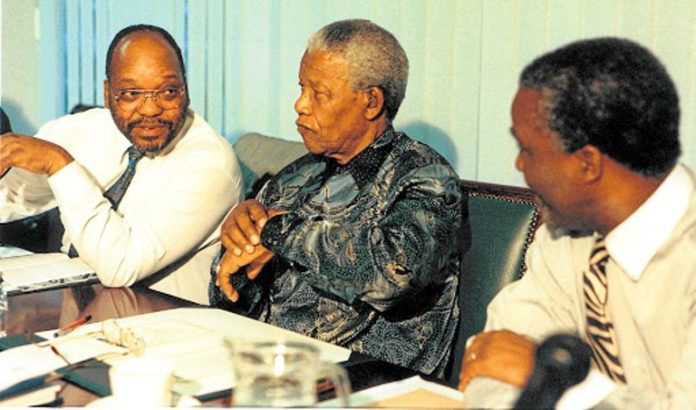 By 1975, Mbeki was already married to the love of his life, Zanele Dlamini, who he had previously met in London and gotten married to in the previous year. He was sent to Swaziland with Max Sisulu to evaluate the possibility of setting up an ANC frontline in the country.
Following their meeting with Lindiwe Sisulu who was a librarian at the University of Swaziland and the meeting they had with students from South Africa who were studying in the neighboring country, they returned back to Lusaka to give a report to the ANC. Based on their evaluation, they saw the possibilities of setting up a frontline Swaziland as it was strategically close to both Durban and Johannesburg.
From the result of their first evaluation, Mbeki and others were sent back to Swaziland to organize a military wing. On getting to the country, he was able to recruit people in their numbers. While in Swaziland, he was arrested alongside Jacob Zuma and Albert Dhlomo but somehow they were able to escape being deported back to South Africa and a month later, they found their way to Mozambique and back to Lusaka.
Mbeki Visited Nigeria To Create An Alliance With The Olusegun Obasanjo Government
In January 1977, Mbeki was posted to Nigeria. Just before leaving for Nigeria, he was made the deputy of Duma Nokwe in the Department of Information and Propaganda (DIP) after which he left for Nigeria with the aim of creating a diplomatic relationship with Obasanjo's regime.
His journey to Nigeria proved fruitful, seeing that he was able to create a relationship with Nigerian authorities and the Pan Africanist Congress (PAC) in Nigeria. After staying a better part of 1977 in Nigeria, by 1978, he became the political secretary at the office of Oliver Tambo.
Mbeki Visited Zimbabwe When Robert Mugabe Became Prime Minister
In 1980 when Robert Mugabe became Zimbabwe's prime minister, Mbeki and Tambo met with Mugabe, Emmerson Mnangagwa – his adviser in Salisbury, on the 11th of August 1980. Mugabe expressed his support for the ANC and permitted them to move ammunitions and cadets across his country.
After building an alliance with Zimbabwe, Mbeki left everything he had worked for in the hand of Chris Hani, but in 1981 the relationship he had established with the government was strained after the assassination of ANC's representative in Zimbabwe Joe Gqabi. In 1986, a captain was sent to Lusaka from the South African Defence Force to murder Thabo Mbeki by planting a bomb at his house but the plan was intercepted in Zimbabwe when the police caught the assassin before he made it to Lusaka.
After 28 Years In Exile, Thabo Mbeki Returned To South Africa In 1990
After spending almost 3 decades in exile away from SA, Thabo Mbeki finally returned to South Africa when Nelson Mandela was released from prison in 1990. Now in South Africa, he played a fundamental role in helping ANC evolve from a banned political movement to a legal political organization following the end of the apartheid. By 1994, during the first election of the Republic of South Africa, he became the Deputy President of South Africa.
By 1999, he became the country's second black president. However, his tenure was not completed because he resigned after he was called back by the National Executive Committee of the ANC following Judge C. R. Nicholson's judgment that he improperly interfered with the National Prosecuting Authority and the prosecution of Jacob Zuma for corruption in 2008. The following year, the judgment of Judge Nicholson was overruled by the Supreme Court of Appeal but his resignation was not reversed.
Mbeki Reemerged In Public Politics in 2021
When many thought Thabo Mbeki had retired from politics and was now leading a quiet life with his wife and family judging from the fact that after the 2009 general elections in South Africa not much has been heard from him, he resurfaced in 2021.
Following the internal issues that the ANC has been having with many of its members charged for the very criminalities the party is supposed to flush out from the polity, Thabo Mbeki has reemerged to the public domain and has been seen giving speeches and publishing articles. One of his recent works is a 15-page article on land reform submitted to the Parliament to help them decide whether to change the constitution or not.