Cyril Ramaphosa currently lives in the presidential palace, Mahlamba Ndlopfu (formerly known as Libertas), in Bryntirion, Pretoria, 0083, South Africa. It is  not known exactly the number of people living with him, but we know that he lives there with his family.
While some are born kings, others work their way to the throne. This is the story of Cyril Ramaphosa, the current president of the Republic of South Africa. It is important to note that before his rise to the highest political rank in the country, Cyril Ramaphosa was already a man of high social status cum businessman who earned people's respect due to his political and business successful records. Let's get to know about Cyril Ramaphosa's house (s), the cars he has, where he lives, and more interesting facts about him.
Facts About South Africa's Presidential House And Where Cyril Ramaphosa Lives
Cyril Ramaphosa currently lives in the presidential palace, Mahlamba Ndlopfu in Pretoria. He moved into the place after he was elected as South Africa's 5th president on 15th February 2018. It is unknown exactly the number of people living with him, but we know that he lives there with his family.
It is important to note that until February 15th, 2018, when Cyril Ramaphosa took over from his former boss Jacob Zuma who resigned from the presidency as a result of multiple corruption charges, Cyril Ramaphosa lived in the Oliver Tambo House, which is the official residence of the Vice-president of South Africa.
Since South Africa became independent in 1993, there is no record of any president who has lived outside the Mahlamba Ndlopfu House in Pretoria. Even though the country has three capitals; Administrative (Pretoria), Economic (Cape Town), and Judiciary (Johannesburg), the constitution makes provision for all sitting presidents to reside in Mahlamba Ndlopfu.
Interesting Facts To Know About Mahlamba Ndlopfu
The name "Mahlamba Ndlopfu" literarily translates to "New dawn" in the Tsonga language.
The building, located in Bryntirion Estate, was first known as Libertas and has been the residence of the head of government since 1940 when the country was still known as the Union of South Africa.
It became the official residence for South African Presidents when Nelson Mandela moved in as the first elected black President.
As accustomed, this had continued to be the official home of South African Presidents since 1994 when Nelson Mandela became the country's first president in the post-apartheid era.
After the Great Madiba, Mahlamba Ndlopfu has been occupied by a host of South Africa's past presidents, including Thabo Mbeki, Kgalema Motlanthe, Jacob Zuma, and of course Cyril Ramaphosa, who came after them.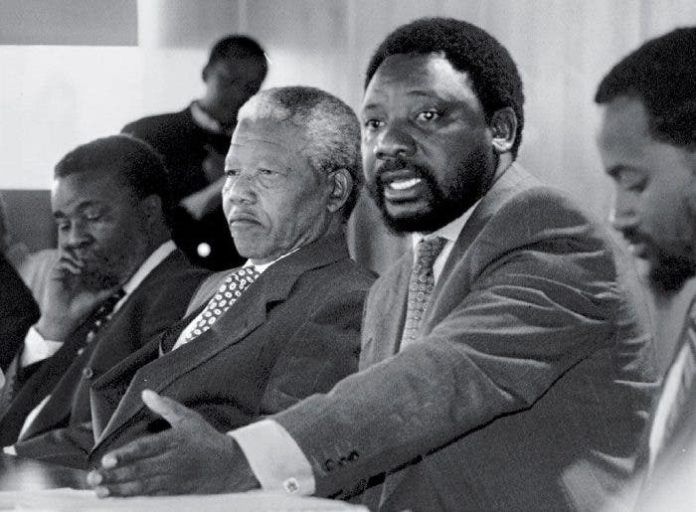 It is important to note that Field marshal Jan Christian Smuts was the first head of state to settle in the historic residence.
Mahlamba Ndlopfu is significant in the history of South African politics because it serves various purposes. In addition to the fact that a house that government officials live in, it serves as a place where the Presidents holds meetings with top government officials, including his foreign counterparts.
The governmental residence and its gardens undergo daily maintenance and constant renovation to give it a befitting look and place the president and his government in the best possible conditions.
The architect of Mahlamba Ndlopfu is a Dutch immigrant called Gerard Moerdijk.
The white color of the walls of the presidential residence is inspired by the 18th century Boer farms in the Cape area.
A Look At Cyril Ramaphosa's House
Before he emerged as South Africa's president, Cyril Ramaphosa had already established an empire for himself and his family through his numerous business channels. Thus, it does not come much as a surprise to many that Cyril Ramaphosa is a proud owner of multiple properties across major cities in the country. Unfortunately, there are not many inside sources about Cyril Ramaphosa's house (s) and their features. This could be probably because of his status and position as a public official.
However, we can reliably establish that he has a mansion at the foot of Lion's Head in Fresnaye, Cape Town. He built the mansion on his R30 million plot, which he bought in the year 2010. A hiking trail running along the Lion's Head contour is what actually makes the apartment so special. The property has countlessly made headlines and had been a subject of discussion on social media platforms.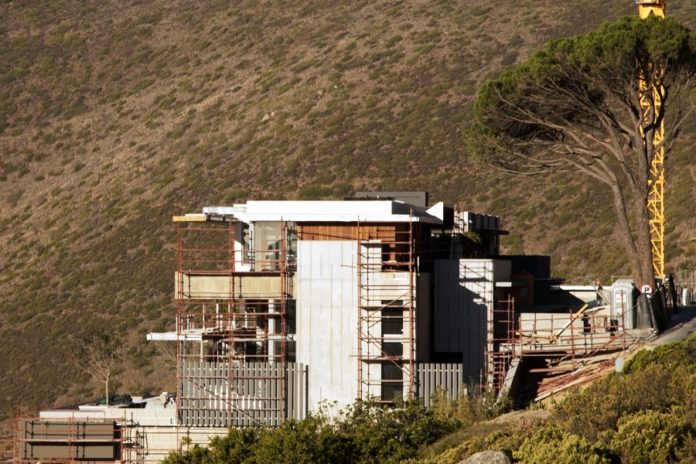 It is revealed that it is one of the numerous mansions Cyril Ramaphosa owns, as he has been listed by financial magazines such as Forbes Africa and Bloomberg as one of the richest Africans, with an estimated net worth of $450 000 000 million (R5.67-billion) to his name.
How Many Presidential Cars Does Cyril Ramaphosa Move Round With?
There is no exact number of Cyril Ramaphosa's official cars as the president of the Republic of South Africa is not readily available. However, he moves around with his entourage with many cars, including BMW 7 Series and Mercedez-Benz S-Class. In his motorcade are Golfs, Jeep Grand Cherokees, BMW 3 series, and Mercedes-Benz ML-Class models with police escorts.
Presently, information about his personal cars is still under the radar. Recently, there have been debates on President Cyril Ramaphosa calling on South African Parliamentarians to patronize locally made products and cut costs in governance. One of his proposals was to kick against the purchase of expensive cars by government officials, which has caused outrage in the country.
Many do not know is that President Cyril Ramaphosa has not really been a fan of luxurious cars, right from his unionist days. As a matter of fact, Cyril Ramaphosa has once refuted claims of his ownership of Maybach 62, one of the world's most expensive cars, with an R3.5 million price tag, and maintained he still drives his BMW.
Now, as a president, he is entitled to motorcades and a convoy of luxurious cars. He always maintains that he did not just venture into politics expecting to be enriched by the state coffers. Also, those familiar with his early beginnings can testify he was already an established and successful businessman in the South African space.
However, one obvious thing is that his venture into politics seems to have helped minimize his extravagant and lavish lifestyle, unlike those days he is often seen cruising the streets of Cape town in his favorite BMW.
Features of cars in Ramaphosa's presidential fleet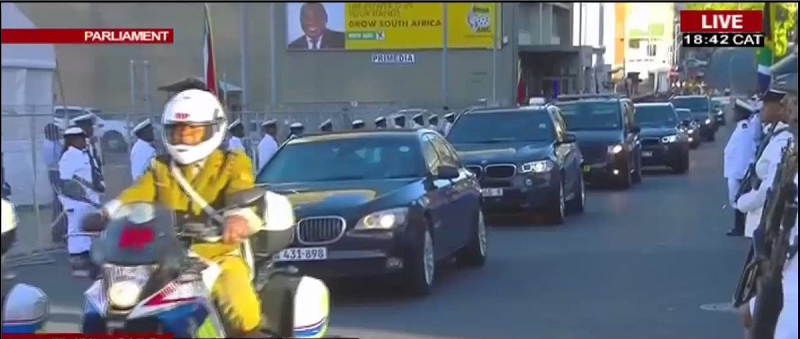 BMW 7 Series 
Power Steering
Power Windows Front
Anti Lock Braking System
Alloy Wheels
Multi-function Steering Wheel
Mercedez-Benz S-Class
Fog Lights – Front
Alloy Wheels
Multi-function Steering Wheel
Power Steering
Power Windows Front
Anti Lock Braking System
Air Conditioner
Driver Airbag
Passenger Airbag
Golfs
Expansive cargo hold
Composed handling
High-end cabin
Roomy back seat
Great fuel economy with manual transmission
Jeep Grand Cherokees
Transmission – 8-speed automatic
EPA Mileage Est. (Cty/Hwy) – 18/25 mpg
Horsepower – 293 hp @ 6400 rpm
Combined MPG 21
BMW 3 series
Power Steering
Passenger Airbag
Fog Lights – Front
Alloy Wheels
Multi-function Steering Wheel
Mercedes-Benz ML-Class 
Power Steering
Power Windows Front
Anti Lock Braking System
Air Conditioner
Driver Airbag
Passenger Airbag
Automatic Climate Control
Fog Lights – Front