You may know Kaizer Motaung for being an iconic football player in his day and founding the Kaizer Chiefs Football Club, one of Africa's biggest football franchises. However, playing football and establishing a successful football club is not the only thing Kaizer Motaung has been good at. In a time like this, when divorce cases have rapidly increased, and a man of his age who is wealthy would have been divorced at least once or twice, Motaung has built a solid and long-lasting marriage with his wife, and the family is blessed with children and grandchildren. Today, all his children who are alive are actively involved in their father's business and have contributed to the club's growth.
Kaizer Motaung Has Been Married To Valeta Motaung For Over 40 Years
The exact date and time Kaizer Motaung and his wife, Valeta Julegka Motaung, got married is unknown, but you can tell that they have been married for over 40 years from their children's age. Not much is known about what Valeta Motaung does for a living. However, what is known is that she is married to Kaizer Motaung, and their union is blessed with five children. There is also not much detail about how their married life has been and how they have managed to stay strong for these years without any scandal.
That notwithstanding, the Motaung's long-term matrimony would continue to remain a source of inspiration to many couples across the country, especially to their children who would always aspire to replicate the love and solid commitment they have seen their parents share.
Kaizer's Marriage to Valeta Produced Five Children
The marital union between Kaizer Motaung and his wife, Valeta, was blessed with five children, even though not all are alive today. They include Thabo Ceyland Motaung, Bobby Motaung, Jessica Motaung, Kaizer Motaung Jr, and Kemiso Motaung. Their first child Thabo lost his life to an illness in June 2012. All of the other surviving children are actively involved in the running of their father's business; howbeit, in different capacities – Bobby (Football Manager), Jessica (Marketing Director), Kaizer Jr (CEO), and Kemiso (Media).
1. Thabo Ceyland Motaung
Age: Deceased (on June 26, 2012; aged 43)
Date of birth: 1969
Occupation: Businessman
Marital status: N/A
Children: Four (two boys and two girls)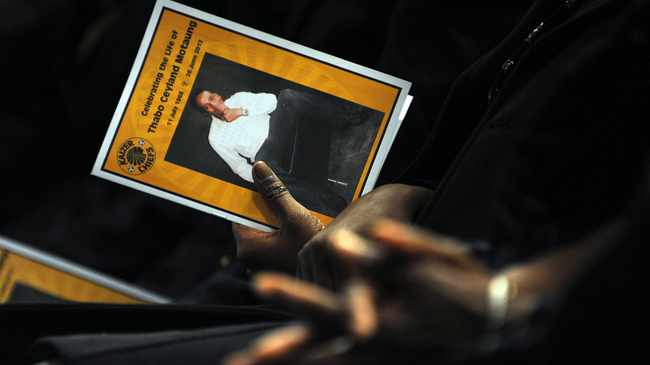 Thabo Ceyland Motaung was the first son of Kaizer Motaung and Valeta Motaung. He was born in 1969 (exact date of birth unknown) but sadly lost his life on June 26, 2012, at 43. He was also the eldest child of Kaizer Motaung, and he was the only child who was not involved in running Kaizer Chiefs; rather, he managed his own businesses. The nature of the businesses he ran is not known.
Thabo died at Garden City Hospital, Johannesburg, after suffering from meningitis which had made him stay in the hospital for a long time. It is not clear whether Thabo was married, but according to Bobby, his younger brother, he was survived by four children – two boys and two girls.
2. Bobby Motaung
Age: 53 years old
Date of birth: July 10, 1970
Occupation: Football Manager for Kaizer Chiefs FC
Spouse: Eshler
Children: Three
Bobby Motaung, popularly called 'Bob Steak,' is the second son of Kaizer Motaung. He was born on July 10, 1970. Not much is known about the schools he attended. Bob Steak, who has a net worth of R70 million, is the football manager of his father's football club, Kaizer Chiefs FC. He has been married to his wife, Eshler, for about 20 years, and their union has been blessed with three children, namely Nthabiseng, Moagi, and Lehlohonolo.
Bobby Motaung hasn't been in the news lately for the best things as he has been faced with court cases for fraudulent sporting activities and not being able to keep his part of the agreement for a loan he took from the bank to buy a 2013 Bentley Continental GT worth R4 million in 2014. He has also been accused of signing on some players into the club by himself. On this matter, his father, Kaizer Motaung, who is also the club owner, jumped to his defense on the issue by saying that his son Bobby has greatly contributed to the club's success.
This shows that the relationship between father and son remains a cordial one, and Kaizer appreciates the effort his son has put into running the club. Bobby Steak is also known for making harsh comments towards opposing coaches, and even the current coach of Kaizer Chiefs, Gavin Hunt, has also been a victim of his harsh comments and reactions.
He Was Suspended For Breaking COVID-19 Protocols in 2020
In July 2020, after a video of Bobby Motaung partying in a private house with several guests found its way to the internet, there were calls for his suspension from club activities with immediate effect. This came when the country had approved footballing activities, especially the PSL, to resume a safe bubble. His club, the Kaizer Chiefs, was preparing to resume football after the coronavirus enforced break.
Following an internal investigation into the matter, Bobby Motaung was suspended from all club activities for a month. According to the statement on the club's website, its decision was in line with the club's commitment to take up a leadership role in the fight to curb the spread of the deadly coronavirus.
Club Update: Bobby Motaung suspended

As part of our policies and continuous process of monitoring the public conduct of our members, players, and staff, Kaizer Chiefs has decided to summarily suspend Football Manager Bobby Motaung. https://t.co/ofs6o76C1x#Amakhosi4Life pic.twitter.com/LVwFahuvZR

— Kaizer Chiefs (@KaizerChiefs) August 4, 2020
3. Jessica Motaung
Age: 50 years old
Date of birth: August 23, 1973
Occupation: Chief

Marketing Director at Kaizer Chiefs F.C

Spouse: Ken Simmons
Children: Two
Jessica Motaung is the third child of the veteran football player Kaizer Motaung. The 50-year-old football executive is also a TV personality and former beauty pageant winner. Jessica was born on August 23, 1973, and just like her elder brothers, not much is known about the schools she attended.
She was one time Miss Gauteng, Africa's Queen of Beauty, and Miss South Africa First Princess in 1997. She was also a presenter at the SABC2 show Speak Out. Jessica works as the Chief Marketing Director at Kaizer Chiefs – a position she has occupied since 2003 – and has a net worth of about $9.1 million. Before she got married, rumor had it that she was in a relationship with the former Kaizer Chiefs captain, Jimmy Tau.
Jessica is currently married to Ken Simmons, an Oakland-born African American, and their union is blessed with two boys – Kenneth and Donald. In 2011, Jessica's relationship with Simmons faced a challenge with her husband, then fiance, accusing her of cheating, which made her leave their home at the time. However, the couple was able to settle their differences and went ahead to get married. They are still happily married.
Like her father, Jessica is also a lover of sports, and while in school, she was involved in a variety of sports activities. So far, she has not given us any reason to doubt that she has a good relationship with her father.
4. Kaizer Motaung Jr
Age: 53 years old
Date of birth: August 8, 1981
Occupation: Works as a manager for Kaizer Chiefs F.C
Spouse:

Katherine Heider

Children: Two
Kaizer Motaung Jr is the third and last son of Kaizer Motaung, and in a move that would seem like he knew this son would take after him and become a footballer, he named him after himself. Motaung Jr was born on August 8, 1981. He attended St. Johns College in Johannesburg before moving to the United Kingdom, where he attended Harrow School in the northwestern part of London.
He started playing football professionally at Wits University youth academy and later moved to the English side, Chelsea F.C, where he played for their youth academy. Before he retired from the game, he had played for TSV Munich 1860 juniors, 1860 Munich II, Kaizer Chiefs, and the under 23 South African National Team as a striker.
Motaung Jr, in the course of his professional football career, scored up to 34 goals for 1860 Munich II and Kaizer Chiefs. Upon retirement in 2014, he took a role in the club, having obtained a Bachelor of Commerce (Bcom) degree majoring in Financial Management. Following his siblings' footsteps, Motaung Jr serves in the Kaizer Chiefs F.C ranks in an administrative capacity. Rumors have it that he is the anointed one to take over the reins and run the football club in his father's stead when the need arises.
The former striker is also a married man. He got married in 2012 to his long-term girlfriend and baby mama, Katherine Heider, a graphic artist and show jumping instructor who he had dated for nine years and was secretly engaged to. The couple has two children – their first son, Tyler Rhys Motaung, was born in 2011, while their second son's birth date is unknown. His marriage faced tough times in November 2019 when he accused his wife of physically abusing him; that same month, it was also revealed that he had been abusing cough medicines so much that he had to be rushed to the hospital.
Kaizer Motaung Jr owns a foundation –  Kaizer Motaung Jr Foundation – that supports the poor and helps eradicate hunger in rural Africa.
5. Kemiso Motaung
Age: N/A
Date of birth: N/A
Occupation:

Head of Digital Media at Kaizer Chiefs F.C

Marital status: N/A
Children: N/A
Not much is known about Kemiso Motaung, the last child of the football legend, Kaizer Motaung. Her date of birth and age is unknown. She is currently the Head of Digital Media, and for over 20 years, she has been Miss Kaizer Chiefs. In 2019, when the club performed poorly and was knocked out in a match against Maritzburg United, she apologized to fans for the club's performance.
Kaizer Motaung seems to have played a major role in determining what his children do for a living, as all of them who are alive have found interest in their father's business.
Before Establishing Kaizer Chiefs, Kaizer Motaung Played in the NASL
Kaizer Motaung OIS was born on October 16, 1944, in Soweto and started playing football professionally as early as 16 for the Orlando Pirates F.C second-tier team in 1960. However, he moved abroad and played for Atlanta Chiefs F.C in the newly formed North American Soccer League (NASL) after being noticed by the owner and founder of Chiefs, Dick Cecil, and their manager, Phil Woosnam. Motaung was 24 years old at the time he moved to America to join the team in 1968.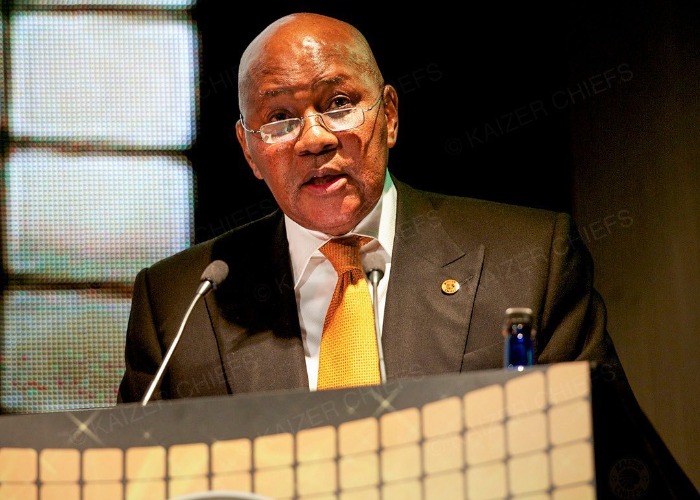 In his first match, in which he came on as a substitute against the English side, Manchester City, Kaizer Motaung scored two goals and went ahead to score 16 goals for the remainder of the season in just 15 appearances. After playing for the club for two years, amassing 63 caps and scoring 32 goals in total, Motaung decided to return to his country, South Africa, to invest his talent into improving the country's football.
He Rejected an Improved Contract to Return to South Africa to Form Kaizer Chiefs F.C
Seeing how football was run abroad, Kaizer Motaung had a desire to start up his own football club, a club that will rival his former side, Orlando Pirates, which was a dominant footballing side in South Africa at the time. Once his mind was made up about coming home, not even an improved offer of $1 million by the Atlanta Chiefs could make him stay back. Still in the States, he played for another NASL side, Denver Dynamos F.C, for a year (1974-1975), where he scored 11 goals in 35 appearances for the club.
Motaung shared his plan to challenge Orlando Pirates FC dominance, and many didn't think he could pull it off, but he did. He initially worked from the diaspora to form Kaizer's XI that played its first game on September 20, 1969, before officially becoming an official franchise on January 7, 1970.
Kaizer, who has been nicknamed 'Chincha Guluva,' successfully pulled the plan through and formed what has become today one of the most followed football club sides (over 20 million followers) in Africa. He named the club 'Kaizer Chiefs' partly after himself and partly after the Atlanta Chiefs, where he plied his trade in the NASL. It has become one of the most successful clubs in the South African Premier Soccer League (PSL), with over 78 trophies since its inception. Kaizer Motaung is popularly known as the founder and owner of the club, which he chairs as the majority shareholder with 60% of the shares.
The Septuagenarian was instrumental in forming the National Soccer League (NSL) in 1985 before it gave way for the more lucrative Premier Soccer League (PSL) in 1996. He currently serves as a member of the South African Football Association (SAFA) Executive Committee.