Veteran sportswriter Robert Marawa and former Metro FM personality Penny Lebyane got into a fight on May 18, 2022, over the R22 million flag project that was proposed by the South African Minister of Arts and Culture, Nathi Mthethwa.
The sports presenter openly criticized Penny Lebyane for supporting what many believed was an outlandish concept, sparking what appeared to be a brief war of tweets that amused many internet users. Even though they both made an effort to keep their tweets civil and free of insults, it was clear to everyone at the end of the tale who had won the actual battle of wits. Let's find out what transpired between the two well-known individuals as well as what sparked their argument in the first place.
The Penny vs. Marawa Brouhaha was Caused  by the Government's R22m Flag Project
In May 2022, the South African Department of Sports, Arts, and Culture proposed a flag project worth about R22 million. The department explained that out of the entire amount, R17m was to be spent on the flag itself, while the R5m balance was going to be used for geotechnical studies. The department further explained that the multi-million rand flag project was a way to create more jobs in the country and improve its tourism culture.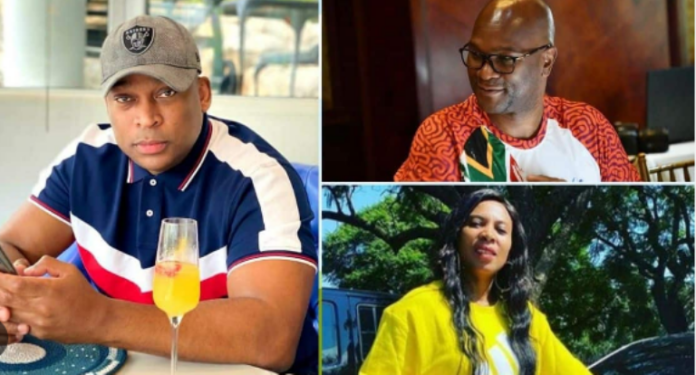 The outrage at first was rather mild, but things escalated after the Minister went on air to double down on why South Africa needed the flag project. In a speech given on live television, the Minister for the department, Nathi Mthethwa, explained that the flag was going to become a national landmark–one that would supposedly rival the ones in various other countries. As was to be expected, many citizens were far from happy about the upcoming project.
While this was going on, many of Mzansi's biggest stars took to their various social media platforms to condemn the outrageous proposal. In situations like this, it isn't unexpected when folks get caught in the crossfire for saying the wrong thing. This is exactly what happened to Penny, the details of which are coming right up.
In a Move No One Saw Coming, Lebyane Defended the Department of Sports
Later that Wednesday, media personality Penny Lebyane took to Twitter to defend the Ministry's decisions. In the series of tweets she made, Penny made a couple of things clear, including her disdain for fellow media personality Bonang Matheba and her staunch belief in the national relevance of the project. Penny took to her timeline and took a jab at the likes of Bonang Matheba for slamming the minister.
I have not studied the feasibility document on the Flag to cost 22 Million so I'm limited there but it doesn't sound like a lot of money for something that will out live me. Hating the minister can't be the reason why creatives themselves don't commit to fixing their problems.

— PennyLebyane💚PennyLebyaneDotAfrica (@PennyLebyane) May 18, 2022
The former Metro FM star even compared the multi-million rand flag to the Eiffel Tower and the Statue of Liberty. It was clear by the time she was done typing that she had stuck her finger into a hornet's nest.
Her tweet read: "Obviously Nathi Mthethwa is not liked by a whole industry that hates itself, so nothing new there for me. But l have a question. How did they build your favorites: the Eiffel Tower in Paris, the Statue Of Liberty in New York, and Christ The Redeemer in Rio de Janeiro? Why do you like them?"
Clearly, Penny's question revealed that she did not support the backlash the Minster was receiving for trying to set up such an expensive national monument. Well, you can trust that her response wasn't received well by the public; it resulted in a bash fest aimed at dragging the television and radio presenter.
U'll will say l'm paid to ask this, let me free u I am not. Even @Silapha_ l understand the magnitude of the SA arts. Personally l don't hate the minister l just work,make the best of every situation or opportunity for myself & l will wear a SA dress/Flag any where in the 🌍

— PennyLebyane💚PennyLebyaneDotAfrica (@PennyLebyane) May 18, 2022
Many were of the belief that her response was made from a place of ignorance and tone-deafness. It was at this point that Robert Marawa stepped in to give a reply that was specifically directed at Penny.
Robert Marawa's Brief Retort Sent the Internet into Another Frenzy
If there is anything that sports journalism veteran Robert Marawa is known for, it is for speaking his mind without fear or favor. Robert's reputation of being almost painfully blunt was brought to the fore after his scathing response to Penny Lebyane.
Recalling Penny's response where she compared the Ministry's project to some of the most famous landmarks in the world, Marawa famously replied, "They were NOT flags!! They were NOT vanity projects in a struggling economy of mass youth unemployment caused by a thieving government!!"
Apparently it will aid the Steal/Steel Industry!! Something they r used to.

— robertmarawa (@robertmarawa) May 18, 2022
Marawa further dropped snapshots of a few articles in her comment section, asking her to read for leisure to educate herself. The sneaky diss of Penny's ignorance had her sharply replying that she had already read the articles and wasn't interested in engaging him.
However, Robert was not yet done, and he fired back at Lebyane, saying that her tweet must have written itself then. He further nailed Penny Lebyane for shamelessly defending a department that had done nothing but disappoint the "entire sporting and art fraternity".
Marawa's Clapbacks were Positively Received by the Public
Robert has often come under a lot of best for saying the wrong thing in public. However, this time was different. This time around, Robert's quick, sharp responses to Penny Lebyane were praised by social media users and the public at large.
Nathi Mthethwa is one of the useless ministers alongside Mbalula. 22 Million Rands to construct a Flag that is visible during the day and night in a developing country that is sinking economically, will never make sense to me.

— ツ O R I (@Ori_RSA) May 18, 2022
Social media users were impressed by the fact that he was bold enough to call out corrupt government officials and their supporters. A Twitter user said, "Robert Marawa single-handedly stood up for SA youth and knocked some sense into these empty-headed celebs, schooling them about their country's economic state."
[ON AIR] Power To Truth host @JJTabane continues his conversation with the Minister of Sports, Arts and Culture, Nathi Mthethwa, on the R22-million flag monument #DStv403 #eNCA pic.twitter.com/rx8RSLSbtz

— eNCA (@eNCA) May 17, 2022
Another commented on how quickly Robert made his point, saying "Robert Marawa sorted her out fast-fast." They also praised Robert's quick-thinking abilities and his knowledge of history.
Many Other South African Celebrities Were Not Left Out of the Conversation
It's very interesting to note that Penny Lebyane only got involved with the conversation after reality television actress and businesswoman Bonang Matheba shared her very unhappy thoughts about the project. In her online tirade, Bonang heartily condemned the Minister of Arts and Culture for his extravagance and ended her tweet by saying: "We all hate you."
Apart from Bonang, many other notable concerned citizens lent their voices to what many believed was an unnecessary expenditure, especially given the country's current economic state.
R22 million for a flag?

Then they say it's a monument to democracy 😤. It's a monument to the levels of corruption in our nation! https://t.co/orzTNoiD0U

— Mmusi Maimane (@MmusiMaimane) May 12, 2022
Another actor and producer, Zola Hashatsi, heavily rejected the Ministry's proposal. He threatened to give the project bad press by making a movie about it and went further to suggest that the minister was useless.
R22 million on a flag.

Imagine how many house you can build with R22m

Student fees debt you can wipe out with R22m

With R22million the ANC could've picked any course that will directly benefit our people.

But nah, let's erect a R22m flag pole and hope tourists will like it.

— Kgopolo (@PhilMphela) May 11, 2022
Meanwhile, Lerato Mvelase was aghast at the disregard shown to South African creatives, whom she said were often depressed because of how difficult it was to secure funding for their projects. She concluded her impassioned speech by revealing how overwhelmed she felt by not being seen or heard by those in authority.