Lungelihle Zwane, known professionally as Uncle Waffles, was born female to Swati parents. In recent times, the female Amapiano DJ has trended on social media platforms due to confusion surrounding not just her gender but her sexuality as well. Following her close association with people in the LGBTQ community, she was rumored to be transgender. Zwane, however, has since addressed the rumor, making her sexuality clear to the public.
Is Uncle Waffles Transgender?
Amapiano DJ Uncle Waffles has always been friends with people who are openly gay and transgender. She is a proud ally of the LQBTQ community. In April 2022, she topped the Twitter trending list after the picture she took with her dancers―Kagiso, Kamo, and Coachella Randy, who are openly gay and transgender, went viral. The photo was taken at Cotton Fest held in Johannesburg.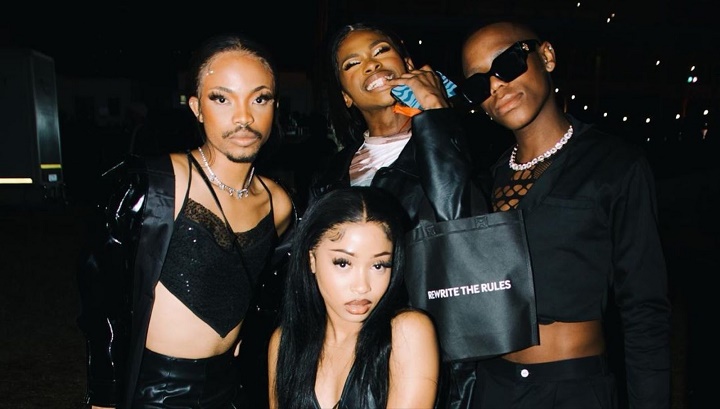 The famous DJ was trolled by some Twitter users based on her physique and association with her dancers. Immediately, the rumor about Uncle Waffles being transgender started spreading like wildfire. With no hesitation, she responded to the rumor with a series of tweets. She had to set the record straight by retorting that she's a proud ally of the trans community.
She questioned the people accusing her of being trans on how she has to prove her gender based on her physique and mere rumor. She stated that people's comments about her relationship with her dancers were out of context. And that when it comes to her career, her team is the biggest blessing in her life.
She further said that people were just trying to use the rumor to bring down people in the trans community. The DJ also made it clear that the narrative being shared about her team is quite disheartening.
Is Uncle Waffles a Girl or Boy?
Uncle Waffles is a girl. She has been a girl since birth and doesn't have any issues being one. She is one of the hottest DJs in South Africa and often dresses like a diva. She is very proud of her gender and doesn't plan on changing it for anything. Although she is an ally of the trans community, she doesn't see the need to change her gender to belong to the community.
She has always been supportive of the LQBTQ and, thus, slams any hurtful rumor about her and her team. Besides her association with her dancers, Uncle Waffles was speculated to be transgender because of her physical attributes, especially her burst size, which some of the Twitter trolls capitalized on. She seriously frowned at the body-shaming tweets.
Is Uncle Waffles Gay? Truth About Uncle Waffles Gender Reveal
Three months after identifying with the LGBTQ community as a proud friend, Uncle Waffles eventually made her sexuality public by identifying as bisexual. Hence, she is romantically attracted to both males and females. However, there is no record of her being in a gay relationship with another female.
Over the years, she has mostly been romantically linked to her male colleagues, including the likes of Focalistic, DJ Slade, and one of the Major League twins. Revealing her sexuality during an IG live Q&A, the music star also stated that she is currently in a heterosexual relationship.
Who is Uncles Waffles Dating?
Since disclosing that she has been in a heterosexual relationship for a while, fans of the famed DJ have been anxious to know who her heartthrob is. Finally, in September 2022, Uncle Waffles revealed her boyfriend in a cryptic message, and it was discovered to be her manager, Thato Tlhankana (aka Kai).
She made the revelation in a video she shared on Instagram, which showed her taking a selfie in front of a mirror, and at the back of her phone was a loved-up picture of herself and Kai. Since the relationship has gone public, there have been mixed reactions from her fans, as some are cautioning the 23 years old to be careful of mixing business with pleasure.