Thuso Mbedu (born July 8, 1991) is a 32-year-old South African actress most recognizable for her lead role as Winnie Bhengu in the South African TV series, Is'Thunzi. Although it is not known if she is currently in a relationship, she has ben romantically involved with a few men, including DJ Sbu and Musa Mthombeni.
Thuso Mbedu is one of the industry's most respected and favorite actresses – thanks to her immense talent and show-stopping beauty. A real acting talent, this beautiful lady has worked with prominent filmmakers and high-profile actors within and beyond the shores of South Africa.
Ever since Thuso shot to fame through her acting career, she has remained a fan favorite. She inspires many young people, especially up-and-coming actors. Mbedu equally enjoys a huge fan base even on social media, where she is greatly appreciated for her flourishing career and top-notch performances.
Summary of Thuso Mbedu's Biography
Full name: Thuso Nokwanda Mbedu
Gender: Female
Date of birth: July 8, 1991
Place of Birth: Midlands Medical Centre, Pietermaritzburg, KwaZulu-Natal, South Africa
Thuso Mbedu's Age: 32 Years Old

Ethnicity: African
Nationality: South African
Zodiac Sign: Cancer
Sexual Orientation: Straight
Siblings: Masentle Nomalungelo Mbedu
Education: Pelham Primary School, Pietermaritzburg Girls' High School, University of the Witwatersrand (Wits), New York University, Stella Adler Studio of Acting in New York City.
Occupation: Actress
Thuso Mbedu's Height in Inches: 64
Thuso Mbedu's Height in Centimetres: 162.56
Thuso Mbedu's Weight: 57 kg
Build: Athletic
Eye Color: Dark Brown
Hair Color: Black
Distinctive Features: Toned body
Famous for: Playing Winnie Bhengu in Is'Thunzi
Thuso Mbedu's Instagram: thuso.mbedu
Thuso Mbedu Is 32 Years Old
Thuso Mbedu looks and acts way older than her age. She can easily pass for someone above 40 years due to her personality, behavior, and manner she carries herself. The actress is currently 32 years old as she was born on the 8th of July 1991.
Though professionally known as Thuso Mbedu, her full name is Thuso Nokwanda Mbedu. She hails from Pietermaritzburg, in Kwa-Zulu Natal province. Her parents gave birth to her in Pelham, a borough of Pietermaritzburg, and she was also brought up in the same area by her grandmother following the death of her parents when she was much younger.
The Is'Thunzi star graduated with honors from the University of the Witwatersrand (Wits), where she majored in Physical Theatre and Performing Arts Management. She honed her acting skills at the prestigious New York, USA-based acting school, the Stella Adler Studio of Acting. Thuso returned to South Africa after completing her studies and later bagged a small role in the South African daily drama thriller, Isibaya.
She Started Acting In Her Early 20s
Mbedu launched her career in 2014. She was only 23 years old when she started paddling her own canoe in the industry. Her first known TV project is the South African thriller family drama Saints and Sinners, which documents the lives of two very different families living in the south of Johannesburg. She still plays a lead role in the drama up till now.
Since then, Mbedu has grown to become one of the forces to reckon with both within and outside the South African entertainment industry. She puts in her best in every project she takes part in, an act that has won her the attention and praises of critics, filmmakers, and her colleagues alike.
The actress has had a fulfilling and productive career so far. From what we know, she is not ready to retire or slow down any time. Thuso hopes to replace old hands and get to the top of the industry ladder in no distant time.
A Look At Thuso Mbedu's Achievements So Far
In the same year she debuted, the actress made a guest appearance in the drama Isibaya, portraying the character Nosisa. Between 2015-2017, Mbedu appeared in Scandal! as Kitso Medupe, bringing the solid character to life in an amazing way. Snake Park (2015), Side Dish (2018), Generations: The Legacy (2018), Shuga (2017-2019) are other TV series she has been part of in the South African TV industry.
The actress earned her career breakthrough via her role in Is'Thunzi. She was the only African in 2017 to be nominated for an International Emmy award for Best Performance by an Actress for her role in the TV series. She also earned international recognition and honorable mentions for her outstanding performance. Mbedu achieved this exactly at the age of 26.
Being a talented actress, Thuso plans to bag more roles in high-profile projects and also work with notable personalities. To her credit, the actress is set to make her first international appearance in the Amazon Video historical limited series, The Underground Railroad.
She will share acting time with Academy Award winner Barry Jenkins (the series' director and executive producer) and other international talents. Mbedu will also join the cast of the historical epic film The Woman King. She is expected to bring her acting skills to bear through her role in the project.
Who Has Thuso Mbedu Dated In The Past?
Not much is known about Mbedu's love life, especially regarding the men she has had romantic affairs with. However, the actress has been linked to some high-profile South Africans, who she vehemently denied having dated. Let's get to know them.
1. DJ Sbu
One of the men she allegedly had an affair with is DJ Sbu, a well-known South African musical entertainer. Rumors about the two being an item began making the rounds in 2019 after a picture of the two skydiving went viral. Their fans concluded after it was noticed that the locations of the two celebrities at that period were similar.
While setting the records straight on the matter, Mbedu's manager stated that the two are not in a relationship. They coincidentally met each other in the USA and decided to have some fun as compatriots. Thuso, her manager added, visited Los Angeles, USA, for an acting workshop and to also work on writing and accent.
It was discovered that nothing serious was actually going between DJ Sbu and the actress in the long run.
2. Musa Mthombeni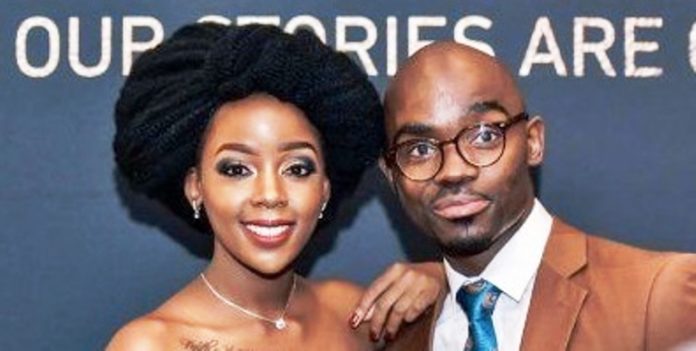 Musa Mthombeni, a South African medical doctor and TV presenter, is yet another celebrity rumored to have dated actress Thuso Mbedu. Well, these two have been friends for over a decade. Also, they have never hidden the fact that they found each other very interesting both on social media and in real life.
On several occasions, Musa has professed his love for Thuso, and on one occasion, he sent her 100 roses for snagging the lead role in The Underground Railroad. Mbedu, on her own part, considers Musa as a darling and close friend. She doesn't shy away from showing the world how much she loves and cares for him. But the award-winning actress has made t clear that she is not in a romantic relationship with Musa.
In a 2018 interview, Thuso admitted that she could only be a godmother to Musa's children and not a wife. It is also said that the medical doctor's mother once approached Thuso, asking her to give her son a chance.
Mbedu and Musa are best of friends, as the two would have us believe. They have made it clear several times that they are not dating and do not have plans to settle down as husband and wife in the future.
Thuso Mbedu Could Possibly Be Single
At the moment, it is difficult to tell if actress Thuso Mbedu is in a relationship or not. She may be vocal about her career, but she literally keeps a low profile on her relationship with the opposite gender. She hasn't officially introduced any man to her fans as her boyfriend or husband – not yet, but we believe she would do just that in due time. Also, she hasn't been seen with a new man, neither does her conduct suggests she is in a relationship.