Ntando Duma and her sister Thando Duma are considered two of the most influential celebrity siblings in the South African entertainment industry. They come from a family with a history in arts and have been building incredible careers for years through their talent.
Apart from the duo's dedication to their crafts, their close family bond has earned them lots of admiration and praise. Although they have an impressive career, it is their bond as sisters that is even more impressive. Together, the two have defied naysayers and are now closer than ever. Everything you need to know about the sisters is detailed in the paragraphs below.
The Sisters Are Not Twins But Close In Age
Ntando Duma and her sister Thando Duma may act and look like age mates, but the latter is actually older than the former. Thando is the first child in the Duma family while Ntando is the youngest. Their parents gave birth to four children, meaning that Ntando has two older siblings who were born after Thando.
Unfortunately, Thando's age is not open to public scrutiny. She has kept the particular day, month, and year she was born under wraps for years despite being vocal about her thriving career. The sisters look more like age mates or twins, but there is no such thing.
Ntando is currently 28 years old. She was born on August 29, 1995. Judging by their physical appearance, it seems she and her elder sister are close in age. The age gap between them seems to be small, and it is evident in the way they relate to each other.
People always mistake Thando and her younger sister to be twins, and we absolutely know why. The sisters have a striking resemblance, one that literally makes it difficult to tell them apart. It was after they shared photos of themselves that people began to assume they are twins.
Ntando Duma Has No Better Friend Than Her Sister – She Is Her Everything
Ntando and Thando are not just sisters but also buddies and confidants. They've been through a lot of things together and are still standing strong. Thando is her sister's favorite sibling – the two have been living together for a long time, according to the Rhythm City actress in a post she shared some time ago.
Ntando disclosed that she lives together with her and that she has made a lot of sacrifices just to make sure she and her daughter are comfortable. The actress poured praises and blessings on her sister in a heartfelt message to her on the occasion of Thando's birthday some time ago.
The Duma sisters have also been to so many places together. They've made it to several interviews at the media house, as well as notable shows to promote their career. The ever dazzling sisters who were raised in Orange Farm, Johannesburg, Gauteng, are really huge inspiration to many people. The familial bond that exists between the two is so strong that it would be difficult for the sisters to spend the rest of their lives apart.
Who Is More Popular Between The Duma Sisters?
Ntando is more famous than her elder sister. In fact. some sources claim that Thando became known among the public after her younger sister broke into the mainstream success through her role on Rhythm City. 
Thando is a fast-rising recording artist and a commercial house DJ. Before fame, she worked at The Bread Basket as a waitress and later a supervisor, as well as the South African company, BEE STRATA, as a verification officer. She left her job in 2015 to give her music career the attention it needed.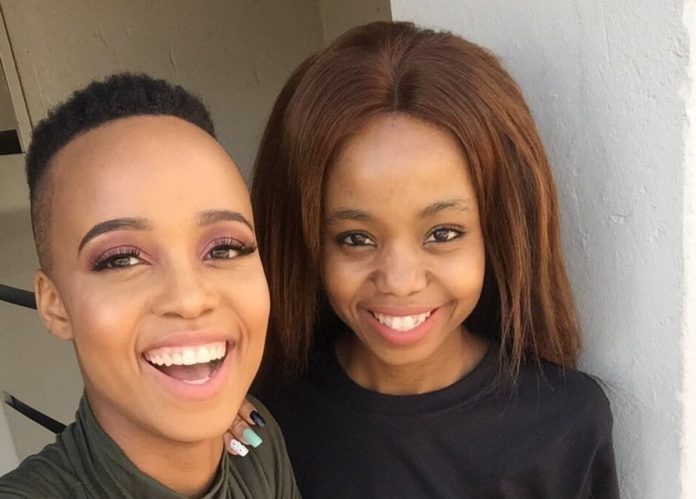 Thando's stage name is DJ Lady Amar. She studied at FUSE Academy, a South African-based school for female DJs. The Orange Farm-born entertainer is well-known for featuring at Johannesburg's hottest clubs and parties. Thando has also banded together with some notable artists in the country. She collaborated with two up-and-coming musicians from Orange Farm on a song titled, Ekseni.
Ntando Duma Is Already On Her Way To Greatness Despite Her Young Age
Ntando Duma is a popular South African actress, model, and TV presenter who stormed the industry in 2014. She has remained active since then and never showed signs of slowing down.  This beautiful lady started her career as the presenter of e.tv's youth programming block Craz-E. Aside from featuring on the hottest music-video chart show, Craz-e World Live, she also presented other e.tv's programs, including the hip hip TV show ShizNiz and Sistahood.
Duma eventually earned her big break after she auditioned and won the role of Zinzi Dandala on the e.tv musical drama series, Rhythm City. Her performance in the series is simply out of this world. In fact, she is one of the viewers' favorites on the show, and she deserves all the attention and love.
Before fame, the Johannesburg native did a couple of modeling gigs in the industry. She was part of those who participated in the 2015 Soweto fashion week runway, and it was simply incredible. The presenter has plans of returning to school to make her mother happy and also be a good example to their daughter. She previously abandoned her studies at Boston Media House to fully focus on her acting career.
Ntando Duma is Currently Single, But She Has a Daughter
The fast-rising star is yet to make it down the aisle; albeit, she is a mother of an adorable daughter named Sbahle Mzizi. She had the child with South African popular DJ Junior DeRocka in 2017. The pair have since separated, precisely after the actress got pregnant. Sometime in 2019, Duma called out her baby daddy for not taking care of their daughter financially.
Duma's post and a breakdown of her financial needs did not go down well with many people, especially on social media. They accused her of being extravagant, but the Rhythm City star maintained that she needed to speak up for the sake of their daughter.
Junior DeRocka, in response, fired back at her, showing some receipts of some money he sent across to the mother of his child.