When the news first broke out that Jessica Nkosi and T.K Dlamini were an item, many South Africans hoped that we were going to get another celebrity power couple in the two. We might not have gotten another Shona and Connie Ferguson or even Ntokozo Mbambo and Nqubeko Mbatha, but something close was enough. Unfortunately, things did not turn out as planned.
For the most part, the adorable actress and TV presenter and her then-partner, who is also an actor and entrepreneur, kept it all under wraps and only got it to the public shortly before the birth of their child. Even that was not able to help keep the relationship afloat before it sank due to allegations of cheating on the part of T.K Dlamini.
Jessica Nkosi and TK Dlamini Confirmed Their Relationship With Her Pregnancy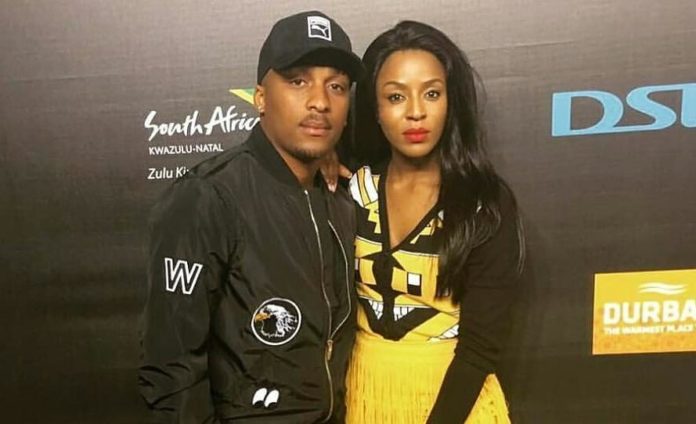 Actress Jessica Nkosi is one of the most notoriously private South African celebrities, just as her baby daddy, TK Dlamini. Because of this, their relationship remained in the dark until 2018 when she was pregnant with their daughter, Namisa Dlamini (Nami). Before then, hardly was there anyone outside of the trusted circle of the Isibaya actress and Uzalo actor that knew they were dating.
Details on how they met, as well as their love story from the start, remained in the dark. Also, they have never given any hint on social media that they had anything going. Initially, there were rumors and speculations about her pregnancy, but she refused to utter a word in confirmation or denial until she finally gave an interview, where she confirmed that she was not only pregnant but very much in love with her partner, Uzalo's Mastermind.
Jessica apologized to her fans for keeping them in the dark about her pregnancy and her man; there was nothing scandalous about the pregnancy, and she was not ashamed to reveal who her man was or share him on social media, but she only wanted it to be private, and she wanted no drama. On his part, Dlamini revealed that with both their professional lives in the public, they preferred to keep their relationship as private as possible.
Nkosi Had Her Daughter, Namisa Dlamini, In September 2018
In September 2018, Jessica Nkosi and TK Dlamini welcomed their daughter with the birth of Namisa "Nami" Dlamini. The actress announced the birth of her bundle of joy on her Instagram in October of the same year when she also introduced her complete family of three; herself, her baby, and her baby daddy for the first time. Dlamini also shared the same picture on his social media, where he celebrated the birth of his little angel.
Before the arrival of Nami, TK was playing the role of a troubled young man and a thug named Mastermind on Uzalo. Although he was one of the most loved characters in the SABC1 show, he decided to take some time off to prepare for the arrival of his daughter, among other things. As a result of that, his character Mastermind was arrested and sent behind bars.
In 2020, there have been some reports that he might soon find his way back to the show. The beautiful couple is not known to always share their pictures on social media, but they continue to share pictures of their daughter always, celebrating her and wishing her well. In September 2020, Jessica threw a big party to celebrate the second birthday of her daughter.
They Broke Up After Dlamini Cheated On Her
Not long after the birth of their daughter, rumors started hitting the air that not all was well in the paradise of the lovers. The rumor started after eagle-eyed fans noticed that most pictures that they had shared on social media after the birth of their daughter were suddenly missing. More so, they were not sighted in public together.
By the time the rumors hit the fans real hard and were everywhere, Dlamini came out to allay the fears of well-wishers that they were together and had never broken up. He said when he received a text message to that effect asking him for comment, he was together with Jessica watching a movie. In another shocking twist, Jessica Nkosi took to her social media a few months later to drop the bombs on Dlamini.
Mara men don't know what they want. Dude is cheating on Jessica Nkosi. Askies hun.😢 pic.twitter.com/7l3xcbKfWS

— Barberbae (@hloni00) September 14, 2019
She revealed that they were no longer together, and proceeded to encourage the woman that has been seeing him behind her back to continue as she has left him for her. The actress also revealed that she was shattered and heartbroken, but she would be fine. She trended on social media after a video of her singing to a heartbreak song alongside DJ Zinhle. The two women got slammed by fans for the video, but neither showed any sign that she cared.
Jessica Nkosi And Dlamini Have Not Been Linked To Others Since They Broke Up
Even after making it known to the public that they were no longer together, Nkosi was not linked to anyone publicly. She remained a dedicated mother to her daughter while she also shared some of her time working on her career. On his part, Dlamini, who was alleged to have cheated with an Instagram model named Bongekile Khumalo, was also not openly linked to dating anyone.
There have been no further reports that he continued seeing the alleged Instagram model who was described by some as the new girlfriend of TK Dlamini, something that has not been confirmed. Nkosi took the time to follow Khumalo on Instagram and was later accused of stalking her on the platform.
There Have Been Rumors That They Are Back Together
Only two months after the duo parted ways, TK Dlamini got the social media abuzz with speculations that they could be back after he shared a video of himself and what was supposed to be his former partner dancing and enjoying themselves at the AKA Orchestra eThekwini concert. The loved up video from the concert was just one of the things that gave the idea that they had returned to each other's arms.
The fact that Jessica has since deleted her social media posts accusing her baby daddy of cheating and confirming their break is another thing that made people believe their love story is still not over. The two were not used to sharing their lives on social media before their first breakup, and so the idea was that the Uzalo actor shared the video to pass a message across that they were now back and everything was normal. There have also been birthday celebrations for and with each other, giving fans of a good love story something to talk about.
Their Little Angel Namisa Dlamini Is Growing Fast And Beautiful
Namisa Dlamini has become the center of the world of both her parents. The adorable little one got what has been described as a "perfect pyjama" party from her parents to celebrate her second birthday. Since her first month, social media has continued to see the slow and yet impressive growth of Namisa, whose parents are never tired of keeping fans posted on all the good things in the life of their daughter, and the joy she has brought for them.
Whether Jessica and Dlamini decide to continue with their relationship or throw it into the seas, one certain thing is that they might continue to maintain a good relationship for the sake of their daughter as they both want to fully get involved in her upbringing and life in general.