Since launching her musical career, Nadia Nakai has been in high-profile relationships with mostly her colleagues in the music sphere. She is presently dating a South African rapper, AKA, who is famous for releasing several successful studio albums such as 'Touch My Blood,' 'Be Careful What You Wish For,' and 'Levels.' The love birds began their romantic affair in late 2021.
They, however, made it public in February 2022 after keeping it secret for many months. Since Nadia Nakai's relationship with AKA became official, there have been mixed reactions from fans. This has made the cute couple to be making the news headlines constantly. Besides AKA, Nadia Nakia has dated several A-list music artists, including Vic Mensa.
The Truth About AKA and Nadia Nakai's Relationship
Kiernan Forbes, known professionally as AKA, is known to have dated many top South African entertainers in the past years. In late 2021, the rumor mill had it that AKA and Nadia Nakai had caught the love bug and were secretly dating. The two ignored the rumor and never commented on it.
Later in early 2022, the couple went on a romantic vacation together. Though they never made the affair public knowledge at the time, their social media fans were able to deduce that they were posting individual pictures of a romantic getaway from the same location. Despite efforts by the couple to keep the relationship secret, they eventually let the cat out of the bag in March 2022.
They confirmed the much-speculated affair via Instagram post, which cleared every doubt and instantly made the relationship official. Subsequently, Supa Mega and Bragga started flooding their social media handles with pictures of them showing a public display of affection. As a result, they have emerged as the most talked about celebrity couple in Mzansi.
How AKA and Nadia Nakia's Relationship Took Off
While still signed to Family Tree Records, owned by Cassper Nyovest, who is considered to be AKA's toughest rival, Nadia Nakai was featured on Kiernan's Braai Show. The two have worked together on many occasions, including the 2016 single 'Baddest' (remix). Hence, they have a special respect for one another.
They started as friends and never imagined ending up together. On March 4th, 2022, they announced their relationship by posting a video of them sharing a smooch at Orthodox VIP Lounge in Johannesburg. AKA and Nadia shared the video with the same caption, "Mega 2 Mega." Since the relationship materialized, the two seemed to be meant for each other.
They share loved-up posts on Instagram accompanied by an admirable lovey-dovey exchange of comments between them. In May 2022, the love birds were sighted at Konka, a well-known hip and happening spot in Soweto. It was a cozy outing, and the couple couldn't wait to let the fans into their PDAs. Nadia shared a picture of herself having the best moment of her life, cozying up to her guy, AKA. She captioned the picture, "The One."
She also shared a post where she was singing and dancing to Forbes' songs as he performed on stage with D.A.L.E.S. Supa Mega, on the other hand, shared on Instagram a picture of Nadia leaning in for a kiss with a caption, "Ragga ragga ragga." Apparently, their sizzling romance has become a trending topic in Mzansi as it has been met with many controversies.
Did AKA Assault Nadia While in Ghana?
On April 15th, 2022, a month after making their relationship official, Nadia and AKA went to Accra, Ghana, for different work engagements. Soon after, it was reported that there was trouble in the couple's paradise. Daily Sun reported that the rappers were involved in a heated physical and verbal altercation.
The incident reportedly occurred in a club, and AKA was allegedly escorted out of the club. This led to Forbes and Nadia breaking up after a few months of dating. Shortly after the incident, Nadia Nakai and her boyfriend unfollowed each other on Instagram. When the news started circulating, AKA followed Nadia back, but it took the 'Naked Nakai' singer a little while to follow her boyfriend back on Instagram.
In the heat of the matter, the couple released two joint statements to clear the air about the rumored assault. Firstly, they cited their disappointment over how their exciting working trip to Ghana suddenly turned into a public smear campaign. They stated in the post that no verbal or physical abuse happened between them in Ghana.
The second statement was directed at Daily Sun. The couple asked the media channel to apologize for running a false story regarding their trip to Ghana, or they will face a lawsuit of R800,000 for defamation of character. Despite their efforts to convince the public that there was no drama between them, some Twitter users still assumed that there was indeed a physical altercation from the weekend trip.
This resulted from musician Moonchild Sanelly choosing not to comment on the issue even though she spent the weekend with Supa Mega and Bragga and had the same working commitments as Nakai.
Why AKA and Nadia Nakai's Relationship Often Stirs the Social Media
Even though AKA and Nadia Nakai seem head over heels in love, their relationship has garnered heavy criticism from naysayers. In recent months, some of Nakai's fans have judged her for choosing Supa Mega, known to have a temperament issue, after the video where he was seen forcefully trying to open the door where Anele Tembe―his late finaceé was, went viral. He was also seen engaging in a heated verbal altercation with her.
AKA, on the other hand, is being slammed for rushing into a new relationship barely a year after he lost his former partner. Among the celebrities who have publicly aired their opinion about Nadia Nakai's relationship with AKA is Ntsiki Mazwai. Reacting to the couple's announcement of their newly found love, Ntsiki expressed her concern in a now-deleted tweet.
She stated that she found it deeply disturbing that Kiernan Forbes moved on with his love life just months after the demise of his fiancée, Nelli, who took her own life by falling from the 10th floor of the Pepperclub Hotel in Cape Town. She also highlighted her discomfort about some things that occurred during Nelli's funeral. She cited that she still remembers Nelli Tembe and will not erase her.
Podcast and Chill host Mac G also weighed in on AKA and Nadia Nakai's new relationship alert. He said on an episode of Podcast and Chill that he doesn't believe that the love affair is real, that it seems more like a publicity stunt. And he is yet to see convincing chemistry between the two famed rappers.
Since Nadia Nakai's new relationship came to light, there has been a growing number of divided opinions about the couple's romantic escapade. While some are celebrating the blossoming new love, some others are expressing serious concern about the relationship.
Meet Nadia Nakai's Boyfriend, AKA
Nicknamed Supa Mega, Nadia Nakai's heartthrob was born Kiernan Forbes on January 28th, 1988. He was born and raised in Cape Town by his parents, Tony and Lynn Forbes. AKA's mother is a renowned businesswoman, blogger, and brand influencer. The 35 years old rapper is a graduate of St. John's College in Johannesburg.
He began his career in 2002 and released his debut studio album, 'Altar Ego,' in 2011. He gained international recognition following the release of his hit single 'Victory Lap' on his first album. 'Altar Ego' was a huge hit as it attained gold certification from RISA.
It also won AKA many awards, including the Metro FM Award for Best Hip Hop Album and the South African Music Award for Best Male Artist of the Year. His second album 'Levels' was even more successful as it was certified double platinum by RISA in 2018. Nadia Nakai's boyfriend further released another album, 'Touch My Blood' which gained double platinum certification from RISA.
In April 2020, the Cape Town-born musician launched a business career. Alongside Vodka brand Cruz, he launched a watermelon-flavored drink with his initials on the bottles. Thus far in his blossoming career, Forbes has bagged numerous accolades. They include:
African Muzik Magazine Award for Best Male Southern Africa (2015)
MTV Africa Music Award for Best Collaboration (2015)
South African Music Award for Best Male Artist (2015)
African Muzik Magazine Award for Best Collaboration (2015)
South African Hip Hop Award for Most Valuable Artist (2015)
Kids' Choice Award for Favourite South African Star (2019)
Namibia Annual Music Award for Pan African Artist of the Year (2019)
South African Music Award for Music Video of the Year (2020)
Nadia Nakai's Relationship History
As one of the most beautiful and successful female rappers in South Africa, Nadia Nakai has been in a couple of relationships over the years. Here's a detailed look at her past love affairs and how they ended.
Nadia Nakai and Dotcom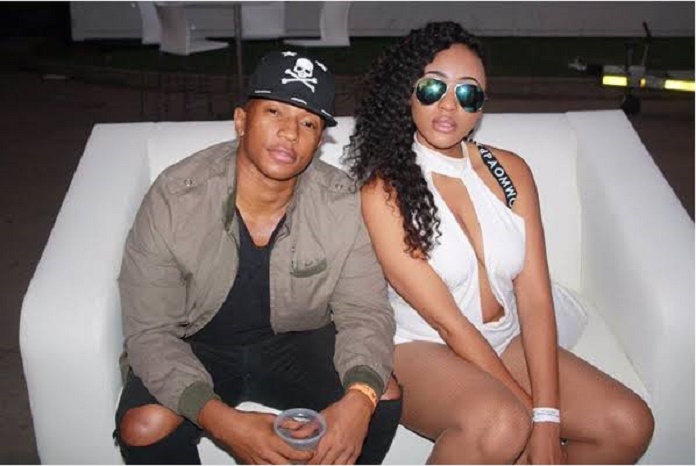 At the early stage of her career, the 'Bragga' hitmaker dated South African dancer and music artist Gcina Nkula, known professionally as Dotcom. While dating, the two made public appearances as a couple and seemed very much in love. As a result, Nadia Nakai's relationship with Dotcom was hardly a secret.
The pair even worked together on Nakai's second single, 'Whatever.' They melted the hearts of many fans with loved-up pictures and videos of each other they regularly shared on social media. Despite seeming like a never-ending affair, the cute couple parted ways in 2016. Nadia Nakai, however, stated that it was a mutual agreement between them.
In an interview in September 2016, the singer cum TV presenter revealed that their breakup was out of love. She and Dotcom decided to split to allow each other to focus on their pursuits. She further cleared the air that they didn't get separated due to external parties; rather, they felt they needed to give each other some space to grow.
Having supported each other for a long time, the former couple has remained good friends despite their relationship not working out. Interestingly, they hope to rekindle their romance someday.
Who Is Nadia Nakai's Ex-boyfriend, Dotcom?
Dotcom, whose real name is Gcina Nkula, is a South African DJ, dancer, and hip-hop artist. He was born on May 29th, 1988, and began his career as a dancer in 2007. He started by competing in the Hip World Championships in Los Angeles in 2007. Two years later, he represented South Africa in the same competition, but this time in Las Vegas.
That same year, he emerged as the overall winner at Masters of Rhythm – a popular African dance competition aired on VUZU. In 2010, Gcina worked as the choreographer for a hip-hop number for South Africa's So You Think You Can Dance. He had also worked as a dance teacher in St. Petersburg, Russia. Furthermore, he featured in South Africa's first dance movie, Zion.
He was also one of the opening acts for the 2010 FIFA World Cup. After graduating from the University of Johannesburg in 2011, Dotcom launched his music career with the single 'Get Mine,' released that same year. Since then, he has emerged as a force to reckon with in SA's music industry.
Major League DJz's Bandile Mbere
Nadia Nakai started dating Bandile Mbere, one-half of Major League DJz, in 2017. They, however, confirmed the relationship in January 2018 after claiming to be just friends for some months. Rumors of the two being together started circulating when they were often spotted together at events.
According to the DJ, the relationship was not a publicity stunt. They fell for each other after working together on many occasions as they were both signed to Cassper Nyovest's Family Tree Records at the time. Bandile was never shy to express how Nadia made him feel. He even cited that the 'Imma Boss' crooner made him a better person as she is an amazing person to be with.
Bragga Won Gold from Her Breakup With Bandile
After Nadia Nakai's relationship with Bandile Mbere collapsed, she poured her heart about their love story in one of her songs titled, 'More Drugs' feat Tshego. The relationship ended before she dropped her first studio album. Thus, the album was hugely inspired by the heartache she suffered from the breakup.
However, the pair never divulged the reason behind the end of their beautiful love story, which came as a shock to their fans. It was noticed from her 'More Drugs' lyrics that Bragga was devastated by the sudden separation. However, the bad situation turned into a big win after the single, released in January 2020, was certified gold by RISA.
The SA Style award winner couldn't resist her amusement, and she took to social media to announce how her ironic breakup had won her gold. She shared an image of herself holding her gold win plaque. 'More Drugs' additionally won Nadia Nakai a South African Hip Hop Award for Best Video in 2020.
What Makes Major League's Bandile Mbere Famous
Bandile and Banere Mbere are twin brothers who formed the music group Major League. They are talented DJs and song producers who were born on January 3rd, 1991, in Massachusetts, USA. After completing their high school education, Bandile and his brother began hosting parties for celebrated artists, including Akon, Fat Joe, and 50 Cent.
Since returning to their home country, Major League are considered the leaders of New Age Kwaito music, to which they have made worthwhile contributions. Bandile and Banere Mbere now rank among the biggest DJs in South Africa and Africa as a whole.
They serve as the host of the popular event, Major League Gardens. They are also ambassadors for McDonald's Street Rhythm Campaign. Some of their hit songs include 'Skhaftin' ft Cassper Nyovest & Focalistic and 'Slyza Tsotsi.'
Nadia Nakai's Rumored Affair With Cassper Nyovest
While signed to Family Tree Records, the South African-born Zimbabwean rapper had a very close relationship with Cassper Nyovest, the founder of the record label. They often hang out together and attend occasions in the company of each other. They developed a strong bond, having spent much time in the studio together.
In August 2016, the two collaborated on a single 'The Man' from Nadia's EP, 'Bragga.' They also worked together on some other songs, including 'Ragga Ragga' and 'Naah Meaan.' With such a close working relationship and continuous public appearances, it was speculated that both music stars dated briefly before Nyovest began dating Nadia Nakai's friend, Thobeka Majozi.
In 2020, Nadia and Cassper, yet again, sparked another dating rumor as they attended together the premiere of Pearl Thusi-led Netflix series, Queen Sono. As if that wasn't enough, Cassper Nyovest was seen checking out Nadia Nakai with huge admiration on the red carpet more than a friend would. Even though they both denied the dating rumors, it was apparent that something had happened between them, but their secret remains a mystery.
Cassper Nyovest is a famous South African rapper, record producer, songwriter, amateur boxer, and entrepreneur. He ranks as one of the most successful music artists in South Africa. The 32 years old was born and raised in Mahikeng, North West. His real name is Refiloe Phoolo, and he established Family Tree Records in 2014.
Diamond Platnumz
Since featuring in the Netflix original series Young, Famous & African, many people have picked an interest in Nadia Nakai's relationship status. She featured in the reality TV series alongside other African stars. They include Diamond Platnumz, Khanyi Mbau, Andile Ncube, Zari Hassan, TuFace Idibia, etc.
On the Netflix show, which premiered on March 18th, 2022, Nadia Nakai and Tanzanian singer, Diamond Platnumz developed feelings for each other. Even though Nakai stated categorically on the show that she was dating Vic Mensa, she couldn't turn a blind eye to Platnumz's steady advances toward her. Young, Famous & African focused on building careers, looking for love, and rekindling old flames.
Thus, Platnumz hoped to find love on the show. Although his baby mama, Zari Hassan, was featured on the show, the 'Love Boat' singer didn't hesitate to make his feelings known to Nadia. He equally expressed his wish for them to have a romantic relationship. To show his interest, the Tanzanian music artist dedicated a song to Nadia Nakai.
Despite being on a few dates on the reality show, the two stated that they only had a platonic relationship and nothing else. Nadia was assumed by many to have wanted to keep her options open though being taken. Nadia Nakai's rumored boyfriend, Diamond Platnumz, is a multi-award-winning Bongo Flava recording artist.
He is the most decorated musician in East and Central Africa and the first Africa-based artist to attain a combined total of 1 billion views on YouTube. He is the founder of WCB Wasafi Record Label, Wasafi Media, and Wasafi Bet.
Nadia Nakai's Relationship With Vic Mensa
After American-born Ghanaian rapper Vic Mensa took an interest in the gorgeous South African rap artist and TV personality, he tried to connect to Nadia by sending her a direct message on Instagram. Eventually, the two took the conversation to Whatsapp. They moved on to solidify their relationship by working together on a song titled 'Practice.'
The music video for the song was shot in Ghana, and it was around that time that the pair made their love affair public. They spent time together and were very much smitten by love. Even though it became a long-distance relationship as both resided in different countries, Vic and Nadia ensured that they made it work.
Nadia Nakai revealed that she wouldn't have considered a long-distance relationship with anyone other than Vic Mensa. Despite her fears that there are chances that her man might be hooking up with someone else and she would never find out, the talented TV personality was never in doubt of Vic's love for her.
While together, both served couple goals on social media. They often share cozy snaps and go on luxury romantic vacations. Nadia cherished the relationship as she loved the fact that she was dating someone that she could learn from. She felt that their connection was so strong, exciting, and informative.
Nadia Announced Their Breakup on Truth or Drink 
After dating for more than a year, the former Yo! MTV Raps South Africa presenter revealed in an episode of Truth or Drink with Lasizwe Dambuza that she has called it quits with American rapper Vic Mensa. Nadia Nakai opened up about her failed relationship after being asked by Lasizwe, whom, amongst her ex-boyfriends, Dotcom, Bandile Mbere, and Vic Mensa, she would have loved to have kids with.
She said Vic Mensa, but sadly they are no longer a couple, and it's fine. That's how the public got notified about her breakup with the American rap artist.
What to Know About Bragga's Former Partner, Vic Mensa
Currently signed to Roc Nation, Vic Mensa started his career in 2009. He was a member of a group called Kids These Days before he left to release his debut solo mix tape, 'Innanetape.' In June 2014, the rapper dropped his debut single 'Down on My Luck,' and then his debut studio album 'The Autobiography' was released in July 2017.
Alongside Chance the Rapper, Vic is a founder of the hip-hop collective, Savemoney. In 2020, Nadia Nakai's ex-boyfriend debuted as an actor in the TIFF film, Akilla's Earth. He then made news headlines in January 2022 when he was arrested at the Washington Dulles International Airport by the Metropolitan Washington Airports Authority Police.
The Grammy-nominated rap artist had in possession 124 grams of Psilocybin capsules, 6 grams of Psilocybin mushrooms, 178 grams of Psilocybin gummies, and 41 grams of liquid Lysergic Acid Diethylamide (LSD). The drugs were discovered by the United States Customs and Border Protection. He was subsequently charged with felony narcotics charges.
Vic Mensa's real name is Victor Kwesi Mensah. He was born in Chicago, U.S., on June 6th, 1993.