Mbalenhle Mavimbela is a 26-year-old South African actress born on January 14, 1997. Mbalenhle became a household name for her role as Tandzile in the TV series Isipho and for playing Hlomu on The Wife. She is not currently married, and her boyfriend's identity is not publicly known.
Since making her TV debut on Isipho, Mbalenhle Mavimbela has had a remarkable journey. She has showcased her acting skills in well-known local productions like The Wife, Skeem Saam, House of Zwide, and Judas Kiss, in addition to Isipho.
Summary of Mbalenhle Mavimbela's Biography

Full name: Mbalenhle Mavimbela
Gender: Female
Date of birth: January 14, 1997
Mbalenhle Mavimbela's Age: 26 years old
Ethnicity: Black
Nationality: South African
Zodiac Sign: Capricorn
Sexual Orientation: Straight
Religion: Christianity
Marital Status: Single
Mbalenhle Mavimbela's Child: 1
Mbalenhle Mavimbela's Parents: Tholakele (mother)
Mbalenhle Mavimbela's Net Worth: $50,000
Famous for: Playing Tandzile in the TV series Isipho
Mbalenhle Mavimbela's Instagram: mbalenhle__m
Twitter: @MbalenhleMavim
Facebook: Mbalenhle Mavimbela
What is Mbalenhle Mavimbela's Age?
Mbalenhle Mavimbela is 26 years old currently. She was born on the 7th of January 1997 in a rural community in KwaZulu-Natal province called Ladysmith. She was raised by her mother, Tholakele, and late grandma Thembi Mavimbela.
The actress credits their nurturing, encouragement, and strictness for her accomplishments. Little information is available about her father, and it's unclear if she's the only child.
Mavimbela went to elementary school in Ladysmith, KwaZulu-Natal. She afterward attended the elite Pinetown Girls High School to complete her high school studies.
After graduating, she was accepted to the Durban University of Technology to pursue a degree in travel and tourism. She was awarded a bachelor's degree in travel and tourism after successfully completing her course.
The actress spent her formative years in her hometown in Ladysmith. She left KwaZulu-Natal for Durban in 2009, and it's been a productive journey for her since then.
At Her Age of 26, Mbalenhle Mavimbela has Unarguably Done Well for Herself
In addition to being younger than we all anticipated, Mavimbela has done well for herself, given her age. Her path to fame was facilitated by the fact that she knew what she wanted since she was a young girl.
The actress started showing a keen interest in acting from childhood, but she started taking the craft seriously in high school. Surprisingly, she did not receive professional acting training; instead, she picked up acting skills on the streets.
Before eventually honing her acting abilities to the point that she started to effortlessly land important roles in television programs, she first started out by attending many auditions and performing in theater plays.
Mbalenhle has so far appeared in numerous illustrious television programs, telenovelas, and drama series. In the first season of the regional telenovela Durban Gen and the serial Uzalo, she portrayed Thandi.
She appeared as a Negotiator in season 7 of Isibaya and as a Celebrity Guest in season 2 of #Karektas. In 2019, she played her first lead role Isipho on the E.TV drama series titled Isipho.
She portrayed Zama Zulu in the SABC1 drama series Judas Kiss later in June 2021. Mbalenhle Mavimbela portrayed the main character, a journalist named Hlomu, on the Showmax telenovela The Wife in October 2021.
Of all her roles in the TV industry, she is best known for her debut role in Isipho. She also broke into mainstream success through the same project. She recorded a major career feat on October 5, 2021, when she was a nominee for the Simon Mabhunu Sabela KZN Film and Television's Best Actress Film award.
Mbalenhle Mavimbela's TV Works 
#Karektas – as Celebrity Guest
Durban Gen – Season 1 as Thandi (as Mbali Mavimbela)
Isibaya – Season 7 as Negotiator
Isipho – Season 1 as Tandzile (as Mbalenhle Masikane)
Judas Kiss – Season 1 as Zamazulu
Skeem Saam – Season 10 as Nothile
The Wife – Season 1 as Hlomu
Is Mbalenhle Mavimbela Married?
No, Mbalenhle Mavimbela hasn't yet gotten hitched. Given that she is discreet, it is challenging to determine whether she is dating someone right now. Additionally, she has chosen to remain silent about her previous romantic relationships, and no records of them are publicly available.
Who is Mbalenhle Mavimbela's Baby Daddy?
The identity of Mbalenhle Mavimbela's baby daddy is currently shrouded in mystery as she is yet to publicly mention his name or upload his pictures online. Initially, a Johannesburg-based businessman was reported to be her baby daddy.
However, the said businessman claimed that he was only Mbalenhle's friend and not her baby daddy. He expressed sadness that he was linked to the actress, adding that the actress has a boyfriend and that he also works in the entertainment industry.
He also revealed that everyone in the industry knows who the actress' lover is. Mavimbela is yet to react to the report or open up about her said boyfriend.
The Former Isipho Screen Star Welcomed her Baby in Mid-2022
The actress welcomed her first baby sometime in the month of May 2022. She hid her pregnancy from her fans for the most part of it. No one knows exactly why she decided not to talk about it publicly.
Rumors about her being pregnant started circulating on social media after she took pictures on Instagram with her abdomen covered. The rumor got intensified after South African celebrity entertainer Phil Mphela reported that Mbalenhle Mavimbela would be leaving The Wife for personal reasons.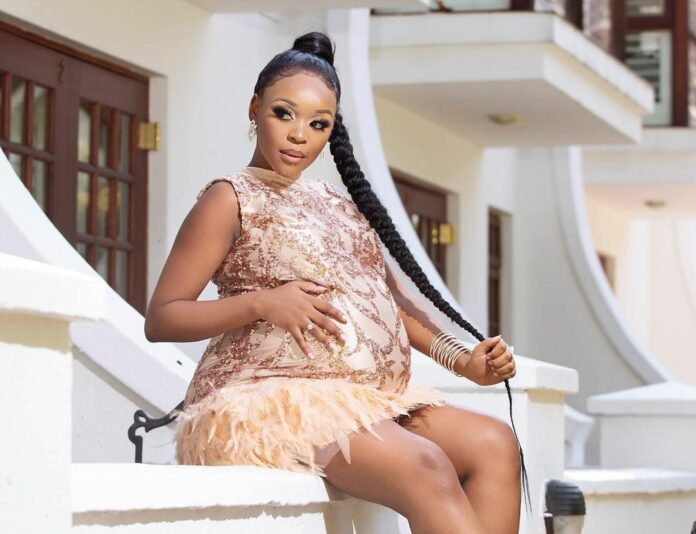 This led to fans speculating that it could be that she was expecting a baby and the pregnancy could be true. She was treated to a surprise baby shower which had her friends, family members, and well-wishers in attendance. Her favorite musicians also performed at the colorful event.
Where is the Actress now and What has she Been up to?
Mbalenhle still resides in her palatial apartment in Durban. She has kept a low profile on her life since she welcomed her baby in mid-2022. She hasn't made many on-screen appearances since then, as she is focused on nursing her little bundle of joy.
Sadly, she is yet to publicly reveal the name and exact birth details of her baby. Nonetheless, if you are a fan, you can contact to her through her active Instagram handle (@mbalenhle__m) and her Twitter account (@MbalenhleMavim). She mostly posts about work and her personal life on the platforms.