South African pro golfer, Louis Oosthuizen's net worth is estimated at $45 million; money he made from his career that has spanned more than two decades. He took interest in golfing as a kid and after years of exploits in the amateur circuit in his home country of South Africa, he turned pro at the age of 19 in 2002. Since then, he has been a well-recognized figure in the golfing domain, having won the 2010 Open Championship with his beautiful, fluid swing.
Over the course of his career, the Mossel Bay-born has won one major title and finished in a runner-up spot seven times. Amazingly, he has emerged as a runner-up in all four major championships namely, Masters Tournament, U.S. Open, PGA Championship, and Open Championships. Little wonder, Louis Oosthuizen has thus far gathered career earnings estimated at $27.9 million.
How Much Money Does Louis Oosthuizen Have?
As one of the most successful golf players from South Africa, Louis Oosthuizen has accumulated a net worth of $45 million from his palmy career. He is one of only eight golfers to have achieved a runner-up position in all four major championships of the sport. He has so far earned $27,907,258 in prize money. By winning the 2010 British Open Championship, he gained $1.35 million in prize money.
Throughout his career, Louis has finished in the runner-up spot (seven times), third position (twice), Top 5 (nine times), Top 10 (11 times), and Top 25 (24 times). He had his highest golf ranking on January 13th, 2013 when he was ranked fourth on the Official World Golf Ranking. Nicknamed "Shrek", Louis Oosthuizen has so far recorded over 20 career wins. He has won one PGA Tour, nine European Tours, three Asian Tours, eight Sunshine Tours, and one PGA Tour of Australasia.
Between 2004 and 2008, he clinched five professional tournaments on the Sunshine Tour. They include the Vodacom Origins of Golf Tour event at Arabella (2004), the Platinum Classic (2007), Dimension Data Pro-Am (2007), and the Telkom PGA Championship (2007 and 2008). He then won his first Europen Tour event in 2010 at the Open de Andalucia de Golf. Two years later, he was ranked in the Top 10 on the Official World Golf Ranking for the first time in his career.
In addition to the multi-million dollars Louis Oosthuizen has pocketed in prize money, he has augmented his net worth over the years through investments in real estate, as well as earnings from his wine company, restaurant, and farming activities.
He Won Over $6 Million From The 2021 PGA Championship Events
In the year 2021, Louis Oosthuizen increased his net worth by taking home $6,306,676 for his participation in PGA Championship events for the 2021 season. Thus, becoming the seventh overall player with the most money. He tied in second place (T2) at the PGA Tour held in May. This becomes the second PGA T2 of his career, having previously tied in second place at the 2017 PGA Tour.
After playing in the PGA Championship in May, he moved on to participate in the US PGA Tour Championship held in September 2021 and earned $583,750 for finishing in a tie for 14th place in the tournament. Also, Louis pocketed about $476,011 for his participation in the 2022 season tournaments before being forced out of action by injury at Masters Tour in April 2022.
Summary of Louis Oosthuizen's Earnings From 2022 Season Tours
| | | | |
| --- | --- | --- | --- |
| Date | Tournament | Position | Earnings |
| October 7th-10th, 2021 | Shriners Children's Open | 14 | $113,750 |
| October 14th-17th, 2021 | THE CJ CUP @SUMMIT | 38 | $37,635 |
| February 10th-13th, 2022 | WM Phoenix Open | 14 | $133,250 |
| February 24th-27th, 2022 | The Honda Classic | 30 | $43,133 |
| March 10th-14th, 2022 | The PLAYERS Championship | 42 | $73,000 |
| March 17th-20th, 2022 | Valspar Championship | 62 |  $17,004 |
Golfing is The Major Contributor to Louis Oosthuizen's Net Worth
Right from childhood, Louis Oosthuizen has been very good at golf even though he harbors a strong passion for farming. He won many titles during his amateur career and after turning pro, he continued with his winning streaks and is now considered South Africa's best contemporary golf player. This is as a result of the 41-year-old recording a commendable consistency run throughout his career.
Having achieved a career that has lasted for more than 25 years, it's not surprising that Louis Oosthuizen has accumulated a multi-million dollar net worth. It's noteworthy that his golfing career is his major source of income even though he has established a variety of business ventures.
Despite the journey not being all that smooth for the pro golfer, having missed out on some tournaments due to injuries and struggles with concentration, he has managed to keep himself relevant in the game and hopes to add one more major to his alluring portfolio before hanging his club.
Now, let's have a look at Oosthuizen's upward career trajectory; from amateur to professional level.
As an Amateur Golfer, Louis Oosthuizen Recorded Over Five Championship Wins
Louis was introduced to golf by his brother, Rikus who also had a special interest in tennis. He afterward perfected his skills in the sport and moved on to achieve unprecedented success at the provincial and national levels. His breath-taking performances soon attracted the attention of Ernie Els, a South African golf legend who is the founder of The Ernie Els and Fancourt Foundation.
For three years, Els, through his foundation financially supported Louis Oosthuizen's career, helping him to achieve his ambition of becoming a pro golfer. Meanwhile, as an amateur, Louis won the World Junior Team Championship in the year 2000 together with Charl Schwartzel. He further added to his portfolio – several South African Provincial amateur titles. They include Transvaal Amateur Stroke Play Championship and Natal Open Stroke Play Championship.
Other of his amateur wins are the Irish Amateur Open Championship, a gold medal at 2001 All African Games held in Kenya, and the 2002 Indian Amateur Open Championship (tied). In the same 2002, at the age of nineteen, Louis Oosthuizen turned professional.
He Won Over Four Tournaments Six Years After Turning Pro
In the year 2003, Shrek played on the European Challenge Tour and has been a member of the golf event since 2004. In his first season on tour, he played in the Zambia Stanbic Open and had a T5 finish (a tie for fifth place). He then had an improved result in his second season on tour when he recorded his first win at the Vodacom Origins of Golf at Arabella Golf Club.
Also in 2004, Louis finished in the top ten at the Open de Sevilla and the Deutsche Bank SAP Open TPC of Europe. He qualified for the first time for the Open Championship that same year. He, however, failed to produce a stellar result in the tournament as he failed to make a cut. Later in 2005, he managed to up his performance and registered three top-ten finishes on the Sunshine Tour. In the next season, Louis Oosthuizen played in the European Tour and Sunshine Tour events.
He finished top ten in three South African tournaments and top twenty at the Open de Espana. He moved on to make his presence felt in the golfing arena in the year 2007 when he claimed victories at the Dimension Data Pro-Am and Telkom PGA Championship. He made his only appearance in the US that season at the World Golf Championships and finished in a tie for the 50th place (T50).
In the following year, the South African pro golfer successfully defended his Telkom PGA Championship title and retained it. He also participated in three PGA Tours, making it to the weekend in the three events. After playing in six PGA Tour events in the year 2009, Louis Oosthuizen recorded his best finish that season – a tie for the twentieth place at the World Golf Championship – CA Championship. That same year, he finished 31st on the Race to Dubai Tour.
2010 British Open Championship Victory
Oosthuizen kickstarted the year 2010 in grand style. He had his first European Tour event win in March 2010 at the Open de Andalucia de Golf. He followed it up with a striking performance that gave him a well-deserved victory at the 2010 Masters Par 3 Contest. He then entered the 2010 Open Championship at St. Andrews ranking 54th on the Official World Golf Ranking, as he had only made one cut in eight appearances at major championships.
On the first day of the 2010 Open Championship, Louis Oosthuizen's 65 shot placed him in second place behind Rory Mcllroy who had a 63 shot. He then took the lead on Friday with a 67 shot and maintained the lead throughout the final two rounds. Interestingly, his total shots of 132 tied with the Open Championship at St. Andrews' record for the lowest 36-hole score. He then moved four shots clear of second-place Paul Casey after registering a 69 shot on Saturday and was at 15-under-par with one round to play.
Casey then closed the gap to three shots on the 8th hole on Sunday. Soon after, Louis drove the ninth green, thus, making a long putt for eagle. He also made a birdie on the 12th hole and Casey ended up giving him an eight-shot lead after making a triple bogey by hitting his drive into a gorse bush. On the last day of the championship, Oosthuizen had a 71 shot at 16-under-par. He then won the 2010 Open Championship by seven strokes with a total of 272 shots.
Louis Oosthuizen total shots in the championship emerged as the second-lowest in the history of St. Andrews. The victory pushed him up to the 15th spot on the Official World Golf Ranking. He also emerged as the fourth South African man to clinch the Claret Jug after Bobby Locke, Gary Player, and Ernie Els.
Professional Career Wins After 2010
Since winning the British Open on Nelson Mandela's 92nd birthday, Louis Oosthuizen has made away with several championship titles. He won the Volvo Golf Champions and Africa Open in 2011. In the same year, he finished in the top ten at the Barclays Singapore Open, U.S. Open, and WGC HSBC Championship. Also, he successfully defended his Volvo Golf Champions title and Africa Open in the next year. In the same 2012, he won the Maybank Malaysian Open.
In the following year, he clinched the Volvo Golf Champions once again. He successfully defended it in 2014, before moving on to win the ISPS Handa Perth International in 2016 and the South African Open in 2018. He represented his home country at the 2019 President's Cup and his team lost to the U.S. team 15.5 to 14.5. Furthermore, Louis' sensational form in 2021 led him to a tie for a third-place finish at the 2021 Open Championship held in July at Royal St. George's Golf Club in Sandwich, Kent.
Louis Recorded His 5th and 6th Runner-up Finishes in 2021 Tours
Oosthuizen finished runner up in two major tournaments just in 2021 alone. At the 2021 PGA Championship held in May, he finished in a tie for second place, bagging his fifth runner-up position in a major championship. He further played in the 2021 U.S. Open Championship held in June at Torrey Pines Golf Course in La Jolla, California, and had his sixth major runner-up finish as he clinched the second position.
Prior to his exceptional performances in 2021, Oosthuizen had recorded a number of runner-up finishes in the past years. In 2012, he suffered heartbreak at Augusta. After recording the first albatross on the par 5 in the history of the Masters Tour, he ended up losing the title to Bubba Watson in a playoff. He also finished in a tie for second place at the 2015 U.S Open and The Open Championship. Later in 2017, Shrek had another runner-up finish at the PGA Championship.
Highlights of Louis Oosthuizen's Career Wins
Amateur Wins
World Junior Championship (2000)
Transvaal Amateur Stroke Play Championship
All African Games (2001)
Indian Amateur Open Championship (2002)
Natal Open Stroke Play Championship
Irish Amateur Open Championship
Professional Wins
Vodacom Origins of Golf at Arabella (2004)
Dimension Data Pro-Am (2007)
Telkom PGA Championship (2007)
Platinum Classic (2007)
Telkom PGA Championship (2008)
Open de Andalucia de Golf (2010)
The Open Championship (2010)
Maybank Malaysian Open (2010)
Africa Open (2011)
Africa Open (2012)
Volvo Golf Champions (2013)
Volvo Golf Champions (2014)
ISPS Handa Perth International (2016)
South African Open (2018)
How Much Money Does Louis Oosthuizen Make From UPS?
Following his victory at the 2010 British Open Championship at St. Andrews, Louis Oosthuizen was presented with the opportunity to increase his net worth with endorsement earnings from UPS. He was added to the package delivery company's roster of brand ambassadors after the major win. The endorsement deal was said to be worth $75,000. As UPS brand ambassador, Louis is required to sport the company's logo on his shirt in any European Tournaments he plays in.
UPS aims to use the European Tour platform to demonstrate its shipping and logistics capabilities to a global audience as the tournament event schedule spans the world. Also, the South African professional golfer is required to represent UPS during the brand's diverse sponsored marketing and promotional activities, including employee and customer hospitality events at different European Tours that hold across the world.
Scales, Ping, Mercedes-Benz, and Other Sponsorship Deals
In the same 2010 after the British Open win, Louis Oosthuizen bolstered his net worth with the payment he received from Mercedes Benz South Africa for becoming its brand ambassador. After penning the contract, the South African elite golfer became a spokesman for the luxury car brand. Also, his non-profit organization received a Mercedes Benz Sprinter van that was converted into a mobile golfing clinic.
Louis further served as a brand ambassador for Ping for some years before renewing his sponsorship deal with the golf brand in October 2015. He signed a multi-year agreement with Ping which has seen him play with Ping golf equipment and he also rocks Ping apparel to date. Part of the agreement includes Louis Oosthuizen wearing a Ping hat, the latest ping apparel and equally playing with a minimum of 11 Ping clubs that include a Ping driver and putter.
Furthermore, in February 2022, SCALES Gear announced its first PGA Tour Sponsorship with the major champion. The multi-year sponsorship deal begins in 2022 and the length of the deal is undisclosed. Recently, the outdoor-lifestyle brand launched Offshore Country Club Collection. The company also extends its ocean-inspired style to walk shorts, polos, and other golf and leisure apparel.
As part of the deal, Oosthuizen will be wearing SCALES Offshore Country Club Collection. He serves as SCALES' first global ambassador and would be representing the brand on the global stage. Unfortunately, the financial terms and the length of these sponsorship deals are still undisclosed. Other brands that have sponsored Shrek throughout his career include IZOD, Tiltleist, FootJoy, Sentinel One, NetJets, SwitchGrips, and ZipRecruiter.
Does Louis Invest in Real Estate?
Having achieved a successful career that has earned him millions of dollars in prize money, Louis Oosthuizen has, over the years, spent some portion of his net worth in real estate investments. In the year 2013, he purchased a landed property for $850,000 which is located within Old Palm Golf Club, right in the middle of Palm Beach Gardens' 18-hole golf course. He constructed a luxury home on the land which spanned over 10,000 square feet.
The mansion features a golf simulator, a wine storage area, a putting practice area, a private guest wing, high ceilings, a games room, wood beams, a swimming pool, and a spa. The house additionally has a stunning view of a nearby lake. The South African ace golfer initially tried to sell his Florida home for $7.5 million but wasn't successful. He subsequently reduced the asking price to $5.89 million before eventually selling it for $5.5 million in 2020.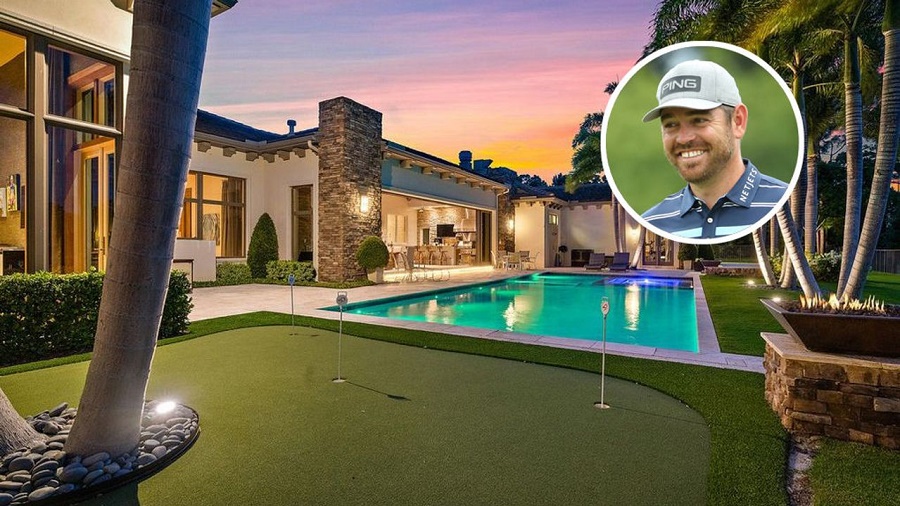 Later in 2021, Oosthuizen and his family moved to a rental property on Golden Ocala, the golf course that hosted the 2021 LPGA Tour event and it's not known how much he rented the property. He also purchased an 86-acre ranch in Ocala, Florida for an unknown price in the same year. The farm is located about 100 miles north of Tampa. The talented athlete fell in love with the oak trees on the farm after visiting his friends on the range after Christmas.
When he realized that the property was for sale, he and his wife, Nel-Mare Oosthuizen made an offer and purchased it a week later. They plan on moving to the farmhouse in the 2022 spring after renovating it. Louis additionally has a bigger ranch of about 150-acre in his home country.
Other Ventures Loius Oosthuizen Has Spent His Net Worth on
Louis Oosthuizen has not only invested part of his net worth in real estate but has diversified his income sources by investing in a wine company and farming activities. Though a professional golf player, Louis has always been a farm boy at heart.
Farming Activities
Farming occupies a special place in Louis Oosthuizen's life. He was introduced to farming by his parents while growing up in Mossel Bay, South Africa. As a result, he has a great passion for farming and thus, owns a 150-acre ranch in South Africa. He mostly grows hay on his farm and sells it to his brother, Rikus who is into dairy farming and has about 1,500 acres of the ranch next to Louis'.
The golf player purchased another farm in NW Marion County in Ocala, Florida, in the year 2021. He plans to buy horses and a few cattle to keep him busy on the farm. In the past years, Louis Oosthuizen has also spent a portion of his net worth buying some sophisticated farming equipment. He is so passionate about farming that he exchanged the tournament prize for winning Volvo Golf Champions Pro-Am; a Volvo car for a backhoe that will help him work on his farm.
Additionally in 2010, after winning $1.3 million in prize money for the British Open Championship victory at iconic St. Andrews, Oosthuizen used part of his newly found riches to purchase a massive custom-made John Deere tractor. As a farm boy, it has been one of his biggest dreams. He purchased the tractor for his farming activities in South Africa.
Wine Company and Restaurant
The major champion has further invested his prize money earnings in wine production. He serves as the owner of a wine company known as Louis 57. It is situated on 25 hectares of estate in Stellenbosch. He runs the company as a joint venture with winemaker, Jaques Borman who worked for 25 years at the prestigious La Motte Wine Estate in Franschhoek. Oosthuizen ventured into winemaking in 2012 and now, the company has gathered over 28 accolades.
He produces Louis 57 wines under the license of Stellenbosch-based wine company, Boschkloof Wines owned by Jacques Borman and his son, Reenen Borman. The wine company specializes in South African wines and manufactures spirit, red wine, white wine, rose, and sparkling wine. The company boasts great wine choices that have been divided into two categories namely, Louis Private Cellar and Louis 57 Private Collection.
Louis Oosthuizen additionally established a restaurant called Route 57 in his hometown, Mossel Bay. He operates the restaurant with the help of chef Anzelle Seelie who designs great menu selections that offer a mix of traditional South African cuisine with modern fare.
Oosthuizen's Philanthropic Endeavours
In addition to having a passion for farming and golf, Louis Oosthuizen has a passion to support kids. As a result, he founded Louis57 Foundation in 2009, and through it, he renders financial help to kids in need. Having been sponsored by Ernie Els Foundation during his amateur years, Louis Oosthuizen was inspired to venture into such a project. Now, his foundation serves as a bridge between donors and children in need.
He distributes the funds realized from fundraising projects and donations to pediatric cancer patients, early child development feeding programs, children with special needs, including Down Syndrome and Autism, and the golf academy and golf development program. Hence, Louis57 Foundation has four registered charity beneficiaries. They are:
LOUIS57 Kids With Cancer
iPapa57
Leolan Academy
LOUIS57 Junior Golf Academy
R&A is the main sponsor of Louis57 foundation while the secondary sponsors include ATKV Resorts, PING, Titleist, FootJoy, and SwitchGrips. Then the tertiary sponsors of the foundation are CH Diamonds, Sun International, Pinnacle Point Estate, Sunshine Tour, and Grand Timepiece.
Louis57 Junior Golf Academy
Louis57 Junior Golf Academy also known as Academy57 was born out of Louis Oosthuizen's passion for junior golf development. He established the academy in 2009 in Mossel Bay. The project aims to identify and develop young golfers, including already talented golf players and those with golf potential and life skills. Headed by a PGA professional coach, the academy operates on a four-tier coaching structure.
While the first tier (Peak Tier) hosts the top ten Junior members living in Southern Cape every year, the second tier (Performance Tier), third tier (Enterprise Tier), and fourth tier (Louis57 Kids) focus on identifying and developing juniors with grassroots golf potential.
Leolan Academy
Another project on which Louis Oosthuizen spends his net worth is a non-profit school called Leolan Academy. His foundation financially supports the school and also helps with diverse fundraising projects. Leolan Academy supports children with complex and special needs such as Down Syndrome and autism. The academy aims to help the kids experience life to its full potential by being committed to the development of each child's abilities.
The objectives of the Leolan academy include:
Nurturing and challenging each student on his or her own level
Instilling a positive self-image in each child that leads to personal development and lifelong learning
To provide children with disabilities with the highest standard educational and therapeutic programs available
To support parents in their quest for the best learning environment for their kids and equally, in their growing understanding of the needs and abilities of their children
iPapa57
iPapa57 is feeding the children program launched by Oosthuizen's foundation in October 2017 at Smartstart ECD centers located in the Mossel Bay area. The aim of the program is to assist local and national efforts in providing the basic needs of children in their early years of development. iPapa57 partners with Smartstart ECD, a national ECD franchise to provide basic needs such as:
Nutrition and good health
Love and care
Stimulation: Learning opportunities
Safety: Physical and emotional
Career Threatening Issues That Have Cost The Golfer Money
Louis Oosthuizen has been faced with issues that seem to threaten his career at one point or the other in the past years. He has dealt with concentration issues and several injury cases as well. Recently, he pulled out from the Masters' Tournament due to an injury.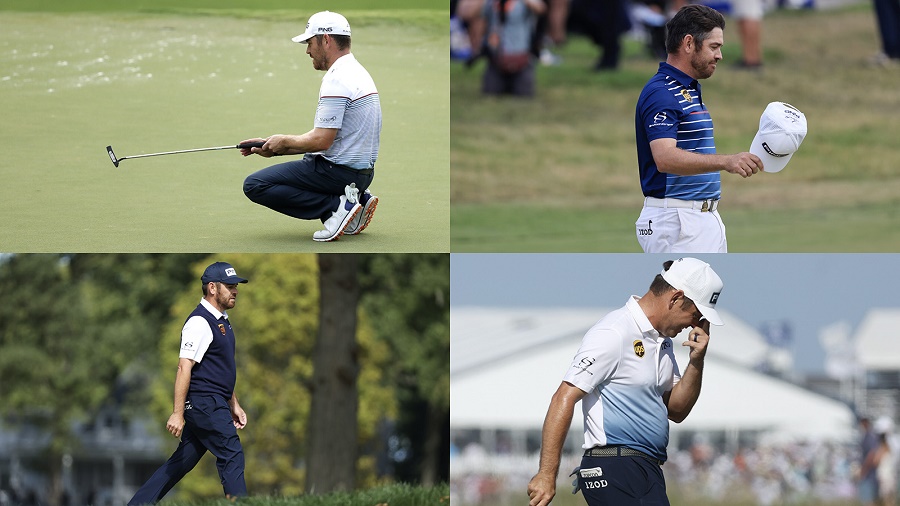 Injury Issues
Shrek entered Masters Tournament as World No. 15 in April 2022 before he withdrew from the competition as a result of injury. Also, in 2013, he had a short season due to a neck injury that forced him to withdraw from the British Open and stayed out of action for the remainder of the year. Subsequently, he further missed a couple of months on tour events as a result of sustaining torn ligaments in his ankle.
Later in 2021, he withdrew from RSM Classic and missed two months starting from November as a result of back and neck injuries. Injury issues have cost Oosthuizen some fortune, including the prize money he would have earned from the missed tournaments.
Concentration Problems
The skilled golfer also has been dealing with concentration issues throughout his career. Consequently, he constantly works hard to improve his focus and level of concentration. He attributed his victory at the 2010 British Open to the red spot marked on his glove which helped him to remain focused before and during the swing.
To improve his concentration before the event, he consulted Karl Morris, a sports psychologist based in Manchester United. The strategy suggested to him played a key role in his eventual win.
The 2010 British Open Champion Was Raised on a Farm in South Africa
Louis Oosthuizen was born in Mossel Bay, in South Africa's Western Cape province. The harbor city is a diverse community with 40% black, 40% multiracial, and about 17% White. The professional golfer's real name is Lodewicus Theodorus Oosthuizen and his birth date is October 19th, 1982. He was raised by his parents, Piet and Minnie Oosthuizen on a family farm in Albertina, West of Mossel Bay.
Residents of Mossel Bay mostly specialize in farming, fishing, and natural gas or oil collection. Thus, Louis' parents work as dairy farmers with more than 100 cows. This leads to Louis developing a great passion for farming which he still practices to date. Though he wasn't interested in milking, he picked interest in driving the tractor.
As a Kid, He Was a Sports Fanatic
Besides farming, Louis Oosthuizen was pretty good in sports while growing up. As a school kid, he mainly played tennis till the age of 10 when he switched to golfing after realizing how talented he is in the field. Coming from a middle-class family, his parents couldn't afford to pay for the tee times and equipment during the early stages of his career. Eventually, Ernie Els Foundation provided little Louis with the opportunity to make a name for himself in the amateur circuit.
The golf player spent most of his childhood in South Africa and even after turning pro in 2002, he still resided in his home country. To the amazement of his friends who never knew he would leave his farm for anything, Louis relocated to Texas, United States a few years after getting married. He currently switches his time between the United States and South Africa.
Louis Oosthuizen is of Dutch Ancestry
Haha. Louis Oosthuizen talks to his ball in English, but mutters to his caddy in Afrikaans.

— Cam Cole (@rcamcole) December 1, 2016
Pronounced as "Whust-hey-zen", Oosthuizen is a surname linked with Dutch ancestry. Louis was given the name Lodewicus Theodorus Oosthuizen by his grandfather. Oftentimes, his name has been very difficult to pronounce but out of respect for his grandfather, he decided to stick with the name. However, while growing up, he adopted the name "Louis" which he seemed to have liked more than his real name.
The famed golfer is fluent in Afrikaans language and was captured speaking the language with his caddie during the 2010 British Open Championship.