Claire Mawisa is a 45-year-old South African TV host, radio personality, and model born on 7th October 1978. There is no information or evidence about her being married; therefore, it is unknown whether she has a husband or not.
Throughout her career, Mawisa has hosted several television programs on numerous networks and built a substantial radio career as well. She is currently one of the media industry's brightest minds.
Summary of Claire Mawisa's Biography

Full name: Claire Mawisa
Gender: Female
Date of birth: October 7, 1978
Claire Mawisa's Age: 45 years old
Ethnicity: Black
Nationality: South Africa
Zodiac Sign: Libra
Sexual Orientation: Straight
Religion: Christianity
Marital Status: Single
Claire Mawisa's Child: 1
Siblings: 2
Claire Mawisa's Net worth: $500,000
Famous for: Being a presenter on Carte Blanche
Claire Mawisa's Instagram: clairemawisa
Twitter: @clairemawisa
Facebook: Claire Mawisa
How Old Is Claire Mawisa?
Radio personality Claire Mawisa was born on the 7th of October 1978 in Cape Town. She is currently 45 years old. She has two brothers, but their identities have not yet been made public. Her father's identity, as well as the current status of their relationship, are unknown.
The former model allegedly had a difficult childhood and was single-handedly brought up by her mother in the Cape Town neighborhood of Kenilworth with her brothers. This implies that their father was not present while they were little.
Mawisa attended Sans Souci Girls High, a public high school for girls with an English medium located in the Newlands neighborhood of Cape Town in the Western Cape province. There is no information about her college career.
Even though she may not be the most successful of her peers, Claire's accomplishment at her age is extremely obvious. She has worked with and hosted a variety of people over the course of her decades-long contribution to the media industry.
Claire Mawisa Started Out As A Model 
Claire Mawisa actually began her career as a model in 1994. The following year, at the age of 15, she made her first appearance on the cover of Cosmopolitan. She became a leading magazine cover model as a result of this honor and began hosting radio and television programs.
She presented SABC1 Continuity from 1999 to 2001 and co-hosted the music variety show One on SABC1 from 2002 to 2003. From April 2019 to October 2019, she served as a radio host at Classic 1027.
She is Now A Well Known Personality on Both Radio and Television
From April 2011 until April 2015, Mawisa oversaw the programming at Kaya FM 95.9, and from January 2010 to December 2010, she worked as a radio producer. Randall Abrahams, a radio host, novelist, and television personality from South Africa, had a syndicated radio show that she co-produced. Radio stations OFM, Kaya Fm, Heart Fm, and Algoa Fm all carried the radio program.
From April 2000 to April 2005, the Cape Town native also worked as a radio producer at Metro FM. Claire proudly regards her official position as a media personality because she has experience working on a variety of media platforms.
She presently serves as a presenter on Carte Blanche, the top news and current affairs program in South Africa, which airs on Mnet as part of the DSTV package. Since July 2015, she has been employed by the media company.
Claire Mawisa has a Couple of Films Under her Belt
Despite not being a full-time actor, Mawisa has two productions to her name. Regarding her participation in these projects, including her roles, there is no additional information available. Regardless, it's thought that these movies improved her career and introduced her to other artists.
Claire Mawisa's Movies
Africa Within (2005)
Carte Blanche (1988)
She is the Co-Founder of Luminosity Lab (Code Teen)
In June 2004, Claire helped start Luminosity Lab. Luminosity Lab is a pioneer in the inventive conception and delivery of ground-breaking programs for positive transformation and personal empowerment for a range of audiences and age groups.
Over 100,000 teenagers, young adults, women, men, and executives in South Africa and throughout Africa have benefited from the workshops led by their skilled team, who have been collaborating for more than 25 years.
Mawisa was appointed as a board member for RX Radio in October 2018, a World Wide Fund South Africa ambassador in December 2018, and a board member for Ibis Reproductive Health in October 2019.
Is Claire Mawisa Married?
No. Claire Mawisa has not entered into a legal marriage with a man. She is likely in a quiet relationship with someone or is still single, it is assumed. There are no records of her past relationships as well.
The radio personality, who has a reputation for keeping her personal affairs private, has kept the public in the dark about her love life for years. She doesn't discuss it in the open.
She posted about being single on her Facebook page in 2012. She voiced her worry that there were so many weddings happening at the time, but she was still unmarried.
The radio host made news in 2018 when online rumors appeared that she was dating Thokozani Ndaba, the founder and executive director of the Ntethelelo Foundation.
Thokozani Ndaba and Claire Mawisa, however, declined to corroborate the rumor. Over time, it became evident that the rumor about both of them dating was untrue.
Does Claire Mawisa Have Children?
Carte Blanche presenter Claire Mawisa has given birth to one child, a son. He celebrates his birthday on the 7th of March, but nobody knows for sure the year he was born. Claire's son is currently a high school student and occasionally appears in some of the pictures she posts online.
Mawisa is raising her son singlehanded, and she is quite protective of the young lad as well. Uncertainty surrounds Claire's son's paternity. The identity of the boy's father, his occupation, and his name remains a mystery.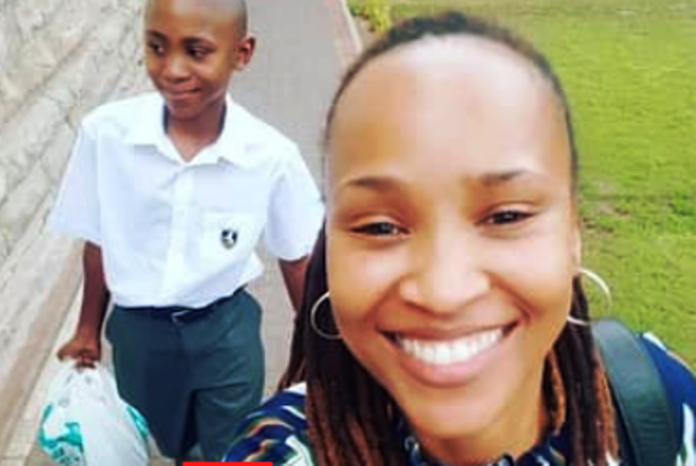 Claire shared a couple of images of herself and her son on Instagram, along with a motivational statement on January 7, 2019. She described to her followers the challenges she has faced while trying to raise her son in the post.
The media personality praised other single mothers who had always remained steadfast in providing for their children in the absence of their fathers. She concluded by thanking her mum for her support. She thanked her for supporting her and her son through every stage of life.