Neyi Zimu lost his battle to cancer on December 4th 2019, leaving behind his wife, Dr. Nelisiwe Sibisi-Zimu and their three children. Since then, his family has been doing their best to keep his legacy alive. His wife has assumed the mantle of leadership at their church – All Nations Revival Ministries – and  their son, Muzi Zimu, has joined the South Africa gospel music arena as a singer.
Before the cold hands of death snatched him away, Neyi Zimu lived a life of service to God and Christians in South Africa. He started as a gospel singer, and his songs blessed many hearts. To take his work for the ministry forward, he became a pastor and never stopped his good work. Even when he was down with a type of blood cancer that affected his skin and was enough to stop him from preaching and attending concerts where he was invited to minister in songs, he still did not let the illness stop him.
He kept pushing until he couldn't push anymore. And when it was time for him to be with the Lord, Neyi Zimu left this earth for a better resting place. His impact on the South Africa Gospel music industry and Christian association will not be forgotten in a hurry.
Neyi Zimu Left Behind His Wife, Three Children, And Heartbroken Fans
As mentioned earlier, Neyi Zimu was an iconic South African gospel minister before his unfortunate demise due to Mycosis (a kind of blood cancer). The entire journey, which involved battling the disease to stay alive, was not an easy process for the family. When he was hospitalized, his children were writing their exams, and his wife had to juggle taking care of the children and looking after him at the hospital. Thankfully, the family had friends who showed support and rallied around her in those trying times.
Before he was diagnosed with cancer, Neyi Zimu and his wife, Dr. Nelisiwe Sibisi-Zimu, were known to be a happy and united couple.
They shared happy moments and were one of those couples people looked up to for marital inspiration. While Neyi Zimu transitioned into a preacher, his wife stood by him, and despite being a medical doctor, she still supported her husband's ministry. We can't say for sure when they got married, but we know that their union was blessed with three lovely children, a boy and two girls.
Since Zimu's death, his wife has taken up taking care of their children as a single mother. She is also determined to see to it that her husband's legacy lives on.
Being A Widow Has Not Been An Easy Life To Live For Neyi Zimu's Wife, Nelisiwe Sibisi-Zimu
One month after the demise of the late singer-turned-pastor, his widow, Dr. Nelisiwe Sibisi, who had always tried to be strong, revealed that it has not been easy for herself and their children. She said that some days everything seems like it would be alright, and other days they just miss him so much and can't help but cry.
She added that her children are doing all they can to cope with the absence of their father, but it is not really easy for them, as their late father was someone who always made his presence felt by everyone. Sometimes, to bring back memories of their father, they play his music.
In general, she is doing a great job of taking care of her children in their father's absence. She said that, after Neyi Zimu's death, the children were really sad, but her close relationship with them allows them to express how they feel.
Dr. Nelisiwe Zimu has decided that she would stop at nothing to keep her husband's name alive. Her Instagram account is full of pictures of him, and she has even gone ahead to create his brand merchandise to sell. According to her, one of his wishes, when he was alive, was to start a foundation, and that's a project she is currently looking into.
Neyi zimu's Wife Now Heads His Ministry While His Son Has Followed In His Fathers' Musical Footsteps
In a bid to keeps her husband's legacy alive, Dr. Nelisiwe Zimu has since assumed the mantle of leadership at her husband's church – All Nations Revival Ministries – and has done a great job in steadying the ship rocked by his death. Her Instagram handle is awash with different programs she has organized since Neyi Zimu's demise.
Their son, Muzi Zimu, is stepping into his father's shoes and making his way into the South Africa gospel music arena. He has released his first single titled On Your Way. The late Neyi Zimu's shoes are so big to fill; however, it's a good way to sustain his father's legacy. With his mother, Nellie, by his side, we can say this is only the beginning for Muzi.
Neyi Zimu Was Diagnosed With Cancer In 2017
The legendary gospel music artist believed he was a healthy man and carried on with his ministry without bothering about his health until he started observing changes on his skin. This was in 2017. Not only did the changes appear like rashes, but the fact that they were also itchy made him proceed to seek medical attention. He went to the hospital for a proper diagnosis, hoping it was a simple illness. However, when the results came in, it turned out to be a nightmare – Pastor Neyi Zimu had been hit with Mycosis, a medical term for a type of blood cancer that affects the skin.
Faced with managing the condition while seeking medical help, Neyi Zimu had to cover the symptoms with clothes as they initially surfaced in the inner part of his body where it could be covered. It then started appearing on his hands and to further hide the ailment, and prevent people from noticing what was going on, the gospel singer started wearing hand gloves to his ministrations.
With all of his symptoms and challenges, Neyi Zimu continued to attend concerts and live his life while keeping things away from the public. In the midst of his pain and challenges, his wife, Dr. Nelisiwe Zimu, children, and family stood by him strongly without wavering. Their support was indeed paramount to him at that time of his life.
He Let The Cat Out Of The Bag At A Concert In Polokwane
As days turned to weeks and the symptoms became more pronounced, it was obvious he could no longer hide what he was going through from the public. As a matter of fact, Neyi Zimu could no longer hide the symptoms because they were now showing up on his face as well. At this point, hiding the news from fans and the public was becoming almost impossible as his illness was now beginning to announce itself.
Sadly, his health continued to deteriorate to the point that he was no longer able to honor invitations to concerts. The illness was taking more than just money from him, it got to the point where he could no longer do what we know him for, and that's blessing our hearts with Christian music. According to his wife, they decided it was best for him to take a sick leave in order to focus on his treatment. He was hospitalized at Chris Hani Baragwanath Academic Hospital in Diepkloof, Soweto.
At this point, it was no longer necessary to continue keeping the news away from the public. At a Gospel concert in Polokwane where he was supposed to minister, his brother broke the news to everyone. It was announced that he had been diagnosed with a rare kind of cancer and needed everyone to pray for him. Additionally, he tried to reassure everyone that Neyi Zimu will be fine as he had the best medical caregivers attending to him at all times of the day. Before the concert's end, a prayer for healing led by Pastor Solly Mahlangu was made for him.
Despite the note of positivity, the news shook the entire country and there were calls from every corner of the Rainbow nation for prayers to be made on behalf of the ailing gospel minister. Perhaps the call that best revealed how far-reaching Neyi Zimu's ministry is was the one from Economic Freedom Fighters (EFF) leader, Julius Malema when asking South Africans to pray for the gospel singer as he battled for his life.
On The 4th Of December 2019, He Lost The Battle To Cancer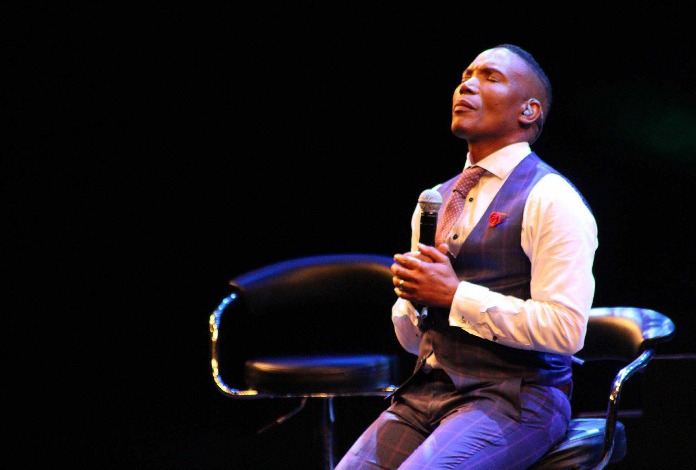 The news of Neyi Zimu's illness was not taken lightly by South Africans who took to social media to say words of prayer for him hoping that he would get well. While prayers were on for him, his wife, Nelisiwe, also disclosed that he received chemotherapy for Mycosis Fungoides, a form of blood cancer that often manifests on the skin. She stated that he was previously on a lighter treatment, but when they noticed he was not improving, they resorted to chemotherapy.
Unfortunately, the hope of thousands, if not millions of fans, that he would be healthy again to serenade them with more gospel tunes, attend more concerts, and produce more music albums, came crashing when he was announced dead on the 4th of December 2021.
News of his death was received by fans and well-wishers with so much pain and heartbreak. Despite being with him through it all and watching his health deteriorate, his death was a hard pill to swallow for his family, but they have remained strong and united.
The Late Gospel Singer Was Laid To Rest On the 11th Of January 2020
Having mourned the passing of the legendary gospel artist, Mzansi could not wait to pay their last respect to a man they loved so much. Fans and well-wishers could not sit still in their houses while the gospel artist was laid to rest. It was a solemn sight, one that will bring the bravest of hearts to tears as 30 minutes before the funeral service at The House of Treasures Ministries, the church hall was already proving too small to accommodate the crowd of people who came to pay tribute to the legend.
His wife, Dr. Nelisiwe showed the world the kind of strong woman she was when she stood strong to give a heart-warming speech. Opportunities were given for close friends and family to share their experiences with him, and all were nothing but good words.
One of the noteworthy experiences shared at the funeral was Matthew Nkabinde's encounter with Neyi Zimu a week before his death. While the country was busy praying for the recovery of Ney, he told his friend Nkabinde on his sickbed that he was praying for his child who was not well. Some of the people who were given a chance to speak include Retsibilwe Ndalamo of RISA (the Recording Industry of SA) and Thokozani Nkosi, the co-founder of Newzroom Afrika and founder of Tox Media.
Neyi Zimu Was Best Known As A Gospel Artist And Pastor
With the amount of love shown to Neyi Zimu and his family during his hospitalization and subsequent death from the disease that struck him down at his prime, a bystander would naturally wonder who Neyi Zimu actually was while he was alive. He was widely known as a gospel singer and recording artist whose singing ministry produced sensational gospel songs such as Lamb of God, I Need You, Jehova Re Tshepile Wena, Miracle, O Phahame, among so many others.
Neyi Zimu was born Moses Gcinumuzi at a farm in Sebokeng, Johannesburg. Growing up,  he discovered he had a passion for singing at a very young age, and he started doing music as early as six years old. He knew it was not just about making money as he always wanted to use his music to share the word of God. His work in the South African Gospel music industry can be traced to as far back as 1996 when he created Family Factory. He was also one of the pioneer members of the Joyous Celebration choir.
In 2001, he released one of his hit albums titled Excited. The success of the album opened the door for him as he later went ahead to share the stage with some of the most prominent names in the industry like Pastor Benjamin Dube and Wendy Mseleku. Besides the album, Excited, Neyi Zimu was able to gift us a couple of best selling albums in his lifetime, including I Trust You (2013), Another Level of Worship (Live), The Waiting Is Over (2017), Spiritual Celebration – Friends In Praise, Vol. 1 (2019), among others.
Neyi Zimu was also a pastor – a divine calling he pursued for thirteen years before he was called home. He was the founder of All Nations Revival Ministries, located in Midrand, central Gauteng Province – a ministry his wife, Dr. Nelisiwe Zimu now oversees. Doing music and preaching the gospel was his own contribution to the work of the ministry, and even though he is no longer with us in this world, his legacy will always live on.
Listen to some of his Spirit-filled worship songs below: