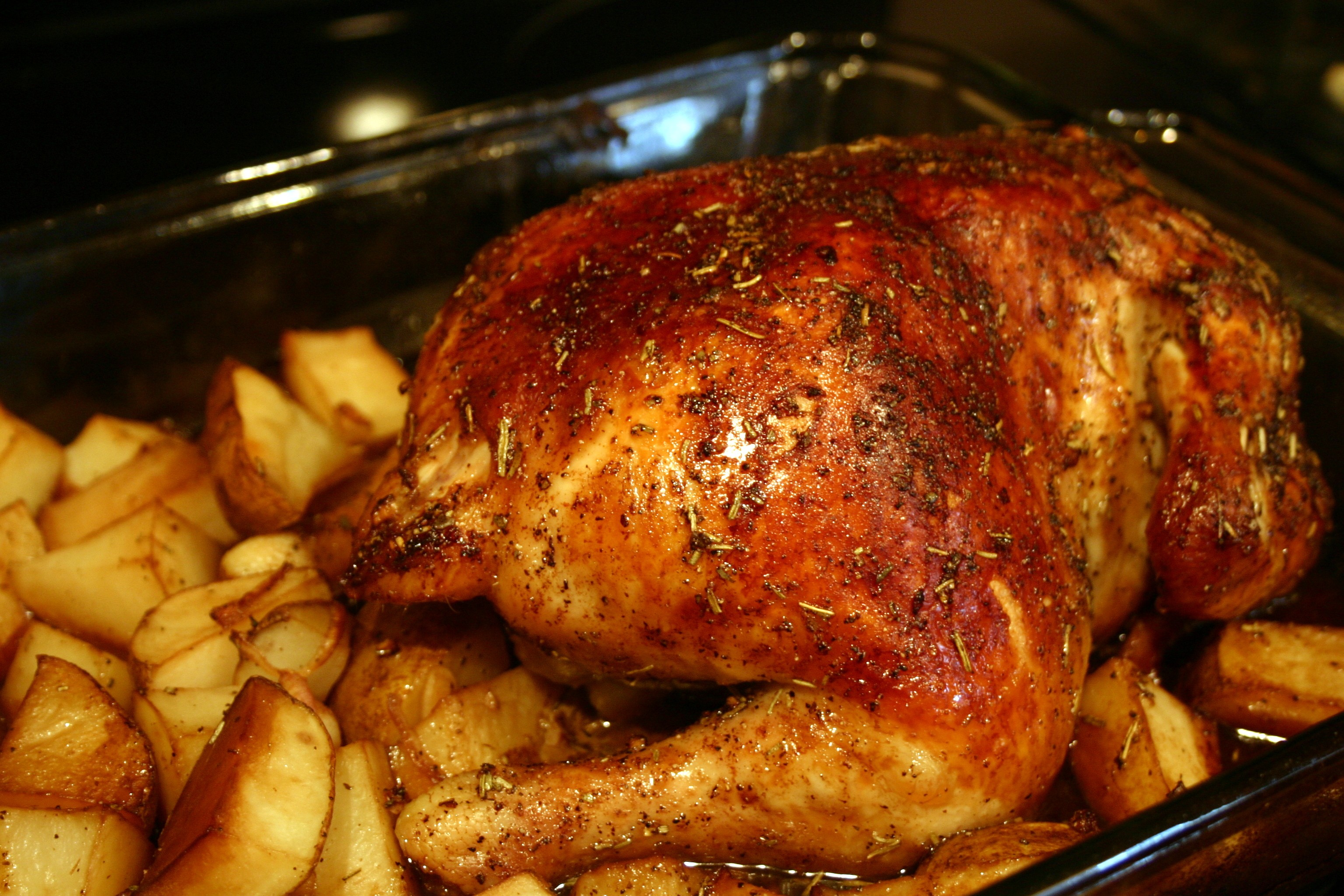 When it comes to recounting a well spent weekend or holiday, it all begins with the dish that was served.
Food makes the weekend different from the normal week days and nothing commands culinary respect more than a well roasted chicken for a big day.
Now while every cook can vouch for one method or recipe for roasting a chicken, delicate techniques, fussy brines, and fancy rubs aside, only two things matter: crispy skin and juicy, flavorful meat.
The basic method for roasting chicken gives you a good result without any special pans or weird ingredients, however what makes your process of cooking even more fun is trying out recipes that you have not had the opportunity to use before or one that you have tasted somewhere.
Everybody loves a roast chicken. It's one of those meals that makes the world a better place and our holidays a wonderful time. So, with the upcoming holidays in mind we've put together some wonderful roast chicken recipes to make your holiday a memorable one.
Enjoy!
Roasted Chicken Recipes
1. Old-Fashioned Roast Chicken: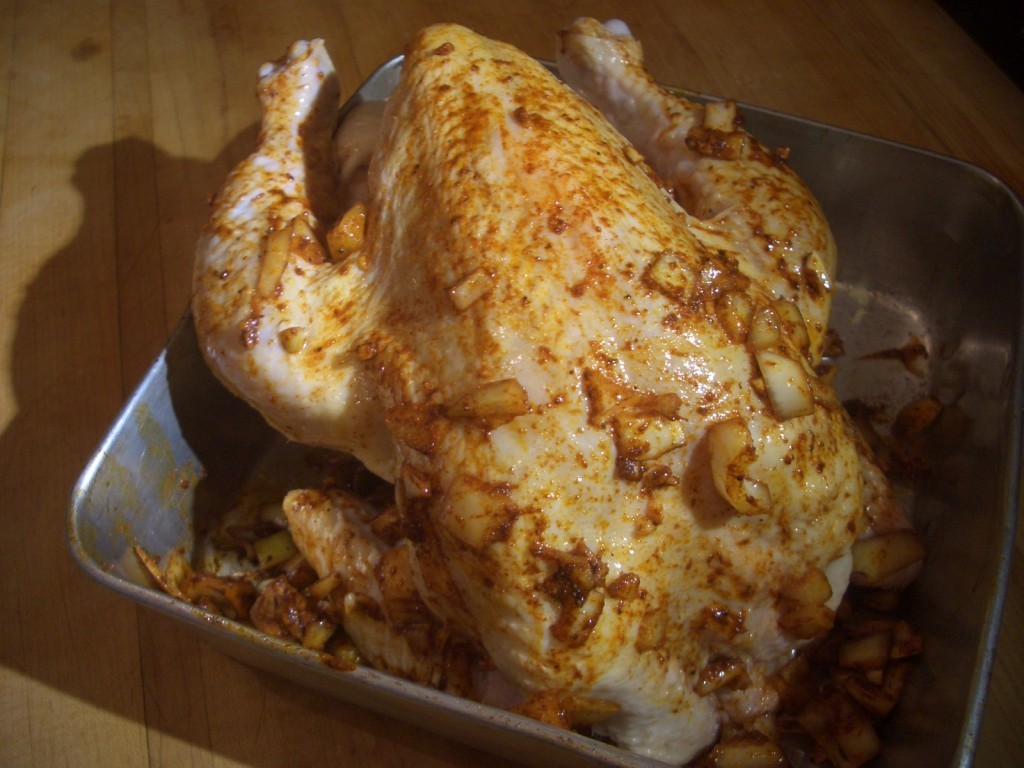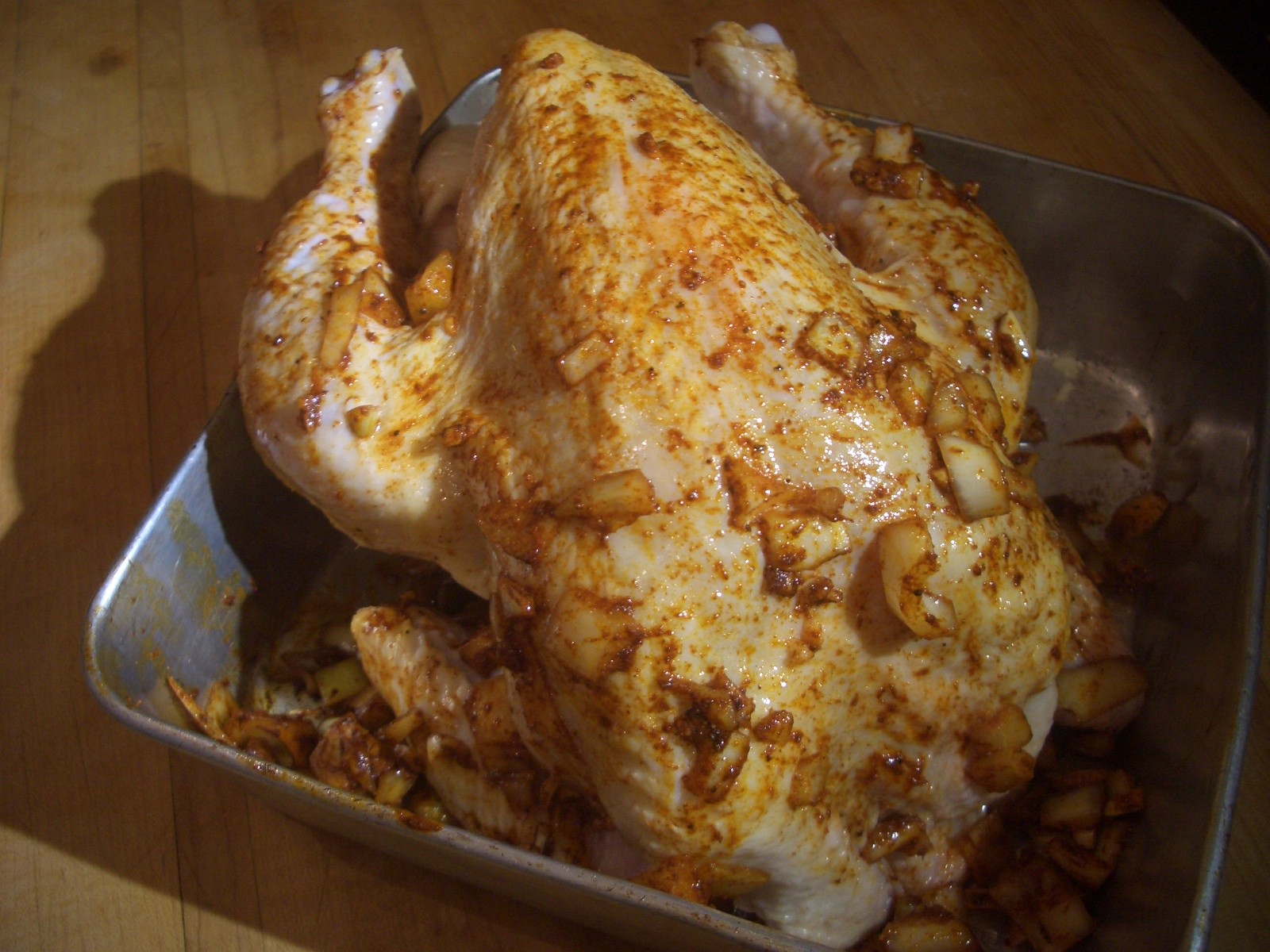 INGREDIENTS
1.50 kg Free-range chicken
2 Lemons, the juice
1 Large rosemary sprig
1 Onion, quartered
6 Cloves garlic, unpeeled
Olive oil
Salt and milled pepper
METHOD
–  Wipe the chicken inside and out with a damp cloth, then squeeze the juice of one lemon into the chicken cavity and season it well. Stuff the inside with rosemary, onion and garlic. Place the fully stuffed chicken on the rack of a roasting pan, then squeeze the remaining lemon juice over the chicken, rub with olive oil and season again. Place in an oven that has been preheated at 200 °C and roast for about 1 to 1.5 hours.
–  Remember that you need only baste the chicken once or twice during roasting, paying particular attention to the breast area, which is the leanest and therefore dries out the quickest.
–  When the chicken is fully roasted, remove from oven, wraPper with foil and allow it to rest for at least 15 minutes before serving.
This is best served with baby roast potatoes and a mixed salad or steamed vegetables.
You'll Like This: Healthy Eating Places In Joburg
2. Roast Chicken With Preserved Lemon And Cumin Butter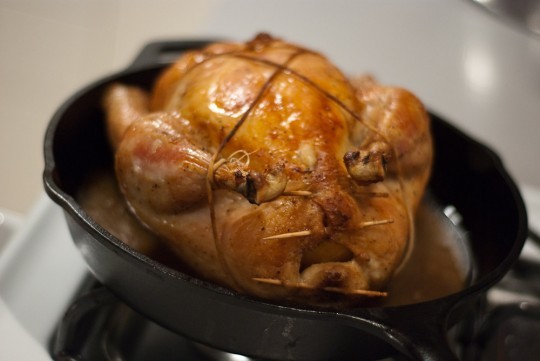 INGREDIENTS
1 large PnP free range chicken, (about 1.5kg)
80g PnP butter – softened
40g PnP salad onions – finely sliced
2tsp cumin
2Tbs preserved lemon peel – finely chopped (pulp discarded)
1tsp ground paprika
2Tbs PnP chopped coriander
1 Pinch salt and ground pepper
 Stuffing:
1 Handful fresh sprigs thyme
1 PnP onion – sliced
1 Lemon – cut into wedge
METHOD
–  Preheat oven to 180ºC. Loosen skin over chicken breast and thighs by working your fingers (or a wooden spoon) from the neck flap gently down over thighs.
–  Mix butter ingredients together and season.
–  Spread butter between skin and meat in an even layer, under skin, over breast and thighs.
–  Season chicken and stuff cavity with thyme, onion and lemon.
–  Place remaining onion and lemon in a roasting pan and place chicken on top.
–  Roast for 90 minutes or until cooked through and drumsticks easily pull away from chicken when tugged.
–  Allow to rest for at least 5 minutes before carving.
–  Cooking time: 1hr 30 mins
3. Garlic Roasted Chicken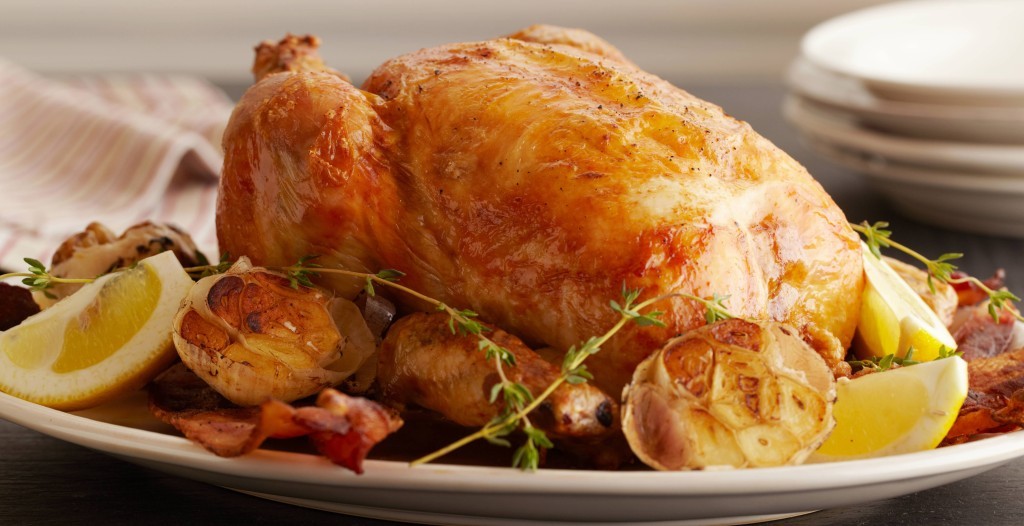 INGREDIENTS
1 5lb Chicken
1/2 Tbsp butter, softened
2 Cloves of garlic, minced
Olive oil cooking spray
Garlic powder, to taste
Sea salt and freshly cracked pepper, to taste
5 large cloves of garlic
1/2 Sweet yellow onion, cut into wedges
Fresh parsley
METHOD
–  Preheat the oven to 425 degrees.
–  Remove chicken giblets out of the cavity and rinse the chicken. Pat dry with paper towels. Mix together the butter and 2 cloves of minced garlic together until well combined. Carefully, loosen the skin covering the breasts and coat the breasts with the butter mixture. Coat the chicken with olive oil cooking spray and season the entire bird with sea salt, freshly cracked pepper, and garlic powder, to taste.
–  Season the inside of the cavity with sea salt, freshly cracked pepper, and garlic powder, to taste then place the onion, garlic cloves, and fresh parsley into the cavity. Place the bird on a roasting rack in a roasting pan.
–  Place a meat thermometer into the thickest part of the thigh without touching the bone. Place the chicken into the oven and roast for 1 1/2 hours or until the temperature reaches 180 degrees. Remove the chicken from the oven and let the bird rest with a tin foil tent for at least 10 minutes before carving. Enjoy.
4.  Indo-Moroccan Spiced Roast Chicken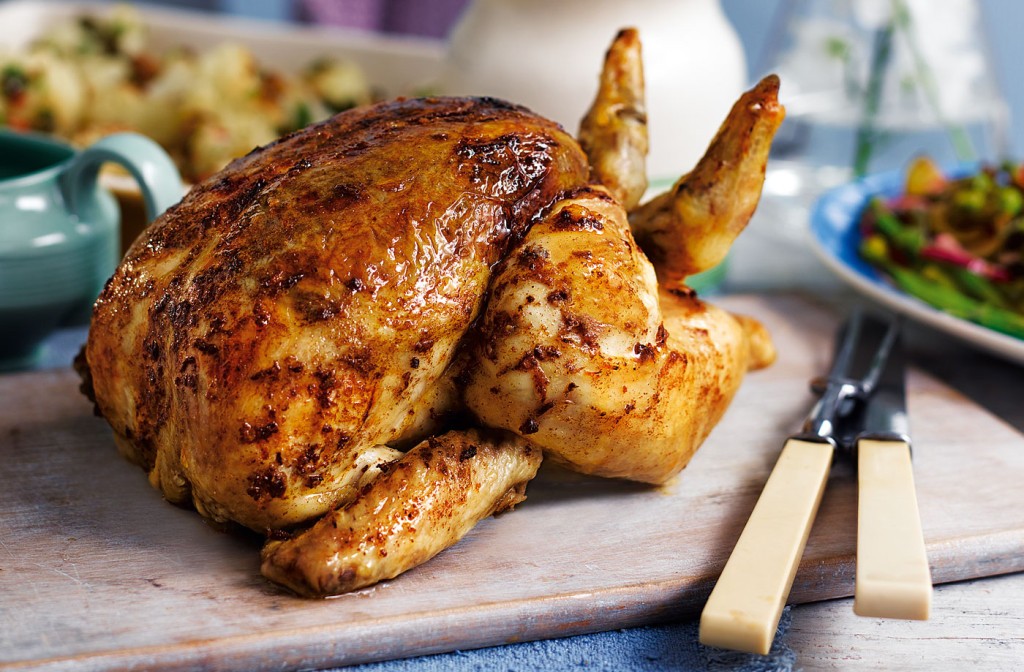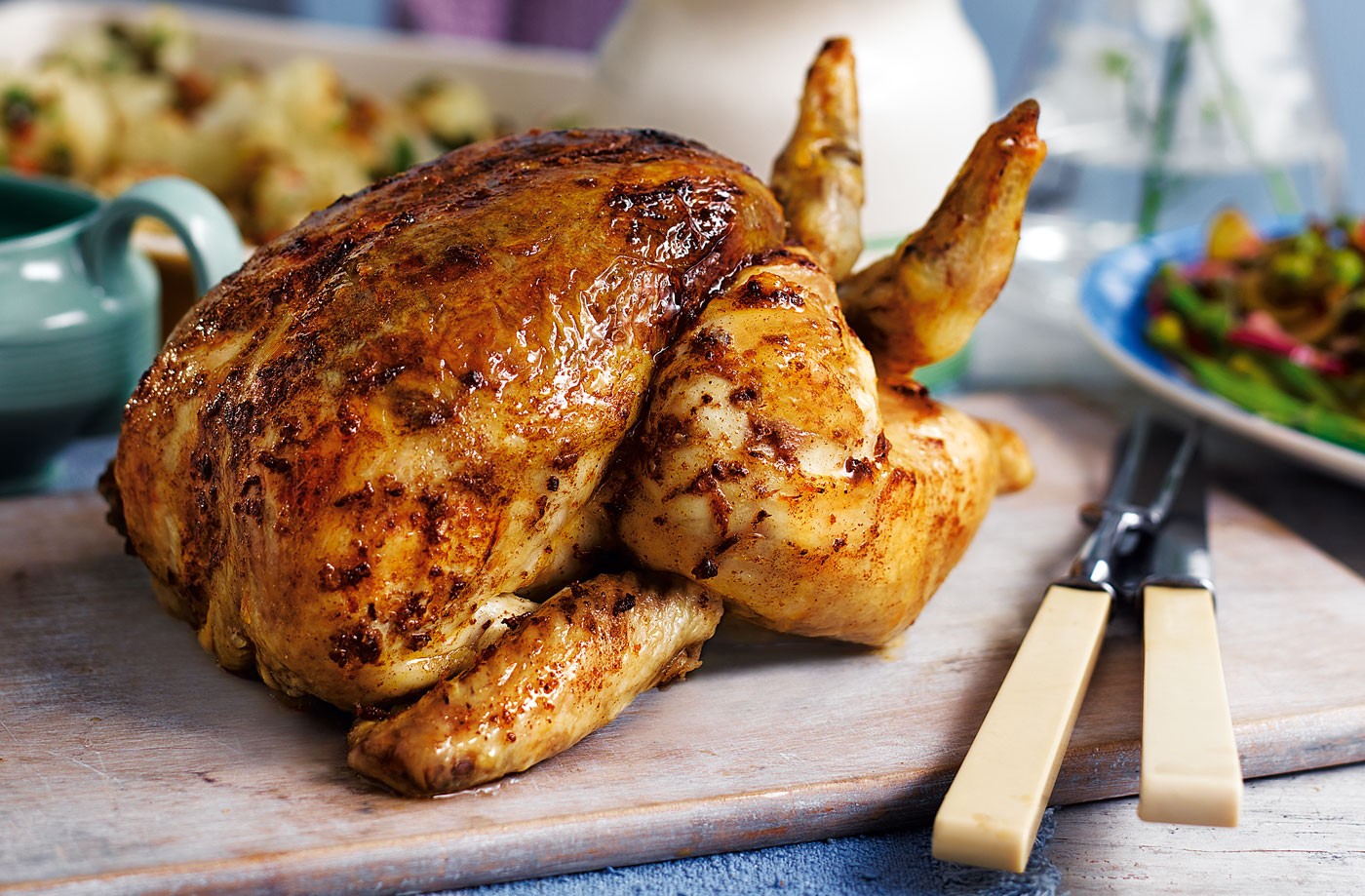 INGREDIENTS
1.5 kg Whole free range chicken
3 Tbsras el hanout
3 Tbs medium masala
2 Tbs Nomu Moroccan Rub
1/2 Tsp cinnamon
2 Tsp ginger & garlic paste (or fresh)
1 Lemon, cut in half
2 Tbs ghee (or butter)
50 ml Olive oil
Salt to taste
300g Pineapple wedges
100g Almonds (blanched or with skin)
METHOD
–  Preheat oven to 180°C. Add all the spices, ginger and garlic paste, salt, the juice of half a lemon and the ghee to a bowl and mix well. Use your hands – you're going to have to use them to smear the chicken anyway.
–  Slip your fingers under the chicken skin to loosen. Spread the paste under the skin, over the skin and in the cavity. Try to distribute it evenly.
–  Place both lemon halves, including the one you squeezed the juice out of, in the cavity.
Pour the oil over it in a generous amount but don't add any stock or liquid if you want the chicken to be moist and bronze up nicely.
–  Roast for 35 minutes and then turn the bird.
–  Roast for a further 50 minutes. The chicken is done when a skewer is pierced between thigh and bone and juices run clear.
Add pineapple slices in the last 40 minutes and mix them in the pan juices. Turn pineapple after 20 minutes and bring the heat up to 200°C for last 10 minutes.
–  Add the almonds in the last 20 minutes and turn the chicken. Coat with the spicy oil.
–  If you find this a bit complicated, first cook the chicken. Then remove from pan. Add first the pineapple to the pan and cook for 20 minutes, turn and add the almonds.
–  You may add the chicken along with the pineapples and almonds in the last 10 minutes to brown at 200°C.
–  Serve with couscous or basmati rice and a simple tomato, onion and mint sambal.
5. Roast Chicken And Ultimate Roast Potatoes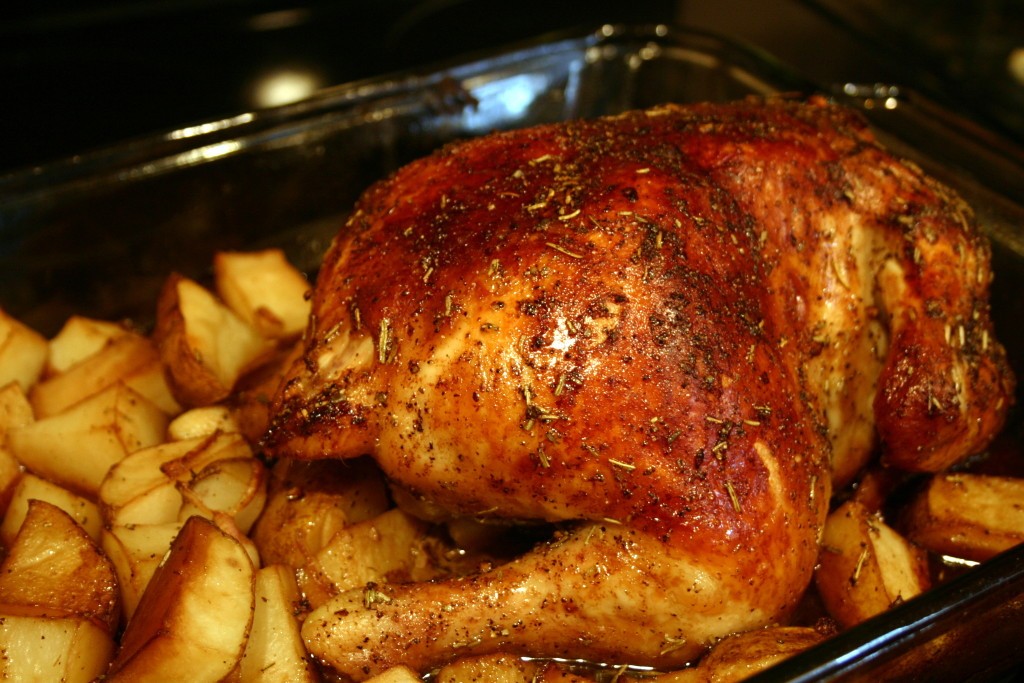 INGREDIENTS
The best roast chicken
1 head garlic
2-3 red onions, roughly chopped
Small bunch fresh thyme and rosemary
1/3 cup Westerfalia Avocado Oil lemon flavored infused

Salt and milled pepper

11.6 kg chicken
2 lemons
The ultimate roast potatoes
8 large roasting potatoes
1/2 cup Westerfalia Plain Avocado Oil
1/3 (80 ml) flour
Seasoning
METHOD
Roast Chicken
–  Preheat oven to 240°C.
–  Break garlic bulb into cloves, leaving them unpeeled.
–  Place garlic and onions in a large roasting pan.
–  Drizzle with half the avocado oil, some seasoning and 1 Tbsp (15ml) chopped thyme and rosemary.
–  Halve 1 lemon and squeeze over the onions and garlic, then add lemon "shells" and toss together.
–  Place chicken in the roasting pan and drizzle with remaining avocado oil.
–  Prick remaining lemon all over and place into the chicken cavity with remaining thyme and rosemary.
–  Place in oven and reduce heat to 200°C. Roast for about 1 hour and 20 minutes or until cooked through. Serve with roast potatoes.
Ultimate roast potatoes
–  Preheat oven to 200°C.
–  Peel and halve 8 large roasting potatoes. Simmer in water until cooked through. Drain and dry on kitchen towel.
–  Pour ½ cup (125 ml) Westfalia Plain Avocado Oil into a roasting pan and place in the oven to heat, about 5 minutes.
–  Scrape potatoes with a fork to form ridges. Season 1/3 cup (80 ml) fl our and toss through potatoes. Spoon potatoes into roasting pan and return to the oven.
–  Roast for 40-50 minutes or until crispy.
–  Toss every 15-20 minutes to ensure even cooking.
Other Interesting Topics: 
Rand euro, Absa mobi, Gumtree Durban cars, Yen to rand, Beautiful women, Thank you quotes, Anniversary quotes, Kalahari desert, Bible verses about family, Romantic songs, Winnie Mandela, How many countries are in Africa, Symbols and meanings, Homo Naledi