When it comes to recounting a well-spent weekend or holiday, it all begins with the dishes that were served. Food makes the weekend different from the normal weekdays and nothing commands culinary respect more than a well-roasted chicken for a big day. So, we will be looking at roasted chicken recipes here.
While every cook can vouch for one method or recipe for roasting a chicken, delicate techniques, fussy brines, and fancy rubs aside, only two things matter: crispy skin and juicy, flavorful meat.
The basic method for roasting chicken gives you a good result without any special pans or weird ingredients, however, what makes your process of cooking even more fun is trying out recipes that you have not had the opportunity to use before or one that you have tasted somewhere.
Everybody loves a roasted chicken. It's one of those meals that makes the world a better place and our holidays a wonderful time. So, with the upcoming holidays in mind, we've put together some wonderful roasted chicken recipes to make your holiday a memorable one.
Enjoy!
Roasted Chicken Recipes
1. Old-Fashioned Roast Chicken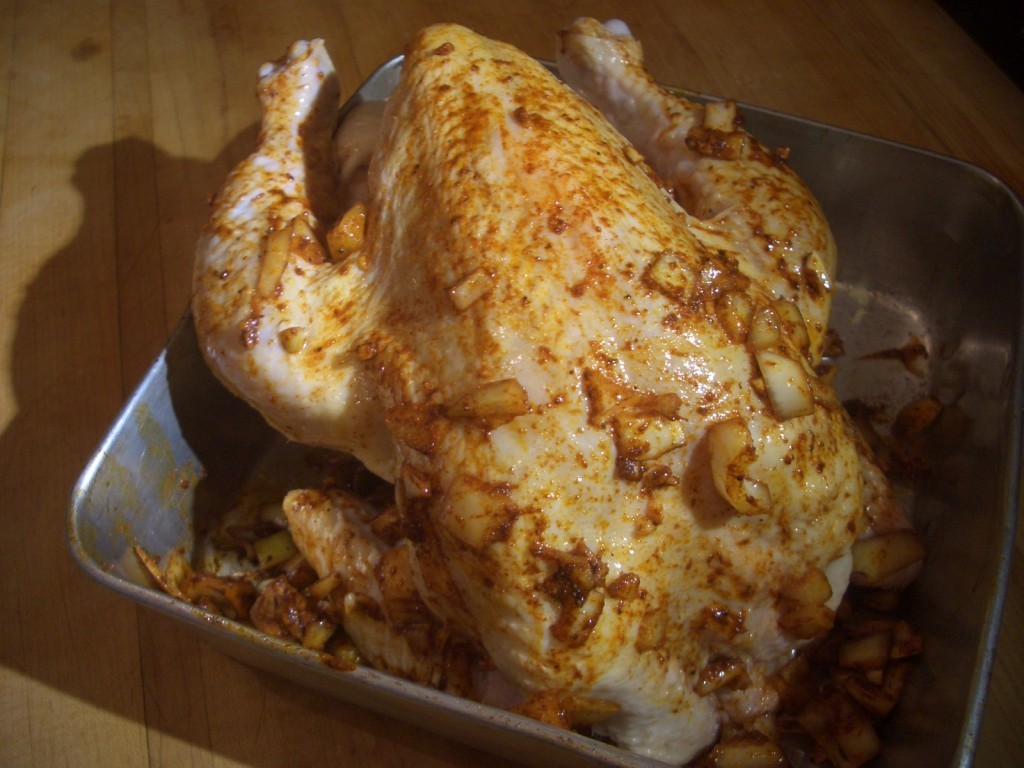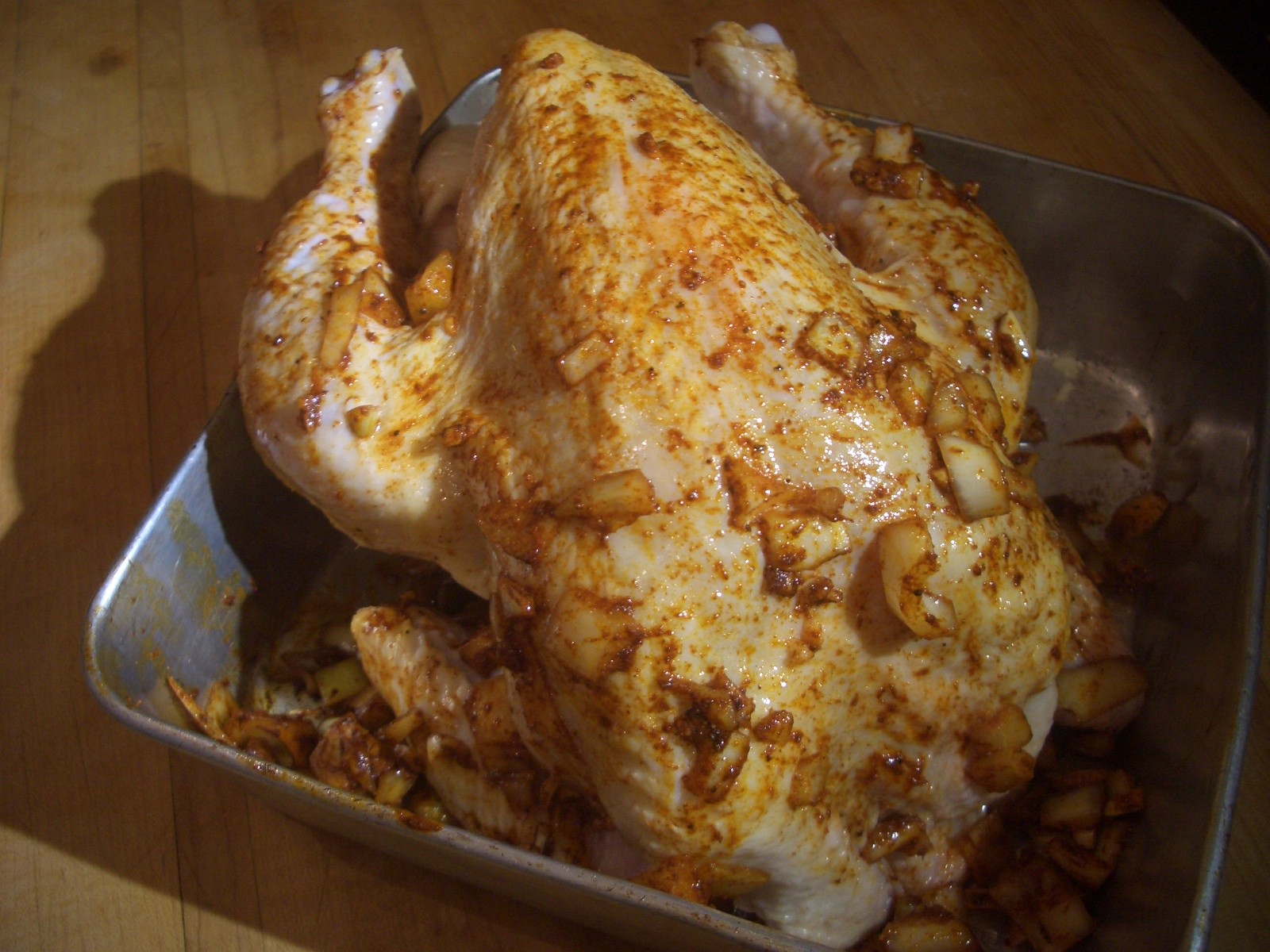 INGREDIENTS
1.50 kg Free-range chicken
2 Lemons, the juice
1 Large rosemary sprig
1 Onion quartered
6 Cloves garlic, unpeeled
Olive oil
Salt and milled pepper
METHOD
– Wipe the chicken inside and out with a damp cloth, then squeeze the juice of one lemon into the chicken cavity and season it well. Stuff the inside with rosemary, onion, and garlic. Place the fully stuffed chicken on the rack of a roasting pan, then squeeze the remaining lemon juice over the chicken, rub with olive oil and season again. Place in an oven that has been preheated at 200 °C and roast for about 1 to 1.5 hours.
–  Remember that you need only baste the chicken once or twice during roasting, paying particular attention to the breast area, which is the leanest and therefore dries out the quickest.
–  When the chicken is fully roasted, remove from oven, wrap with foil and allow it to rest for at least 15 minutes before serving.
This is best served with baby roast potatoes and a mixed salad or steamed vegetables.
You'll Like This: Healthy Eating Places In Joburg
2. Roast Chicken with Preserved Lemon and Cumin Butter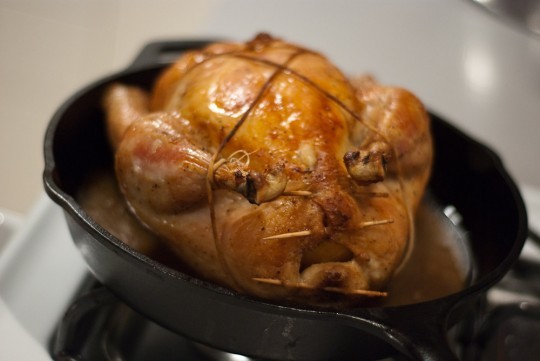 INGREDIENTS
1 large PnP free range chicken, (about 1.5kg)
80g PnP butter – softened
40g PnP salad onions – finely sliced
2tsp cumin
2Tbs preserved lemon peel – finely chopped (pulp discarded)
1tsp ground paprika
2Tbs PnP chopped coriander
1 Pinch salt and ground pepper
 Stuffing:
1 Handful fresh sprigs thyme
1 PnP onion – sliced
1 Lemon – cut into wedge
METHOD
–  Preheat oven to 180ºC. Loosen skin over chicken breast and thighs by working your fingers (or a wooden spoon) from the neck flap gently down over thighs.
–  Mix butter ingredients together and season.
–  Spread butter between skin and meat in an even layer, under the skin, over breast and thighs.
–  Season chicken and stuff cavity with thyme, onion, and lemon.
–  Place remaining onion and lemon in a roasting pan and place chicken on top.
–  Roast for 90 minutes or until cooked.
–  Allow resting for at least 5 minutes before carving.
–  Cooking time: 1hr 30 mins
3. Garlic Roasted Chicken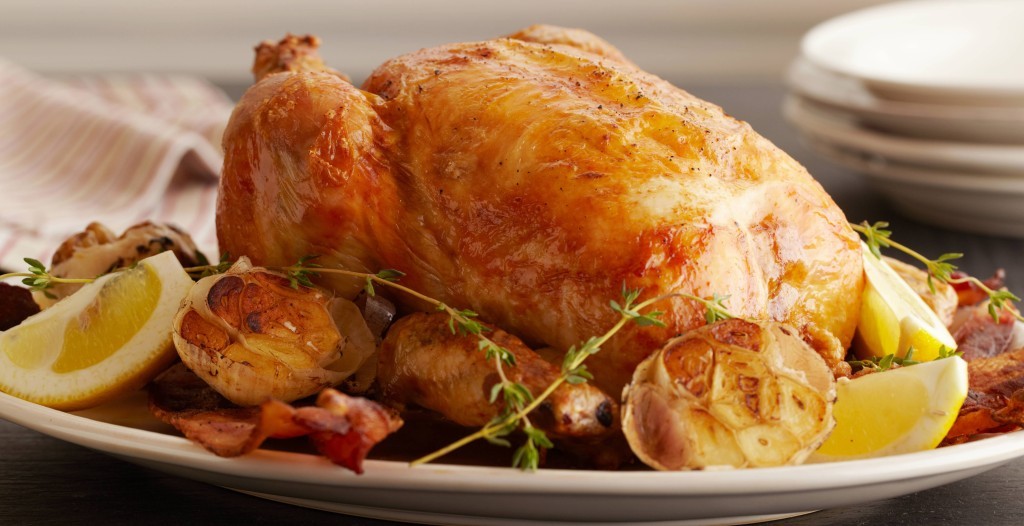 INGREDIENTS
1 5lb Chicken
1/2 Tbsp butter, softened
2 Cloves of garlic, minced
Olive oil cooking spray
Garlic powder, to taste
Sea salt and freshly cracked pepper, to taste
5 large cloves of garlic
1/2 Sweet yellow onion, cut into wedges
Fresh parsley
METHOD
–  Preheat the oven to 425 degrees.
–  Remove chicken giblets out of the cavity and rinse the chicken. Pat dry with paper towels. Mix together the butter and 2 cloves of minced garlic together until well combined. Carefully, loosen the skin covering the breasts and coat the breasts with the butter mixture. Coat the chicken with olive oil cooking spray and season the entire bird with sea salt, freshly cracked pepper, and garlic powder, to taste.
–  Season the inside of the cavity with sea salt, freshly cracked pepper, and garlic powder, to taste then place the onion, garlic cloves, and fresh parsley into the cavity. Place the bird on a roasting rack in a roasting pan.
–  Place a meat thermometer into the thickest part of the thigh without touching the bone. Place the chicken in the oven and roast for 1 1/2 hours or until the temperature reaches 180 degrees. Remove the chicken from the oven and let the bird rest with a tin foil tent for at least 10 minutes before carving. Enjoy.
4.  Indo-Moroccan Spiced Roast Chicken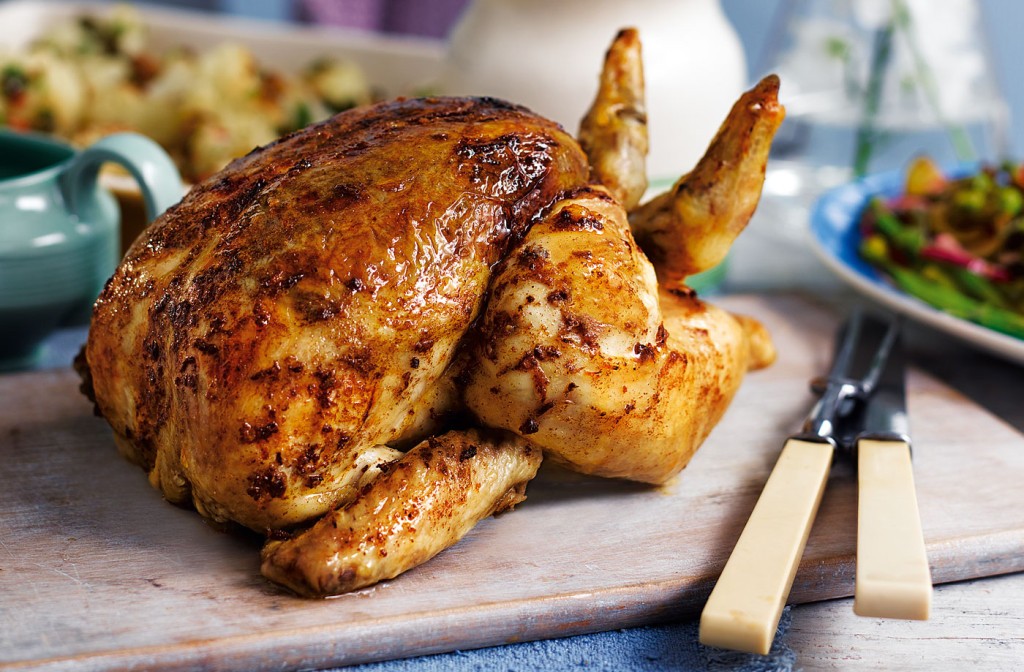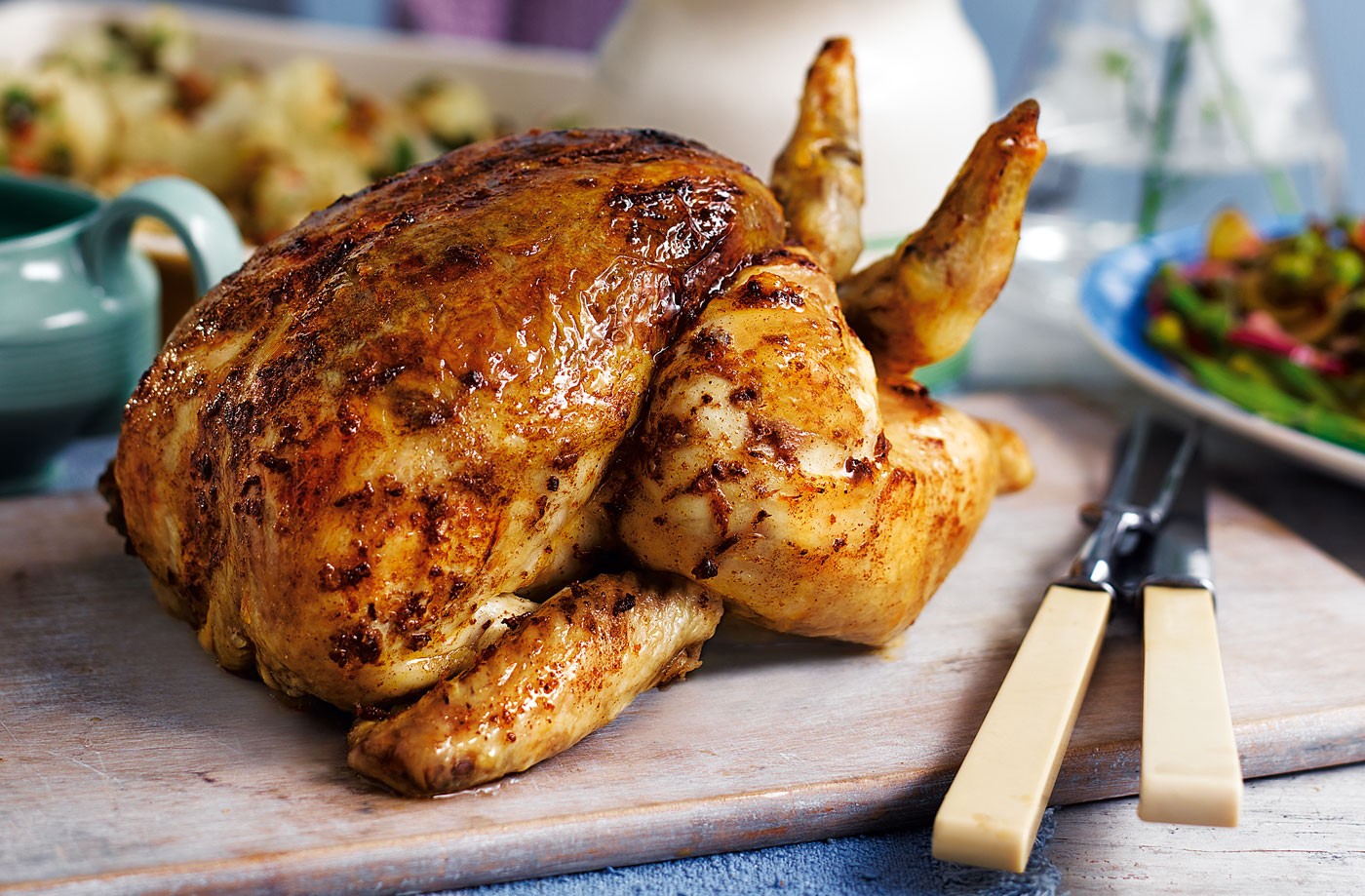 INGREDIENTS
1.5 kg Whole free range chicken
3 Tbs Ras el hanout
3 Tbs medium masala
2 Tbs Nomu Moroccan Rub
1/2 Tsp cinnamon
2 Tsp ginger & garlic paste (or fresh)
1 Lemon, cut in half
2 Tbs ghee (or butter)
50 ml Olive oil
Salt to taste
300g Pineapple wedges
100g Almonds (blanched or with skin)
METHOD
– Preheat oven to 180°C. Add all the spices, ginger and garlic paste, salt, the juice of half a lemon and the ghee in a bowl and mix well. Use your hands – you're going to have to use them to smear the chicken anyway.
– Slip your fingers under the chicken skin to loosen. Spread the paste under the skin, over the skin, and in the cavity. Try to distribute it evenly.
– Place both lemon halves, including the one you squeezed the juice out of, in the cavity.
Pour the oil over it in a generous amount but don't add any stock or liquid if you want the chicken to be moist and bronze up nicely.
–  Roast for 35 minutes and then turn the bird.
–  Roast for a further 50 minutes. The chicken is done when a skewer is pierced between thigh and bone and juices run clear.
– Add pineapple slices in the last 40 minutes and mix them in the pan juices. Turn pineapple after 20 minutes and bring the heat up to 200°C for last 10 minutes.
–  Add the almonds in the last 20 minutes and turn the chicken. Coat with the spicy oil.
–  If you find this a bit complicated, first cook the chicken. Then remove from pan. Add first the pineapple to the pan and cook for 20 minutes, turn and add the almonds.
–  You may add the chicken along with the pineapples and almonds in the last 10 minutes to brown at 200°C.
–  Serve with couscous or basmati rice and a simple tomato, onion and mint sambal.
5. Roast Chicken and Ultimate Roast Potatoes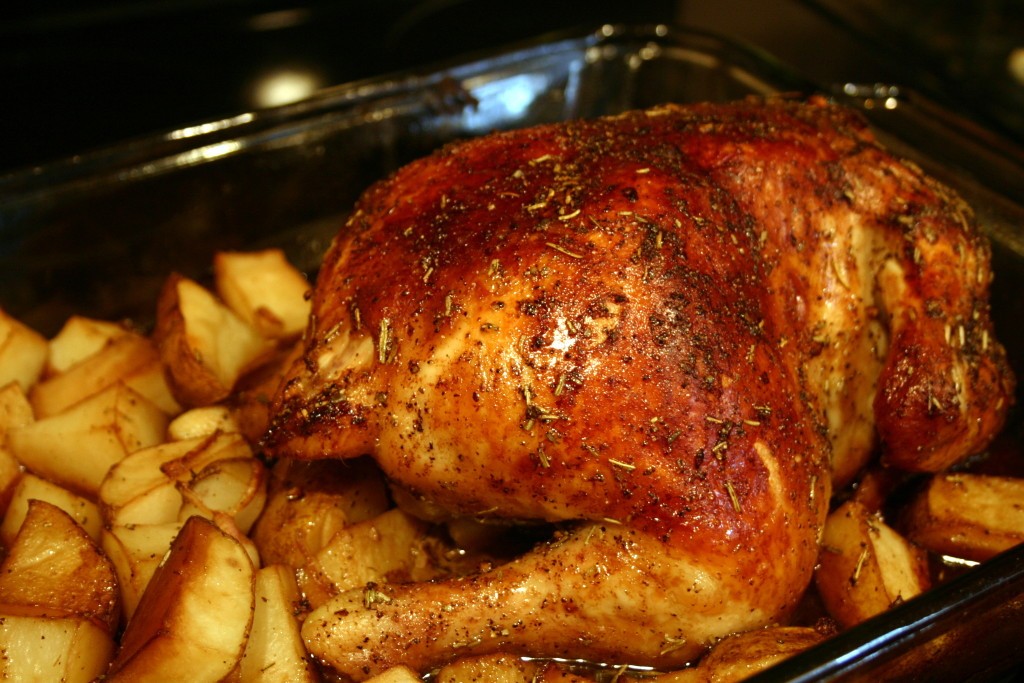 INGREDIENTS
The best roast chicken
1 head garlic
2-3 red onions, roughly chopped
Small bunch fresh thyme and rosemary
1/3 cup Westfalia Avocado Oil lemon flavored infused

Salt and milled pepper

11.6 kg chicken
2 lemons
The ultimate roast potatoes
8 large roasting potatoes
1/2 cup Westfalia plain Avocado Oil
1/3 (80 ml) flour
Seasoning
METHOD
Roast Chicken
– Preheat oven to 240°C.
– Break garlic bulb into cloves, leaving them unpeeled.
– Place garlic and onions in a large roasting pan.
– Drizzle with half the avocado oil, some seasoning and 1 Tbsp (15ml) chopped thyme and rosemary.
– Halve 1 lemon and squeeze over the onions and garlic, then add lemon "shells" and toss together.
– Place chicken in the roasting pan and drizzle with remaining avocado oil.
– Prick remaining lemon all over and place into the chicken cavity with remaining thyme and rosemary.
– Place in oven and reduce heat to 200°C. Roast for about 1 hour and 20 minutes or until cooked and serve with roast potatoes.
Ultimate roast potatoes
– Preheat oven to 200°C.
– Peel and halve 8 large roasting potatoes. Simmer in water until cooked through. Drain and dry on kitchen towel.
– Pour ½ cup (125 ml) Westfalia plain Avocado Oil into a roasting pan and place in the oven to heat, about 5 minutes.
– Scrape potatoes with a fork to form ridges. Season 1/3 cup (80 ml) flour and toss with potatoes. Spoon potatoes into roasting pan and return to the oven.
– Roast for 40-50 minutes or until crispy.
– Toss every 15-20 minutes to ensure even cooking.
6. Roast Chicken With Spicy Lemon And Garlic Rub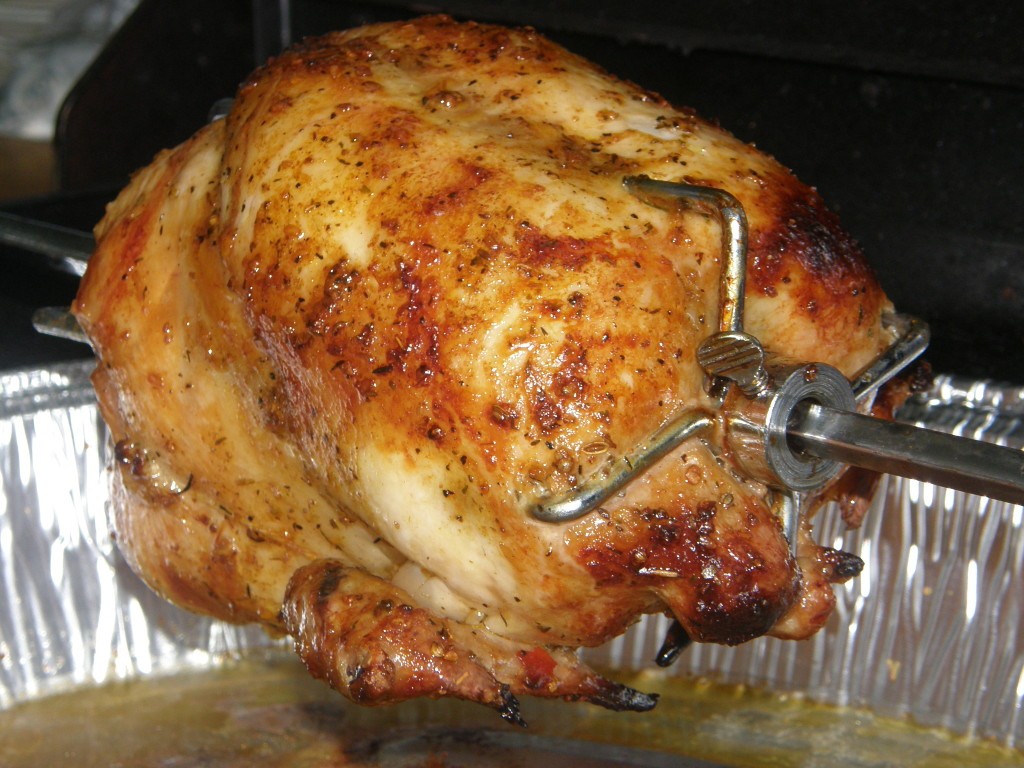 INGREDIENTS
1 Lemon, washed and coarsely sliced (skin and all)
7.5 ml Coarse salt
5 ml Black peppercorns
4 Whole cloves (or large pinch dried)
3 – 4 Garlic Cloves
10 ml Rosemary needles
125 ml Olive oil
1 Green chili, seeded and coarsely sliced
125 ml Coriander or basil leaves
1 Large, good quality free-range chicken
METHOD
– Place the lemon (skin and all), salt, pepper, cloves, garlic, oil, chilies, and coriander or basil leaves in the processor and process into a thick paste. Set aside.
– Cut the chicken open along the breastbones and flatten by hand so that you end up with a spatchcocked chicken.
– Smear the chicken with half of the rub and place in a roasting pan skin-side facing uppermost.
– Cover and roast in a preheated oven at 200ºC for 50 – 60 minutes or until cooked.
– Remove from oven and brush the remaining rub all over the chicken.
– Continue to cook uncovered in the oven for about 20 minutes or until golden and the skin is crisp. Serve with pasta.
7. Roast Red Wine Chicken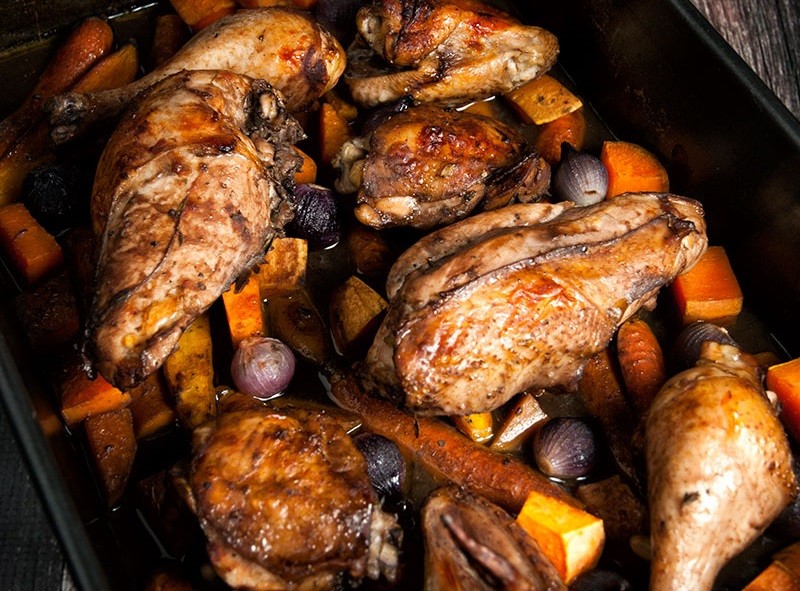 INGREDIENTS
150 ml Red wine
100g Tomato paste
3 Sprigs of thyme – leaves picked
3 Sprigs of marjoram – leaves picked, or ½ teaspoon dried
100 ml red wine vinegar
1 Whole chicken cut into 8 pieces (approx. 1.5 kg)
Salt and ground black pepper
3 Onions – peeled and cut into quarters
6 Carrots – peeled and cut into quarters lengthways
500g Baby potatoes – washed
METHOD
– Mix together the red wine, tomato paste, herbs and red wine vinegar. Season the chicken pieces with plenty of salt and pepper then place in a bag with the marinade.
– Shake the bag to make sure each piece is well coated. Place in the fridge for at least 30 minutes. In the meantime, place the potatoes in a pan of cold water, put the lid on top and bring up to the boil.
– Preheat the oven to 200°C.
– Boil for 1–2 minutes, then drain in a colander. Place the onions, carrots, and potatoes in a large baking dish or tray (big enough to fit the chicken and the vegetables) and pour over 125 ml of water.
– Remove the chicken from the fridge and arrange the pieces, skin side up, in a layer on top of the vegetables in the dish.
– Pour the rest of the marinade over the chicken. Cover with a sheet of baking paper or foil and roast in the preheated oven for 30 minutes. Remove the baking paper or foil and baste the chicken with the cooking liquid. Roast, uncovered, for another 15 minutes or until the skin is crisp. Serve immediately.
8. Roasted Chicken With Lemon And Rosemary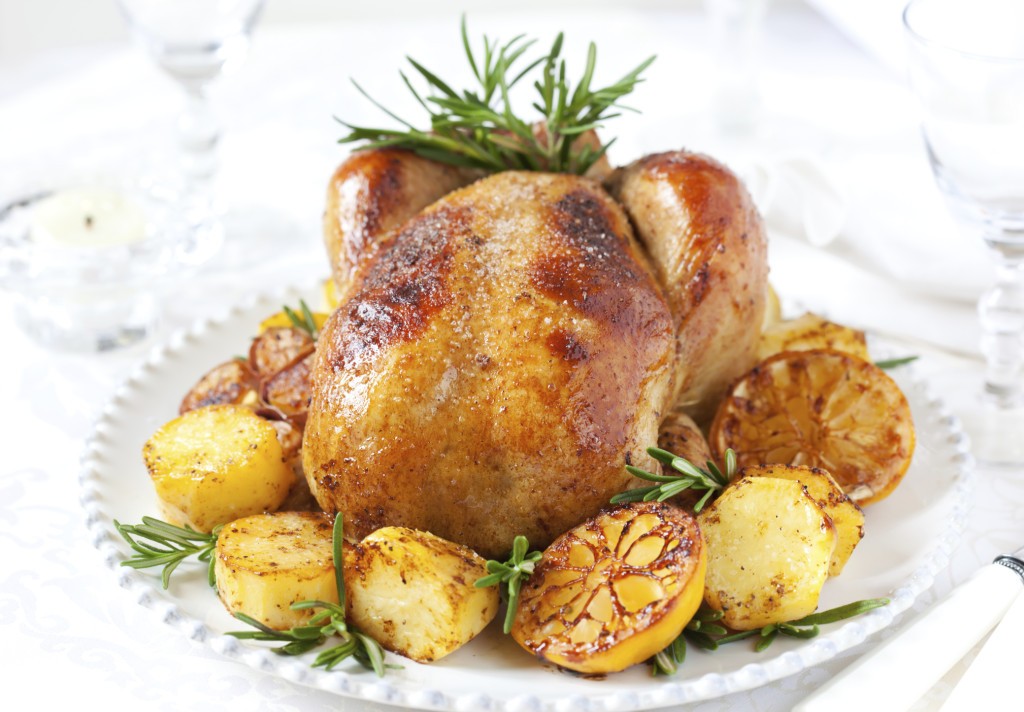 INGREDIENTS
8 Chicken portions (use legs, thighs, and breasts) 500g new potatoes, halved lengthways
2 Lemons, cut into wedges
4 Fresh rosemary sprigs
A glass of white wine
4 Tbsp olive oil
METHOD
– Put the chicken portions, thighs, breasts into a roasting tin with the new potatoes, lemons, fresh rosemary sprigs, white wine, olive oil and season well.
– Pop it into a preheated oven at 180°C for 40-50 minutes, until tender and golden.
– Serve with a side salad.
9. Spanish-Style Roast Chicken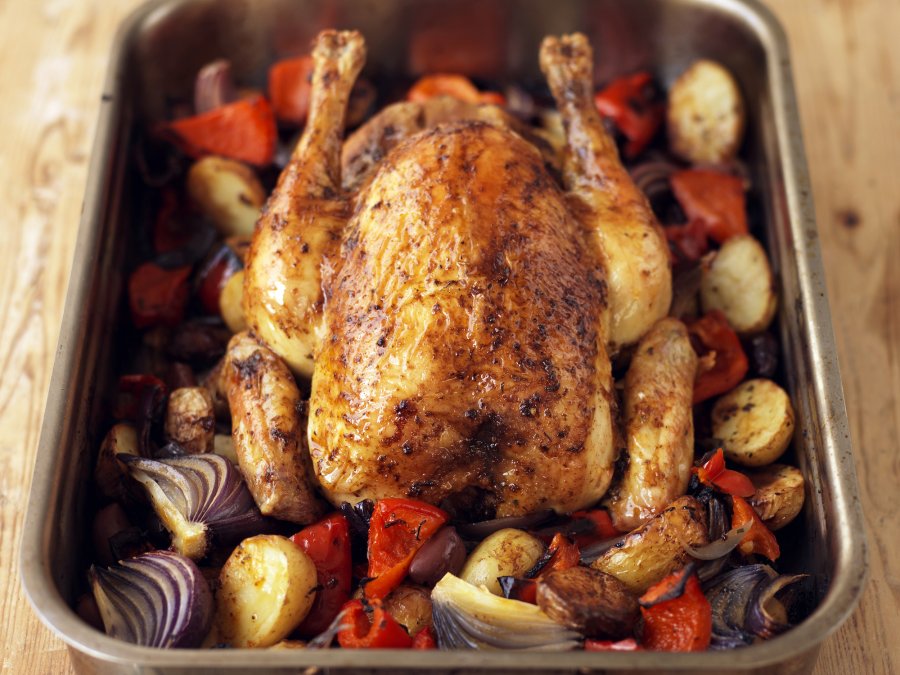 INGREDIENTS
400g baby potatoes, skin on
100g good quality chorizo, thinly sliced
2 small red onions, peeled and cut into sixths
6 cloves garlic, peeled but left whole
2 sprigs fresh rosemary
4-6 sprigs fresh thyme
Olive oil for coating
1 chicken (preferably free-range)
2 lemons
1 level tsp smoked paprika
Generous pinch of salt and freshly ground black pepper
METHOD
– Pre-heat your oven to 180 ºC.
– To a large roasting dish add your potatoes, chorizo, red onions, garlic, and herbs. Drizzle over about 1 Tbsp olive oil and a sprinkling of salt and pepper and toss gently until everything is well coated.
– Place the chicken on top of the potatoes, drizzle over about 2 tsp olive oil, add the zest of 1 lemon and the paprika, as well as a further sprinkling of salt and pepper. Halve the lemons and add them to the roasting tray.
– Roast uncovered for 45-60 minutes (depending on the size of your chicken) or until cooked and the juices run clear when you insert a knife into the flesh of the chicken. Remove the chicken, drain the juices into a small pot to make gravy, and add the potatoes etc. back to the oven to crisp up a little while the chicken rests.
– Serve immediately with gravy made from the pan juices.
Making The Gravy
Take the pan juices and add 250 ml good instant gravy – make according to packet instructions. Simmer gently until the mixture thickens slightly. You could also squeeze in the juice of some of the blistered lemons for extra flavor if you like.
10. Chicken With Two Lemons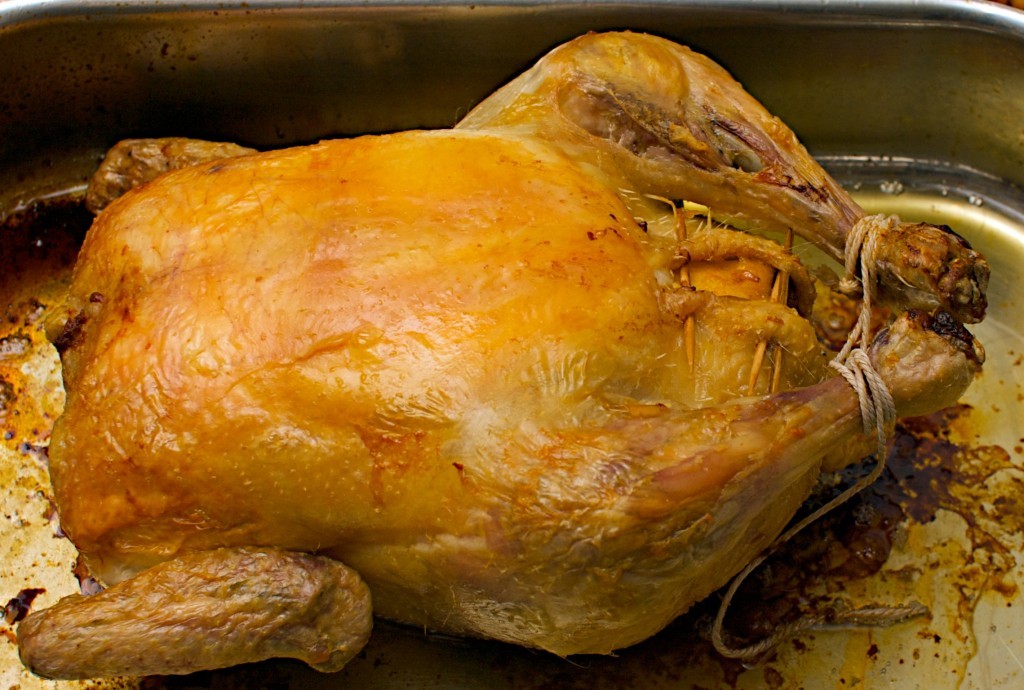 INGREDIENTS
1.35-1.8kg Chicken
Salt
Freshly ground black pepper
2 Small lemons
METHOD
– Preheat the oven to 180C/350F/gas 4.
– Sprinkle a generous amount of salt and black pepper on the chicken, rubbing it with your fingers over the whole body and inside the cavity.
– Wash the lemons in cold water and dry with a tea towel. Soften the lemons by rolling back and forth across a counter with the palm of your hand. Pierce the lemons at least 20 times each with a cocktail stick.
– Put both lemons inside the cavity of the chicken and close the opening with cocktail sticks. Tie the legs together at the knuckle ends with string but leave in their natural position rather than pulling them tight.
– Put the chicken in a roasting tin, breast-side down. Place in the upper third of the hot oven. After 30 minutes, turn the chicken over to have the breast side up, try not to puncture the skin.
–  Cook for another 30-35 minutes, then increase the heat to 200C/400F/gas 6 and cook for an additional 20 minutes. Calculate between 20 and 25 minutes total cooking time for each 500g.
Serve the chicken as soon as it comes out of the oven, there is no need to rest. Carve the chicken and serve with the juices that run out.