Walter Mokoena was once the man every woman wanted to date, while Pearl Thusi was the woman every man wanted. Sometime in the early to mid-2010s, the two got into a well-publicized relationship that produced a daughter but ended before they could get to the altar. Since the end of the relationship which to date is a big topic, they have both moved on with their lives with Walter now with Nosizwe Zuma, a woman considered to be his soulmate.
Quick Profile Of Walter Mokoena
Date of birth: June 20, 1978
Age: 45
Career: Media personality
Wife: Nosizwe Vuso (2016)
Ex-girlfriend: Pearl Thusi
Children: Thando, Betty, and Ruth Mokoena
Walter Mokoena Began Dating Nosizwe In 2013
After his relationship with Pearl Thusi came to an end, the SABC sports presenter met Nosizwe whom he started dating in 2013. Because both of them are very private individuals, not so much is known about the circumstances surrounding their meeting and how their love story started.
Nonetheless, Walter gave a little peek by revealing that they first met in the water sector. It is not known if before then she had seen him on TV. The two would go on to date for up to three years before deciding to get married.
While she may not be a big name in celebrity circles, she is from a famous family, being the daughter of former President Jacob Zuma. It is important to point out, however, that even though she is not the biological daughter of the former president, she has been a member of the family since she was a little girl.
She was raised by the Zuma family together with her twin since the days of the South African struggle. According to reports, her mother whose name is Mpho also took a role in the struggle. The former president noted that Nosizwe is a strong woman who always stands her ground, holds the things she values close to her heart and has her own opinions.
Vuso and Walter Got Married In 2016
In 2016, the famous media personality walked down the aisle with Nosizwe Vuso. This came after he reportedly paid lobola for her in November 2015. They tied the knot at an event held at the Cape-Dutch Morgenzon Guesthouse in Pretoria north.
The fairytale wedding saw Vuso rocking a very simple white wedding gown while her man wore a royal blue suit. They did not make too much effort to appear beautiful and classy, but that was just the picture they portrayed. Their kids were also at the event.
The wedding was attended by some big names in the media circle and political sphere, including President Zuma who walked her into the reception. More so, only close friends and family members were allowed into the very private ceremony.
Among the big names present at the wedding ceremony were former Home Affairs Minister Malusi Gigaba and his wife, former commissioner of the South African Revenue Service Tom Moyane, radio legend Wilson B Nkosi, Nkateko Maluleke with his wife Dr. Ntsakisi Maluleke. The event continued with a party until after midnight.
Speaking about his wife, the notoriously private Walter made it known that Nosizwe is a very wonderful woman who is also down to earth, but that's all he was able to reveal, stating he would prefer to keep things that way for now.
They Have Two Kids Together
The relationship between the pair produced a daughter even before they got married. While their daughter Betty was the first child Vusi was having, she is the second child of Walter who fathered a child with his ex Pearl Thusi before they ended their relationship.
Their little angel who was born on May 21, 2014, was named after the mother of Mokoema, Betty Velephi Nene. Apart from the aforementioned, Walter is also blessed with another daughter, Ruth Mokoena.
One of the most amazing things that Walter, his wife, and ex Pearl have done is to ensure that the kids have a very strong bond as seen from social media photos shared by Walter who seems to be enjoying every bit of fatherhood.
Walter Had An Interesting History With Pearl Thusi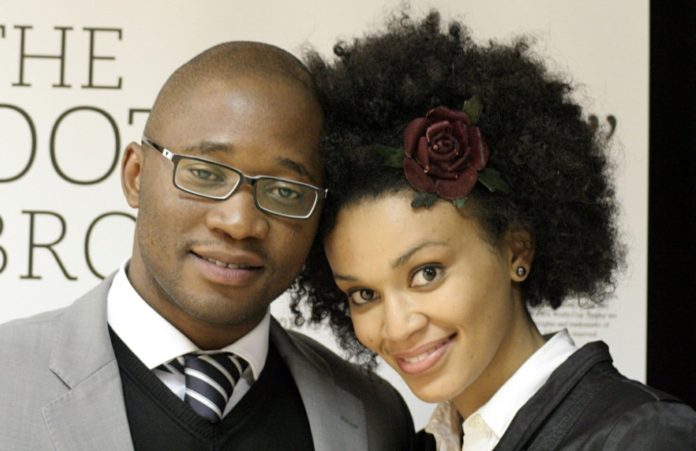 Before the woman whom he married came into the picture, many thought Pearl Thusi was the one. The two had a relationship that dates back to the mid-2000s.
Details about how and when exactly they met have not been made public. However, the former lovers sustained their relationship for a while and broke up a number of times but they found a way of coming back to each other. According to Thusi, the relationship was not a healthy one as they had so many fights between them.
Along the line, the actress became pregnant for the celebrated sports presenter and in 2007, she had their daughter, Thandolwethu Emily Grace Gugu Mokoena. According to pearl, the pregnancy was challenging for her both physically and psychologically. More so, she was only in her first year in the university when she took in. Pearl Thusi wanted to love Walter Mokoena and turn herself into the best mother for their kid, but that was not enough to keep the relationship going.
Though Pearl has a lot of things to say about her relationship with Mokoena, she stated that she had been warned probably more than once to stop mentioning his name because he didn't want to be mentioned. On his part, Walter has not spoken about it.
Even though they are no longer together, Pearl Thusi and Walter have both been very much involved in raising their daughter who is now a teenager. They have maintained a good and respectable relationship after parting ways in order to co-parent their daughter.
The Sports Presenter Has No Other Publicly Known Relationship
While he may be a good-looking man who is also successful, Walter doesn't seem to be the busiest of the lot in the dating department. From the information available to the public, he has only dated two women, the first of whom was Pearl Thusi, followed by Nosizwe Zuma, the woman who became his wife.
He is also a very private man, hence, we may not be able to know if before meeting his wife he had privately dated anyone in the past. For now, what is known is that he is a dedicated husband to his wife and doting father to his three beautiful daughters.