Vusi Thembekwayo is an outstanding entrepreneur, a leadership maverick, an experienced venture capitalist, author, and a seasoned public speaker who hails from South Africa. He is known as the Founding CEO of MyGrowthFund & IC Knowledge Bureau among other things.
At the young age of 38, Vusi has dared to set records of no mean feat. He continues to be such a positively disruptive force to the corporate climate in South Africa and indeed the world in general. What makes him great and nourishes his audacity to dare to influence the business atmosphere of the Mzansi nation at such a young age. Read on as we demystify the genius of 'the Dragon' Vusi Thembekwayo, the man with the world in his hands.

Summary of Vusi Thembekwayo's Biography
Full name: Vusi Thembekwayo
Nickname: The Dragon
Gender: Male
Date of birth: March 21, 1985
Place of Birth: Benoni, Gauteng Province
Vusi Thembekwayo's Age: 38 years old
Ethnicity: Black
Nationality: South African
Zodiac Sign: Aries
Sexual Orientation: Straight
Marital Status: Married
Vusi Thembekwayo's Wife: Palesa Thembekwayo
High School: Benoni High School
University: University of Witswatersrand & Gordons Institute of Business Science
Occupation: Entrepreneur and Venture Capitalist
Famous for:
Vusi Thambekwayo Dropped Out Of The University For Lack Of Finances
Vusi Thembekwayo was born on 21st March 1985 in Benoni, Gauteng Province in South Africa. A whole lot is unknown about Vusi Thembekwayo's immediate family at this time. There is no public knowledge of who his parents are or were, neither are there sufficient public details available to identify how many siblings he had, if he had any and who they were. What is, however clear, is that Vusi was born in Benoni Gauteng province and went on to live most if not all of his early life in Benoni.
He was enrolled in Benoni High School, where he managed amidst many struggles to gain the foundation of an adequate primary and secondary education. And although he was required to go back to two classes because of his inability to communicate in Afrikaans, he was still able to garner good education in his formative years.
However, when it was time to further his education in the University, Vusi could not continue and consequently had to drop out of the University due to the burden of limited finances. He chose to work and sustain his family while simultaneously gaining practical life knowledge and experiences rather than sitting in the classroom. This family-oriented decision marked a turning point in the life of Vusi and consequently formed the bedrock of what he became.
Vusi decided to utilize his people management and public speaking skills, which ultimately inspired the establishment of his company, and consequently, his first foray into the world of entrepreneurship. The company grew exponentially, attracting clients from all walks of life. Vusi eventually made millions when he sold part of this company to a digital marketing agency based in South Africa.
Today, He Has Numerous Degrees and Certifications
Vusi possesses a host of certifications, degrees, and qualifications attained in his quest for knowledge and mastery in his field. He has a degree in Management Advanced Programme after graduating cum laude from the University of Witwatersrand. He also obtained a degree in commerce from the same University between 2009 and 2010. The following year, Vusi enrolled at the Gordon Institute of Business Science, where he sought a postgraduate diploma in Business Administration, which he attained in 2011.
That same year Vusi applied and got admitted at the Institut Européen d'Administration des Affaires (INSEAD), where he studied Financial Modelling, Valuations, and Corporate Finance (Advanced Valuation) and was awarded his certification in 2012. In 2015, Vusi applied and was accepted at the Hult International Business School, where he pursued his MBA, which he was awarded after two years of studious study.
Vusi Thambekwayo's quest for knowledge equipped him to stand out. In 2010, Vusi became the director of Metcash Group, after his Earnings Before Interest, Taxes, Depreciation, and Amortization(EBITDA) score ranked him number one within the Metcash Group. Currently, he runs a group of Investment firms in Africa. Vusi has also established his own company, Global Professionals South Africa, and it grows in leaps and bounds daily.
Who Is Vusi Thambekwayo's Wife?
Asides from Vusi's seemingly hectic schedule capable of leaving almost anyone out of breath, Vusi combines and balances his work schedule with his family time. Vusi Thambekwayo is a family man and is married to Palesa Thembekwayo. The couple got married in 2009 at a lavish wedding done in style.
In keeping with his person, Vusi Thembekwayo tends to keep his private life away from scrutiny, revealing only whatever he deems fit on any of his social media platforms. However, it is common knowledge that Vusi's wife, Palesa Thembekwayo, is beautiful, calm, and highly educated. A perfect blend of beauty and brains, Palesa Thembekwayo is also a seasoned entrepreneur with an excellent knack for stimulating start-ups, Small and Medium-scale Enterprises to achieve greatness and maximum productivity.
Like Her Husband, Palesa Thembekwayo Is A Savvy Entrepreneur
Palesa Thembekwayo staunchly believes in motivating youths to actively engage in entrepreneurship as early as possible. To Palesa, the future of Africa lies with the entrepreneurs of today. Therefore, it is little surprise that she is trying to motivate more youths to become entrepreneurs and boldly embark on start-ups.
Vusi and Palesa, in conjunction with a host of other investors, founded and established the 'My Growth Fund,' an organization dedicated to supporting youth entrepreneurs establish their businesses while providing them with resources, both financial, material, and entrepreneurial advice needed to help grow and sustain their start-ups across different business terrains.
Is Vusi Thambekwayo Still Married?
While it is a pretty tasking and a seemingly daunting enterprise to run the time-consuming and focus-demanding schedule Vusi runs on account of his business engagements, it becomes doubly stressful when a family is involved. For a lesser man executing the workload, Vusi must contend with and attempt to balance this workload with family commitments, and responsibilities would prove too much.
This is not the case for the 'Dragon' Vusi Thambekwayo. Vusi's excellent leadership, situation optimization, and people management is seen in how his businesses and mentorship programs have thrived over the years without sacrificing the peace, love, and stability he is meant to bring to the home front. Vusi Thambekwayo and Palesa Thambekwayo remain married to this day, with no single shred of controversy ever publicly attributed to the couple. The couple seems to be blossoming, growing stronger with each day.
While Vusi Thembekwayo indeed has shown his almost superhuman leadership and people management qualities in this regard, we would be remiss if we did not acknowledge the understanding, intelligence, and level-headedness his wife, Palesa, brings to the equation, consequently enabling him to provide the best in both worlds.
The Couple Has Three Adorable Children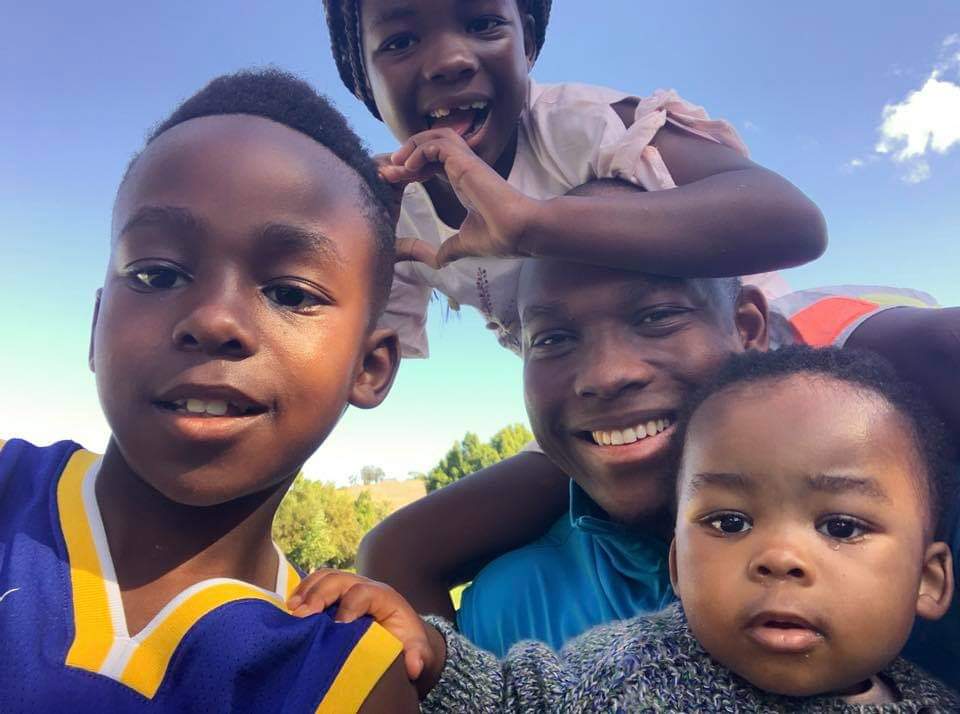 His initiation to fatherhood in 2010 did little to phase him, as he took it in stride and still made the best of family life. In November 2010, Vusumuzi Nathaniel Thembekwayo III was born, marking Vusi's transition into fatherhood. Two years later, his daughter, Amahle Thembekwayo, was born on the 3rd of April 2012. Rumor has it that on the same day Amahle was born, Vusi acquired his rifle of choice as he eagerly awaits suitors that would doubtlessly locate his home address on account of his daughter when she comes of age.
In 2017, the Thambekwayo family was again graced with another child and a second son, Mnqobi Thembekwayo, fondly referred to by the Thambekwayo's and those close to them, as 'The Chairman of the Board.' Vusi Thambekwayo has mapped out a staggering legacy for himself and an amazing legacy for his progeny, even though he's not yet 40. With the world still ahead of him and what he has accomplished in so short a time, the sky is the starting point for the 'Dragon' Vusi Thambekwayo. The man with the world in his hands.