The Venda people of Southern Africa have existed since the 9th century. The name "Venda" is originally pronounced VhaVenda or Vhangona. They are the South African-Bantu people, who speak the TshiVenda language and they can be found between the Zimbabwean and South African borders. Among other things the tribe is known for, some Venda traditional food recipes have gone far and are eaten in various places around the world.
Generally, Venda people are very rich in cultural heritage and it cuts across several aspects of their way of life – including their traditional attires, their language, and also their food. They have very healthy and delicious recipes that everyone who's enthusiastic about African cuisines should learn to prepare. from maize meals to staple foods rich in protein, we bring you some of the best Venda traditional food recipes to try at home.
Delicious Venda Food Recipes with Pictures
Venda and her ethnic relatives know well how to make very wonderful cuisines. In this article, we would be outlining the various cuisines on offer by the Venda people – how they are prepared and how best to serve them with juice, tea, or just water.
1. Mashonzha
The meal is prepared using a worm-like protein with spikes, although very enjoyable, most people do not really enjoy eating it because of the spikes. Mashonzha can be served with a mealie meal or 'pap'.
Recipe
Dried Mopane worms
1 medium-sized onion
2 green peppers
6 tomatoes
1 tablespoon curry powder
500ml water
Preparation
Get a pot with water
Put the pot on a lighted stove
Soak the worms for about 30 mins to soften them
Wash your Mopani worms thoroughly
Wash and slice your tomatoes
Chop the onion
Divide, deseed and chop the green pepper
Dice the tomatoes
Drain the cooked worms
Mix with 500ml water, onion, green pepper, tomatoes, and curry powder
Add salt to taste
Allow the mix to boil for about 60 minutes, then put it off
2. Chicken Stew
This is a blast of flavors stacked with veggies. It may look a bit foreign but this is one of the recipes Venda people enjoy and it's packed with vitamins and minerals. Depending on your taste and preference, you can vary the ingredients used in making the dish but the key items are the chicken pieces and vegetables. Chicken stew can be enjoyed with mealie or rice.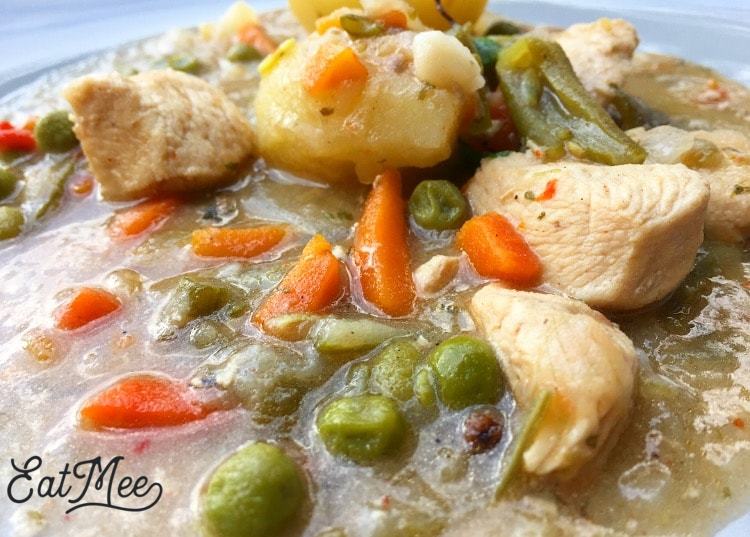 Recipe
Carrot
Peas
Green beans
Cabbage
Curry leaves
Chicken breast
Chopped Onion
Chill pepper
Tomatoes
Thyme
Ginger and garlic paste
Rosemary (and other dried herbs you may desire to add)
Groundnut oil
Peppercorns
Chicken spices
Preparation
Wash and cut the chicken breast and vegetables (peas, pepper, tomatoes, onion, potatoes, cabbage, carrots, and green beans)
Heat up the cooking pot, and pour in some groundnut oil
When the oil is heated, add the chopped onion, curry, thyme, and rosemary. Allow the mixture to fry for a bit while turning to avoid burning
Add the tomatoes and pepper and allow to simmer and then add the chicken breast into the mixture
 Allow to simmer for a while and then add the peppercorn and chicken spices
When the chicken is soft enough, add the veggies
And add the diced potatoes to the mix
While that is boiling, you can choose to add melted cornflour to thicken or leave it that way
Your chicken stew is ready to be served
Serve while hot with mealie or rice
3. Phutu
This is a maize meal enjoyed by the Venda people and some other South African tribes. It is one of the staple foods in the country made by steaming maize meal until it develops a crumbly, grainy texture and forms a porridge so delicious when eaten with the right stew.
Recipe
Butter
Maize meal
Water
Salt to taste
Preparation
Place a pot on your burner
Add water with salt and allow to boil
Reduce the heat as soon as the water starts to boil
Add the maize meal and stir immediately with a wooden turner
Add more flour until you have reached your desired texture
Add butter and stir well. Note that adding butter is optional
Your food is ready and you can serve it with meat, veggies, and sour milk
4. Nandos Chicken
This native dish has captured the hearts of both the Venda locals and foreigners. Far from being one of the things Nando's fast food is known for, you can make this delicious meal at home with the ingredients you desire. Here is how to put it together.
Recipe
Chicken breast
Nandos Peri Peri hot sauce
Salt
Ground pepper
Lemon juice
Chicken spices
Garlic and ginger paste
Tomatoes, lettuce
Hamburger buns
Cheese
Vegetable oil
Mayonnaise
Preparation
Wash your chicken breasts
Using a knife or fork, make a hole in it
Add some grounded pepper, ginger and garlic paste, salt, chicken spice, and hot sauce to it and massage properly
Set aside for 30 minutes to marinate
After marinating, fry for some minutes to attain the golden brown color on both sides
Then bake in an oven @180c for 10 minutes
Put the mayonnaise and hot sauce in a bowl and stir until you attain a perfect mixture
Put the lettuce leaf
Place a sliced tomato over the lettuce
Add the chicken
Then the sliced cheese
Then add the perinaise
Cover with the other half of the buns
It is ready to be served
5. Stiff Pap or Kali
'Kali' means hard porridge, and it is made from maize. Pap and porridge don't have to be soft or loose all the time as seen with this version of the meal. The maize flour is usually a moderately coarse mealie meal – more coarse than the regular corn starch. After preparation, this meal can be served with fish curry or any stew of your choice. Here's how to make it.
Recipe
Maize meal
Water
Salt to taste
Butter
Preparation
Put water in a pot and set it on a lighted stove
When the water boils, add salt and butter
When the butter melts, lower the heat
Add the maize meal ensuring it is focused in the middle of the pot
Don't be in a hurry to stir, allow to simmer until the water around the maize meal changes color, which usually takes up to five minutes
Then mix the mixture until the maize meal has absorbed all the water
Allow it to cook for another 2 minutes
Then wait for it to cool, to the point you can hold it and mold
Then mold. Note that it must not be too cold or else it will not mold
It can be stored in a refrigerator and can be reheated in an oven
6. Tshidzimba Dish
One of the popular dishes enjoyed by the Venda people, this meal is a hub of proteins as it is made with samp, beans, and peanuts. A twist to the old recipe can be achieved by adding roasted cherry tomatoes and caramelized red onions to the ingredients. As always, you can customize your dishes to suit your taste but there are key ingredients that need to be present to arrive at the traditional dish.
Recipe
Dried sugar
Beans
Samp
Salt
Raw peanuts
Neatly chopped onion
blended garlic and ginger
Olive oil
Pepper
Butter
Parsley
Oven-roasted cherry tomatoes
Caramelized red onion to garnish
Preparation
Rinse off the beans, as well as the samp but separately and soak in separate bowls overnight. At dawn, drain and throw away the water
Place a pot on a burner and add enough water, depending on the amount of beans and samp
Add the beans and samp to the pot and allow to boil and simmer at a reduced heat for 3 hours. Add more water if necessary – so that the samp and beans do not stick to the pot
Roast your peanuts in a frying pan or bake in an oven at 180°C until you get a golden brown color
 Put the onion and garlic in the olive oil
 Drain off and rinse the cooked beans and samp
Add the onion and garlic mixture and the roasted peanuts to the beans and samp
Mix well, adding the seasonings and salt to taste, and also add the butter and parsley
Serve warm, topped with oven-roasted tomatoes and caramelized onion
7. Muroho wa Thanga wo Kodeliwa
A very nutritious combo, this meal is made from freshly harvested vegetables. The farm-fresh combo is usually made up of pumpkin leaves sauteed into an attractive and delicious meal with the help of other ingredients. This is a nice way to eat your rice and mealie if you want to consume more vegetables.
Recipe
Vegetables
Onions
Vegetable oil
Salt to taste
Preparation
Wash your vegetables and slice them
Place your pot on a lighted stove and when it is heated, add the vegetable oil
When the oil gets hot, add the onion and vegetables and stir fry for a few minutes
Then serve with rice or mealie
8. Mazhulu/Magege
These are termites and they are harvested naturally at the peak of the rainy seasons. A seasonal meal, the dish is packed with protein and is also delicious, though it would be hard to convince a non-indigene or first timer to try. Nonetheless, the dish can be enjoyed alone or with pap.
Recipe
Termites
Salt to taste
Pepper
Onions (optional)
Preparation
Ensure the termites are well sorted
Place your fry pan or pot over a lighted stove
Add the sorted termites to the pot
Add salt and let it cook, then you stir for a few minutes
Keep stirring as it cooks until it turns golden brown and you begin to perceive the nice aroma of the termites
9. Delele (Slipper Muroho)
Popularly known as a Zimbabwean delicacy, you should not be surprised why the Venda tribe eats this delicacy. It is obvious they don't just share boundaries but culture and cuisines. The dish can be customized to suit your taste as well and you can add any kind of meat and fish you like to make it more delicious. Here is how Delele is made:
Recipe
1 large tomato
1 packet of okra or 30 individual okras
1 teaspoon of salt
1 teaspoon of bicarbonate of soda
1 cup of water
Preparation
Wash and slice your tomato
Cut off the stalk and tip of the okra
Put some water in a pot and let it boil
When the water starts boiling, stir in bicarbonate of soda
Add the tomato, okra, and salt to taste
Allow the mix to boil while stirring occasionally
As soon as the okra overflows, it is cooked
This can be served with any maize or cassava meal
10. Dikgobe
Last but surely not the least of Venda food recipes you can try at home, this is a meal enjoyed by the Venda people and Sotho-Tswana people. Of course, many other tribes in the Southern African region have also keyed into the enjoyment. This is a very healthy meal with healthy grains and fiber in it. The name dikgobe is used to describe a combination of samp, peas, and beans cooked to form a porridge. It can be eaten with a variety of stews and meat of your choice. Here's how to make this dish.
Recipe
Sorghum grains
Beans
Mixed vegetables to your choice (e.g  potatoes, carrots, corn, peas, onions, cabbage)
Salt to taste
Pepper
Preparation
Get 2 bowls filled with water enough to soak the sorghum and beans
Add salt to it
Soak the sorghum grains and beans separately in the lightly salted water for an hour
Place a pot on a lighted stove and add water
Add the sorghum first and let it
Boil for 20 minutes and then add the beans
Let the beans and sorghum boil for another 40 minutes, or until the mixture is well done
In very low heat, lightly stir-fry the vegetables and flavor them to your taste
Add the vegetables to the sorghum and bean mixture, mix well and simmer for about 20 minutes
Serve immediately
Key Takeaway
Venda people make foods from a variety of veggies and protein which you can twist to make more unique recipes. You don't have to stick to the traditional recipe all the time if you wish to enjoy delicious meals. The best way to enjoy these meals is to serve them hot.