Jackie Witte was the first wife of Paul Newman, an American actor, director, race car driver, entrepreneur, and philanthropist. Born in September 1929, Jackie was married to Paul for nearly ten years, between 1949 and 1958, and did not remarry after their divorce.
People knew Paul Newman to be the faithful and loyal husband of Joanne Woodward, his second wife, but what is not known is that his beautiful marriage with Joanne Woodward came off the back of his betrayal of his first wife, Jackie Witte. Here is the interesting story of Paul Newman's first marriage to Jackie Witte.
Summary of Jackie Witte's Biography
Full name:

Jackie Witte

Gender:

Female

Date of birth:

September 1929

Jackie Witte's Age:

64 (at time of death) 

Ethnicity:

White

Nationality:

American

Marital Status:

Divorced

Jackie Witte's Ex-husband:

Paul Newman

Jackie Witte's Children:

Scott Newman, Suzan Newman, and Kendall Newman

Famous for:

Being Paul Newman's First Wife
Jackie Witte Met Paul Newman at College
Jackie Witte was born sometime in September 1929 in the United States of America. Though many details about her early life are unavailable, we know she had dreams of becoming an actress after the 2nd World War.
She had her basic education at an unnamed primary and secondary school before proceeding to further her studies at a higher institution. Unfortunately, we do not have details about her course of choice or the degrees she bagged.
One peculiar thing about her time in college was that it was where she met Paul Newman, the man whose involvement in her life would have far-reaching consequences and remain memorable, even decades after.
Paul Newman and Jackie Witte met in 1949 during a summer stage work, and at this time, Jackie was only 19 years old, and Paul was 24 years. Prior to their meeting, Paul had served with the Navy and was a Naval veteran.
Jackie and Paul Shared a Similar Interest in Acting
At the time when Jackie and Paul met, they were both aspiring to become big names in the entertainment industry, but not long after they met in 1949, they decided to get married. Their wedding took place on the 27th of December 1949.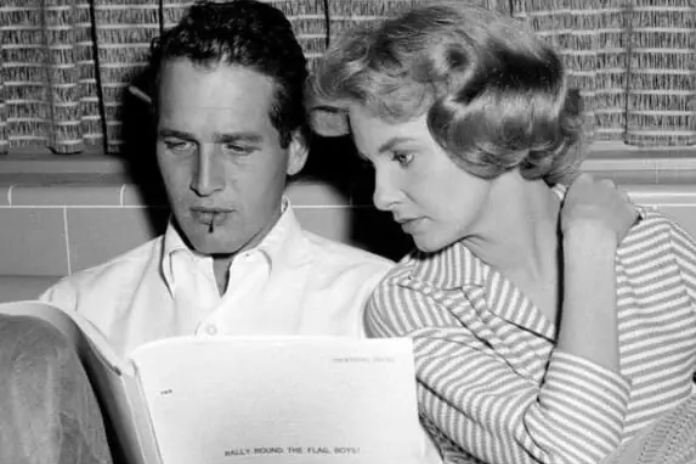 At this time, a lot of people felt they were too young to be getting married, and it was rumored that they were tying the knot because Jackie was already pregnant.
Well, these rumors may not have been completely false because in 1950, just one year after getting hitched, Jackie and Paul Newman welcomed their first child Scott Newman. Three years later (1953, to be precise), they welcomed their second child Suzan Newman and in 1954, their last child Stephanie Kendall Newman was born.
Having Children Affected Jackie and Paul's Career
Things were not so rosy for Jackie and Paul because their marriage and subsequent childbearing responsibilities, alongside their burgeoning careers, were so much for the young couple to handle all at the same time.
When Jackie Witte was pregnant with their first child, Paul Newman almost stopped acting, Jackie also had to put a pause on her own acting career because she needed to raise her family. Around the time Scott Newman was born, Paul Newman lost his father, and the family had to move to Cleveland, Ohio, for Paul to manage his family's business.
Jackie Witte, whose acting career had been put on halt, decided to search for modeling gigs. She went to New York from time to time in search of modeling jobs, and in no time, she became a full-time model. However, motherhood called on her again, as she got pregnant with her second child, and so she halted her burgeoning modeling career also.
During this time, Paul Newman got accepted into Yale University, where he was studying to earn a master's degree in theatre. Paul's decision to get his master's degree was a 'Plan B', in case his acting career doesn't kick off. It was a necessary step that would see him become a lecturer and earn a decent living so he could cater to the needs of his family.
Jackie Witte's Marriage to Newman Ended on The Back of His Career Success
Even though he struggled with his acting career initially, the career downtime for Paul Newman did not last forever. His dreams of becoming a renowned actor started to become a reality when he landed his first starring role in the movie Picnic. This was in 1953, around the time Jackie has their second child.
But, unfortunately for Jackie Witte, as Paul became more famous, he slowly became a stranger to her. He went on so-called 'work trips' even more often, and all her pleas for him to pay more attention to the home fell on deaf ears. As time passed, it became clear that Paul's absence from home was not just down to work – he had found love in the arms of another – however, Jackie had to come to terms with it.
Jackie Witte Reluctantly Signed The Divorce Papers In 1958
Despite the fact that Jackie Witte knew that she and Paul Newman had drifted apart, she was still holding up to the hope that they would reconcile their differences. However, life never gave Jackie the opportunity to find out whether that was possible because there was already another woman in the picture.
In 1953, Paul Newman met Joanne Woodward, an actress who was also a co-cast in Picnic, and they seemed to be moving in the same direction. Paul loved acting so well, and Joanne was a fast-growing actress. Jackie, on the other hand, had ditched her career in showbiz to focus on building a family.
Paul and Jackie kept managing their rocky marriage until 1958 when Jackie got the news that Joanne was pregnant for Paul, and Paul finally admitted that he was in love with Joanne. At this point, Jackie knew that she was fighting a lost battle and decided to accept a divorce.
Did Jackie Witte Ever Remarry?
After Jackie Witte's divorce from Paul Newman, she did not remarry. Newman, on the other hand, got married to Joanne Woodward the same year he got divorced from Jackie Witte. Newman's marriage with Joanne Woodward was blessed with three children: Nell, Olivia, and Melissa.
What Happened To Jackie Witte?
Jackie Witte had to live with her failed desire to become an actress. She settled for taking care of her children as a single mother. Despite the fact that she was Paul's wife at the time he became famous, she went under the radar after their divorce.
Whenever Paul Newman was asked about his first marriage before Joanne in interviews, he always found ways to push it away with statements like 'he was too young to make the marriage work' or 'nobody cares what happened to them that time'. But before his death, the actor admitted the terrible part he played in their separation and said he would carry the guilt forever.
Is Jackie Witte, Paul Newman's First Wife, Still Alive?
No, Jackie Witte is not alive. The first wife of the late actor Paul Newman lost her life in 1993 at the age of 64. The cause of her death was not revealed and still remains unknown to the public. In the same vein, Jackie Witte's ex-husband, Paul Newman, also died of lung cancer in September 2008 at the age of 83 – thirteen years after Jackie's demise.
Jackie Witte's Net Worth
Details about Jackie Witte's net worth are not available to the public. In fact, we cannot say for sure what she did for a living after her divorce from Paul Newman. However, there are reports that Jackie may have made some money from the child support she may have received from Paul after their divorce.
Who was Jackie Witte Married to After Paul Newman?
Jackie Witte was never known to have been romantically involved with anybody after Paul Newman, whereas the same was not said of the latter. Paul Newman went on to marry fellow actress Joanne Woodward, and the couple were very popular in Hollywood, as they were married for over five decades.