Debbie Higgins (born in 1950; died in 2014) was Dr. Phil McGraw's first wife. She was an editor and a businesswoman before her death in 2014 at the age of 64. Dr. Phil's over four decades of marriage to his current wife, Robin Jo Jameson, gives most people the impression that the highly respected psychologist with the eponymous talk show practices what he preaches.
Dr. Phil has repeatedly tried to explain why marriages fail because he has a first-hand experience of that failure through his marriage to Debbie Higgins. He did not always get it right when it came to marriage and the responsibilities required to make it work. Not much is known about his first marriage or the woman he married but this article throws more light on both.
Summary of Debbie Higgins' Bio
Full name: Debbie Higgins McCall
Gender: Female
Date of birth: 1950
Date of death: 2014
Place of birth: Las Vegas, Nevada
Debbie Higgins' Age at death: 64 years old
Ethnicity: Caucasian
Nationality: American
Sexual Orientation: Straight
Religion: Christianity
Marital Status: Married
Debbie Higgins' Ex-Husband: Dr. Philip Calvin McGraw
Children: 1, Marci McCall (daughter)
Siblings: 1, Bill Higgins (brother)
Eye color: Brown
Hair color: Blonde
Education: Shawnee Mission North High School in Overland Park, Kansas, Massachusetts Institute of Commerce
Profession: Editor, Businesswoman
Famous for: Being Dr. Phil McGraw's first wife
Debbie Higgins Was Born In Las Vegas But Grew Up In Kansas
Debbie Higgins was born in 1950, in Las Vegas, Nevada. Her exact date and month of birth are unknown at the moment. Dr. Phil's late ex-wife was not raised in Sin City but instead on her father's farm in Kansas.
The late celebrity ex-wife was an American citizen and had all the classic physical features of a white Caucasian female. Not much is known about Higgins' birth family, including the identities of her father who was reportedly a farmer and her mother, who was a homemaker.
Debbie Higgins grew up with an older brother, Bill Higgins, who was quite protective of her and was responsible for making sure that she stuck to their parents' directives that forbade her from being involved with anyone romantically until she was 16 years old.
Regarding her formal education, Debbie Higgins received her high school diploma from Shawnee Mission North High School in Overland Park, Kansas. Afterward, she proceeded to the Massachusetts Institute of Commerce where she bagged a business administration degree.
Debbie Higgins And Dr. Phil McGraw Were High School Sweethearts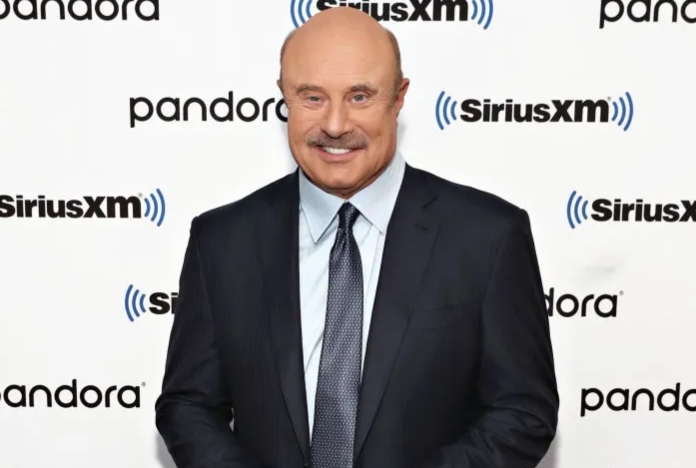 Debbie Higgins met her ex-husband, Dr. Phil McGraw, when they were both high school students at Shawnee Mission North High School. The late Higgins' outgoing personality and social influence meant that she was quite popular during their high school days. She was involved in a good number of school activities, including being on the cheerleading team.
The man she would later marry was also well-known in the high school due to his involvement as a linebacker in the school's football program. Several accounts of how the relationship between the former couple started reveal that Higgins was persistently wooed by McGraw until she gave in to his advances.
On one of the occasions when she spoke about what it was like being married to Dr. Phil, Higgins revealed that he was so considerate, kind, and thoughtful as a boyfriend and that their match seemed like it would last forever, not just to her but to most people who knew them as a high school couple.
Recall that Debbie Higgins' parents were against the idea of her dating before she was 16 years old and the late editor adhered to this directive because she became official with Dr. Phil when they both turned 16.
She Was Dr. Phil McGraw's Wife For Only Three Years
On November 27, 1970, after nearly four years of dating, Debbie Higgins exchanged marital vows with Dr. Phil McGraw at Roeland Park Southridge Presbyterian Church, Debbie's childhood church. Whether that arrangement was by design or coincidence is a question we have no answer to.
The ceremony was reportedly elegant and greeted with so much fanfare by both sets of families. At the time though, Debbie Higgins' ex-husband was not as famous as he is now. Despite the expectations of a happily ever after, the marriage crashed in 1973, 3 years after it began.
Interestingly though, the former couple opted for an annulment instead of a straight-up divorce. There were a variety of factors that contributed to the failure of the marriage but chief among them was recurring accusations of infidelity on the part of Dr. Phil, accusations he never refuted nor was remorseful about.
Higgins also accused him of changing his attitude toward her as soon as they tied the knot, insisting that he became increasingly abusive, not just verbally but emotionally as well. There were also allegations of physical abuse but those were not confirmed.
While speaking about his first marriage, Dr. Phil revealed that the pressure to get married was immense due to their respective social status. He was the football jock destined for big things while she was the perky cheerleader. It seemed like the logical thing at the time was to get married.
However, as soon as the festivities were over, they both soon began to wonder why they had gotten married. Higgins claimed that he expected her to live, behave and act a certain way, and when she could not meet up with those expectations, he gradually withdrew from her.
Debbie Higgins and Dr. Phil McGraw did not have children together but they went on to have children with different partners. McGraw has two sons with his wife, Robin Jo Jameson, while Higgins had a daughter named Marci McCall years after her marriage to Dr. Phil ended.
She Was An Editor And A Business Owner
There was more to Debbie Higgins than being Dr. Phil's ex-wife. She worked as an editor whose most notable work was Demon Hunters: Fear The Silence. Also a business owner, she owned a liquor store in the Kansas City area.
Her net worth was unknown at her death and she reportedly did not request any alimony from McGraw who is now worth over $400 million.
How Did Phil McGraw's First Wife Debbie Higgins Die?
Debbie Higgins died from an unknown form of cancer ailment. She reportedly struggled with the ailment for years before succumbing to the disease in 2014. She is survived by her brother, Bill Higgins, and daughter Marci McCall, who were both present at her funeral.