Rebecca King-Crews is an American actress, singer, and producer best known as the wife of Terry Crews, the popular America's Got Talent host. Although she is a celebrity in her own right, her marriage to Terry Crews has made her every bit as famous as he is.
The very accomplished star started out as an entertainer from her early years in high school and has not slowed down in any way. Even more interesting is the fact that she managed to strike the perfect balance between her busy career and her home front with Terry and their children.
Rebecca King-Crews Profile Summary
Full Name: Rebecca King-Crews
Gender: Female
Date of Birth: 24th of December 1965
Rebecca King-Crews' Age: 56
Ethnicity: African-American
Nationality: American
Zodiac Sign: Capricorn
Sexual Orientation: Straight
Religion: Christianity
Marital Status: Married
Rebecca King-Crews' Husband: Terry Crews
Children: 5
Rebecca King-Crews' Parents: Winston Lund and Anne Mae Par
Siblings: 2
Rebecca King-Crews' Height in Inches: 5 feet 8 inches
Rebecca King-Crews' Weight: 55kg
Famous for: Being an Actress, Singer, Producer, and Terry Crews' Wife
Rebecca King-Crews' Instagram: @therealrebeccakingcrews
What Is Rebecca Crews Ethnicity, Is She White?
Rebecca Crews is of mixed African-American ethnicity. However, she is of American nationality. Her mixed ethnicity notwithstanding, Rebecca Crews would easily pass as a white lady considering the color of her skin and hair. But most of her fans are not convinced that she is not white and as a result, most people are interested in knowing what Rebecca Crews' ethnicity is.
The actress was born in Benton Harbor Michigan on the 24th of December 1965, into a biracial family, but she was raised in Gary Indiana where her parents resided at the time. This was where she spent the bulk of her early life.
Who Are Rebecca King-Crews Parents
Her parents are Jack Winston Lund and Anne Mae Parks. Questions about her parents came up during the period when her fans got interested in knowing if she was really white. She was born into an interracial family to an African-American mother and a white father. There are no specifics regarding what part of Africa her mother descended from. Crews' very light complexion despite her mixed ethnicity has led to speculations that she possibly bleached her skin. She has not responded to the rumors.
She is not the only child of her parents. Jack Winston Lund and Anne Mae Parks are also parents to Rebecca's two siblings. She has a brother called 'Samuel Taylor and a sister called 'Elizabeth'. They are both younger than she is and are successful in their own endeavors too.
Terry Crews' Wife Had a Rough Childhood
While her life seems very rosy and perfect at the moment, it has not always been like that for the celebrity. During her early childhood, her family experienced some turbulence that stemmed from her father's struggle with alcoholism.
There are no specifics on how old she was when these events took place, but reports have it that her father's constant attitude of imbibing alcohol made him abusive towards his family. This equally left the burden of caring for the family on her mother and also necessitated her discovering her skills and talent early to assist her mother where necessary.
What School Did Rebecca King-Crews Attend?
Rebecca attended Lew Wallace High School. Her efforts as a model began here with her participation in several pageantries. In senior year, she was crowned Miss Gary Indiana.
After completing high school, she got accepted into Western Michigan University where she studied Musical Theatre. During her years of study at the university, she took part in several musical art productions and plays like 'Whiz' and 'Pippin'.
She also created a gospel music group called 'Chosen One'. She was the singer, songwriter, and producer of the group which was very successful at the time. While in college, Rebecca played the role of Deena in a regional production of 'Dreamgirls' for Black Civic Theatre. This marked the beginning of many other theatre productions that flagged off her acting career and gave her some exposure and experience.
How Did Rebecca and Terry Crews Meet?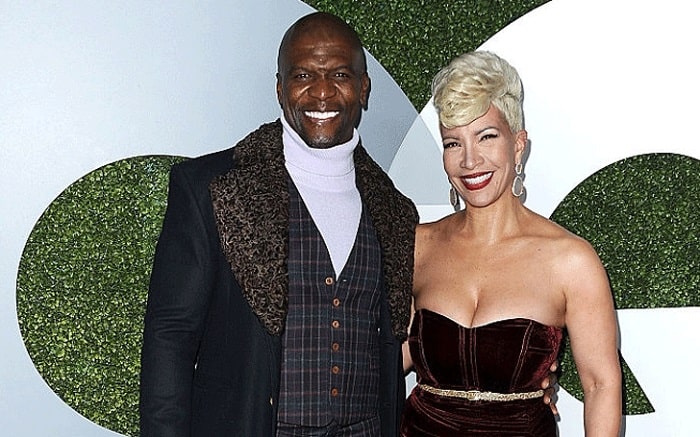 Theirs is far from the fairy tale love story. Rebecca and Terry Crews met at Michigan University, where they both studied. He and a group of his friends visited the church she attends and he met her there playing the keyboard.
They seemed to be complete opposites of each other at the time because while she was busy with her studies and music, he was building his football career.
For the young Rebecca, it was definitely not love at first sight because she felt Terry was being too nice and might eventually change. For this reason, she chose to be just friends with him and nothing more.
Being a nice guy nice himself, Terry went along with her decision. But after being friends for a while, she concluded that he was nice for real, and they finally started dating.
How Long Has Rebecca King Been Married To Terry Crews?
Rebecca Kings and Terry Crews got married in 1990 and they have stayed married since then. Therefore, Rebecca has been Terry's wife for 32 years. While theirs has been through some storms just every union, from the looks of things, they meant every bit of the vows they exchanged on their wedding day.
On Rebecca's YouTube channel, she regularly shares tips on how to keep a relationship, and judging from the fact that she has been married this long, she is absolutely worth listening to.
What Is Rebecca King-Crews Age Compared to Terry Crews'?
The age difference between Rebecca King-Crews and her husband Terry has drawn some attention over the years. The actress is three years older than her husband. She was born in 1965 while Terry was born in 1968.
Terry Crews revealed in his book Manhood: How to Be a Better Man — Or Just Live With One that at the time they met, he was very skeptical about the fact that she was older. This was made even more complicated by the fact that she already had a child.
However, all his fears were laid to rest after his first date with her. Apparently, it took just spending a few hours with her to convince him that the age difference notwithstanding, they were meant for each other.
Who Are Rebecca King-Crews Children?
Terry Crews and his wife have four children together. They had their first child Azriel in 1990, the same year that they got married. Nine years later in 2004, the couple had their second child Tera who was followed five years later by Wynfrey and in 2007, they welcomed their last child Isaiah.
Although they have four children together, many wonder why the couple often say they have five children. The explanation is rather straightforward. Before getting married to Terry, Rebecca was involved with a man called 'Charles Burton'. She got pregnant and had her first child with him. The baby girl was called Naomi Burton.
However, years later when Rebecca got married to Terry, he adopted Naomi as his child and gave her the same privileges as his own biological children. She also goes by his surname Naomi Burton Crews.
Has Rebecca Crews' Marriage Been Involved In Any Scandal?
Yes, Rebecca and Terry's marriage has faced scandals and challenges. Considering how long their union has lasted and still seems to be going strong, many have wondered whether they have encountered any major issues.
It is worth stating that their marriage has not lasted long because they are both perfect, but rather because they both understand each other and stand with each other in the face of challenges.
After Terry Crews retired from football and started a career in the entertainment industry, it was a difficult transition for him. He went into depression and began to pacify himself with alcohol and adult movies.
It was a difficult time for him, his wife, and his family because when Rebecca first found out about his addiction in 2010, she left. And for a while, they stayed separated.
They Reconciled Just as Quickly as They Separated
From his revelations in his book, it took his wife leaving to bring him back to his senses. Eventually, when he showed a sincere interest in getting help and changing for the better, she returned to stand by him through the process.
It took going for therapy with Dr. Phil to help Terry back on track and his wife stood with him until he got better.
Besides their own personal issues, when Terry was accused of sexually assaulting Adam Venit, a Hollywood agent at a party in 2016, the couple once again showed a united front. It took until 2018 for the case to be settled and through that phase, the actress never wavered in support of her husband.
Overall, it is easy to see why they are often referred to as a power couple. They have very successful careers, they work well together, their home front is well taken care of and they are often helping each other be the best versions of themselves.
What Does Terry Crews' Wife Do For A Living?
Terry Crews' wife is a singer, songwriter, actress, and producer. She is well known to be a woman who wears different career hats and is successful in a good number of them.
Acting Credits
Her acting career began back at the university where she took part in different theater productions. She made her official television acting debut in 2010 in her family's reality TV show 'The Family Crews'.
Aside from 'The Family Crews', she has also featured in other productions as herself. In Burberry however, she played the role of 'Grace'.
Rebecca King-Crews Filmography
Celebrity Family Feud
Life After
Black Love
Extra
Burberry
E! True Hollywood Story
She is a Successful Singer
The one other talent that has made Rebecca Crews very successful besides her work as an actress is her music. This effort began way back in her childhood when she started writing her own songs at nine years of age. Also, remember that when Terry Crews met her, she was playing the keyboard in church.
Since those days of early beginning, she has established herself as a well-known singer with a good number of songs in her repertoire. One of her hit singles titled 'Reaching to the top' has over 300k views on YouTube. Although her YouTube channel has only about 50k followers, most of her music videos have a lot of views.
Rebecca King-Crews Discography
Destiny
Breathless
Keep holding on
Can I Stay
Beyond her efforts as a singer, she founded Honeybear Music and also owns Crews Arts Ltd. Rebecca King-Crews has featured in several top magazines where she shares details of how she makes her marriage, family, and career work.
In addition to all of the above, she is a lecturer and an inspirational speaker. The latter stems from her faith as a practicing Christian.
Is Rebecca King Crews The Producer Of Her Family TV Show?
Yes, Rebecca King-Crews is the producer of her family reality TV show The Family Crews. It premiered on BET for the first time in 2010 and ran until 2011 when it got canceled after  17 episodes. While the show did have some fans because it revolved around the daily life of the family of seven, it did not get the required number of views to stay on the air. Moreso, it received some very negative reviews that eventually led to it being taken off the air.
What is Going On With Rebecca King Crews' Illness?
The history of Rebecca's illness began many years ago when a benign lump was discovered in her breast. She underwent surgery at the time to have it removed. Over a decade later in 2020, she was diagnosed with stage 1 breast cancer.
Being that it was detected early, she quickly swung into action to tackle it. Crews underwent a double mastectomy as well as reconstructive surgery to get her back on track. She was declared cancer-free after the surgery.
In that same year, however, fans noticed during an episode of Celebrity Game Face that she was battling hand tremors. Being that it was after the mastectomy, it was speculated that the tremors were probably an aftereffect of the surgery.
Since Crews did not respond to the speculations and the tremors were not noticed again, it was assumed that it has corrected.