Sophia Bollman (born 13th July 1999; Age: 23 years old) is a fast-rising American singer who is often referred to as the daughter of Blake Shelton, the popular musician. However, in reality, Sophia Bollman is not Blake Shelton's daughter.
She rather sees him as musical inspiration and got a chance to meet him when she contested on The Voice in 2017. Bollman was quite vocal with her admiration for Shelton on that occasion and declared that he would make a cool dad. It was a heart-warming moment and has remained indelible in the mind of fans to date as Bollman goes on to build a lucrative career for herself.
Summary of Sophia Bollman's Biography
Full name: Sophia Bollman
Gender: Female
Date of birth: 13th July 1999
Sophia Bollman's Age: 23 years old
Ethnicity: Caucasian
Nationality: American
Zodiac Sign: Cancer
Sexual Orientation: straight
Religion: Christianity
Marital Status: single
Sophia Bollman's Parents: Debra Bollman (mom)
Sophia Bollman's Height in Inches: 5 feet 4 inches
Sophia Bollman's Height in Centimetres: 163 cm
Sophia Bollman's Weight: 55 kg
Sophia Bollman's Net worth: $500k
Sophia Bollman's Instagram: @Sophiabollman
Twitter: @bollmansophia
Facebook: @bollmansophia
Sophia Bollman is The Daughter of Deborah Bollman, Stenographer, and Realtor
Sophia Bollman was born on the 13th of July 1999 in Coral Springs, Florida. Her nationality is American, while her ethnicity is Caucasian. The singer grew up in various parts of Florida and was largely raised by her single mom. The name of Sophia Bollman's mother is Debra Bollman. Debra Bollman is a realtor who runs her real estate practice. She has also worked as a stenographer for the NCAA.
Stenographers are people that take down interviews in shorthand, and Debra Bollman got to attend the press conferences of several college basketball players. During one such press conference in 2015, an NCAA player named Nigel Hayes remarked that she was quite beautiful. The remark was picked up by the mic and made her a mini-celebrity overnight.
Several media organizations sought to interview Debra Bollman, but she turned it down. She, however, revealed that she had accepted Hayes' apology. Sophia commented on the whole saga and bemoaned the fact that her mother was doing better than her in the dating scene.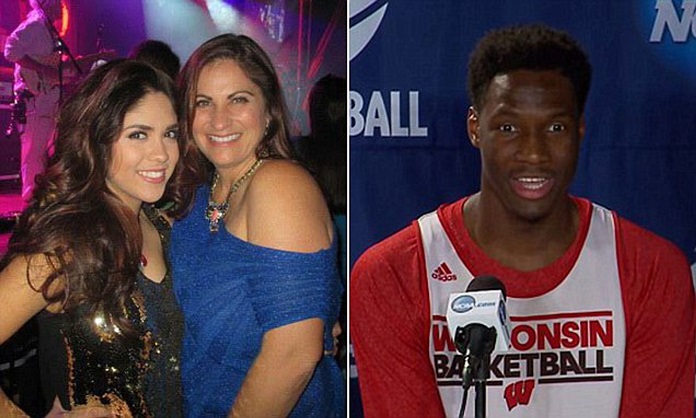 She Began Singing as a Child and Tried Out for X-Factor in 2012
Sophia Bollman grew up in Jensen Beach, Florida, and attended Jensen Beach Elementary School. She was quite active as a child. She played soccer and ran track. She also joined her grandma in attending the St. Martin de Porres Catholic Church and became quite active in their choir.
As a chorister, Bollman's musical talent shone through, and her mom decided to help her explore it. She became her manager, and they moved out to Los Angeles when she (Bollman) was 12 years old so that she could look for opportunities.
To kick start her music career, Sophia Bollman tried out for several popular music talent competitions. She made it to the third season of X-factor in Britain in 2012. She was about 13 years old and didn't have much progress in the show.
She Tried Out for The Voice Thrice and Eventually Made It to Season 13 in 2017
Sophia Bollman was quite disappointed by her poor progress at X-Factor, but she refused to be broken. She continued to pursue her musical aspirations with zeal and went on to sign up for another musical talent competition, The Voice, in 2014. She first submitted an online audition and was asked to come for an in-person audition. She, however, failed to progress beyond this stage.
The exact same thing happened when Bollman tried out again for The Voice in 2015. She, however, refused to give up. She signed up once more in 2016 and made it beyond the in-person audition stage to the next round, which is the executive round stage.
She, however, failed to proceed beyond this juncture. It was a crushing experience for Bollman, and she decided not to sign up again. However, her mom encouraged her, and she signed up for season 13 of The Voice in 2017.
Sophia Bollman Described Blake Shelton as a Cool Dad during her The Voice Performance
Sophia Bollman tasted much success when she signed up for The Voice for the 4th time in 2017. This time around, she made it beyond the in-person auditions and executive stages and moved on to the blind auditions, where she got a chance to perform for the coaches, among whom were Blake Shelton, Miley Cyrus, Adam Levine, and Jennifer Hudson.
Bollman gave a stirring rendition of Kelly Clarkson's invincible, and two of the coaches, Miley Cyrus and Blake Shelton, turned and asked her to join their team. She chose Cyrus but made it clear that she admired Shelton a lot. Sophia Bollman stated that she had looked up to the singer for much of her life and thought of him as a father figure.
She then went on to state that she believed he would be a cool dad. Her statement elicited laughter from the other coaches, and Shelton humorously responded that "she was probably his daughter." By the end of the whole thing, many media organizations started tagging Bollman as Blake Shelton's daughter.
It was all in humor as Sophia Bollman is not Blake Shelton's daughter. The singer does not have any biological kids but has three stepsons as a result of his wife, Gwen Stefani.
Happy Father's Day @blakeshelton 🙏🏽 pic.twitter.com/8omvI8Ydsw

— Sophia Bollman (@SophiaBollman) June 17, 2018
Sophia Bollman is now the Lead Singer of Two Bands and has Performed All over the Country and Beyond
Sophia Bollman did not win The Voice. She made it through the blind auditions stage but was eliminated in the next stage, which is the battles. She refused to be disheartened and pursued her music career with full force.
Bollman specializes in country and classic rock genres and is the lead singer of two bands, namely the Sophia Bollman Band and Detour 91. She and her bandmates have performed all over Florida. They have also dropped several tracks. Sophia Bollman also sang back up for Beyoncé during her iconic Coachella performance in 2018.
Bollman is now the lead singer on the Carnival Cruise Line Ship. She entertains the thousands of people aboard the cruise liner each night as they traverse various parts of the Panama Canal and the western Caribbean.
Sophia Bollman's Height, Weight, and Other Body Measurements
Sophia Bollman is 5 feet 5 inches tall, while her weight is estimated at 55 kg. Other body measurements are not available, but a simple glance at her would reveal that she has a sexy physique that will induce envy and admiration in many.
The singer has yet to share the secret behind her awesome figure, but there is no gainsaying the fact that a healthy lifestyle, comprising of a good diet and regular exercise, must be the secret to her figure.