MLB star Shohei Ohtani does not have a wife, but he is rumored to be in a relationship with fellow pro athlete Kamalani Dung. There is no confirmation of this romance, and the two parties involved continue to make exploits in their respective leagues. For Ohtani, he mesmerized the MLB with his performance in 2021 and scooped up several individual accolades on offer. On her part, Dung is also making waves in the Athletes Unlimited Softball League.
Shohei Ohtani is not Married but Rumored to be Dating Fellow Pro Athlete – Kamalani Dung
Shohei Ohtani is not married, but he is rumored to be in a relationship with professional softball pitcher Kamalani Dung. Unlike Ohtani, who is Japanese, Dung is American and was born on the 4th of March 1997. Her birthplace is Waianae, Hawaii and her ethnicity is a mixture of several heritages, including Hawaiian-Polynesian, Puerto Rican, Caucasian, and Chinese-Asian.
Dung spent her formative years in Waianae alongside her father – Lance Dung, her mother – Honey Rodrigues, and her younger brother, Lance Jr. She fell in love with softball (a modified version of baseball). At the same time, she was still tender and taught herself how to pitch by watching YouTube videos.
Afterward, she played competitively for four years for her high school – Kamehameha Kapalama High School. During her high school days, Dung was so good that she captained her team to three Division 1 Conference Championships. She also earned a softball scholarship to Fresno State University in 2015.
Shohei Ohtani's Rumored Girlfriend, Kamalani Dung, is a Professional Softball Player with the Puerto Rican National Team
Kamalani Dung spent four years playing collegiate softball, during which she played for institutions such as Fresno State (2015-2017) and the University of California at Berkeley (2017 – 2019). She continued her trailblazing ways as a pitcher for both schools and received national recognition for her superb performances.
She was also nominated for the most valuable pitcher during the Malihini Kipa Aloha Tournament in her junior year of 2018. Dung graduated from college in 2019 and now plays professional softball in the Athletes Unlimited League. She plays for the Puerto Rican national softball team on the international level.
She has represented them at several tourneys, including the 2018 Central American and Caribbean Games (where she won gold), the 2018 Women's Softball World Championship Tournament, the 2019 Canada Cup, 2019 Pan American Games (where she won bronze).
Shohei Ohtani and Kamalani Dung Sparked Dating Rumors after They were Pictured Together in 2018
One cannot say whether Shohei Ohtani and Kamalani Dung are a couple, but there are rumors in that regard. The rumors were first sparked in 2018 when Dung shared a picture of them on her Instagram stories. They looked pretty cozied up in the picture, and this sets; tongues wagging. It also led to many heartbreaks for Ohtani's female fans, who had held out some hope that he was single and therefore within reach.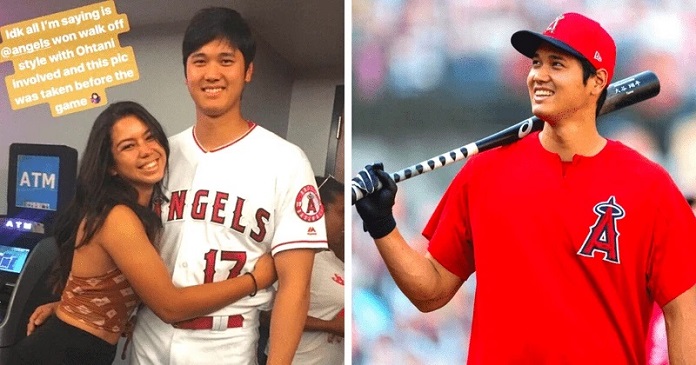 But There is No Confirmation That They Are Dating
The buzz generated by that Instagram story later died down, and it remained so for a few years until July 2021, when Shohei Ohtani was honored with the best MLB player award at the ESPY awards. His pictures were posted on the internet, and Dung was one of those that liked the pictures. This inevitably set off the rumor mill again.
Beyond these two instances, the duo has not been spotted out together. They have also never confirmed that they are an item. Therefore, we cannot say for sure whether Shohei Ohtani is in a relationship with Kamalani Dung or not. There are few facts to presume that they are in a relationship, but one cannot rule out that possibility entirely.
Ohtani is notorious for his semi-monastic lifestyle and keeps away from the media. It is, therefore, possible that he is in a romance with Dung but is shielding it as is well within his rights.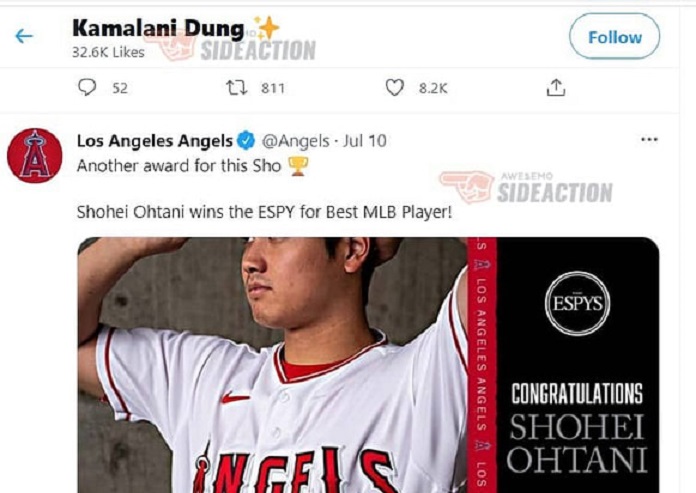 Shohei Ohtani's Dating History
It is hard to tell who Shohei Ohtani has dated in the past. As stated earlier, the baseball star has lived a semi-monastic life where he eats, drinks, and sleeps baseball. His extraordinary dedication to the game and exploits have made him a celebrity against his wish, and the media usually hound him.
To get away from that hounding, the baseball player goes to extraordinary lengths to protect his privacy. He uses an interpreter to communicate even though he has some knowledge of English. He also left it late, i.e., when he was 26 years old in 2020, to get a driver's license. All these make it hard to get an insight into Ohtani's love life and discover who his past girlfriends are, if any.
However, one thing that is for sure is that his dedication to the game has paid off. He had a mesmerizing 2021 season in which he made history as the first two-way player to record 10+ home runs and 20+ stolen bases as a hitter, and 100+ strikeouts and 10+ pitching appearances as a pitcher in the same season. This earned him awards such as AL MVP, Silver Slugger Award, and Edgar Martinez Award.
Other Questions You May Have About Shohei Ohtani
How old is Shohei Ohtani?
Shohei Ohtani is 29 years old as he was born on the 5th of July 1994.
Who are Shohei Ohtani's Parents?
Shohei Ohtani's parents are Kayoko and Toru Ohtani. His mother, Kayoko, is a former badminton player. At the same time, his father, Toru, is an automobile factory worker and an amateur baseball player who played in the Japanese Industrial League.
Who are Shohei Ohtani Family Members?
Asides from his parents, Shohei Ohtani's family members include his older sister Yuka and an older brother named Ryuta. Ryuta is an amateur baseball player in the Japanese Industrial League.
Who is Shohei Ohtani Girlfriend?
Shohei Ohtani's girlfriend is rumored to be a softball player named Kamalani Dung, but their romance is not confirmed.
What is Shohei Ohtani Height?
Shohei Ohtani's height is 6 foot 4 inches or 1.93m.
What is Shohei Ohtani's Weight?
Shohei Ohtani's weight is listed as 95kg or 210 lbs.
What is Shohei Ohtani's Salary?
Shohei Ohtani's salary is $3 million for 2021 and $5.5 million for 2022.
How Much is Shohei Ohtani's Net Worth?
Shohei Ohtani's net worth is estimated at $10 million.
How Many Home Runs Does Shohei Ohtani Have?
Shohei Ohtani has 93 home runs and counting in the MLB.