Jeffrey Robert Lurie (born September 8, 1951) is a 71-year-old American billionaire well-known as the owner of the Philadelphia Eagles of the National Football League. He is also renowned as the producer of many well-known movies. 
Having been active since 1991, Lurie has steadily proven how adept he is at business over the last few decades. However, his magnum opus remains the astonishing work he has done with the Philadelphia Eagles. After buying the team for close to two hundred million dollars in 1994, Jeffrey has led them to countless victories in the NFL, most notably, at the Super Bowl LII. Here is what you need to know about Jeffrey's life.
Jeffrey Lurie's Biography Summary
Full Name:

Jeffrey Robert Lurie

Gender:

Male

Date of Birth:

September 8, 1951

Jeffrey Lurie's Age:

71 Years Old

Ethnicity:

Caucasian

Nationality:

American

Zodiac Sign:

Virgo

Sexual Orientation:

Straight

Religion:

Christianity

Marital Status:

Married

Jeffrey Lurie's Wife:

Tina Lai ​

Jeffrey Lurie's Children:

Milena Caitlin (daughter) and Julian Furie (son)

Jeffrey Lurie's Parents:

Nancy Smith Lurie (mother) and Morris John Lurie; Philip Smith (grandfather)

Siblings:

Peter Lurie (brother) and Cathy Lurie (sister)

Jeffrey Lurie's Height in Inches:

75 Inches (6 Feet 3 Inches)

Jeffrey Lurie's Height in Centimeters:

191 cm (1.9 m)

Jeffrey Lurie's Net Worth:

$4.4 Billion

Famous for:

Being the Owner of the Philadelphia Eagles

Twitter:

@jeff_lurie
Jeffrey Lurie was Born in 1951
Jeffrey Robert Lurie is presently 71 years old. He is American by nationality and Caucasian by ethnicity. His zodiac sign is Virgo being that he was born on September 8.
Lurie's parents Morris John Lurie and Nancy Lurie (née Smith) were Jews who lived in Boston, Massachusetts. This is where Jeffrey spent most of his early childhood. Although his parents were Jews, Lurie has lived his entire adult life as a non-practicing Jew. He has not openly identified with any other religion either.
His birth family had rather influential roots, which perhaps molded him for the fortune he built in his own time. Lurie's grandfather, Philip Smith, was the founder of General Cinema movie theater which grew to become one of the biggest operators of drive-in theaters in the U.S. His uncle Richard A. Smith was a very successful businessman.
He and His Siblings were Largely Raised by Their Mother 
Jeffrey grew up with two siblings, Peter and Cathy Lurie. The three were raised by their mother, Nancy, after their father passed away at the age of 44 on April 14, 1961. Lurie was nine years old at the time. 
He schooled and acquired his first degree from Clark University, moved on and got his Master's degree in psychology from Boston University, and finally, a doctorate degree from Brandeis University's Heller School for Social Policy and Management. Having garnered a lot of knowledge, Lurie gave being a scholar an effort when he worked as an adjunct assistant professor of social policy at Boston University. This did not last long as he quickly moved on to things he was more passionate about. 
Lurie Followed His Great Grandfather's Steps to Become a Movie Producer
When Jeffrey left the academic world in 1983, he went to work at General Cinema Corporation, a motion picture studio owned by his great-grandfather and run by his uncle Richard A. Smith. He served as a bridge between General Cinema Corporation and the Hollywood production industry. He also worked as a consultant for the company's national film purchasing office.
With the experience he gathered from working with General Cinema for about two years, Jeffrey established his own production company called Chestnut Hill Productions in 1985. The company produced a number of Hollywood films and TV programs. One of his films, Inside Job, received an Academy Award for best documentary feature on February 27, 2011. 
His film Inocente got him a second Academy Award, winning Best Documentary Short Film in 2013. Many years later, in 2022, he got his third Academy Award for his work on the Summer of Soul documentary. Below is a list of the movies Jeffrey has produced since he founded Chestnut Hill Productions.
Filmography as a Producer
Sweet Hearts Dance

(1988)

I Love You to Death

(1990)

V.I. Warshawski

(1991)

Foxfire

(1996)

Blind Side

(1993)— Executive Producer

Inocente

State of Emergency

(1994) — Executive producer

Malibu Shores

(1996) —Co-executive Producer

POV

(2014) — Executive Producer
As an Actor
Jerry Maguire

(1996), as

Himself

Jerry Maguire

Special

(1996) 

The Garbage Picking Field

(1998) 

Goal Kicking Philadelphia

Phenomenon

, as Barney's Friend

Arliss

(2000), as Himself
Jeffrey Lurie Became the Owner of the Philadelphia Eagles After Paying $195 Million
Lurie was a huge fan of American football and would often fall asleep listening to games on his transistor radio. After many years of following the sport as an avid fan, he decided to become more involved. This decision was quickly followed by his first attempt to buy the New England Patriots in 1993. His move was unsuccessful when he dropped out of the bidding war after it hit $150 million.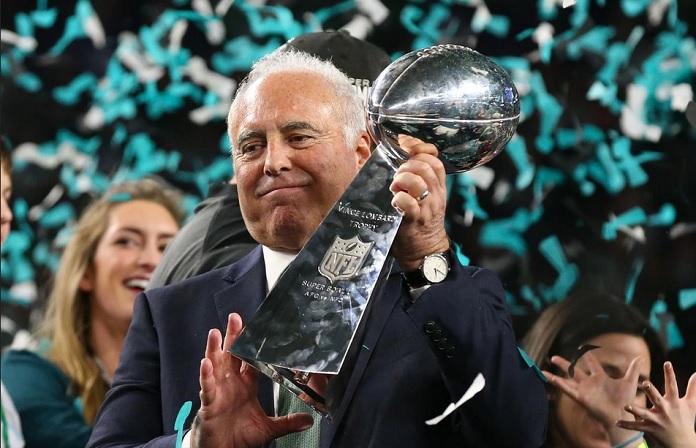 His bid was also allegedly unsuccessful because his uncle Richard Smith put an end to the bid. His name came up in the sale talks for clubs like the Los Angeles Rams. Months later, his uncle relented and approved his move for The Philadelphia Eagles.
Hence, on May 6, 1994, after negotiations with former club owner Norman Braman, Jeffrey Lurie became the new Philadelphia Eagles owner. The buy cost him a whopping $195 million. The club was valued by Forbes at $2.65 billion in 2017, making them the tenth-most valuable NFL team.
Jeffrey Lurie won his first championship as the Eagles owner when the team defeated the Patriots 41–33 on February 4, 2018, to win Super Bowl LII. Due to the previous Super Bowl appearance during the Lurie era, a 24-21 loss to the Patriots in Super Bowl XXXIX, the victory evened the score with New England Patriots.
Jeffrey Lurie's Net Worth is 4.4 Billion Dollars
In January 2023, the total real-time net worth of Jeffrey Lurie was said to be $4.4 billion. The bulk of his income comes from his efforts as an actor, and movie producer, and his ownership of the Philadelphia Eagles. It's important to remember that he was also a former social policy professor. On its own, the Eagles are worth $4.9 billion, which is where most of Lurie's net worth comes from.
Besides working as an executive for his grandfather's film firm, General Cinema Corporation, and his own Chestnut Hill Productions, he also founded the Eagles Autism Challenge, which over the previous two years has raised $6 million.
Who is Jeffrey Lurie's Wife, Tina Lai?
The Birds' owner wedded former restaurant manager Tina Lai in a small ceremony that was held in Charleston, S.C.
Family and close friends attended the private ceremony on May 6, 2013. His wife Lai (born in 1973) succeeded her brother, Benny Lai, as manager of Vietnam Restaurant in 2008. Presently, however, she no longer works at the well-known Chinatown establishment. 
According to reports from an anonymous family representative, the couple chose to keep their wedding details private. In West Philadelphia, Lai's family manages the Vietnam Cafe. She is the youngest of eight children.
His marriage to Tina Lai is his second attempt at matrimony. Lurie was previously married to Christina Weiss Lurie. The couple met while Weiss was working for his production firm on a pre-production meeting for the movie I Love You To Death. 
Lurie married Christina in Gstaad, Switzerland, in 1992. The couple announced their separation in 2012 after spending twenty years together and birthing two children while at it. Their divorce was formalized in August of the same year. Christina has a stake in the Eagles and is very involved with the Eagles Youth Partnership. On the other hand, Lai reportedly won't have any official roles with the Eagles.
Jeffrey Lurie is a Father to Two Children
His marriage to ex-wife Christina Weiss produced two children; Julian Lurie his son and Milena Caitlin his daughter. Milena Caitlin, Jeffrey Lurie's daughter and oldest child, was born in 1993 in New York. She is a filmmaker, but it has not been revealed whether she works with her father's production company or chose to chart her own course.
In 1995, Julian Lurie, Jeffrey's second child, was born. Julian Lurie earned his Harvard degree in June 2017. After graduating, he served the NFL on a two-year rotating internship. According to reports, his father is preparing him for a high-level role in the hopes that he would one day succeed him as chairman and CEO. The sports network and brand Overtime currently employs Julian Lurie as a senior manager of business strategy.