Patrick Lavon Mahomes Sr. (born August 9, 1970; Age: 52 years old) is a former professional baseball pitcher in Major League Baseball (1992 – 2003). Since retiring, he has earned fame with the skyrocketing success of his son, Patrick Mahomes II, who plays as a quarterback in the NFL.
Summary of Patrick Mahomes Sr.'s Bio
Full name: Patrick Lavon Mahomes Sr.
Nickname: Pat Mahomes
Gender: Male
Date of Birth: August 9, 1970
Pat Mahomes' Age: 52 years old
Ethnicity: African-American
Nationality: American
Zodiac Sign: Leo
Sexual Orientation: Straight
Religion: Christianity
Marital Status: Divorced
Pat Mahomes' Ex-Wife: Randi Martin
Pat Mahomes' Children: Patrick Mahomes Jr, Jackson Mahomes, and Zoe Mahomes
Pat Mahomes' Height in Inches: 6 feet 4 inches
Pat Mahomes' Height in Centimetres:193cm
Pat Mahomes' Weight: 79kg
Famous for: Being the father of Kansas City Chiefs quarterback Patrick Mahomes II
Pat Mahomes' Instagram: @silky_P
Twitter: @PMahomes
Patrick Mahomes Sr. is an African-American from Tyler, Texas
Patrick Mahomes Sr., fondly called Pat Mahomes, was born in Tyler, Texas, on August 9, 1970. Not a lot is known about the African American baseball pitcher's roots. There's no definitive way to tell who his parents are as he has not disclosed any detail about them, such as their names, occupation, religion, and other facts, nor has he disclosed if he has any other relatives.
Still, we can confirm that he is African American and is an American by nationality. Besides the fact that he's of African American ancestry, not much is known about his childhood background except that he was raised in Tyler, Texas, and is said to have spent much of his life there.
It is also unknown if Pat Mahomes was an only child of his parents or had siblings with whom he grew alongside.
Pat did not grow up without any form of education. The former baseball pitcher went to Lindale High School, a public high school located in Lindale, Texas. It is part of the Lindale Independent School District and serves students in grades 9-12 although it's unclear where he received his elementary education.
Information gathered from sources shows that the former baseball pitcher has always had a penchant for sports from an early age and showed remarkable skill with balls. From a young age, he discovered his knack for throwing balls, prompting him to fall in love with baseball.
During his school days, Pat was quite the three-sport star at Lindale High School in Texas, thriving in football, basketball, and baseball. He didn't start as a baseball player, as football initially sparked his interest. Unfortunately, after an injury during a high school game, he had to reconsider playing baseball professionally and started pitching during his senior year.
He was presented with offers from Division I universities to play basketball or football rather than baseball at the University of Arkansas, but he chose to pursue a career in the latter upon graduating high school. The Elizabethton Twins ended up drafting him in the sixth round of the 1988 MLB Draft.
Patrick Mahomes' Father Began His Career in The '80s
Patrick Mahomes Sr.'s professional baseball career began in the 80s when he signed with Elizabethton Twins as a pitcher and eventually made his major league debut four years later – before being traded to the Red Sox for Brian Looney in 1996. He played 21 games with Boston before moving on to Yokohama Bay Stars and signing with the New York Mets in December.
Pat became a free agent in 2000 and joined the Texas Rangers early the next year – then moved on to Chicago Cubs and Pittsburgh Pirates before retiring from professional baseball in 2004.
His Ex-Wife Randi Gail Martin is an Event Planner
Patrick Mahomes Sr's ex-wife, Randi Gail Martin, is an event planner widely recognized for being the mother of Patrick Mahomes II, the quarterback of the Kansas City Chiefs. She is best described as a strong-willed individual who ardently defends her family.
Randi Gail Martin was born on June 25, 1972. The ex-wife of the baseball pitcher had her primary and secondary school education in Texas, where she was raised by her parents, Randy Martin and Debbie Bates Martin. Her father was a school principal, while her mother's profession remains unknown. Besides this, not much is known about her professional life as an event planner.
At present, Pat's ex-wife Randi resides in Kansas City, Missouri and shares a close relationship with her children. She has also shown unwavering support for her son Patrick Mahomes II, the quarterback of the Kansas City Chiefs.
Pat Mahomes and His Ex-Wife Randi Gail Martin Got Married in the 90s
Patrick Mahomes II's parents tied the knot in the 90s. Although not much is known about how they first met, it can be assumed they grew up in Texas. Neither of them is known to have been in any other relationships before meeting.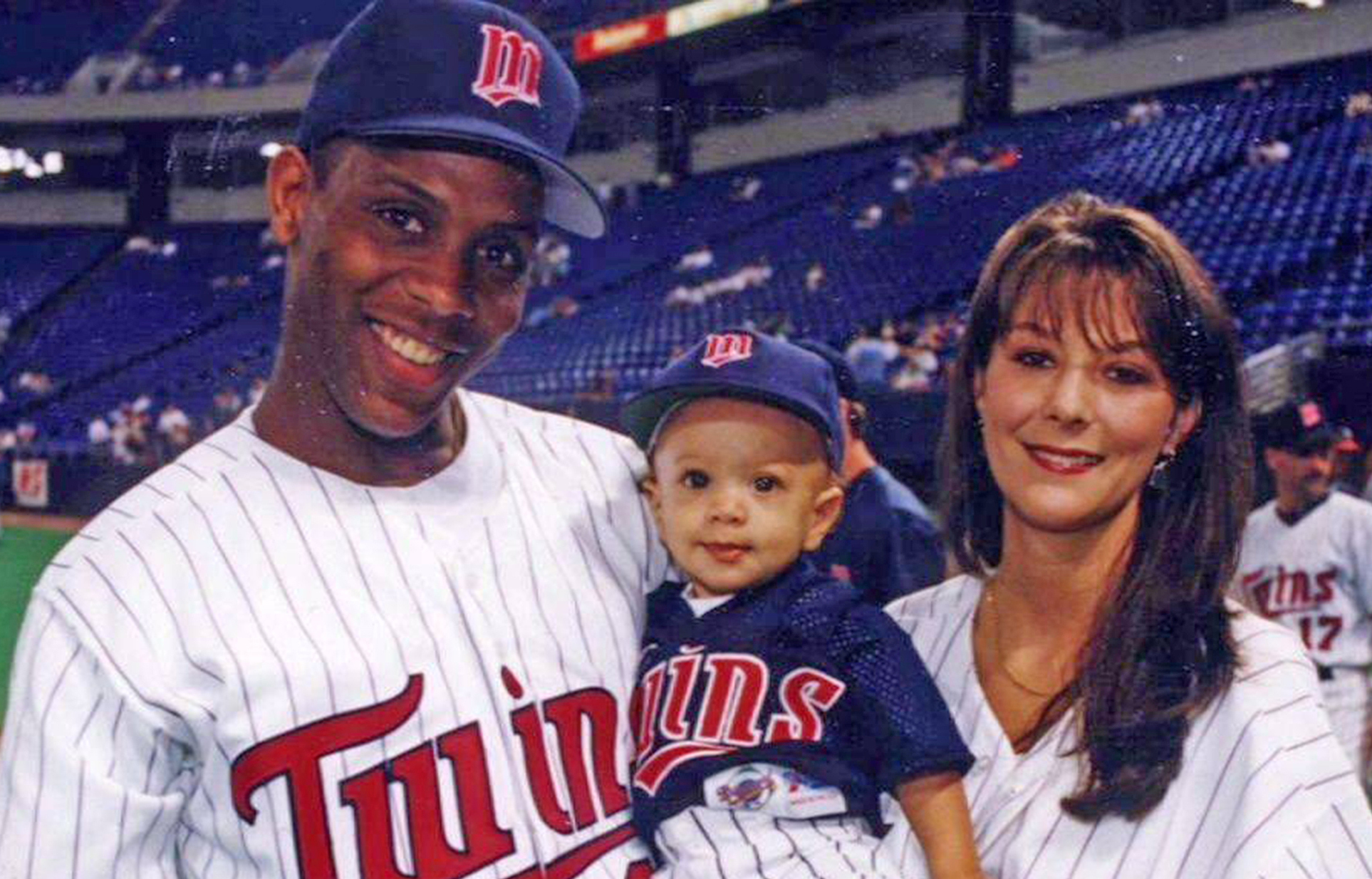 The couple stayed married for some years, and their union was blessed with two sons: Patrick Mahomes II (born 1995) and Jackson Mahomes (born 2000). Sadly, their marriage ended in 2006, though the cause is unknown. The separation happened when Patrick II was 6 years old; whether or not there was a court case is unclear, but Randi gained custody of their two kids.
Moving on from their divorce, Randi went into another relationship, resulting in her having a daughter named Mia Randall in 2011, who is a YouTuber and goes by the name Mia Bliss. Pat Mahomes is not said to have remarried, although he went on to have a daughter named Zoe Mahomes from a subsequent relationship.
Despite their divorce, both parents remain supportive of their sons Patrick and Jackson's interests and talents. They all make out time to watch their quarterback son's games as a family.
His Son, Patrick Mahomes II, is a Star NFL Quarterback
Born on September 17th, 1995, in Tyler, Texas – the largest city in Smith County – Patrick Mahomes II was named after his father and grew up with his parents Randi Gall and Pat Mahomes and siblings Jackson and Mia Randall. Although no one is sure where he received his elementary education, Patrick attended Whitehouse High School in Whitehouse, where he played all three major sports – football, baseball, and basketball – just as his father did.
Patrick II eventually chose football for his professional career instead of baseball like his dad, and his immense talent caught the attention of college scouts from universities such as Houston, Rice, and Texas Tech. He ultimately chose to attend Texas Tech University and play for the Red Raiders throughout college.
Patrick Mahomes Sr was of Great Influence on His Son's Career Choice
It is clear that Pat Mahomes Sr. had a big influence on his son's life. In an interview, Patrick Mahomes II confirmed this when he said he drew inspiration from his father and wanted to continue in the legacies that had been established.
While his son was still very young, Pat Mahomes would take him to the ball field and have him chase balls among other baseball players so as to make him pick an interest in baseball. His initial execution of the idea was successful as Patrick picked interest in baseball and excelled. He was even selected as a potential player in the MLB draft of 2014, but he declined the offer.
Patrick Mahomes II later chose to pursue a career in football, and his baseball knowledge was of great help to him as a quarterback.
Pat Mahomes Sr's Height and Weight
Pat Mahomes stands is 6 feet 4 inches (193 cm) tall. The former professional baseball pitcher is also said to weigh about 79 kg (174 pounds) which we can say is complimentary to his height.