OhGeesy (Real Name: Alejandro Coranza; born November 27, 1993) is a 28-year-old Mexican-American songwriter, rapper, and entrepreneur. He is 5 feet 6 inches (167 cm or 1.67 m) tall and has an estimated net worth of $3 million.
The talented rapper is best known for being a member of the hip-hop group known as and referred to as Shoreline Mafia. The group is currently signed to Atlantic Records and is best known for songs such as Bottle Service, Breakdown, and Nun Major, among others.
OhGeesy and his hip-hop group have tickled the fancy of the general public and have ridden the wave of that public admiration to celebrity status. Learn everything you need to know about the Mexican-American sensation known as OhGeesy.
Summary of OhGeesy's Bio
Full Name: Alejandro Coranza
Nickname: OhGeesy
Gender: Male
Date of Birth: November 27, 1993
OhGeesy's Age: 28 years old
Ethnicity: Hispanic
Place of Birth: Los Angeles, California, United States
Nationality: American
Zodiac Sign: Sagittarius
Sexual Orientation: Straight
Religion: Christianity
Marital Status: Dating
OhGeesy's Girfriend: @allurexnu
OhGeesy's Children: Sincere Juelz Karin Coranza (son)
Siblings: Julian Coranza (brother)
OhGeesy's Height in Inches: 5 feet 6 inches
OhGeesy's Height in Centimetres: 167 cm
OhGeesy's Weight: 74 kg (163 lbs)
Eye color: Dark Brown
Hair Color: Black
Profession: Rapper, Songwriter, Entrepreneur
OhGeesy's Net Worth: Est. $3 million
Famous for: Being a rapper and a member of the hip-hop group Shoreline Mafia
OhGeesy's Instagram: @ohgeesy
Twitter: @OHGEESY
OhGeesy's Real Name Is Alejandro Coranza
OhGeesy was born Alejandro Coranza on November 27, 1993. His birth sign is Sagittarius, and his ethnic identity is Hispanic. Not much is known about OhGeesy's Mexican parents. We, however, know that they are no longer together.
Certain sources have revealed that the rapper's birth father was incarcerated for drug trafficking, but those sources have yet to be verified. OhGeesy reportedly had a stepfather at one point, but he was primarily raised by his mother.
How Old Is Ohgeesy?
OhGeesy is currently 28 years old. The rapper also has a brother named Julian Coranza, who stays out of the limelight, so there is no way to tell if OhGeesy is the older or, the younger of the two brothers.
The talented singer has lived practically all of his life in Los Angeles, and some records attest that he got his high school diploma from Redondo Union High School there in Los Angeles. His strong passion and desire to get more out of his music career meant that OhGeesy had to abandon any quest or aspiration to acquire more formal education at the collegiate level.
OhGeesy Joined The Music Business At the Age of 19
The rapper had grown up listening to famous rappers like Gucci Mane and 50 Cent and was heavily influenced by their musical style. In pursuit of that musical passion, OhGeesy met another rapper named Fenix Flexin (real name: Fenix Rypinski), and the duo worked together to share their music on SoundCloud.
All these happened in 2012, and OhGeesy was only 19 years old at the time. Some of the tracks they uploaded to the Cloud include Tha Field, Tommy by Tha Gucci, Home Invasion, and Vice City.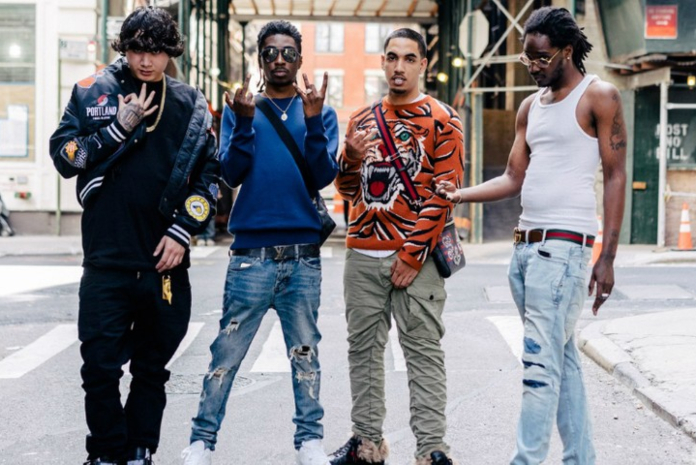 A couple of years later, in 2014, OhGeesy and Fenix Flexin saw their group expand to include Master Kato (real name: Malik Carson) and Rob Vicious (real name: Robert Maggee). They soon rebranded to become the Shoreline Mafia officially and were also soon signed to Atlantic Records.
As Shoreline Mafia, OhGeesy and the other group members collaborated to drop songs such as Whuss The Deal, Bottle Service, and Nun Major. These songs were the first official songs attributed to the group, and people were starting to notice.
2017 was the year, OhGeesy and the rest of the team members confirmed their status as a celebrity rap group, and they did so by dropping their first mixtape, titled ShoreLineDoThat Sh*t. The mixtape was considered nothing short of spectacular by rap critics. The group released another mixtape titled Traplantic, along with an album they called Mafia Bidness.
The group toured the United States in 2018 and performed at some iconic events, including the Los Angeles iteration of the Rolling Loud Festival in December 2018. In April 2020, however, and before the release of the Mafia Bidness album, Fenix Flexin, one of the group's founders, decided to call it a day with the ShoreLine Mafia.
This led to a sequence of events that culminated in the group's dissolution after the release of Mafia Bidness. At first, no one knew why the group split up, and the group members were also not very forthcoming with explanations.
As time passed, however, Fenix Flexin offered a bit of explanation into why he decided to quit the group. He stated that it had nothing to do with the music but more to do with the fact that he was being left out of important decisions. He also stated that he was not satisfied with the way things were going.
OhGeesy, on his part, put the separation down to creative differences and also on the fact that his becoming a father was a big deal to him and meant he had to take fewer risks which in turn required him to take more time to think on issues.
OhGeesy's Net Worth Is $3 Million
With ShoreLine Mafia now a thing of the past, OhGeesy switched his focus to making music as a solo artist. Even before the 2020 pandemic confined everyone to their homes, OhGeesy was already working on an album. The album GeezyWorld was released in August 2021, and the rapper, who is still signed to Atlantic Records as a solo artist, has tour dates lined up to promote the album.
OhGeesy's hard work as a rapper and a songwriter has benefited him on not just the career level but also the financial level. Over the years, the rapper has been able to amass a net worth that is currently estimated to be around $3 million.
How Tall Is OhGeesy Compared To Other Shoreline Mafia Members?
OhGeesy is not the tallest of men. As a matter of fact, the LA-born rapper stands at a rather diminutive 5 feet 6 inches (168 cm or 1.68 m) height. That is the same height as his former group member Fenix Flexin. Not much is known about the heights of the other two former members of the now defunct ShoreLine Mafia music group.
Adjusting to the split of the ShoreLine Mafia was not an easy experience for OhGeesy, not by a long shot. Still, it will take more than that to stifle or put paid to the musical ambitions of someone as passionate, driven, and motivated as OhGeesy.