Ben Domenech is a conservative American writer, TV commentator, podcaster, and editor. He has an impressive net worth of $2 million but is most famous as the husband of Meghan McCain, the popular TV personality, author, and daughter of the late senator John McCain.
Domenech and Meghan McCain began dating around 2015 and got engaged in 2017. They later tied the knot the same year of their engagement and have gone on to welcome a daughter together. The couple has built a thriving home life and is also thriving professionally. Domenech remains one of the most visible conservative voices in America and was signed on as a regular contributor for Fox News in 2021.
Summary of Ben Domenech's Bio
Full name: Ben Domenech
Gender: Male
Date of birth: 1st of January 1982
Ben Domenech's Age: 40
Ethnicity: Caucasian
Nationality: American
Zodiac Sign: Capricorn
Sexual Orientation: straight
Religion: Christianity
Schools attended: William & Mary College, and the University of Nebraska-Lincoln.
Marital Status: married
Ben Domenech's Wife: Meghan McCain
Ben Domenech's Children: Liberty Sage McCain Domenech
Ben Domenech's Parents: Douglas Domenech and Jeanne Marie Schram
Sibling: Emily Domenech
Ben Domenech's Height in Inches: 6 feet 0
Ben Domenech's Height in Centimetres: 183
Ben Domenech's Weight: 78 kg (171lbs)
Body measurements in inches: 44-42-14
Body measurements in centimeters: 111-106-35
Ben Domenech's Net worth: $2 million
Famous for: Meghan McCain's husband and publisher of the federalist online magazine
Ben Domenech's Instagram: @btdomenech
Twitter: @bdomenech
Facebook: @bendomenech
Ben Domenech is the Son of Douglas Domenech, Former U.S. Assistant Secretary of Interior
Meghan McCain's husband, Ben Domenech was born on the 1st day of January 1982 in Jackson, Mississippi. He has Caucasian and Puerto Rican background. His nationality is American and he grew up in the town of Charleston. Domenech hails from a family of four which includes his mom – Jeanne Marie Schram and his dad – Douglas Domenech.
Douglas Domenech is a seasoned public officer who held multiple positions under the George W. Bush administration. He later served as the assistant U.S. Secretary of Interior under the Trump administration from 2017 to 2021. Asides from his parents, Ben Domenech has a sister named Emily Domenech. Emily is a senior policy advisor on issues of energy and has worked for several republican congressmen. She is married to a man named Eric Frandy.
What is Ben Domenech's Net Worth?
Ben Domenech has a net worth of $2 million. His source of income is the several government and non-governmental positions that he has occupied. He has also built a storied career in conservative media in America, publishing newsletters and online blogs, and contributing columns to well-known publications.
Ben Domenech Worked as a Speechwriter for Senior Republican Politicians in the George Bush Era
Ben Domenech laid the groundwork for a successful career at a young age. As a teenager, he ran a blog and had his articles published in well-known magazines such as The Washington Post and The Washington Times. This helped him to build up a reputation and at the age of 20, he was appointed as an assistant in the speechwriting office at the White House. This was in May 2002 and he made history as the youngest appointee of the George Bush administration.
He also went on to serve as a speechwriter and chief speechwriter for prominent personalities such as John Cornyn and Tommy Thompson (then U.S. Secretary of Health and Human Services). While Domenech's salary during this period is not available, political speechwriters in the U.S. can earn from $63,200 to $140,151 per annum.
He is the Publisher and Co-Founder of the Popular Web Magazine, The Federalist
Ben Domenech is one of the co-founders and publisher of the popular online web magazine, The Federalist. The Federalist is conservative-leaning and covers politics, policy, culture, religion, and other areas. The magazine came into existence in 2013 and Domenech is the publisher. He also pens a newsletter for the magazine known as The Transom.
Domenech has spearheaded the growth of the Federalist into a successful publication but they have been dogged by allegations of publishing falsehoods and misinformation on issues of public importance such as the coronavirus. Their funding is also shrouded in mystery to this day. This makes it a bit difficult to know what Ben Domenech earns from the magazine but it should be impressive, given his dual positions as publisher and co-founder.
Onward and upward. pic.twitter.com/ftXxjAmXJz

— Ben Domenech (@bdomenech) March 25, 2022
Ben Domenech was Made a Regular Fox Contributor in February 2021
After several years of guest appearing on Fox News, Ben Domenech was made a regular contributor to the channel in February 2021. In this role, he provides political commentary on several of the network's flagship programs. His work also extends to their other platforms including Fox News Audio where he hosts a regular podcast.
Domenech's salary as a Fox News contributor is not known but past reports show that the network can pay anything from $31,336 to $569,423, depending on how high profile the individual involved is. The average is $141,000, meaning that Domenech is earning something decent.
Sources of Ben Domenech's Net Worth
Speechwriting salaries
Income from the Federalist Magazine
Income from Fox News Contributor work
Ben Domenech Has Faced Allegations of Plagiarism and Penning Paid Opinion Pieces
Domenech has had an accomplished career as a conservative commentator but it has not come without controversies though. As far back as March 2006, he was alleged to have copied another author's work in an article he submitted to The Washington Post. He initially denied it but later owned up and resigned from the newspaper just three days after joining them.
In 2013, Domenech was accused of collecting money in order to launder the image of the Malaysian government through favorable articles. Such a financial receipt was not necessarily illegal but unethical, especially if not revealed beforehand. This act of Domenech's forced several publications to dump articles that he had written for them. Some of them include The Washington Examiner, The Huffington Post, The San Francisco Examiner, etc.
Charting the way forward: subscribe to my daily newsletter, The Transom, at https://t.co/JELlckZneW pic.twitter.com/UDxvGSlm9i

— Ben Domenech (@bdomenech) November 7, 2016
His Federalist Magazine has also Faced Allegations of Racism and Publishing Falsehoods
Ben Domenech has also faced some scathing criticism as a result of his Federalist magazine. The online magazine has been accused of racism. In fact, they once had a black crime tag and only removed it after an outcry. The Federalist has also come under harsh criticism for some of their articles. They are accused of spreading so many falsehoods during the height of the Covid-19 pandemic.
The Federalist has also come under scrutiny for the lengths they are willing to defend conservative politicians. For instance, in 2017, a longstanding Republican Roy Moore was forced to step away after admitting to dating teenagers. The Federalist however published a piece that defended his actions. The article was condemned by both sides of the political divide.
He is Married to Meghan McCain, Popular Author, TV Host, and Daughter of Late Senator John McCain
Despite his career achievements, Ben Domenech is most famous for his marriage to Meghan McCain, the popular author, and TV host. Meghan McCain is the daughter of the late Senator John McCain and got exposed to politics at an early age. Upon completing her college degree, she joined her father's world by blogging about politics, as well as writing a book about her dad. This was in the 2000s and Meghan McCain has since emerged as a prominent author and columnist.
She has penned several more books, including Bad Republican and Dirty Sexy Politics. She has also penned columns for publications such as The Daily Beast and Dailymail U.K. Meghan McCain is also a TV personality, contributing to the likes of Fox News, NBC, and MSNBC. From 2017 to 2021, she co-hosted the popular daytime talk show, The View. She represented conservative voices on the show and received two Daytime Emmy nominations for outstanding entertainment talk show host awards in 2018 and 2019.
Ben Domenech and Meghan McCain Began Dating in 2015 and Got Engaged in 2017
Ben Domenech and Meghan McCain first met each other in 2015. They bonded over their shared love of conservative values, as well as other interests and began dating that same year. Their romance grew stronger with each passing day. Part of the reason for this was their shared values. As a conservative, Domenech held strong family values. Meghan herself was also at a point in life where her goals included starting a family.
They were thus very much in sync and incorporated each other into their respective lives. For instance, Meghan let Domenech in on the fact that her dad was suffering from cancer and he was there for her through it all. He offered her so much support during that period and their love further grew. They ended up getting engaged in July 2017. Her father also approved of their romance, describing Domenech as a very fine young man.
Ben Domenech Became McCain's Husband in 2017
Upon getting engaged, Ben Domenech and Meghan McCain initially planned to take their time and put together a big wedding. Matters were however forced out of their hand when Meghan's dad's health deteriorated. The TV personality really wanted her dad to be present at her wedding and so decided to push up the ceremony.
Ben Domenech and Meghan McCain got married on the 21st of November 2017 in a ceremony held at her family's ranch in Sedona, Arizona. The wedding was quite gorgeous and had a western hunting-lodge theme. It featured about 117 guests, including their family and loved ones, and the couple celebrated with dinner and dancing. The bride's father was also in attendance, and gave her away, which made her quite happy.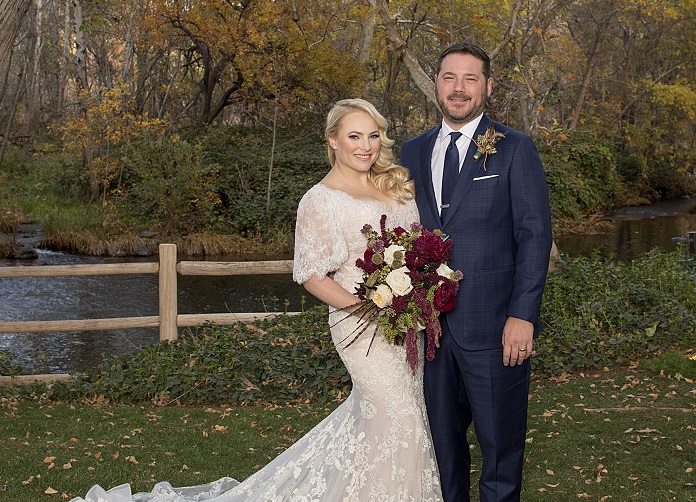 The Couple Welcomed Their Daughter, Liberty Sage in September 2020
Ben Domenech and Meghan McCain have been married for 4 years now and their union is going strong. The couple make their home in Washington D.C. and welcomed their first child, a daughter named Liberty Sage McCain Domenech, in September 2020. It was quite an emotional one for them as they had earlier suffered a miscarriage in 2019.
They were thus happy to welcome a healthy and happy baby and Meghan took to social media to share the good news with the whole world. She stated that they were completely and utterly in love with their daughter and felt indescribably blessed and blissed out.
It has been some years since that time and McCain continues to offer fans a glimpse into the family life she has with Domenech. She has posted pictures of her daughter's birthday celebrations. She has also shared pictures of the entire family exploring the woods during the holiday season.
How Many Times Has Ben Domenech Been Married?
Ben Domenech has been married three times. His marriage to Meghan McCain is the third one and he will be hoping to avoid whatever mistakes plagued his former marriages and make this one go the long haul. For now, it seems he is doing a very good job at it. He was by his wife's side as she dealt with the devastating loss of her dad. He also held her hands and supported her through the funeral and other ceremonies.
Meghan McCain, on her own part, is appreciative of all this and has spoken about Domenech in glowing terms on several occasions. For instance, during an appearance on The View in 2019, she revealed that he carried her throughout her father's cancer ordeal. After they welcomed their child, she also thanked him for being such a strong, loving, and supportive partner throughout her pregnancy journey.
Who Was Ben Domenech's First Wife?
Ben Domenech's first wife is Caroline Seaton Powell. Sadly, beyond her name, there are no details about this lady such as her occupation, hometown, or even date of birth. There is also a paucity of details on her marriage to Domenech and what may have caused their divorce. The one thing that is for sure is that they got married in 2003.
At that time, Domenech was starting his career and had scored a big win after being appointed a speechwriter for the health and human services secretary. He had everything going for him and he and Caroline must have had a good life before divorcing in the mid to late 2000s. Their divorce may have been brought on by issues such as a busy schedule.
Who Was Ben Domenech's Second Wife?
Christine Elizabeth Klima is the second wife of Ben Domenech. Not a lot of details abound about her but some things are certain, including the fact that she has American nationality.
Ben Domenech and Klima wed in 2010 and their marriage lasted for a few years and crashed before 2015. The reason for the divorce is not known but it could have been a result of their demanding careers or simply a case of the couple growing apart from each other.