Malika Andrews (born 28th of January 1995; Age: 28 is an American journalist currently working with ESPN as a reporter and host. Malika is not married, nor does she have a known boyfriend, although she has been linked with a few men.
Malika studied communication at Portland University before going to work as a journalist. The CA native first gathered experience from media outfits like The Denver Post, The New York Times, and The Chicago Tribune before she scored her present job as a sports reporter and anchor for ESPN.
Summary of Malika Andrews' Biography
Full Name: Malika Rose Andrews
Gender: Female
Date of Birth: 28th of January 1995
Malika Andrews' Age: 28 Years Old
Ethnicity: Mixed
Nationality: American
Zodiac Sign: Aquarius
Sexual Orientation: Straight
Religion: Judaism
Marital Status: Single
Malika Andrews' Parents: Mike and Caren Andrews
Siblings: Kendra Andrews
Malika Andrews' Height in Inches: 5 feet 4 inches
Malika Andrews' Height in Centimetres: 162 cm
Malika Andrews' Weight: 57 kg
Body Measurements in Inches: 34-25-34
Body Measurements in Centimetres: 86-63-86
Malika Andrews' Net Worth: $1 to $5 million
Famous For: Being a Journalist
Malika Andrews's Instagram: @malika Andrews
Twitter: @malika_andrews
When was Malika Andrews Born?
Malika Andrews was born on the 28th of January 1995, which pegs her current age at 28. Malika was named Malika Rose Andrews at her birth which occurred in Oakland, California. It goes without saying that she is a citizen of the United States of America, but her ethnicity is listed as mixed, comprising Jewish and Afro-American.
Her father has been identified as Mike Andrews – an African-American who works as a personal trainer, while her mum Caren is a lawyer. Malika inherited her Jewish ancestry from Caren, while her African-American roots came from her dad, Mike. Thanks to her mum's heritage, Malika follows Judaism, and in 2008, she had the Jewish customary mitzvah.
Malika Andrews isn't the only child born to Mike and Caren, as the CA native grew up alongside an older sister, Kendra Andrews. Kendra is also a sports journalist who works for the Athletic and recently joined Malika in ESPN as an NBA reporter for the Golden State Warriors.
When quizzed about the source of their confidence, the Andrews sisters attributed it to their mother. According to Kendra, their mother went through law school as a pregnant woman and still managed to become the first female lawyer in her firm, and today, she is a partner.
Caren, who never liked to see her girls standing with legs crossed, would always advise them to "take up space" as, according to her, they are just making themselves smaller by assuming that posture. From an early stage, Kendra and Malika were taught always to make their opinion known without entertaining fears.
Caren and Mike Supported Malika when She Developed an Eating Disorder
At a point in her formative years, Malika Andrews had to battle with mental ill health as a result of an eating disorder. Her kind of ailment didn't really fit in a box, Malika revealed to the New York Post in an interview session. According to the CA native, she struggled with both purging and restriction – you cannot really tag it bulimia or anorexia, but it was closer to anorexia than bulimia, she said.
Trying to keep it in made Malika constantly depressed, anxious, and angry. She had to deal with occasional outbursts and deteriorating grades too; she became a school dropout in eighth grade. At this stage, her parents were totally ignorant of their daughter's condition until she decided to let them know about it.
When it became glaring that she needed professional help, Mike and Caren sent Malika to a Utah-based therapeutic boarding school. Despite all the challenges, Malika Andrews still managed to achieve early graduation at the age of 17.
Talking to the New York Post in an interview session years later, Caren summarized her daughter's life journey. Likening the entire experience to an "after-school special," the mother of two described Malika as a sweet kid that experienced a rough patch but was able to overcome it. The proud mother eulogized her daughter, who is now on national TV doing what she lives most.
On her own part, Malika views her move to seek her parent's help as a turning point and feels super proud of the success she has achieved today. Giving credit to her mum for all her support, The American journalist said she now enjoys a wonderful relationship with Caren.
Malika Andrews's Education
Malika Andrews was attending Head Royce School when she got booted out because of an eating disorder during her eighth grade. This experience led her parents to send the then-teenage girl to a Utah-based school for troubled teens, where she graduated high school at age 17 in 2012.
Andrews didn't proceed to college immediately after graduating from high school as the CA native took out one year to work with her grandma at the woman's civil rights law firm.
She later joined the University of Portland to study communications, graduating with a BA in 2017. Malika's days at the University were quite eventful as the blossoming journalist worked with the campus newspaper, The Beacon as a sports writer. She became the sports editor in the long run and later rose to the rank of editor-in-chief.
Malika Andrews wrote a memorable piece during her days as a student sports reporter. The story she published was about a player who sustained a brain bleed by hitting a wall. Her write-up led the school in question to put up padding to prevent similar occurrences in the future.
After college, Malika also touched down at the Sports Journalism Institute, where she bagged a scholarship courtesy of the National Association of Black Journalists.
Tracing Malika Andrews's Career Path
Malika Andrews started working as early as 2012 after she accomplished her high school graduation; her grandmother took the youngster into her woman's civil rights law firm, where she put in one year. She only began pursuing a career in journalism as a student at Portland University and has achieved several career milestones in the field,
She Became an ESPN Reporter in 2018
She Joined ESPN in October 2018 at the age of 23. The media outlet hired her services as a sideline reporter for NBA. She was initially assigned to cover matches for the Bulls and Bucks and was later moved to New York, where she started covering the Nets and Knicks matches.
The sportscaster made her debut in ESPN as its sideline reporter during The 2019-20 season (The NBA Bubble) at the ESPN World of Sports Complex, Florida. She was on hand to work as a sideline reporter for the NBA Playoffs; this led her to be listed among the youngest sideline reporters in history for a Conference Finals broadcast.
Following the four-month break orchestrated by the Corona Virus pandemic, Malika Andrews emerged among the initial batch of reporters to work from the National Basketball Association's temporary campus located in Florida. She was put in charge of the NBA draft for 2020, which extensively featured virtual interviews with numerous top players.
In 2021, Andrews started hosting ESPN's day-to-day NBA studio show titled NBA Today. The show was created to cover the activities of the NBA countrywide. The journalist's work has been constantly featured on media outlets such as SportsCenter, ESPN.com, ESPN Radio, and several other ESPN properties.
Malika rose to national prominence after she took coverage of the NBA finals during the Orlando, Florida bubble, and her feat at covering the NBA players' boycott in cohesion with the "Black Lives Matter movement" was tagged as famous.
Her exceptional reportage has attracted the attention of prestigious media outlets like the New York Post that has eulogized the "garden party chic" style she displays on the court. According to the media house, Malika's signature look is what they tagged her "flowing floral feminine frocks."
Malika Held Down Other Jobs Before Moving to ESPN
As earlier mentioned, Malika Andrews first worked with her grandma before going to work for her school's publication, The Beacon. It was the work she did at The Beacon that paved the way for her in the labor market, as she was able to hit the ground running after college graduation.
Thanks to her work at the campus publication's sports segment, she was able to score a scholarship courtesy of the National Association of Black Journalists. With this, the then-aspiring sportscaster was exposed to an enviable opportunity to learn at the feet of celeb reporters of Sherrod Blakely and Marc Spears' ilk.
Adrian Wojnarowski – an NBA insider, noticed Malika's work on Beacon while on his way to the Portland University campus. When he eventually met Andrews a year later at one of the NBA's Summer League games, she was surprised to find out that he knew her by name. That particular meeting did a lot in the career life of the Portland University alum.
Malika Andrews' internship was accomplished at the Denver Post. She moved on to The New York Times, where she was engaged in the media outfit's sports section and bagged honors as a "James Reston Reporting Fellow."
From The New York Times, Malika landed at The Chicago Tribune, where she proceeded to spend one year as a news reporter before she was called up to work with ESPN.
The highlights of her career as a newspaper reporter include her coverage of the Donald Trump/Stormy Daniels case, where she collaborated with other reporters to unravel the mystery. Her 2017 report about how the horse business was affected by the Sonoma County fires during the fall earned recognition. Another good one was her x-ray on how kids' gymnastics was affected by the sexual abuse case of Larry Nassar.
Malika Andrews Has a Palpable Presence on Social Media
It has become the norm for celebrity journalists to create social media accounts through which they interact with fans, and Malika Andrews is no exception. She is very active on Instagram @malika Andrews.
Fans troupe into her page to view work-related photos and videos, and she has also shared some personal information about her life on the handle. Currently, the ESPN reporter has accumulated over 450k followers and has shared a total of 313 posts and counting.
On Twitter, she can be located at @malika_andrews, with a total of 265.7k followers.
Malika Andrews' Awards and Accolades
Malika Andrews' work in the field of sports has not gone unnoticed as the American journalist has been severally rewarded for her contributions. Below is a comprehensive list of her awards, nominations, and accolades.
She began sweeping awards as early as 2016 in Oregon when she emerged as the winner of the "Best Writer Award for College Students."
In 2021, she became an Emmy nominee for "Emerging On-Air Talent."
At different times, Malika has been honored by the Columbia Scholastic Press Association, the National Association of Black Journalists, and the Society of Professional Journalists for her work as the only Black female reporter in the NBA.
In 2021, Forbes named her to its 30 Under 30 list in the sports industry
In May 2022, she emerged as the winner of the "Outstanding Personality/Emerging On-Air Talent Sports Emmy."
Malika has been constantly featured on SportsCenter, NBA Countdown, Get Up, The Jump, Around the Horn, and several others.
The "2021 NABJ Michael J. Feeney Award for an Up-and-Coming Journalist' went to Andrews
The first time she made history was on the 23rd of June 2022, after she emerged as the first female host of the NBA Draft.
Apart from her awards, the Portland University alum has recorded a plethora of accolades in the course of her reporting career.
On the sixth of July 2021, ABC named her as its sideline reporter for that year's NBA Finals. The exposure of Rachel Nichols's audio recordings, where she was heard criticizing their network for choosing Maria Taylor as the Finals' main host, led to her sacking, and Malika was called to take her place.
The National Association of Black Journalists has her as one of its members, and she sits on the NABJ Sports Task Force's Scholarship Committee.
Is Malika Andrews Married?
Malika Andrews is not married and has never tied the connubial knot with any man. However, the ESPN reporter recently sparked engagement rumors when she was spotted with a ring on her finger. Needless to say, this sent fans digging, and they sure came up with interesting tidbits that still await confirmation.
Who is She Dating?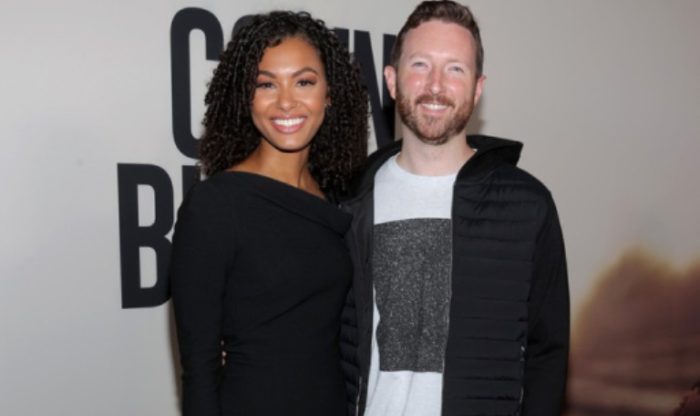 Malika Andrews has never come out in public to discuss her dating life, but the CA native found herself shipped with her colleague, Dave McMenamin, in 2022. Dave has been with ESPN since 2009 as one of their NBA reporters.
The speculations about the couple first surfaced in May 2022 when the duo was photographed attending an event together. The said picture came from Getty Image and was captured at Netflix's premiere of "Colin In Black And White" in 2021. Needless to say, the photo soon went public, leaving fans amazed.
The news about the duo intensified after Malika was spotted brandishing a ring on her finger. Fans immediately assumed that she may have gotten engaged to Dave. However, they never bothered to find out her reasons for wearing a ring which may well be far from becoming officially engaged.
The most interesting part of Malika and Dave's engagement rumors is the fact that neither of them has deemed it necessary to come up with a confirmation or a rebuttal. However, their nonchalance has not deterred fans from digging for info about this purported relationship.
Malika Andrews' Past Hookups and Breakups
Malika Andrews alleged relationship with Dave McMenamin is not the first time she has been linked with members of the opposite sex. In 2020, the ESPN host was once shipped with Richard Jefferson. However, this also remained a rumor and was never confirmed to date.