Marcela Basteri was an Italian actress and the mother of renowned Mexican singer Luis Miguel. Marcela Basteri was last heard of in 1986 when she suddenly disappeared from the surface of the earth.
Marcela Basteri, who was a native of Carrara, Tuscany in Italy, was never found alive to date, giving rise to so many theories surrounding her disappearance. There were versions of the story that claimed she was murdered, and other versions claimed she is alive and well and has even had other kids. However, this is just the tip of the iceberg.
Marcela Basteri is an Italian National
Marcela Basteri was born on 10th December 1946, and her place of birth is captured as Carrara, Tuscany, in Italy. This made her an Italian citizen, but her ethnicity is Latino. The Italian actress spent a better part of her growing-up years in Carra Tusly.
It is common knowledge that Marcela was born to Sergio Basteri and Vanda Tarrozzo, though their respective professions have never been mentioned in the public space. No mention has been made of any siblings for Marcela.
Growing up in Carrara, she achieved basic education in her locality, but there is a dearth of information regarding her academic history. As a young and impressionable girl, Marcela Basteri was always interested in acting.
However, when the time came for her to launch a career, she started on the runway, walking and working for both fashion and cosmetic brands. Through modeling, she moved into acting and was last seen at work in 1986.
Basteri Tied the Nuptial Knot With Luis Gallego Sánchez in 1970
The pretty Marcela Basteri was in a café in Argentina when she met the man who would become her husband, Luis Gallego Sánchez, AKA Luisito Rey. Rey was a sing-songwriter of Spanish origin who wasted no time in making his interest known to Marcela. The duo became an item and eventually got married in 1970.
Following their nuptials, the newlyweds decided to settle down in San Juan de Puerto Rico, which was where she gave birth to her first child, Luis Miguel (LuisMi), on 19th April 1970. April being just the fourth month of the year shows that Marcela was already in the family way before their 1970 wedding.
Luis became one of the greatest musicians that ever came out of Spain. Basteri soon had two more sons, Sergio Basteri and Alejandro Basteri. After she had her last child, Marcela Basteri battled with postpartum depression, and by then, Rey's quarrelsome character was already apparent, and he was also accumulating heavy debts here and there.
It was during this period that their marriage hit the rocks. This estranged her from LuisMi, who had just hit his teenage years. By 1986, Basteri was already working on their divorce. According to the actress, she had had it with Rey's humiliations and abuses. Thus, she traveled to visit her family in Carrara, telling them that her life was about to change.
Before her departure, Rey called, and they made arrangements to meet up in Madrid for their onward journey to Chile to meet their son, Luis Miguel. However, that was the last that was heard of the TV actress, and to date, her trail remains a mystery.
Marcela Basteri Had a Close Bond With Her Children
Even though Rey never saw eye to eye with his boys, the case was different for his wife, Marcela Basteri, who shared a close bond with their children.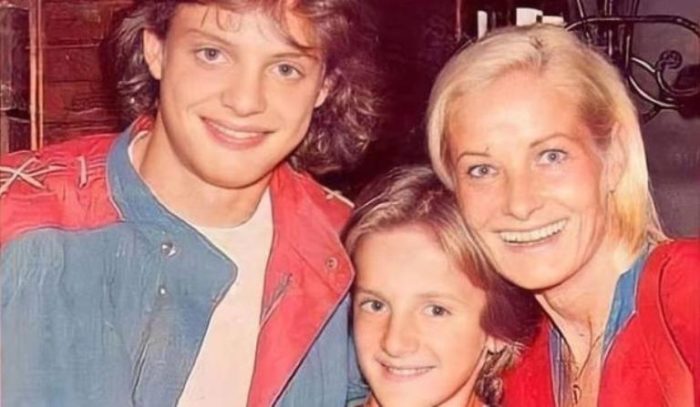 There was a time Basteri was halted at her son's concert and asked if she finds it challenging to be the mother of a musician as famous as her son, Luis Miguel, and in her answer, she said, "No, not to me." From that spot, she went into the Luna Park dressing room in Buenos Aires to hug her son.
This incident happened in 1985, and that marked the last public appearance of the actress. Luis Miguel, who has always called his mum a sweet and loving mother, requested her presence up stage where amidst hugs, he sang some of the verses composed by Rey for his mother years ago.
"Your words are caresses to my heart, Marcela / You lit my cloudy sky with your sun, Marcela." That was the last song the singer did for his mother and was also the last time mother and son would hug in the presence of thousands of viewers.
When his beloved mother got missing without a trace, Luis pulled all available plugs to find her. He even went to the extent of using his connections in the Mexican government. In the company of his younger brother Alejandro, he went to Italy, where he employed the services of Mossad agents in finding his missing mum.
Si se ve cuadro por cuadro el vídeo donde Luis Miguel le canta a su mamá, a Marcela se le ve una cara muy triste 😭 #LuisMiguelLaSerie pic.twitter.com/ajErNXNZsO

— .😷. (@aeneedecer) July 2, 2018
The bond between mother and son was so much that Marcela called Luis many fond names. In fact, she was the one who bestowed him with the moniker, El Sol de México, which has remained popular to date.
Talking about his father Rey, Luis described him as a bad father who was fast becoming bitter and frustrated. Even when he was informed that Rey had passed on, the Italian singer had to employ the services of detectives who investigated whether it was a new strategy that Rey wanted to use in extracting money from his son.
On what would have been Marcela Basteri's 75th birthday, one of her sons, Alejandro Basteri, got emotional. In the tender message he left for his missing mum, Alejandro said he remembers the woman deserving of all his love and affection and who has been his greatest inspiration in life. This message was accompanied by a touching picture of the actress. On that memorable day, Alejandro decided to launch his clothing line.
What Happened To Luis Miguel's Mom?
Marcela Basteri wrapped up filming for her second movie, Fever Of Love, on 16th March 1985, and little did fans know that it was the last time she would grace the screen. Though she wanted to stay with her family, her spouse's demand that she come to meet him in Spain prevailed.
Thus, on 18th August 1986, her family saw her off at Pisa airport on a flight bound for Madrid; they were hundred percent sure she landed in Spain. At this point in their union, the couple's marriage was already shaking as they had stayed apart for a long time.
Luis, who was then busy with his tours and concert, wasn't on hand to detect what happened to his mother, but with time, several theories started emanating from different angles.
Theories Surrounding Marcela Basteri's Disappearance
The difficulty in cracking the case of Marcela Basteri's disappearance triggered several theories which were never proven to date.
Luis Rey's Version
When Marcela Basteri was declared missing, her husband Rey was among the people that were questioned. According to the songwriter, the last time he set eyes on his wife was when he spied the mother of three eloping with her Italian lover.
There Were Claims That Marcela Basteri Died In A Mental Asylum
Another version of the story said that Rey, who was already infected with HIV, passed the disease onto his wife, and she was a patient in a mental asylum when she kicked the bucket.
The Tale of a Drug-Fueled Party
Soon, another rumor surfaced claiming that Basteri attended a drug-fueled party with Luisito, where she gave up the ghost. Her husband was said to have enlisted the help of some accomplices who assisted him in cleaning up by hiding the remains of his wife.
There Was a Story Claiming Basteri was Still Alive
A Reddit thread made references to a report which claimed Marcela was spotted in Buenos Aires. However, investigations revealed that it was just Honorina Montes – a woman with a close resemblance to the actress. It was not until 2008 that things began to take an interesting turn.
Marcela Basteri's story started trending in a magazine that claimed she resides in Spain's Canary Islands, precisely on the island of Gran Canaria. The publication even included the photos of the house where Basteri was purportedly living. There were also speculations that she touched down in Argentina.
Miguel Aldana's Version of the Tale
Mexico's director of Interpol, Miguel Aldana, soon weighed in on Marcela Basteri's magical disappearance that shook the foundations of the entire country. In his findings, Aldana reported that Basteri was alive and well and that she even had additional two kids. On why she never surfaced again, the Interpol director said she decided to go and start a new life in Argentina.
Aldana said Marcela thought it best to disappear to lessen the suffering of her three sons, who witnessed what she went through at the hands of their father. Thus, she saw disappearing in the light of liberation for herself and her boys. Aldana stated that Luis Miguel was already aware of this and has been in contact with Marcela severally.
Another Version Said Rey Killed Marcela Basteri To Cover Up 
While he was functioning as Luis Miguel's manager, Rey diverted funds to $20 million from the Italian superstar singer. Reports said his wife, Marcela, was privy to this piece of damaging information; she threatened to open up to Luis or report him to the appropriate authorities.
Rey created several companies undercover with the money he stole from Miguel. There was a tale that he needed his wife to append her signature on their son's musical contracts, but she took exceptions to that. Investigations revealed that Marcel's departure would give Rey a hundred percent control of Luis' physical and financial assets.
When it looked like Marcela would not spare Rey, the songwriter chose to eliminate her to cover up his crimes. His sister-in-law attested that the mother of three was drowned by her husband in a pool.
Did Luis Miguel Ever Find His Mother?
Several years after Marcela Basteri's disappearance, the real truth about the mother of three started surfacing. Luis paid his manager, Hugo Lopez, a visit on 9th December 1992 when he told her that his mum was sited leaving a bank the previous year.
Luis Miguel was already desperate to have some answers to all the mystery surrounding his mother's disappearance. He intensified his search efforts by hiring the services of a reputable Israeli intelligence agency to follow the new trail. On his return, the agent told Luis that the woman leaving the bank was not his mum, but she had Marcel's passport, which she had been leveraging in accessing his account.
The agent had photos to back up his claims, and upon citing the image, Luis immediately figured the lady out to be Maria – one of their neighbors during their time in Las Matas. It goes without saying that desperation sent the Spanish singer in search of Maria and when he found the woman, the real truth started coming out.
Maria Roped Uncle Tito and Luisito Rey In
According to Maria, Uncle Tito handed Marcela Basteri's passport through, which she was able to impersonate the mother of three and make withdrawals from the banks in her name. After each successful withdrawal, Maria said she handed the funds over to Luisito Rey and Uncle Tito.
Maria narrated how she heard screams in Las Matas one day and rushed to their house only to have Uncle Tito open the door for her with a bloody shirt. Luis, who lost his mind on hearing this, wasted no time confronting his Uncle. The Sun of Mexico demanded that Tito reveal the whereabouts of his missing mother, and it was at this point that the truth was finally bared.
At first, Tito pretended to be ignorant of the whole thing, but when the confrontation resulted in fisticuffs from Luis, who kept reminding him that he opened the door with a blood-stained shirt, his Uncle had no other choice than to confess. In his revelation, Tito said it wasn't his fault but Rey who forced him into blackmailing Maria.
It was also Luis' dad who supplied them with Marcela Basteri's passport and the account they were withdrawing from. As the heated argument raged on, Tito finally revealed the whereabouts of Basteri's remains. Luis Miguel's Uncle said, "Go to the bushes! Go to Las Matas, look for it. It was an accident, Micky."
At this point, it became clear to the famous singer that his mom was not just dead, but her death was excruciating.