Lisa Boothe has no husband at the moment and has kept a tight lid on her love life thus far. The Miami native is focused on furthering her career as a media personality, political strategist, and communications guru.
Boothe has worked as a communications director for several congressmen and women, including Sandy Adams. She has also penned columns for various publications and is now a regular contributor for the Fox News Channel. Boothe is not all work and has a supportive network of family and friends that she can rely on. She also has a beloved pet that she lavishes her love on.
Is Lisa Boothe Married?
Lisa Boothe is not married yet and has never been married. This is not due to an aversion to marriage but can likely be traced to the busy and successful career that she has established as a media personality, political strategist, and communications guru.
To set the ball rolling, Lisa Boothe initially obtained a degree in political science and government at the University of Tennessee, Knoxville. She hightailed it to Washington D.C. in 2008, where she landed the role of a staff assistant in Congress (specifically the House of Representatives).
Boothe spent a year and seven months gathering experience in this role and, in July 2009, joined the National Republican Congressional Committee as an assistant press secretary. She similarly spent a year and seven months in this role, during which her reputation rose to impressive heights.
She was courted by several republican congressmen to coordinate their communication efforts during the campaign. They include the likes of Sandy Adams and Tommy Thompson. Some of these candidates were successful at the end of the day, and Lisa Boothe accordingly joined their staff as communications director. After nearly six years of working in congress, Lisa Boothe bade farewell to the capitol in November 2013.
Since then, she has variously worked for a Fortune 500 company and a political research organization known as WPA. She also founded and ran her boutique political communications and public affairs firm known as High Noon Strategies. From 2016 to date, Lisa Boothe has also joined Fox News Channel as a regular contributor to their daytime and primetime programming.
Lisa Boothe is Rumoured to have Dated Fellow Communications Guru, Bourbonia Cummins
It is quite hard to come about any information on Lisa Boothe's love life or relationship history. However, she is rumored to have dated a fellow communications expert – Bourbonia Cummins. John Bourbonia Cummins is a communications policy expert, and just like Boothe, he equally studied political science in college.
He graduated in 2008 and commenced his career as a deputy director of volunteers for the late senator John McCain. After that, he worked in communications for the Republican National Committee. Between 2011 and 2017, Bourbonia Cummins closely worked with former representative-turned-senator Bill Cassidy.
He worked as a communications director for Cassidy during the latter's time in the House of Representatives. He also served as his communications director during his eventually successful bid for senate. Cummins quit working for Cassidy in September 2017 and now holds the position of director, U.S. Policy Communications and Media for pharmaceutical giants – Merck.
Lisa Boothe and Bourbonia Cummins Were Alleged to Have Dated in 2015, but the Romance is Unconfirmed
Lisa Boothe and Bourbonia Cummins sparked dating rumors in 2015 following a funny exchange on Facebook. Boothe had posted a photo on her page, and Cummins cheekily thanked her for cropping him out of the picture. She responded, "love you, mean it." There was no further exchange between the two at the time, but many assumed that they were dating at that point in time.
Such an assumption wasn't entirely unreasonable, factoring in the circumstances. Both Boothe and Cummins studied political science in college before going on to fashion out careers as communication experts, which means that they have a lot of common interests.
There is also the fact that they ran in the same circles while working for various congressmen and women, and senators between 2009 and 2017. Given all this, it is not entirely unreasonable to assume that Lisa Boothe and Bourbonia Cummins dated. However, it must be stressed that there is no confirmation of this relationship.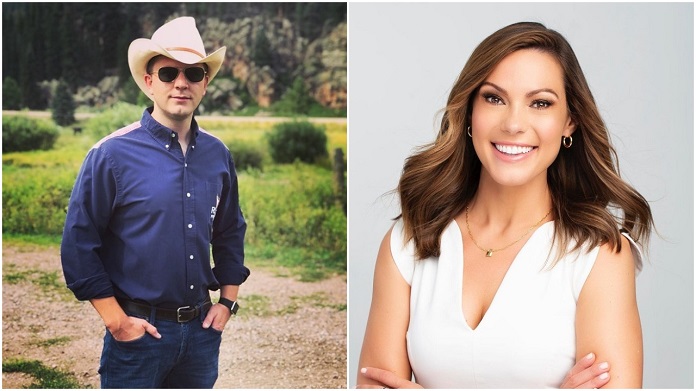 Lisa Boothe has a Great Support System in her Family and Friends
Since that rumored relationship with Bourbonia Cummins, Lisa Boothe has not been linked with any other guy. This may mean that she is single. It is also possible that she is in an active romance, but she chooses to protect it from public scrutiny.
Whichever it is, one thing for sure is that Lisa Boothe is not lacking in love in her life. She has a retinue of family members, friends, nieces, and nephews that she cherishes and who cherishes her likewise.
A look at Lisa Boothe's Instagram page will reveal that she regularly travels back home to Miami to spend the holidays with her parents, Jeffrey Faris and Dianne Marie. She also regularly shares sweet tributes to them. She has described her parents as loving and amazing.
On the occasion of father's day in June 2020, she described her father as her rock, coach, and mentor and stated that she was grateful for an amazing dad who would do anything for his family. Lisa Boothe is also quite close to her siblings. The Fox News personality has three brothers: Ryan Jeffery, Michael Robert, and James Christopher. She cherishes them as well as their wives and offspring.
Boothe has shared multiple photos of herself hanging out with her sisters-in-law and her nieces and nephews. She has also included her beloved brothers in her father's day tributes. Asides from her family, Lisa Boothe also has several colleagues and pals that she is close to and faithfully documents their hangouts on her Instagram page.
She also has a Beloved Pet Dog Named Bella
Lisa Boothe does not have a child of her own yet, but she is a parent to a beloved cavalier, King Charles spaniel, which she named Bella. She and Bella have been together for several years now, and her Instagram page is filled with pictures of her beloved dog. She has described him as her love bug, among other things. She has also shared some insights into his idiosyncrasies, including the fact that he loves being outside but does not like storms or wearing bows.