Like the spouses of famous people, kids also receive huge attention in their lives when either of their parents is a public figure, such is the case with Leeya Eliana Shapiro. Though her level of fame is not quite like Blue Ivy's, she is still a celebrity kid who many want to know about due to her father's popularity. Leeya's father is a conservative political commentator and media host known as Ben Shapiro who is famous for his eponymous podcast. Controversial comments that Ben has made about feminism, abortion, and other sensitive topics on his podcast are among the main reasons many are curious about the kind of family he leads. Ben Shapiro seems to be doing well as a family man, at least as far as the media can tell. Leeya Eliana Shapiro is one of his daughters whom he shares with his wife, Mor Shapiro.
Profile Summary Of Leeya Eliana Shapiro
Full Name: Leeya Eliana Shapiro
Date of Birth: 28th January 2014
Star Sign: Aquarius
Age: 7
Place of Birth: Los Angeles, California
Gender: Female
No of Siblings: 2
Position in the family: 1st
Mother: Mor Shapiro (nee Toledano)
Mother's Occupation: Family medicine practitioner
Father: Ben Shapiro
Father's Occupation: Podcaster and Media Host
Family Member: Abigail Shapiro (Aunt)
Religion: Orthodox Judaism
When Was Ben Shapiro's Daughter Born and How Old is She Now?
Ben Shapiro's daughter Leeya Eliana Shapiro was born on the 28th of January 2014 making her 7 years old now. Her mother Mor Shapiro had quite a traumatic experience with her birth as labor lasted for 26 hours. Upon her birth, Leeya weighed 7 pounds and 9 ounces and measured 21 inches long.

However, despite her seemingly healthy weight, Leeya was born with a heart defect that often leads to death. A few days after her birth, she was diagnosed with an atrial septal defect, a heart disease that could have only be diagnosed after birth. The disease is simply described as having a hole in the heart. It can not be detected when the child is in the womb and symptoms only begin to appear a few days after birth. This was perhaps one of the contributing factors to her mom's prolonged labor.

The birth defect occurs an average of 200,000 times a year in the United States. Statistics show that symptoms do not always show in most cases, thus Leeya was lucky to have started showing symptoms early. Leeya's parents began suspecting something was not alright with their newborn when they noticed her skin turning bluish, as well as frequent tiredness. She was admitted into a children's hospital in Los Angeles where she was to undergo open-heart surgery. To increase the chances of a successful surgery, her father Ben insisted that the same cardiothoracic surgeon who carried out the same procedure on comedian and TV personality Jimmy Kimmel's son perform the surgery. Like it was with Kimmel's son, the surgery was successful.
Her father penned a heartfelt letter to her when she was just 6 days old, after obtaining permission from her mom Mor to do so. In the letter, Ben expressed gratitude to God for blessing him and Mor with a healthy baby. He wrote that Leeya was an answer to the prayer they made to Hashem. Leeya's father also referred to her in the letter as the future of the American and Jewish people. Emphasizing his gratitude to God for the gift of a child, Leeya's father revealed the meaning of her name "Leeya" as "I Belong To God." He also added that her middle name Eliane was about their thankfulness and gratitude to God. Ben wrote that Leeya, his first-born child was the best thing to happen to him and that the late-night feedings and sleep deprivation were very much worth the while.
Leeya Shapiro, like a lot of other celebrity kids, is being raised away from the media light. A photo of her once surfaced in the media and Leeya looked like she has grown into a beautiful and healthy girl. Her father took to Twitter to celebrate her first birthday on January 28th, 2015. He wrote, "Happy birthday to my gorgeous baby."
Happy 1st birthday to my gorgeous baby, Leeya Eliana! Even though she can't read this. Yet. That will change by tonight. #Ambition

— Ben Shapiro (@benshapiro) January 28, 2015
Leeya Eliana Shapiro's Parents Met In College
Leeya Shapiro was born in 2014, and at that time, her parents Ben and Mor Shapiro were already married and had gone a whopping 7 years in marriage. Indeed, having their first baby after 7 years together was a miracle for Ben and Mor and they did well to express their gratitude to God with the baby's name.
Leeya's parents met during Mor's years in medical college. Their relationship is said to have lasted for several years before the two got engaged in 2007. A year after, in 2008 they got married in a Jewish wedding that featured all Jewish traditions, Mor was 20 while Ben was 24 years old. Ben's father who is a composer by profession read an emotional poem at the ceremony.
Leeya's mother Mor is Israeli-American and has Jewish and Moroccan roots. She was born in Herzliya, Mor Tolerado but immigrated with her parents to the United States when she was 12 years old. The family settled in California where Mor continued her basic education. She earned a bachelor's degree in psychology in 2010 from the University of California, Los Angeles. She then obtained her medical degree from UCLA's David Geffen School of Medicine. For her residency program, she chose Kaiser Foundation Hospital. She is now a certified doctor specializing in family medicine after being certified by the California Board of family medicine, as well as the American Board of family medicine.
Are Leeya Eliana Shapiro's Parents' Ben and Mor Shapiro Still Married?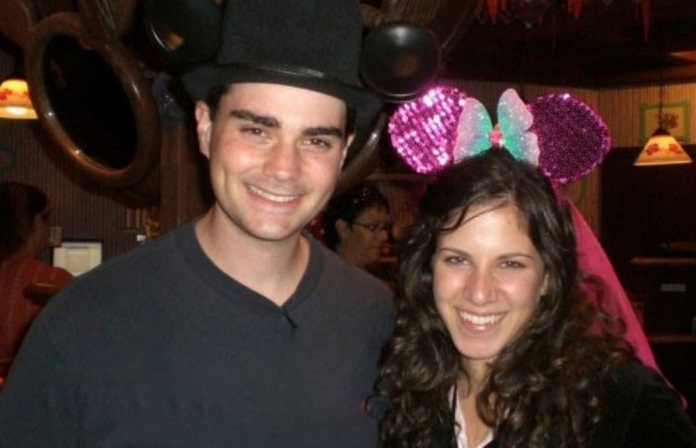 Ben and Mor Shapiro are still married, their marriage is now over a decade old, and considering the fact that they were just in their early/mid-twenties when they got married, the couple deserves credit for sticking together for this long.
Due to Ben's comments on sensitive topics which have more often than not been perceived as offensive by people who don't share his views, the Shapiro family are often victims of online trolling, including death threats. Many suggest that this is one of the reasons why Ben keeps his kids away from the media light. The FBI, in 2019, arrested a man who issued death threats to Ben and his family. Though it is unknown to the media how such scenarios affect his family and relationship with his wife and children, it was reported that the family, in September 2020, relocated from California to South Florida.