Laurie Holmond (born 1973) is an American woman best known as the ex-girlfriend of Snoop Dogg with whom she has a son named Julian.
Anyone familiar with the personal life of the legendary rapper, Snoop Dogg, will know that he has been married to his high school sweetheart, Shante Broadus, since the late 90s, and their union has stood the test of time despite several challenges. However, many may not know that Broadus is not the only sweetheart that Snoop Dogg had in high school.
Before all the fame and fortune, Snoop Dogg was going steady with another lady named Laurie Holmond in high school. They were so close that the lady probably saw a future for them, but all that illusion was shattered when the rapper left her. Alone, Holmond had no choice but to make a life for herself and the son that would connect her to the rapper forever.
Profile Summary of Laurie Holmond
Name: Laurie Holmond
Year of birth: 1973
Nationality: American
Ethnicity: African American
Educational institutions attended: Long Beach Polytechnic High School
Son: Julian Corrie Broadus
Laurie Holmond is an American Citizen and has African-American Ancestry
Laurie Holmond's relationship with Snoop Dogg happened when the rapper was not a household name, and as such, there is not much information to go by on that romance nor the lady herself. Suffice it to say that Laurie Holmond is a citizen of the United States of America and was born in 1973. This makes her two years younger than her famous ex, who was born on 20th October 1971.
Holmond grew up in the Long Beach community and attended the Long Beach Polytechnic High School, from where she received her diploma. Details about her further education strides or career are unavailable, but there is no doubt she had done well for herself, given that she was able to provide a steady life for her child when the father wasn't there to pick up the slack.
She and Snoop Dogg Dated While They were Students at Long Beach Polytechnic High School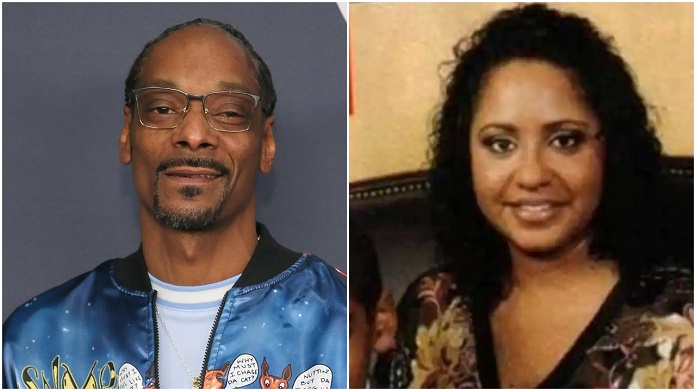 Laurie Holmond first met Snoop Dogg while they were both students at Long Beach Polytechnic High School. They fell in love and started dating, and their relationship progressed without any hitches. It later turned out that Dogg must have also started dating another person as he went ahead to marry another high school girlfriend named Shante Broadus in June 1997. The whole thing shocked Holmond as the rapper didn't even break up with her or inform her that he was going steady with another lady.
She only got to find out that he was married when she heard the announcement on the radio. Such a shocking revelation left Laurie Holmond sad and disappointed, and when the newly-married Dogg proposed a meeting to sort out their issues, she agreed. Emotions got the better part of them during the meetup, and they ended up sleeping together one more time. They then broke up for good, and she moved on with her life. This marked the end of any romantic relationship between Laurie Holmond and Snoop Dogg.
Their Son, Julian Corrie Broadus, was Born a Year after Snoop Dogg Got Married to Shante Broadus
Following that last meeting with Snoop Dogg, Laurie Holmond wanted to put everything about the rapper behind her and focus on her own life. This was not possible, as she found out that she had become pregnant from their last encounter. She informed the rapper at some point, and he was as supportive as he could be without alarming his wife. Holmond later gave birth to the couple's son, named Julian Corrie Broadus, in 1998. Some reports have it that Snoop Dogg only found out about the existence of his son about a decade after he was born and demanded a DNA test to confirm paternity.
Laurie Holmond has, however, stated that the rapper was with her when she gave birth and footed the hospital bills. He also made efforts to keep in touch with his son from 1998 to 2003 but these efforts dried up after 2003. Julian was about seven years at this point, and much of the responsibilities fell on his mother alone. Snoop Dogg may have sent regular child support checks, but he disappeared from his son's life, and Laurie Holmond basically had to raise Julian all by herself. Another person that was also an active presence in the young Julian's life was his paternal grandmother, Beverly Tate, who spent more time with him.
By and large, Holmond did the lion's share of the work, and her son appreciates her till this very day. For instance, he once posted that he doesn't see eye to eye with his parents all the time but thanked his mom for everything she did for him and taught him.
Julian Corrie's Paternity became Public Knowledge in 2008; The Same Year Dogg Renewed His Vows with Shante Broadus
While Laurie Holmond was busy raising her son, Julian, Snoop Dogg was busy with his career and family life with Shante Broadus. He and Shante welcomed as many as three kids, but due to the pressures of fame, Dogg often cheated on his wife. This made them seek a divorce in 2004, but their daughter Cori's ill health brought them back together. They canceled divorce papers, and by 2008, they renewed their vows. Ironically, that same year news broke that Snoop Dogg had fathered a son outside wedlock and few months after his wedding at that.
At that time, the rapper had debuted a reality show named Father Hood, which extolled the virtues of family and present dads. Hence, it was quite ironic that he was busy playing doting dad to his three kids with Shante while being absent from Julian's life for several years, and the public criticized him for this. They also did the math and figured out that Snoop Dogg must have cheated on Shante just a few months into their marriage and the barrage of criticism kept on coming. While some baby mamas would have used this whole episode to gain their own pound of flesh whilst situating themselves in the spotlight, Laurie Holmond kept quiet during this whole drama and did not paint Snoop Dogg in a bad light. She only expressed her desire that the rapper would make more effort to be in their son's life.
On the other hand, the whole revelation shocked the roots of Snoop Dogg's marriage, but the wife later forgave him probably because the indiscretion, while terrible, was in the past. Of course, it is now well-known that the rapper has cheated on his wife multiple times since then, but she has still stuck by his side. For instance, the Instagram model – Celina Powell provided evidence that she had an affair with Dogg in 2018. Shante went to her Instagram page and shared a picture of her wedding ring, adding that a long-lasting relationship comes with a lot of forgiveness and understanding. In response, Dogg thanked her for forgiving and understanding him, and she told him that he was welcome.
Laurie Holmond's Son is Now a Celebrity Realtor
It has been more than a decade since Laurie Holmond was unearthed as Snoop Dogg's baby mama, and since that time, she has firmly lived her life away from the spotlight. It is difficult to ascertain what she is up to or if she remarried, and the only snippets we get of her is through her son, who regularly posts appreciative messages for her online. Speaking of the son, Julian is now a college graduate and has gone into the celebrity real estate business. He works at Agents of L.A., a highbrow real estate company founded by Tai Savet, which holds some of the most expensive and exclusive properties in L.A.
On a heart-warming note, the young fella has also reconciled with his dad. Julian was previously saddened that his dad ignored his existence in public and only focused on the three kids he shares with his wife, Shante. Things are now improving, and he even featured in the music video for his father's song, drop it like it's hot, alongside his half-brothers, Cordell and Corde.