These days social media has made it more possible than ever before for people to rise from obscurity to fame instantly. This was the case for Kristen Tuff Scott, who began gaining traction across social media after a video she posted went viral. In the video, Scott phone calls her clients whom she works for as a horse-breaker that she would not be making it to work to train their horses because she has been down with flu. She goes ahead to tell them that they would not be charged for the day; the comedic undertone with which she passes her message and her client's reaction made the video a hit across social media.
Scott has utilized this fame to become many things, including a reality TV star and, of course, a social media influencer. Also a songwriter and singer, Scott has leveraged her popularity to promote her music and now has one of her original songs featured in the coveted iTunes chart. Her comic side has also been explored further, as Scott now performs stand-up comedy on the road and continues to vlog about her daily life experiences to her millions of followers across her active social media platforms. Facebook remains her most successful platform, with over 1.5 million followers.

Profile Summary of Kristen Tuff Scott
Full name: Kristen Tuff Scott
Date of birth: August 8, 1988
Age: 33 years old
Place of birth: Piggott, Arkansas, United States
Nationality: American
Ethnicity: Caucasian
Roots: Scottish
Occupation: Horse-breaker
Known For: Social Media Vlogging
Residence: Missouri
Political Affiliation: Republican
Sexual Orientation: Lesbian
Alma mater: Arkansas State University – B. Sc. Biochemistry
Kristen Tuff Scott Was Born Into A Family of Farmers
Kristen Tuff Scott, as her looks and dress sense immediately give away, is a farm girl. She was born on August 8, 1988, into a family with a long history of farming. She was born in Piggott, a city in Clay County, Arkansas, with a population of a little over three thousand six hundred (3,600) people. Scott was raised in the city by her parents, who are now divorced and married to other people. Scott's ancestors are from Scotland. From her social media posts since she came to fame, Scott has revealed that she has two brothers – one older, the other younger; this could likely mean that she is the middle child of the family.
Her parents have long begun building respective families with other people. However, before their split, Scott enjoyed their parentage and was particularly close to her mother, whose identity is unknown to the media. Her father's identity is also not known. However, one member of her family that she is particularly fond of and speaks about always is her grandfather John T. Becking. He fought in the US Navy during the second world war. Scott's grandfather was born on June 18, 1922, and passed away on May 11, 2011. He died at a good old age of 89.
Scott's Mother Helped Her Overcome Dyslexia
Atypical of natives of Arkansas, Scott, while growing up, learned the act of fishing, hunting, and horse-riding. While Kristen Tuff Scott does not have a sister, she shares what she described as a sisterly bond with her mother. The social media star credits her mother with helping her overcome dyslexia, which she was diagnosed with during her schooling years. The diagnosis came when she was in the first grade and discouraged her from continuing her education. In addition to dyslexia, Scott was also diagnosed with dysgraphia which involves impaired ability to produce legible and automatic letter writing and often numeral writing.
In one of her videos, Scott said that her teachers at school immediately gave up on her and were not ready to put in the work necessary to teach her how to learn and write, but thankfully, her mother came to her rescue. She could not stand her child having learning difficulties. The condition was so bad that no one believed she would make it through to high school, let alone graduate from it. Against all odds, Kristen Tuff Scott graduated from high school and went ahead to college. In high school, Scott explored her musical side, which would prove beneficial as it helped her land a musical scholarship with which she could enroll in college.
At Arkansas State University, Scott studied biology and chemistry (which are considered two of the hardest degrees to get) despite being told that science was not the best fit for her. For the second time in her life, Scott would yet again prove her doubters wrong. She graduated from college in 2014, an achievement she describes as one of her biggest in life.
Scott's Dropped Out Of Medical School To Train Horses
Kristen Tuff Scott attempted to push her education further by enrolling in medical school to study for a medical degree. However, her artistic side kept pulling on her, and halfway through, she had to heed and drop out to pursue her true passion – music and comedy. The entertainment field requires talent but a lot of fortune; thus, to earn a living, she began working as a horse trainer in Missouri.
To publicize her skills with horses, Scott made her social media public and began posting videos of herself handling horses. It was not long before her humorous side and witty personality brought her fame when the video of her phone-calling her clients to inform them of her absence from work went viral. An appetite for more of her comic abilities saw her followership grow rapidly. Scott would continue posting her vlogs, giving her take on trivial issues while also sharing her love for dogs, fishing, cows, and every other farm-related activity.
How Scott Has Utilized Her Social Media Fame
CMT's Redneck Island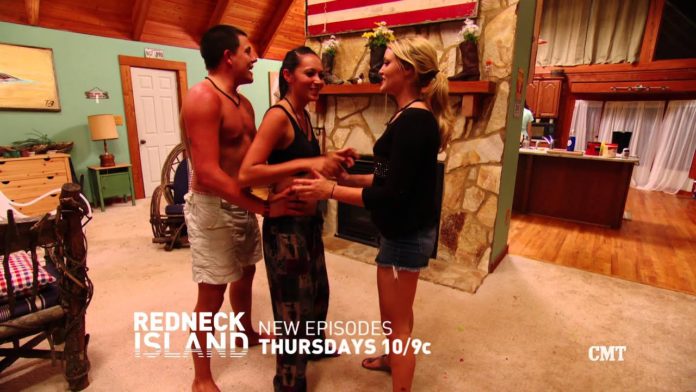 In 2016, Scott's social media fame brought her first televised gig. She was called up to be one of 24 contestants on the 5th season of Redneck Island, a reality competition series hosted by Steve Austin and televised on Country Music Television. All contestants are from the South and are dropped on a deserted tropical island to compete for a winner takes all prize of $100,000. In the course of the reality show, friendships, romance, and rivalries are formed while the contestants attempt to navigate physical challenges.
Scott brought her cowgirl persona to the show, describing herself as "the toughest cowgirl in the town." She also spoke about her background, revealing that she was raised to be a hard worker and be respectable yet a straight talker who should not cringe at an opportunity to make her mind known. Scott was eliminated in the 5th episode of the season that was tagged Battle at the Lake. The season ended on March 31, 2016, with a certain Becky Andrews taking the winning prize for the female contestants and Riley Green of Jacksonville for the male contestants.
Scott would later share her experience on the show with Intellifluence, revealing one of her favorite moments on the show to be the time when she let one of the male contestants named Jordan put makeup on her face while they were both drunk. She revealed that despite not being a makeup expert, she knew the lipstick color Jordan used was too dark to fit her complexion. Scott added that she particularly enjoyed the whiskey-drinking competition with the show's host Stone Cold Steve Austin.
Scott finally won; she admitted missing the show and would not mind a second opportunity to compete again for the prize money. Redneck Island does call back former contestants. However, it is highly likely, that this may not be as County Music TV after the 5th season announced that the show had been removed from their program lineup.
Pokemon Go
When Pokemon Go became a viral game in early 2017, Kristen Tuff Scott made a video about that game that equally went viral, garnering her more traction in the process. Scott saw an increased number of visitors to her farm as players were hunting to catch game characters. She eventually got fed up with too many people trooping into her place of work to identify game characters, so she thought she would identify all the characters at her farm and upload it for everyone. However, she soon realized that the modus operandi of the game was quite different.
Scott would then take to social media to air her frustration about the constant disturbance she got at her workplace from Pokemon players. Many could relate to her frustration; thus, the video went viral, receiving over 25 million views. She would eventually fall in love with the game that brought her existence to the knowledge of people who had not known her hitherto.
Brand Influencing
There is one way that social media stars monetize their fame, and that is by brand influencing. Top social media personalities have made a killing off of this, and Scott can count herself among them. She has utilized her fame to shill for many brands. However, she has explained to her fans that honesty is one of her core values and that she would not trade it for bucks no matter how much. Among products that she has reviewed include beauty products.
Scott does admit that just because a product does not work for her does not mean that she would not work with the company because it could be a perfect fit for another person. In such cases, she gives honest feedback, including reasons why the product was not a fit for her and letting intending customers make up their minds on whether or not they should go ahead with a purchase. Her work as a brand influencer has seen her collaborate with Shopify on her brand website to sell products and services.
Music and Comedy
Music has been Scott's thing since she was a kid. According to her eponymous website, Scott boasts a stirring discography that has more than 100 original songs. She describes her version of country music as being different from the rest due to the rich and captivating lyricism it embodies, immersing listeners in the depths of a whole different ambient setting. It does have the personal experience storytelling pattern that is synonymous with the genre. She has uploaded the cover of popular songs in the genre by acts like Goerge Strait and Keith Urban on YouTube.
She has released a handful of singles, the most popular being Grandpa, an ode to her late grandfather, a war veteran. She performed the song at his funeral. The song, released in 2015, was re-released under her new label New Country Song. The song peaked at number 10 on iTunes 'Top Country Song Chart.' Simultaneously with her music, Scott, who primarily identifies as a comedian on her Instagram page, where she boasts 150k followers, is also actively chasing a career in stand-up comedy. She frequently collaborates with DJ Slim McGraw on comedy tours. In mid-2021, she performed at Off the Hook Comedy Club in Naples, Florida, where ticket prices ranged from $25 – $85.
Merchandise Sales
Merchandise sale is another common money-maker for social media personalities. She makes and sells branded items ranging from hoodies, tees, tank tops, mugs, trucker hats, and more via her eponymous website. She also promotes the same via her social media accounts. It is unknown just how much Scott makes from her numerous social media engagements. However, sources have pegged her net worth at $500,000.

Overview of Kristen Tuff Scott's Income Sources
Music
Comedy
Brand Influencing
Merchandise Sales
Kristen Tuff Scott Had Breast Surgery To Stop Her Cancer From Spreading
When Kristen Tuff Scott appeared sometime in 2016 to have a reduced chest size, many thought she had become trans due to her sexuality, but this was far from it. Scott had undergone a mastectomy to stop her cancer from spreading. She had been diagnosed in mid-2010, and after the surgery, she spent years in recovery. Scott took her followers through her journey from before she had the surgery. In October 2016, Scott announced via Instagram that he had become cancer-free, alongside a photo of her chest showing that her breast had been completely removed.
The Social Media Star Is Openly Gay
Kristen Tuff Scott is openly gay and describes herself as the only gay republican she has ever encountered. Since coming out, Scott has not shared details of her love life with her fans. There were rumors that she was dating a particular lady known as Missy, but this has never been confirmed.
Scott's sexuality contrasts with her conservative political views, making her a subject of much criticism, especially when she revealed that she was supporting Donald Trump in his bid for POTUS. She replied to her critics, explaining that there were more important issues in America than whether or not a president supported gay marriage. She added that the Black Lives Matter campaign and the hate meted out to the police were far more important issues.