It takes courage for a child to deviate from his or her parents' career paths, and one person that has exhibited this courage in spades is Kenna Dunham. The 24-year-old Dunham is currently on course for a doctorate degree in psychology, which is in stark contrast to her parents' careers. Her dad, Jeff Dunham, is a legendary ventriloquist and one of the highest-paid comedians in the U.S., with his work fetching him several accolades, including a star on the Hollywood Walk of Fame.
On the other hand, Kenna's mom, Paige Dunham, is a businesswoman and producer who managed her former husband's career back in the day. Such a background should have nicely set Kenna Dunham up for a lifetime of exploits in showbiz, but she is blazing her own path, and her family is quite proud of her.

Profile Summary of Kenna Dunham
Name: Kenna Dunham
Date of birth: 19th of June 1997
Age: 24 Years Old
Place of birth: Dallas, Texas
Father: Jeff Dunham
Mother: Paige Dunham
Siblings: Four, including Ashlyn, Bree, Jack, and James
Schools attended: Cornell College, Chicago School of Professional Psychology
Height: 5 feet 5 inches
Weight: 58 kg
Kenna Dunham was Born in Dallas, Texas, 24 Years Ago
Kenna Dunham was born on the 19th day of June 1997 in Dallas, Texas. Her nationality is American, while her ethnicity is Caucasian. Though quite accomplished in her own right, Kenna Dunham's biggest claim to fame is nonetheless tied to the last name that she inherited from her dad, Jeff Dunham. The senior Dunham is one of the most famous comedians and ventriloquists in America. His exploits date back to his childhood when he got his first dummy and an accompanying how-to-album on ventriloquism.
These two gifts will spark a lifelong interest in Kenna's dad, and despite the several obstacles on his way, he has been able to forge an unprecedented career out of it. Ably assisted by characters such as Walter, Peanut, and Achmed the Dead Terrorist, Jeff Dunham has sold out multiple venues across the globe. He has also packaged several television specials for the likes of Netflix and Comedy Central. Jeff Dunham now holds the record for the most sold-out comedy tour and is frequently ranked amongst the world's highest comedians.
One person that proved pivotal in Jeff's career success is his former wife and Kenna's mom, Paige Dunham. Paige previously managed several aspects of Jeff's merchandise and online store back in the day. They later split, and she has gone on to become an advocate for divorced women. She is also a philanthropist and a businesswoman. In showbiz, Paige Dunham is an executive producer, and one of her works is the 2013 feature film, The Face of Love. The Face of Love features Robin Williams and Ed Harris and tells the story of a widow who falls for a man that bears a striking resemblance to her late husband.
She is Training to Become a Clinical Psychologist
Kenna Dunham is said to be as funny as her dad, but she did not follow him into comedy but rather chose to become a psychologist. To achieve these dreams, Kenna first completed her high school diploma at the Campbell Hall High School in California in 2015. She thereafter exchanged the warm temperatures of California for the colder climes of Mount Vernon, Iowa. In Iowa, she spent the next four years studying psychology at Cornell College.
Kenna Dunham graduated from Cornell College in 2019 and is now pursuing a doctorate in clinical psychology at the Chicago School of Professional Psychology. Upon graduation, she would become a full-fledged clinical psychologist. In this role, Kenna Dunham would help diagnose people suffering from all manner of mental, behavioral, and emotional illnesses such as obsessive-compulsive disorder (OCD). She can also treat them using various psychological techniques such as cognitive-behavioral therapy and psychoanalytic therapy.
Kenna Dunham Maintains Close Relations with Her Dad, Step-Mom, and Siblings
Kenna Dunham has a total of four siblings, thanks to her father's two marriages. Jeff Dunham first got married to Kenna's mom, Paige Dunham, in 1994 and adopted her little daughter named Bree that same year. He and Paige went on to welcome a girl, Ashlyn, in 1995, meaning that by the time that Kenna was born in 1997, she already had two sisters. All three girls will grow up ensconced in the love of their parents, but the family boat was rocked due to their father's busy schedule and allegations of infidelity.
This caused their parents to divorce in 2008, and by 2009, their father commenced a relationship with model and certified nutritionist Audrey Murdick. Jeff and Murdick wed in 2012 and, by 2015, welcomed twin sons named James Jeffery and Jack Steven. The whole divorce thing could have caused some estrangement between Kenna Dunham and her dad, but this is not the reality. Kenna's dad makes a constant effort to be an active presence in his children's lives, and this, in turn, has led to a strong family dynamic.
Kenna and her sisters are college graduates, and the whole family usually turns up for each other on important occasions, be it Bree's wedding or Kenna's college graduation. Jeff also took time to visit his daughter during her college days in Iowa, bringing her two little brothers on the trip, showing what strong bond the Dunham family has.
It was this strong bond that saw them featured on Celebrity Family Feud. The Steve Harvey Show has many celebrity families competing against each other in a variety of interesting games for prize money that they donate to their favorite charity. Kenna, her dad, her stepmom, and two sisters appeared on the show in July 2018. It was quite an exhilarating episode, and even one of Jeff's most famous dummies – Walter, made an appearance. The family went on to win money, which they donated to the charity.
Kenna Dunham is Dating Her College Sweetheart – Paul Prale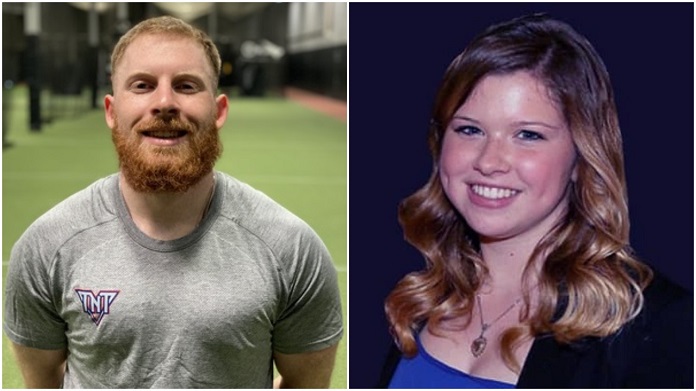 Moving away from family now, Kenna Dunham is said to be in a relationship with college sweetheart Paul Prale. Prale is originally from Skokie, Illinois, and attended Niles West High School. He then went on to study finance and kinesiology at Cornell College, which is probably where he ran into Kenna, and they began their relationship. While in college, Paul played baseball for his school's team. He also belonged to the Hillel Club, the largest Jewish campus organization in the world.
Prale finished his degree in the same year as Kenna and has returned to Illinois, where he now works as a data analyst and performance specialist at TNT Ignite, a training facility dedicated to turning athletes into MVP. This situation perfectly works out for him and Kenna as she is also schooling in Illinois, meaning that the relationship they commenced in college is still thriving.