Kalea Marie Cephus (born March 23, 2015; Age: 8 years old) is the daughter of Offset, the American singer/rapper. He had her with his ex-partner, Shya L'Amour.
Kalea's celebrity status devolves from the reality that she is the daughter of the popular rapper. Offset initially declined the paternity of Kalea, going as far as refusing to undergo a DNA test that would prove she was his. All that is now water under the bridge as the rapper has since assumed responsibility as her father.
Summary of Kalea Marie Cephus' Bio
Full name: Kalea Marie Cephus
Gender: Female
Date of birth: March 23, 2015
Place of birth: Atlanta, Georgia, United States
Kalea Marie Cephus' Age: 8 years old
Ethnicity: African-American
Nationality: American
Zodiac Sign: Aries
Religion: Christianity
Marital Status: Single
Kalea Marie Cephus' Parents: Offset (real name: Kiari Kendrell Cephus, father) Shya L'Amour (real name: Nicole Marie Algarin, mother)
Siblings: 4 – Jordan Cephus, Kody Cephus, Wave Cephus (all half-brothers), and Kulture Cephus (half-sister)
Kalea Marie Cephus' Height in Inches: Over 3 feet
Kalea Marie Cephus' Height in Centimeters: Over 93 cm
Kalea Marie Cephus' Weight: Over 25 kg (Over 55 lbs)
Eye color: Black
Hair color: Black
Famous for: Being the daughter of American rapper, Offset
Kalea Marie Cephus' Instagram: @kalea_world
Offset's Daughter, Kalea Marie Cephus, is 8 Years Old
Kalea Marie Cephus was born in Atlanta, Georgia, United States, on March 23, 2015. She is an American citizen by birth and through her parents, both of whom are American citizens. Her birth sign is Aries, and she belongs to the African American ethnic group.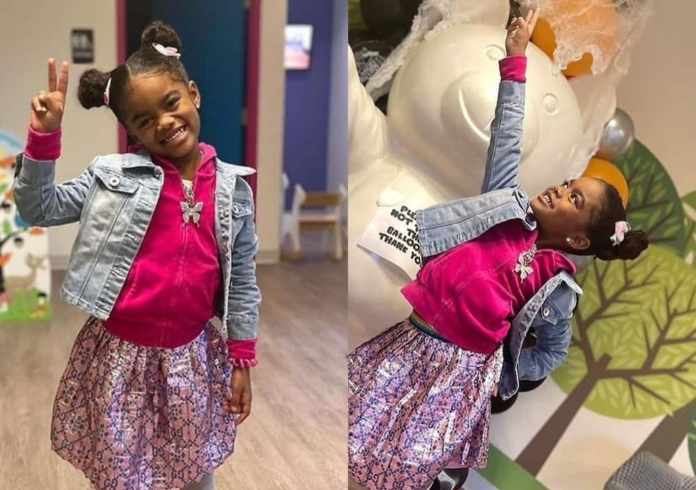 Although she is not the only child of her father, Kalea is the only child her parents had when they were together. Speaking of parents, the celebrity child's father is singer/rapper Offset. Born Kiari Kendrell Cephus, most rap fans will recognize the rapper from the myriad images of him on the internet as well as from his songs such as "Red Room" and "Clout," both songs from his debut studio album, "Father of 4."
Kalea's dad was born on December 14, 1991, in Lawrenceville, Georgia, United States. Not much is known about his birth family and his early years, but the rapper has been active on the entertainment stage since 2002, whether as a dancer, reality TV star, or singer/rapper. His star rose as a member of the rap group, Migos alongside his cousin, Quavos.
Kalea Marie Cephus' Mother is Shya L'Amour
Kalea Marie Cephus' dad, Offset, had her with one of his ex-girlfriends, Shya L'Amour. Shya L'Amour is a stage name the celebrity child's mother adopted for her career as a hip-hop artist. Her real name is Nicole Marie Algarin, born on November 18, 1988, in Tampa, Florida, United States.
Shya is currently 34 years old, confirming that she is almost three years older than the man who fathered her child.
Very little information is available about the members of Shya's family or what her early years were like, but we can confirm that she is also in the entertainment business. Kalea's mother is a singer who enjoys purveying her art with the hip-hop genre.
She has released songs like Paper Baby, Lookin A Pickle, and Dat B****. Her music has been played on Orlando, Florida's 104.5 FM The Beat. Before becoming a celebrity, she released her debut single Lil' Momma Badd in 2011, and in April 2017, she released the official music video for her single, Paper Baby.
Kalea Marie Cephus' Parents Were Together For 3 Years
Kalea's parents became an item in 2013. We have been unable to uncover how and where they met, but our best guess is that they most likely met at one musical event or another, seeing as they all rolled in the same circles.
Nevertheless, the couple continued for about three years before going their separate ways in 2016, just a year after the celebrity child was born. The reason for her parents' split becomes apparent when one takes in her father's history of being a serial cheater.
At the time of her birth, her parents were still together, and even though they now have separate lives of their own, they still find a way to be there for her at every turn. It was not that easy at first.
Kalea Marie Cephus' Dad Denied Responsibility For Her Existence
The beginning of the end of Offset and Shya's relationship was triggered when Kalea's mother came to her father with the news that she was pregnant. He refused to acknowledge that the child she was carrying was his and maintained his stance even after she was born.
Offset once spoke about missing out on the first few weeks of baby Kalea's life, but he only has himself to blame for that. According to several sources, Kalea's mom even offered to pay for a DNA test that would prove that Offset was the father, but the rapper refused to be part of it.
He eventually relented, and when the tests came out, it proved beyond all doubt that he was the father. Offset has since become actively involved in the celebrity child's upbringing and even successfully filed court documents to have her bear his surname after she was given her mother's surname of Algarin.
Kalea Marie Cephus Has Four Half-Siblings
As previously mentioned, Kalea Marie Cephus is the only child her parents had together. Further scrutiny of her family history shows that she is one of five children her father has had to date.
During her father's relationship with a woman named Justine Watson in the late 2000s, he had a son with her named Jordan Cephus. Jordan was born in 2010 and is currently 13 years old.
8-year-old Kody Cephus was born in 2015 and is Offset's son with ex-girlfriend Oriel Jamie, a fact that makes him one of Kalea Marie Cephus' half-siblings.
After dating for a few months, her father exchanged marital vows with award-winning singer Cardi B on September 20, 2017. They welcomed their first child, a daughter named Kulture Kiari Cephus, in 2018, and on September 4, 2021, Kalea's youngest half-sibling, a half-brother named Wave Set Cephus, was born.
Kalea Marie Cephus' Parents Like To Show Her Off
There are still certain aspects of Kalea Marie Cephus' life that are unknown to the media, including details of her formal educational background and any aspirations she might have had at such a young age.
However, all that might change sooner than one may think because her parents have not shielded her from media and public scrutiny. On the contrary, they love showing her off. A clear illustration of this can be found in the fact that along with three of her half-siblings, she appeared on the cover art of her dad's debut studio album Father of 4.
Added to that, she has also been photographed alongside the rapper as well as alongside her mother, Shya.