Gabby Murray (born 19 October 2001; Age: 21 years old) is a model, social media star, Mixed Martial Arts specialist, and a potential actress best known for sharing quality content on different social media platforms.
Murray began her career in modeling before going on to launch multiple accounts on different platforms on social media. She can be located on YouTube, TikTok, Instagram, Twitter, Funimate, and many more.
Summary of Gabby Murray's Biography
Full Name: Gabby Murray
Nickname: Gabby
Gender: Female
Date of Birth: 19 October 2001
Gabby Murray's Age: 21 years old
Ethnicity: Caucasian
Nationality: American
Zodiac Sign: Libra
Sexual Orientation: Straight
Religion: Christianity
Marital Status: Single
American's Parents: Michael and Joan Murray
Siblings: Miles Murray
Gabby Murray's Height in Inches: 5 feet 6 inches
Gabby Murray's Height in Centimetres: 167
Gabby Murray's Weight: 56 kg
Gabby Murray's Net Worth: $200k
Famous For: Being a social media influencer
Gabby Murray's Instagram: @gabbymurrayy
Twitter: @Gabby Murray
How Old Is Gabby Murray Now?
The records captured Gabby Murray's date of birth as the 19th of October 2001; this obviously pegs her current age at 21. A citizen of the United States, Gabby was born in America's sunshine state, Florida but her ethnicity is listed as Caucasian.
The first of two children born to Michael and Joann Murray, Gabby has a younger brother who goes by the name, Miles Murray. The youngster features some members of her family on her socials including Miles, (who is very athletic) her aunt named Jeannine Addonisio, her grandma and there is a cousin, Vincent Murray who is also a content creator on YouTube.
Gabby is not a twin but she knows how to edit her content to make it appear as if she has a double.
A current resident of Florida, Gabby is said to be attending a close-by university. However, she is yet to intimate fans of the name of her academic institution and course of study. Also, the name of the Florida native's high school is not known but she served her alma mater as a cheerleader.
What does Gabby Murray do for a Living?
Gabby Murray started her career in modeling before delving into other fields like social media where she has established a presence on platforms such as YouTube, TikTok, Instagram, Funimate, and more. She has a good grip on video editing skills which is reflected in the quality of uploads she shares on the internet space. Gabby makes things more interesting for her fans by including a dash of her BTS (behind the scene) videos.
Apart from the internet space, Gabby is also into Mixed Martial Arts (MMA) and she has plans of launching an acting career in the nearest future.
Gabby Murray Started From Modeling
Gabby's career started from modeling; she is listed among the industry's fitness freaks, thanks to her very tiny waistline. Evidence of the internet star's modeling gigs can be seen on the Instagram handle.
She Launched her YouTube Channel in 2014
On social media, Gabby's first port of call was YouTube where she launched her self-titled channel. Her channel on the video-sharing platform came live on the 14th of December 2014 and she waited till the 13th of August 2015 before sharing her debut video entitled, 'AMZ Review Trader HAUL!!
Fans often flock to Gabby's channel on YouTube to watch videos about challenges, personal life updates, vlogs, and YouTube shorts, including tutorials. The social media sensation also leverages her YouTube to air reactions to old TikTok posts and also instructs people on how to create dance videos on TikTok.
The YouTuber is unique in the way she operates her social media handles as she never imitates other content creators who cross-post content from one account to the other. She shares posts regularly and so far, her channel has amassed over 266k in subscription levels. Gabby's YouTube views totaled 37,646,849 and still counting
She was Among The Main Content Creators On Vine
Gabby was one of the content creators that made Vine popular. However, after the platform was pulled down in 2016, she quickly moved into musical.ly which is currently known as TikTok.
From Vine, She Joined TikTok
Gabby Murray came onto the TikTok platform @gabby_murrayy in 2017 when it was called Musical.ly. Her early days on Musical.ly saw the internet star sharing interesting lip-sync videos which was the order of the day then.
However, she took the decision to diversify her content after the rebranding of Musical.ly to TikTok. Now, Gabby shares a lot of comedic content, prank, and challenge videos. In 2021, she used the platform in promoting Salvation Army. Gabby makes efforts to enhance her performances by leveraging techniques like "cloning' and "jump cuts". Her video creation and editing skills made her content more engaging, attracting views in their millions.
Presently, Gabby makes sure to post at least two or three times weekly and has accumulated over 10 million followers on the lip-sync platform, at the last check, the number of views on her channel totaled 82.4 million and 417.2 M likes.
Gabby Murray is on Funimate
Gabby Murray's Funimate account came into existence in 2016. She is one of the most followed individuals on the platform. Her first upload on the TikTok app was a lip sync set to Drake's song, "One Dance
Her Instagram handle is What She Leverages For Sharing Her Modeling shots
On the picture-sharing platform, Gabby Murray gained popularity by sharing pictures sporting inspirational captions and Reels. Her IG handle @gabbymurrayy is also what she leverages in sharing her modeling photos. Most of these shoots are done in fabulous apparel and very suggestive bikinis.
The number of followers on her IG has exceeded 486K with 385 posts shared.
Gabby Can be Located On Twitter
Gabby has a self-titled Twitter handle @Gabby Murray which has currently amassed 3,911. She joined the platform in October 2016 and has tweeted 704 times and counting.
Gabby Murray has Plans to Join The Movie Industry as an Actress
The internet sensation has revealed her plans to delve into the movie world. In fact, she is currently undergoing serious acting lessons to better equip herself for her future roles. She does not just intend to act, Gabby would also love to explore other fields like producing, directing, and editing.
She is a Second Degree Black Belter In MMA
Another field where the internet star has excelled is Mixed Martial Arts. Gabby is so good at what she does that she has earned a second-degree blackbelt
Who is Gabby Murray Dating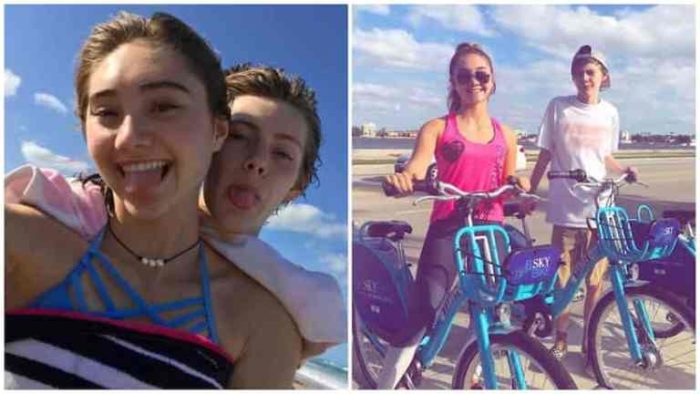 Gabby Murray's current relationship status is not known, however, her name was linked with That of two male social media personalities in the past Jojo Sim and Colin Barbour who both appear in some of her content. However, to date, none of them have deemed it necessary to come up with a conformation or a rebuttal
Gabby actually dated content creator Pat Sewell starting in 2017 and they lasted together for a couple of years before calling it quits in 2019. Their split was confirmed by Pat via his TikTok but he deliberately left out their reason for separation.