The last time TV audiences saw Florinka Pesenti, she was making waves as the first lady to win the ABC reality TV show, Amazing Race. It is nearly 20 years since that triumphant run and Pesenti has gone on to build a formidable career as a communications guru and publicist extraordinaire, specializing in the apparel and fashion industry and working for big brands such as Gucci and Ralph Lauren. Pesenti is in a thriving relationship with ABC chief legal correspondent, Dan Abrams. The two have been together for more than a decade now and have two children together. It has certainly been a long time since Pesenti was on The Amazing Race but if her personal and professional life is anything to go by, she has been a raving success since we last saw her on TV.
Profile Summary of Florinka Pesenti
Name: Florinka Pesenti
Date of Birth: 17th of January 1979
Age: 42
Nationality: American
Ethnicity: Italian
Father: Roberto Pesenti
Mother: Ilike Pesenti
Siblings: One (Viktor Pesenti)
Partner: Dan Abrams
Children: Two (Everett and Emilia Abrams)
Occupation: P. R. executive
Schools attended: Fieldston Ethical Culture School, Vassar College
A Vassar College Alum, Florinka Pesenti Has Italian Origins
Pesenti originally studied psychology in school before moving into the P.R. and communication industry. One would always wonder what made her do so and the answer may lie in her background. Born on the 17th of January 1979 in Milan, Italy, the 38-year-old Florinka Pesenti is the daughter of a photo editor named Ilike (mother). Her father, Roberto, on the other hand, worked as a bureau chief for an Italian newspaper. The young Florinka spent the first five years of her life in Milan. She and her parents, as well as a younger brother named Viktor subsequently relocated to the state of New York in 1984 and settled down on the Upper East Side which is where she largely grew up.

Thanks to their parents' thriving careers, Florinka Pesenti and her younger brother lived a very comfortable life. Florinka for instance attended a pricy elite private school known as Fieldston Ethical Culture School. She made the most of her time there and was able to finish with good grades which helped her get into the prestigious private liberal arts college, Vassar. At Vassar, Pesenti majored in psychology. She subsequently followed her parents' footsteps into the media industry. She spent a few months as an associate at Glamour Magazine before Amazing Race came calling in August 2002.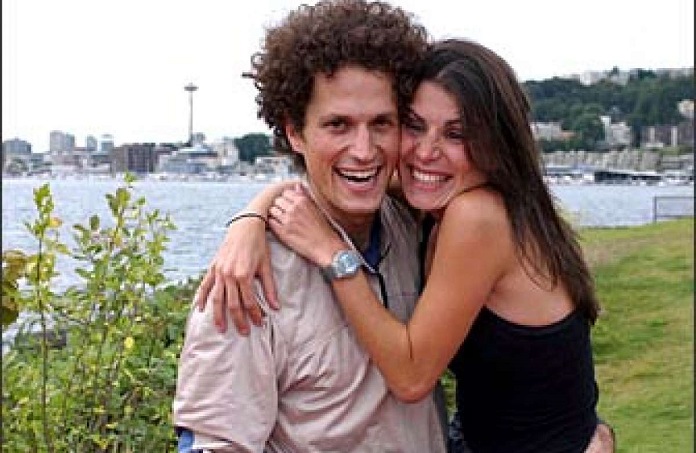 She is the First Female Winner of the ABC Reality TV Show – Amazing Race
Florinka Pesenti has built an admirable career as a publicist but the achievement that shot her to fame is her appearance on the hit ABC reality TV show, The Amazing Race. The Amazing Race features multiple teams of two or four individuals racing against each other across the world with various physical and mental challenges set for them. The first team to make it to the final leg goes home with the grand prize of $1 million. At the time the 3rd edition of The Amazing Race rolled around in 2002, Florinka Pesenti had just left college and was learning the ropes of her career as a publicist. She figured that the show would be a wonderful opportunity to see great places and win some cool money in the process and so, she asked her college pal Zach Behr, if he would be interested.

Behr equally relished a chance to have an amazing adventure with a million bucks as motivation and so, he and Pesenti signed up. Luckily, they were picked and they spent the months of August and September 2002 going up against 11 teams. They had to feature in 13 different challenges which took them to places such as Mexico, England, Portugal, Scotland, Morocco, Switzerland, Malaysia, and Vietnam, etc. They had to perform a variety of onerous tasks such as finding the westernmost point of Europe, loading 41kg barrels of wine onto a boat, and maneuvering a tank through a battlefield obstacle course at a war museum.

It was indeed quite challenging with many hidden clues and detours and Pesenti often shouted at her partner in frustration. Behr kept a cool head though and this perfect combination helped them to reach the international fountain in Seattle and win the competition. In doing so, Florinka Pesenti made history as the first-ever female to win The Amazing Race. This was because the first two teams of winners were only comprised of males. Pesenti's record would last for another year before a married couple, Kim and Chip McAllister, won in 2004. Since then, there has been a host of other female co-winners of The Amazing Race.
Pesenti is Now a PR Executive and Has Worked for the Likes of Gucci and Ralph Lauren
A popular song lyric talks about going back to life and reality and that was what Florinka Pesenti did in the aftermath of Amazing Race. It was quite a wonderful thing while it lasted but the New Yorker promptly returned to her job as an associate at Glamour Magazine. she spent the next two years working for them before being asked to assume the position of director of public relations at the Italian luxury shoes and leather company, TOD'S, in January 2005. Florinka Pesenti spent a total of five years at TOD'S during which she immersed herself in the art, promoting luxury goods and fashion items. It, therefore, came as no surprise when Italian designer brand, Gucci, poached her in January 2010.

Pesenti served as the director of public relations at Gucci for six years and a month. She then switched gears to Ralph Lauren and served as their vice president of global communications from January 2016 to July 2018. During this time, she oversaw their luxury collection, brands globally, special events, and celebrity relations. Florinka Pesenti currently serves as the vice president of PR at venture capitalist firm – MacPherson & Forbes, a position she took in 2018. It is certainly a different change of pace from the fashion and luxury goods industry.
Pesenti Shares Two Children with ABC Legal Analyst – Dan Abrams
Florinka Pesenti has never been married but there has been no shortage of love in her life. Back in the day, she and her Amazing Race partner, Behr, were pretty close friends and shared a mutual attraction for each other over the years. They never acted on it though and Pesenti went ahead to date another contestant from The Amazing Race named Drew Riker. The romance between Drew and Pesenti commenced after The Amazing Race and the relationship lasted for seven years before they broke up in 2009.

The end of such a long relationship dampened Florinka Pesenti's enthusiasm for serious romance and when she ran into TV host and ABC News chief legal correspondent, Dan Abrams, at a party in that same 2009, she decided to take things easy, even though she found him attractive. This worked out quite well for Dan who was not the relationship type and so they hung out but continued dating other people. They later decided to go exclusive and have been together ever since. Pesenti and Abrams have never formalized their vows but they are okay with doing things in an unconventional manner. They welcomed their first child, a son named Everett Floyd Adams, in June 2012. They welcomed their daughter, named Emilia, nine years later in February 2021.

Though they are both a force to be reckoned with in their respective industries, Pesenti and Abrams love to keep their relationship out of the spotlight. This has made some people assume that they may have broken up which is simply not true. The couple is still together and they and their kids live with them in a stylish townhouse located in the west village. It features four bedrooms and five baths. Pesenti's partner, Abrams is quite a doting dad and takes their son wherever he goes, including magazines covers, and TV shows.