Faye Chrisley (born 2nd September 1944) is an American reality television personality who is best known for her appearance on USA Network's Chrisley Knows Best and also as the mother of real estate tycoon, Todd Chrisley, who also stars on the reality show. 
It is not every day that an octogenarian manages to steal the show on reality TV, but one person that has done just that is Faye Chrisley. Popularly known as Nanny, Faye Chrisley is the matriarch of the Chrisley family, whose shenanigans form the basis for the hit reality TV series Chrisley Knows Best.
The series has been on air since 2014, and Faye has been on television since the second season. Her wit, charm, hilarious antics, spunk, and zest for life have made her a fan favorite. It has also ensured that the show has survived the several family scandals, infighting, and legal issues which would have otherwise buried it.

Faye Chrisley Biography and Profile Summary
Full name: Faye Chrisley
Nickname: Nanny
Gender: Female
Date of birth: 2nd of September 1944
Faye Chrisley's Age: 78 years old
Ethnicity: Caucasian
Nationality: American
Zodiac Sign: Virgo
Sexual Orientation: Straight
Religion: Christian
Marital Status: Single
Husband: Gene Chrisley
Children: Three, including Randy and Todd Chrisley
Height in Inches: 5 feet 8 inches
Height in Centimetres: 173 cm
Weight: 60 kg (132lbs)
Body measurements in inches: 36-27-37
Body measurements in centimeters: 91-68-94
Net worth: $600,000
Famous for: Chrisley Knows Best
Instagram: nannyFayeChrisley
Twitter: Faye_Chrisley
Facebook: Faye Chrisley
Faye Chrisley is Originally From Westminster, South Carolina
Faye Chrisley is 78 years old as she was born on the 2nd of September 1944. She grew up in Westminster, South Carolina, and completed her diploma at Westminster High School before getting married. Faye Chrisley's husband is the late Gene Raymond Chrisley. Gene was born on the 9th of May 1935. He grew up to become a soldier and meritoriously served the American army in the Korean War, for which he was awarded a bronze medal. Afterward, he returned to the States, and he and Faye tied the knot around the 1960s.
The couple's marriage lasted for more than five decades, during which they welcomed three sons, namely Randy, Todd, and Derrick. Unfortunately, Derrick passed away when he was just four months old, which devastated the couple. It was enough to make them question the basis of their union, but they refused to be swayed. They hung in there and raised their surviving children to the best of their abilities. Faye Chrisley and Gene remained married until the latter died in 2012.
Faye Chrisley is One of the Stars of the Hit TV Series Chrisley Knows Best
Faye Chrisley has held various jobs in the past, including a caregiving job that once paid her $10,000 monthly, but these days she is better known as a reality TV star. She is one of the major cast members of her son's TV show, Chrisley Knows Best, which focuses on the drama-filled lives of him and his family members. Chrisley Knows Best debuted in 2014, but Faye only joined them the next year. Despite this late start, she has risen to become everybody's favorite grandma. Many wish to have her as their granny, while others hope to be that cool at her age, and this is due to her antics.
For instance, she likes gambling and often gets her grandchildren to accompany her to places such as Vegas for all-night gambling sessions. She also places bets against the kids and has no qualms shaking them down to extract payment. Another thing that has endeared Faye Chrisley to audiences is her willingness to try new things, be it serving as a guinea pig for her granddaughter's tanning lessons or beating the young ones at basketball. Faye Chrisley has also enriched the Chrisley Knows Best storyline with her attempts at having an active love life.
She has joined dating apps and gone on several dates. She has also partaken in a session with a male stripper. During one particular episode of Chrisley Knows Best, Faye gushed over the hunk that her grandson hired to give her swimming lessons. As you can imagine, this left her grandson mortified, but she didn't give a damn and stated that having such a gorgeous swimming instructor was the motivation she needed to learn. Nanny Faye also has a penchant for being manipulative. She once tricked her son, Todd, into joining her acapella singing group, The Sexy Pitches, and they publicly performed at a library. It is these antics and more that have helped sustain Chrisley Knows Best for several years.
Faye Chrisley also Features in her Grandchildren's Spin-Off TV Series, Growing Up Chrisley
Asides from Chrisley Knows Best, another reality TV show that Faye Chrisley has been a part of is Growing Up Chrisley. This spin-off show follows her two younger grandchildren, Chase and Savannah, as they attempt to escape their parent's shadows and seek their independence in Los Angeles. Savannah tries her hands at the beauty business while Chase is focused on acting. Growing Up Chrisley debuted in 2019 and has also taken with the viewing public. It has been renewed multiple times, and there is no doubt that Faye Chrisley's regular appearances on the show have contributed to its success.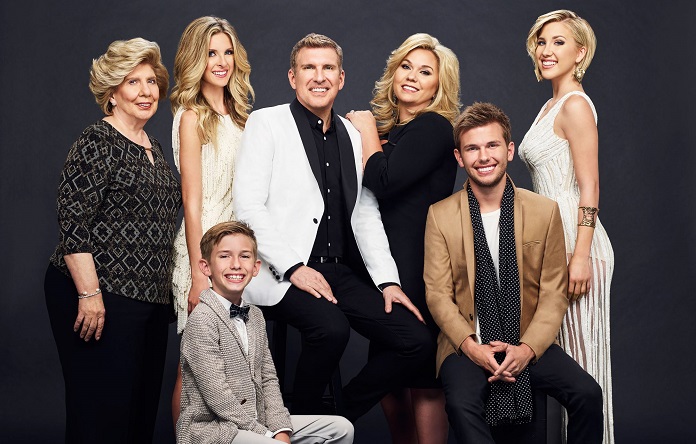 Even more importantly, she is very close to her grandkids, and they often gush about her on social media. They also post regular updates on her. For instance, before the premiere of their show in 2021, Chrisley suffered some broken ribs. Savannah used her Instagram page to clarify that her grandma was all recovered and that the incident was just an inexplicable freak thing that occurred when she leaned over the back of a sofa.
Her First Son, Todd Chrisley, is a Reality TV Star and Real Estate Mogul
Faye Chrisley has two surviving sons from her marriage, and the first is Todd Chrisley. Todd was born on the 6th of April 1969 and grew up in Westminster. He made his money in the real estate sector and was able to give his own family the luxurious life that made it possible for them to land a TV Show. Speaking of family, Todd Chrisley has been married twice. His first marriage was to his high school sweetheart, Teresa Terry, in 1990.
It lasted for six years, and they welcomed two kids, namely Lindsie and Kyle. Todd and Teresa divorced in 1996, and afterward, he married his second wife, Julie Chrisley, on the 25th of May 1996. They remain together to date and have three kids, namely Savannah, Grayson, and Chase. Todd is a know-it-all dad, and he and his family members are the major cast members of the hit TV show Chrisley Knows Best.
Her Second Son, Randy, Was Busted for Shoplifting in 2016
While Faye Chrisley has a largely successful son in the person of Todd, the same cannot be said of her second son, Randy. Randy was born on the 28th of August 1970 and similarly grew up in Westminster. He completed his high school diploma at West Oak High School and graduated in 1984. Randy has since tried his hands at a real estate career but has yet to reach his brother's heights. He has somewhat made the news for the wrong reasons. In 2016, he was busted for shoplifting candy and admitted to the crime.
It also emerged in that same year that his ex-wife, Pamela Chrisley, had attempted to extort his mother and brother. Pamela was reportedly annoyed that she and her husband were not allowed to join the family TV series and took to asking Faye and Todd to pay her tens of thousands of dollars so that she would not spill family secrets. They refused to budge and took legal action against her. They also shared some secrets of their own about her, including the fact that she had physically assaulted a former mother-in-law of hers.