Evanka Franjko (born March 24, 1962) is an American woman who gained public attention following her marriage to Joey Buttafuoco, an auto body shop owner who was convicted for having sex with a minor.
On the surface, Evanka Franjko is just another ordinary American citizen out there. She, however, has some claim to fame, or rather infamy, as the wife of a convicted felon, Joey Buttafuoco. Back in the early '90s, Buttafuoco was still married to his first wife, Mary Jo, when he had an affair with an underage girl named Amy Fisher.
Fisher then confronted and shot his wife in the face. As you can imagine, this grabbed national headlines, and by the time Evanka wed Joey in 2005, she was catapulted into the spotlight against her will. The lady has not let this detract her from living her best life though, as a glance at her social media pages would confirm.
Profile Summary Evanka Franjko
Full name: Evanka Franjko
Date of birth: March 24, 1962
Age: 60 Years Old
Siblings: Frank Franjko (brother)
Occupation: employed
Spouse: Andrew torchon (1996 – 2002), Joey Buttafuoco (2005 – date).
Children: Nick Torchon
Evanka Franjko Was a Divorced Single Mom Prior to Her Marriage to Joey Buttafuoco
Not a whole lot of personal details exist about Evanka Franjko out there but her Facebook account is quite helpful. From the information provided there, Evanka Franjko was born on the 24th day of March in 1962. She has a college degree from California State University Northridge and has a sister-in-law named Caroline Franjko. Caroline is married to her brother named Frank, a highly skilled auto mechanic. He also has a side-gig as a singer as a perusal of his own social media pages will show.
Prior to her marriage to Joey Buttafuoco, Evanka Franjko gave birth to a son named Nick Torchon, on the 28th day of April 1994. She later went ahead to marry a fellow named Andrew Torchon two years later, on the 5th of March 1996. It is not clear whether Andrew is Nick's biological father or adopted him after marrying his mother. One thing that is clear is that Evanka filed for divorce from Andrew on the 13th of March 1998. It was classified as dissolution without minor children (which supposes that issues of child custody and support were uncontested) and took some years to iron out. It was later finalized in 2002.
She and Joey Buttafuoco Began Dating in the Early 2000s and Wed in 2005
Following her separation and divorce from her husband, Evanka Franjko moved ahead with her life. She did her best to provide for her son alone. She later got some companionship in her life in the form of Joey Buttafuoco. It is not known exactly how or where Evanka and Joey met but they bumped into each other at some point after her divorce was finalized. They got to know each other better and Evanka wasn't put off by Joey's past. She saw something special in him and agreed to marry him when he proposed. The two wed in the year 2005 and their wedding made news headlines as a result of Joey's infamous stint with the law.
Joey Buttafuoco Was Convicted of Statutory Rape in 1994
Back in 1992, Joey, who owned an auto body shop, was married to a lady named Mary Jo. They had been together for 14 years and had two kids together. Despite all this, Joey Buttafuoco cheated on Mary Jo with an underage girl named Amy Fisher. The affair started around July 1991 and by May 1992, a jealous Amy Fisher decided to confront Mary Jo. She went to Joey's home and presented his wife with proof of her husband's infidelities. The confrontation escalated and Mary Jo decided to go into the house and fetch her husband. At this point, Fisher shot her in the face with a semi-automatic pistol.
Mary Jo, fortunately, survived the ordeal and promptly reported to the authorities. Amy Fisher was arrested and the whole story unraveled. Despite denials and conflicting allegations by Joey and Fisher, it became obvious that they had an affair and Fisher subsequently decided to take out her anger on his wife.
The whole story was like a real-life soap opera and so, both national and international dailies and tabloids swooped down. The trials were covered prominently in the media and at the end of the day, Joey Buttafuoco spent four months in prison for statutory rape. Amy, on her own part, was sentenced to 5 to 15 years in prison for attempted murder. She spent seven years in jail and was paroled in May 1999.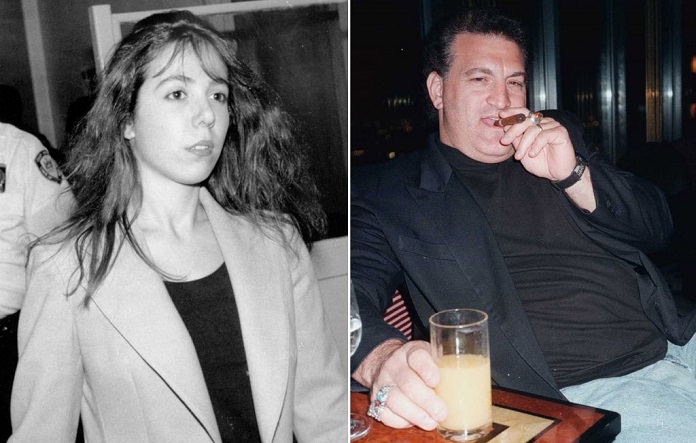 He and His Former Wife, Mary Jo, Remained Married For Nearly Another Decade Despite His Conviction
Given everything that transpired between Joey Buttafuoco and Amy Fisher, you would expect his then-wife, Mary Jo, to immediately divorce him but this was not the case. Even as she underwent surgeries and treatment, Mary Jo stoutly supported her husband, who had denied having an affair with Fisher, and described Fisher as a liar and a prostitute.
Her undying loyalty served to make the whole story even more dramatic and the reporters hounded them. Even after Joey finally admitted that he had cheated with Amy, Mary Jo still remained with him and upon his release from jail in March of 1994, they decided to relocate from New York to California to get some peace and quiet.
In California, Mary Jo and Joey continued with their lives as her husband parlayed his notoriety into becoming a media personality. They stayed married for several more years before Mary Jo filed for divorce in 2003. The divorce was concluded that same year. She has since written a book about her whole experience and has described her former husband as a sociopath.
Evanka Franjko Filed For Divorce From Joey in 2007 But Withdrew it
Upon their wedding in 2005, Evanka Franjko and Joey Buttafuoco settled down to family life in California. They lived without any scandal for about two years until Evanka filed for divorce in May 2007. She did not give any reason for the split but there were speculations that it was not unconnected to Joey's former lover, Amy Fisher. Fisher had come out of prison to start a family of her own and had three kids. She and Joey however kept in touch. They enjoyed the notoriety that came with their case and so, they occasionally featured at several public events together.
On one such occasion, they were filmed making out, and shortly after, Evanka filed for divorce. Amy's own husband also filed for divorce around the same period and this further supported the assumption that there may have been something going on between Joey and Amy. Be it truthful or not, Evanka managed to sort out the misunderstanding with her husband and withdrew her divorce petition in June that same year.
It Seems She and Joey are No More Together as She's Living the Life of a Single Lady
Evanka Franjko and Joey Buttafuoco remain officially married but it seems they may have separated. A look through Evanka's Facebook page will reveal that there is no mention of her husband of recent. Even though she still goes by Buttafuoco in her account name, all evidence point to the fact that they are no longer together. For instance, one of her last posts referencing her husband was back in 2013 when they attended the V-Twin Motorcycle event together. She also posted his picture in 2016 but since then, nothing more. Even when she underwent multiple surgeries for serious kidney stone complications in May 2019, there was no mention of her husband helping her out. The only two persons she thanked were her downstairs neighbor, Klarissa Latshaw, and a friend named Edith Specht.
Despite the obvious separation from her husband, Evanka Franjko continues living her best life. She is passionate about animal rights and has rescued about 45 animals in her lifetime, including cats, horses, dogs, and rabbits. She also supports LGBT rights as well as the 2nd amendment rights to bear arms. Another thing that brings great joy to Evanka is her son Nick Torchon. Nick is all grown up now and attended California State University Northridge. He studied cinema and television arts and is now a budding photo and video editor. He is also a creative writer and has worked for various companies.
Evanka Franjko describes herself as self-employed but her recent updates show that she is employed as she was taken by ambulance from her place of work to the hospital when her kidney stone issues started.