Dolorita Noonan-Robinson (born 9th of August 1961; Age: 61 years old) is an American actress, singer, and fitness instructor who is famous as the wife of Charlie Robinson, the late legendary actor who passed away in 2021. Noonan-Robinson and Charlie began their relationship sometime in the early 90s and eventually went on to get married in 1996.
Their union lasted for several years, during which they had at least one child together, a son named Luca. They showered much love on their son and thrived in their respective careers. The couple remained married until Charlie's death in July 2021, and Noonan-Robinson paid a glowing tribute to her late husband.
Summary of Dolorita Noonan-Robinson's Biography
Full name: Dolorita Noonan-Robinson
Gender: Female
Date of birth: 9th of August 1961
Dolorita Noonan-Robinson's Age: 61 years old
Ethnicity: mixed
Nationality: American
Zodiac Sign: Leo
Sexual Orientation: straight
Religion: Christianity
Marital Status: widowed
Dolorita Noonan-Robinson's Husband: Charlie Robinson
Dolorita Noonan-Robinson's Children: Luca Robinson
Dolorita Noonan-Robinson's Height in Inches: 5 feet 5 inches
Dolorita Noonan-Robinson's Height in Centimetres: 165 cm
Dolorita Noonan-Robinson's Weight: 58 kg
Dolorita Noonan-Robinson's Net worth: $1 million
Famous for: Charlie Robinson's wife
Facebook: DoloritaNoonanRobinson
Dolorita Noonan-Robinson is a Native of Mahwah, New Jersey
Much of Dolorita Noonan-Robinson's background remains shrouded in mystery. There are, however, a few known facts. Dolorita Noonan Robinson was born on the 9th of August 1961 and is a native of Mahwah, New Jersey. Her nationality is American, while her ethnicity appears to be mixed, including Caucasian and African-American.
There are no details on the name of Noonan-Robinson's parents or siblings, but one thing that is for sure is that she comes from a close-knit family of nuclear and extended relatives. A look at her Facebook page shows that she is friends with several persons with the surname – Noonan. One of them is Sean Noonan, who is her nephew.
She is a Professionally Trained Actor and Studied Theater at Miami University
Dolorita Noonan-Robinson completed her high school diploma in the late 70s. After that, she enrolled at Miami University, Ohio, for a bachelor's degree program in communications/theater. This course of choice was not by accident. Noonan-Robinson exhibited acting and singing talents at an early age, and so she decided to hone her skills during her college days.
She also undertook training in acting, improv, and singing range through avenues such as The Group Experimental Theater, Actors Outlet, One-On-One Prods, Fred Kelly, and SAG Conservatory. Dolorita Noonan Robinson did not stop her training at just acting and singing. She also took an interest in what went on behind the cameras and trained in costume design, construction, and makeup.
Dolorita Noonan-Robinson Met Charlie Robinson in the 1990s, and They Got Married in 1996
Dolorita Noonan-Robinson first met her future husband, Charlie Robinson, sometime in the 90s. At that time, he was already a well-known actor on TV, on stage, and big screen. On the other hand, she was still a rising actress, and they bonded over their shared experiences. They later started dating and got engaged down the line. They then tied the knot in the year 1996.
The marriage marked the first time down the aisle for the bride. To the best of public knowledge, Dolorita Noonan-Robinson was not married to any other man before Charlie Robinson. It was, however, the reverse for Charlie, as he had been married twice before Noonan-Robinson.
Charlie Robinson's first marriage was to a lady named Arvis Robinson in 1968. It lasted for 10 years, and they had three children together. Charlie Robinson's second marriage was to Venus Duran in the 90s and was short-lived. They had no kids together.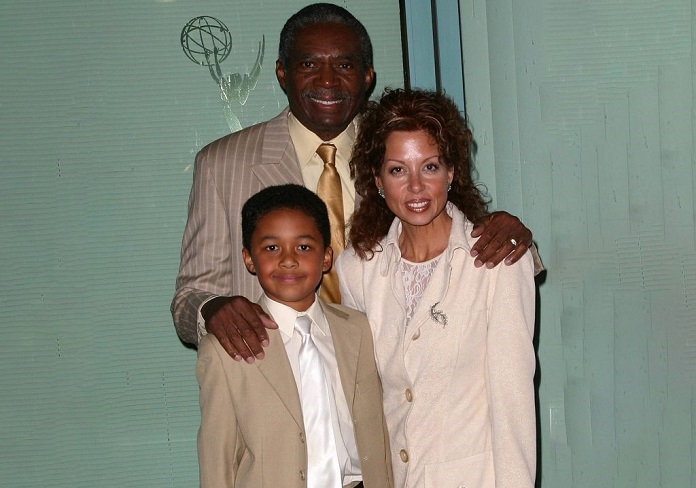 She remained Charlie Robinson's Wife until Her Husband's Death in 2021
Dolorita Noonan-Robinson's marriage to Charlie Robinson lasted for more than three decades. During this time, they made their home in various parts of California and thrived in their respective careers. They also welcomed at least one child together, a son named Luca, in the early 2000s.
The couple was not one to court the spotlight, but they made some red carpet appearances. For instance, they were pictured with their son at the Academy of Television Arts & Sciences Funnybone in the 80s Event in November 2009. Dolorita Noonan-Robinson and Charlie Robinson remained married until the latter's demise on the 11th of July 2021.
Charlie's death resulted from cardiac arrest and organ failure, and his demise devastated Noonan-Robinson. She paid him a beautiful tribute in which she described him as the love of her life, a husband, father, grandfather, and great grandfather. She recalled that his family was the wind beneath his wings as his craft took center stage.
She hailed him as the working actor's actor and referenced Martin Landau, who once described Charlie as "the greatest underestimated actor in Hollywood." Dolorita Noonan-Robinson and her family later organized a private for her late husband.
Dolorita Noonan-Robinson has Appeared in Several Theatrical Productions and Movies
Dolorita Noonan-Robinson has since participated in several theatrical productions over the years. They include Ladies of the Corridor, Gave Her the Eye, The Long Goodbye, The Jewish Wife, The Wizard of Oz, Wisdom for Sale, and Joker of the Day. These plays took place at venues such as The West End Playhouse, Garden State Theater, and Theater Guinevere.
Dolorita Noonan-Robinson has also appeared in several TV series over the years. They include 2020's Love in the Time of Corona, where she played the role of a nurse and appeared in two episodes. Others are Bill Murray: No One Will Ever Believe You, Just Jordan (2007), and The Bernie Mac Show (2005).
Dolorita Noonan-Robinson is now a Fitness Instructor in California
Dolorita Noonan-Robinson presently resides in California. She still pursues her acting career. She is also a fitness instructor. Noonan-Robinson took an interest in fitness around 2004 and is now skilled in strength training, aqua-aerobics, jogging, and Tai Chi.
She is also good in several sports such as equestrian, swimming, rollerblading, volleyball, and tennis. Dolorita Noonan-Robinson is a fitness instructor at Village Fitness, a fitness establishment in California. She is also a healthy lifestyle instructor and co-partner of a fitness establishment known as Evolving You.
Her Son, Luca, is a College Basketball Player
Dolorita Noonan-Robinson loves living a private life. Her last Facebook posts go back to 2016. This makes it difficult to know what she is up to, but there is no doubt that she would be basking in the love of her son. Dolorita Noonan-Robinson had at least one child with Charlie Robinson. That child is a son named Luca Robinson.
Luca was born in the early 2000s, most likely around 2001. He attended Hart High School in Newhall, California, where he was quite athletic. He played basketball, baseball, and football. He eventually made it to Grove City College in 2019.
Luca Robinson played for the Grove City basketball team in his first year of 2019/2020 NCAA but red-shirted in his sophomore year. He is back on the Grove City College basketball team and expects to make it to the NBA draft in 2024.
Asides from Luca, Dolorita Noonan-Robinson, has three stepkids from her late husband's marriage to his first wife, Arvis. These three kids are supposedly daughters, but we know that the actor was survived by children named Charlie, Christian, and Byron. Such names suggest that they are likely sons.