It has been more than 20 years since the Notorious B.I.G passed away, but his influence resonates in the music industry. Many occasionally pay him tribute on important anniversaries, and one of them is his stepdaughter, Chyna Tahjere Griffin. Griffin's mom – Faith Evans, married the late rapper when Griffin was just a little girl, and she gained a loving stepdad in the process. Even though the couple's marriage was quite turbulent and ultimately ended in the tragedy that was Biggie's murder, Griffin still felt blessed for having Biggie in her life and has expressed her gratitude for the fact that she is somewhat part of his legacy.

Profile Summary of Chyna Tahjere Griffin
Full name: Chyna Tahjere Griffin
Date of birth: the 1st of April 1993
Age: 28 years old
Birthplace: Los Angeles
Mother: Faith Evans
Father: Kiyamma Griffin
Siblings: Christopher Wallace Jr., Joshua Russaw, and Ryder Russaw
Occupation: Musician
Chyna Tahjere Griffin is the First Child of Singer Faith Evans and Music Producer, Kiyamma Griffin
Chyna Tahjere Griffin was born on the 1st of April 1993 in Los Angeles. Her nationality is American, while her ethnicity is African-American. Griffin is presently about 28 years old and is trying to build a career as a musician. This doesn't come as a surprise, given that both of her parents are talented in different aspects of the music business. Her mom, Faith Evans, began singing in the choir as a child and, by her teen years, was singing backup for other musicians. She eventually progressed to writing lyrics for established acts, such as Mary J Blige and Usher, and released her debut album, Faith, in 1995.
This was just two years after Chyna's birth, but Evans did not let motherhood hold her back. She dropped two more platinum albums and went on to sell over 20 million records. She also won several awards, including a Grammy award for the chart-topper, I'll Be Missing You. On the other hand, Chyna Tahjere Griffin's father is a Brooklyn-born music composer and producer named Kiyamma Griffin. Kiyamma Griffin has composed and produced songs for AI B Sure, Babyface, Usher, Freddie Jackson, and Shanice. He has also done extensive work for R&B queen Mary J. Blige on tracks such as Ballads, No more drama, etc.
The Couple Split When Chyna Was Just a Baby, and She Consequently Grew Up With Her Mother and Step Father – Biggie Smalls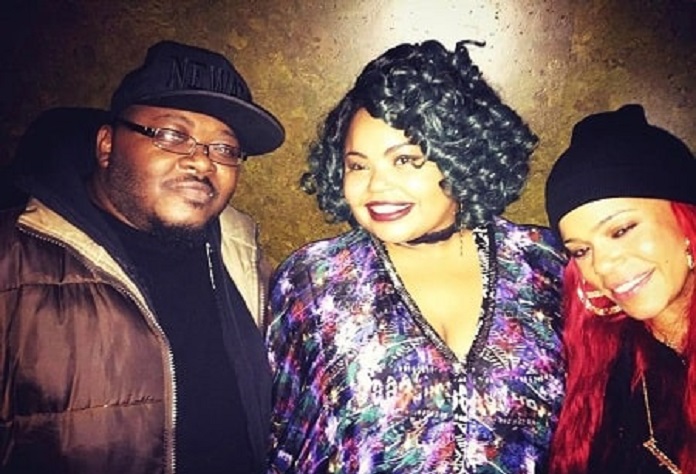 Faith Evans has been pretty tight-lipped about her past romance with Kiyamma Griffin, but they began dating around 1991/1992. As at that time, they were both struggling musicians and ran in the same circles. They found kindred spirits in each other and began dating. The two were together for several months when Evans found out that she was pregnant. Kiyamma Griffin insisted that she keep the child, and they moved to Los Angeles to search for better opportunities. These better opportunities did not materialize as the couple had hoped, and it put a strain on their relationship. They broke up, and Evans returned to New York with her baby.
The little Chyna Tahjere was raised solely by her mom for the first year of her life. Finances were quite lean, but mother and daughter hung in there. Their fortunes later improved when Evans landed writing gigs for the likes of Mary J. Blige. By 1995 when Chyna was about two years old, her mother began dating rapper – Biggie. They later tied the knot in August 1995, and the little girl acquired a stepfather in the process. She and her mom moved in with Biggie and made their home in his New York apartment. In the mid-90s, Griffin's mom and stepdad both made waves in their respective careers, and the little girl lacked for nothing.
She attended the best of schools and had access to many luxuries. It was a happy home for Chyna Tahjere Griffin for some time, but things started unraveling when the marriage between her mom and her stepfather was rocked by several issues. The late Biggie often cheated on his wife, and Faith stomached it for some time. She later decided that she had had enough and moved out of their New York apartment.
Griffin and her mom spent the next few months living out of motels and crashing on friends' couches before they found a permanent place. Meanwhile, her mom embarked on several short-lived reconciliations with Biggie, resulting in the birth of her half-brother, Christopher Wallace Jr., on the 29th of October 1996. Griffin's mom later broke up with Biggie for good, and some months later, the rapper was gunned down in March 1997. A four-year-old Griffin attended her stepfather's funeral and was among those that laid wreaths on his casket. Chyna Tahjere Griffin may not have known her stepfather for long, but she regards him as a blessing and has expressed her gratefulness that she was somewhat part of his legacy.
Chyna Tahjere Griffin has a Total of Three Half Brothers and Four Half-Sisters
When Griffin's mom finally left Biggie in early 1997, she began a relationship with a record label boss named Todd Russaw. She and Griffin moved in with him, and by the following year, she gave birth to a son named Joshua. She and Russaw also got married that same year. Griffin and her half-brothers, Christopher Jr. and Joshua, grew up with their mom and Russaw in a home in the Matawan suburbs in New Jersey. Despite some of the issues that the couple had, including an arrest for drug possession, Griffin still had a good childhood alongside her half-brothers, Christopher Jr, Joshua, and Ryder (born in 2008).
She was able to complete her high school diploma and most likely even made it to college.
Asides from her half-siblings from her mother's side, Chyna Tahjere Griffin also has four half-sisters due to her father's marriage to a lady named Ashley. It doesn't seem like she has much of a relationship with them. However, it does appear that she is on cordial terms with her father as she has been pictured with him and her mom in the not too distant past.
Chyan Tahjere Griffin is a Budding Singer and Dropped her first Single, Don't Speak, in 2021
Chyna Tahjere Griffin is all grown up now and, as grownups do, is busy pursuing a career which in her case is music. Having inherited artistic genes from her parents, she has decided to put them to good use by trying her hands at music. It is still early days yet in Griffin's music journey, but she has a couple of song covers to her name. She also dropped her debut single, Don't Speak, in February 2021. The song is an R & B single, which shows that her mom's influence rubbed off on her. Perhaps if she continues in her promising way, she may end up as an R & B powerhouse someday, much like her mom. One cannot also rule out a collaboration between Chyna and her mother eventually in the future.