Arnelle Simpson (born December 04, 1968) is the oldest child and daughter of O. J. Simpson, a former football player. She became popular following her involvement in her father's 1994-95 murder trial. 
It is not unusual to find celebrities at the receiving end of persistent scrutiny by the media, as most of their lives are lived in the public eye. In some cases, this could rub off on the children, making them celebrities themselves. In most cases, the fame these celebrity kids receive more often than not forms the foundation of their careers, and consequently, their journey to stardom. While this is true in most cases, some choose a life of quiet and privacy, away from paparazzi ad fanfare, rather than embracing a celebrity lifestyle where they would have to live in the public eye.
While this is unfortunate, it is a sad reality for most of the children of O. J. Simpson, who want to live a quiet life. However, this is now virtually impossible for the children, especially for the first child and eldest daughter, Arnelle Simpson, because of her father's notorious run-ins with the law. O. J. Simpson's daughter, Arnelle, has been by her father's side throughout his legal woes, remaining a constant and consistent pillar of support for him.
Apparently, Arnelle Simpson's goal in life is to get her dad back up to his feet again because it seems that when Arnelle is not supporting her father's defense in court, she is reportedly getting her father to write books. At the persistence of Arnelle, O. J. Simpson penned the bestseller 'If I Did It,' which was published before his second stint with the law.

Summary of Arnelle Simpson's Bio
Name: Arnelle Simpson
Age: 55 years old
Date of Birth: December 04, 1968
Ethnicity: African American
Nationality: American
Father: O. J. Simpson
Mother: Marguerite Whitley
Siblings: Aaren Simpson, Sydney Brooke Simpson, Jason Simpson, and Justin Ryan Simpson
Profession: Actress
Marital Status: Single
Relationship Status: Unknown
Children: None
Arnelle Simpson Is The Eldest Daughter Of O. J. Simpson
O. J. Simpson's oldest child, Arnelle Simpson, was given birth to while he was still married to his then-wife, Marguerite Whitley. Arnelle was born in 1968 and was just 24 years of age when her father was arrested and charged with the double homicide of Ronald Goldman and his ex-wife Nicole Brown Simpson for which he was eventually discharged and acquitted on both counts.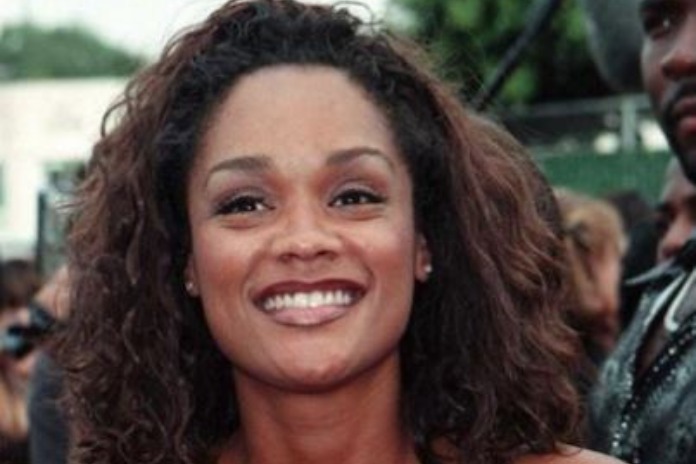 Even though O. J. Simpson's professional achievement had placed the Simpson family in a seemingly financially secure place at the time of his arrest and legal battles, Arnelle had to take on the heavy load of leading the family through that difficult time. She took care of her siblings, including Justin and Sydney Simpson, who were both children from O. J. Simpson's second marriage to the murdered Nicole Brown. This bonded O. J. Simpson's kids together like never before. Even though they have differing opinions on their father's culpability in Nicole Brown's murder, their loyalty and love for each other always shine through.
It is only natural that after the series of events that happened and the consequent stigma the Simpson family undoubtedly faced that the family became extra protective of their privacy and the disclosure of personal information. This is especially so for Arnelle, who was very vocal in her loyalty to her father – both privately and publicly. Consequently, very little about Arnelle Simpson's educational history is readily available in the public space as of yet. However, as soon as any detail is confirmed, this column will be updated.
Arnelle Simpson Has Struggled To Pin Down a Job Since Her Involvement In Her Father's Trial
It has been reported that while the efforts of the Simpson family and in particular Arnelle Simpson in defending O. J. Simpson, who was nicknamed 'The Juice,' has largely borne results (as O. J. Simpson was out on parole after serving just nine years of a 33-year sentence), Arnelle herself has had to make personal and career sacrifices to make this happen as she has been unable to retain a job after getting herself involved in her father's mess.
It has been reported that Arnelle Simpson had erstwhile worked for a rapper known by the stage name, Hash. She was also said to be in on the production of a couple of fashion shows. However, asides from these, her career has been in a dire situation, as it remained basically and almost entirely inexistent, despite her best efforts. Ultimately, she ended up as the caretaker of O. J. Simpson's estate after his arrest and conviction in 2008.
As caretaker of O. J. Simpson's estate, Arnelle Simpson is no financial whiz. While her loyalty to her father and efforts to keep things running smoothly was admirable, her lack of experience with financial management reportedly placed O. J. Simpson's estate on shaky ground. The Juice was being paid a monthly pension of $25,000 by the NFL pension, while his mansion in the State of Florida had a $3000 mortgage. It is also reported by Yahoo News that she also fell behind on payments, most probably due to her spending culture.
Arnelle Simpson's Relationship Life Has Also Suffered As A Result
Arnelle Simpson sacrificed far more than just her career in her pursuit of justice for her father. Arnelle's love life also took a massive blow as her efforts to ensure that her father was a free man became a top priority. Her personal life suffered as she championed her father's cause. It was rumored that Arnelle and basketball legend Shaquille O' Neal used to be in 'the Shack' together. Her relationship with the basketball player was said to have started in September 1995.
However, a possible reason why this relationship with 'Big Shaq,' if true, stayed under the radar and away from prying eyes was probably that the nation was still in the throes of O. J. Simpson's murder case and the revelation of the relationship at the time would have been unwise. In 1996, Arnelle was again on the lips of many; this time, it was with Anthony Treach Crisis, who was a hot American Rapper at the time, although the relationship was reported not to have seen the end of 1997.
Asides from both these cases, which are yet to be confirmed, Arnelle Simpson's love life, or lack of it, is wrapped in a thick veil of mystery and privacy, and as such, nothing further is known or confirmed about her love life. As soon as any further information is publicly available on her relationship(s), this space will be updated.
FAQs
Who are Arnelle Simpson's parents? Arnelle Simpson's parents are Marguerite L. Whitley and O.J. Simpson. They married in 1967 and had three children together before divorcing in 1979.
How many siblings does Arnelle Simpson have? Arnelle Simpson is the eldest of five siblings. She has two full siblings, Jason and Aaren, from her parents' marriage, and two half-siblings, Sydney and Justin, from her father's second marriage to Nicole Brown.
What is known about Arnelle Simpson's personal life? Arnelle Simpson has maintained a private personal life. There are no records of her being married or engaged. However, she was rumored to have had relationships with Shaquille O'Neal and Anthony Treach Crisis in the mid-90s. As of now, there are no public records of her having any children.
What is Arnelle Simpson's profession? Arnelle Simpson's profession is not clearly defined. She has reportedly worked for rapper Hash and produced fashion shows. However, she is mostly recognized as the eldest daughter of O.J. Simpson, the former NFL player and actor.
What is Arnelle Simpson's net worth? As of today, Arnelle Simpson has an estimated net worth of 5 million dollars.
What role did Arnelle Simpson play in her father's legal trials? Arnelle Simpson was a key family member who defended her father, O.J. Simpson, in court during his trials for robbery and murder. She was the only sibling to testify at his trials, doing so on four occasions between 1995 and 2017.
How has Arnelle Simpson been involved in managing her father's finances? Arnelle Simpson was left to manage her father's estate following his arrest for armed robbery and kidnapping in 2007. This has led to some speculation and criticism about her handling of the finances, with accusations of irresponsible spending habits.
What is known about Arnelle Simpson's struggle with alcoholism? Arnelle Simpson has reportedly struggled with alcoholism, a problem that has been ongoing since before her father's incarceration. It has been suggested that this contributed to her alleged mishandling of her father's finances.
How close is Arnelle Simpson to her mother, Marguerite Whitley? Arnelle Simpson has maintained a close relationship with her mother, Marguerite Whitley, despite the various challenges their family has faced. They often go on movie dates together.
How did Arnelle Simpson's role in her family change after her stepmother's death? After the murder of her stepmother, Nicole Brown, Arnelle took on the responsibility of guardian for her young half-siblings, Sydney and Justin. As the eldest, she bore the brunt of the family's troubles, especially in the midst of public backlash against her father.